Visiting Oktoberfest or are you looking for some delicious Oktoberfest food ideas?
I compiled a collection of the best Oktoberfest foods, savory and sweet.
Grab some ideas for your Oktoberfest food menu further below or find out what to eat at the Oktoberfest celebrations on your next visit.
Global Food Recipes
with Spices and Herbs
Free E-Book available for a limited time. Grab yours now and get instantly inspired!
Jump to:
📕 What is Oktoberfest?
Oktoberfest is a German fall folk feast celebrated during and after the harvest season.
The largest and best known Oktoberfest is the gathering in Munich, Bavaria in South Germany.
Yet, folks Oktoberfest celebrations are held all over south Germany during that period and some are either called Oktoberfest, folks fest or Herbstfest (autumn festival).
The Oktoberfest in Munich beats it all due to its global popularity and size.
The Munich Oktoberfest starts on one of the last Saturdays in September and ends 2 weeks later on a Sunday in October.
Other Octoberfest celebrations happen during different times, as for example the Rosenheim Herbstfest, which lasts for 2 weeks before the Munich Oktoberfest.
Oktoberfest's parties and celebrations have caught on importance all over the world and a real trend has emerged over the last decades.
German immigrants brought it to other parts of the world too, such as to the North and South American continent.
🥙 What foods are served at Oktoberfest?
The Oktoberfest is a food and beer celebration.
You celebrate the fact that the summer is over and that the harvest was bountiful, that's how Octoberfest came to be (And because of the beer but more about that at the end of the post).
That means food and drink from the regions made of wheat, cabbage, meat and cheese are turned into crazy good specialties.
Below I have compiled a list of all the foods you will find at the Oktoberfest and which you can add to your Oktoberfest menu at home.
South Germany and Austria share many food specialties, hence why you will find a lot of Austrian specialties at the Oktoberfest.
Don't forget to keep loads of cold beer ready, you can't celebrate fall big without beer.
🧀 Obatzda (Cheese Dip)
The Obatzda is a creamy sharp beer garden cheese dip.
The dip is mainly made of strong-flavored soft Camembert cheese and is a must-have Oktoberfest appetizer and snack.
Serve with Brezn (pretzel) and Radi (radish).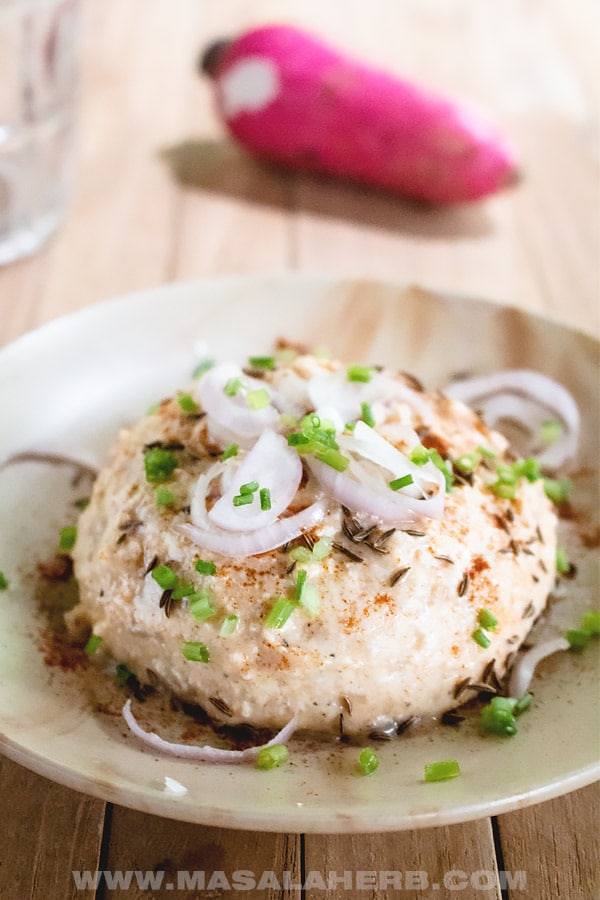 ---
🌭 Bratwurst Semmel (Bratwurst Sausage in a bun)
Bratwursts are super common white pork sausages from Germany.
The sausages in Germany are smaller than the ones sold outside the German speaking area.
At local folks feasts in Bavaria, you often come across Bratwurst Semmel, which are grilled Bratwurst in a Kaisersemmel bun.
---
🥨 Brezen (Pretzel)
You can't have an Oktoberfest without Brezen.
Pretzel are called Brezen in Bavaria and Bretzl in Austria and the rest of the German-speaking world.
At the Wiesn (that's what the place of the feast is called) you get the regular-sized Brezen which are eaten with sausages and sweet mustard or the giant Brezen, which are great as a snack when walking around.
Brezen are dipped in lye before they are baked and that's how they turn out brown on the outside.
---
🍲 Sauerbraten (Pot Roast)
At the Oktoberfest, you can take a seat in the main tent to enjoy a glass of beer with Sauerbraten.
Sauerbraten is usually pork or beef that has been marinated in wine overnight and which is then slow-roasted the next day.
Sauerbraten is served with spaetzle, braised red cabbage or even better, with Sauerkraut.
---
🥔 Reiberdatschi (Potato Pancakes)
Potato Pancakes are called Reiberdatschi in Bavaria and some parts of Austria, yet are better known as Kartoffelpuffer in other parts of the country.
Those are usually served as a savory snack or with other foods as a side.
---
🥬 Coleslaw with Vinegar
German Coleslaw is a popular side dish in South Germany that goes well with pork dishes and sausages.
There is the coleslaw with sour cream and the coleslaw with a vinegar dressing.
Both are great and a must at an Oktoberfest party.
---
🥟 Semmelknödel (Bread Dumplings)
Semmelknödel are round savory dumplings made of leftover stale bread.
Our ancestors didn't throw away stale bread and nor do we today because we make these round delicious babies.
The Semmelknödel are best served with Sausages, Sauerkraut or Sauerbraten and Schweinshaxn.
---
🍖 Schweinshaxn (Pork knuckle)
Crispy Pork Knuckle – known in Germany and Austria as Schweinehaxe) is a hearty dish that's best served with roasted vegetables in the fall.
You can also make it at home year-round.
---
🍗 Brathendl (Roasted Chicken)
Brathendl is super popular at the Oktoberfest and it's basicaly roasted chicken pieces.
The chicken is seasoned with salt, black pepper and sometimes paprika and slow-roasted until the skin turns crispy
---
🍠 Kartoffelknödel (Potato Dumplings)
Kartoffelnknödel, or so-called Erdäpfelknödel, are Potato Dumplings.
You serve them up the same way like the Semmelknödel, with Sausages, Sauerkraut or Sauerbraten and Schweinshaxn.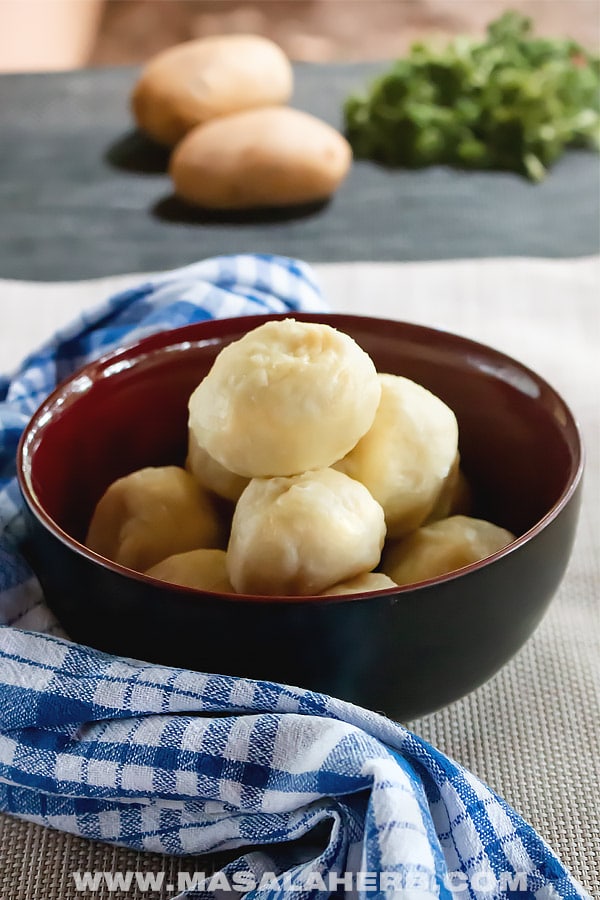 ---
🥗Warm Potato Salad
The proper Bavarian Potato salad is a vegan warm potato salad made with a vinegar and oil dressing.
The salad compliments other german main course dishes as a side dish.
Warm potato salad is super popular across the German speaking world and different versions exist made of heavy cream or sour cream.
---
🍛 Sauerkraut
Sauerkraut is fermented cabbage with spices, which is further cooked with other spices and beer or wine.
The soft-cooked cabbage is then served with other main course meals as a side dish.
Real Sauerkraut is made in a large clay pot and takes months to ferment.
---
🤍 Weißwurst (White Sausage)
The Weißwurst is a specialty from Munich and is made of pork and veal meat.
The name means white sausage and it's most definitely the whitest sausage out there.
Weißwurst (also spelled Weisswurst) is enjoyed with a Brezen, sweet Bavarian brown mustard sauce and a large beer.
---
🐟 Steckerl Fisch (Fish on a stick)
Grilled fish and other seafood, such as giant shrimp and small octopuses, are a common sight at the various folks' feasts in Germany.
Steckerl Fisch is most definitely the most popular, which is grilled fish on a stick.
You can simply grill or pan fry trout to recreate this Oktoberfest classic at home.
---
🥜 Roasted Almonds
Roasted almonds are a common delicacy at the fall fairs.
These are almonds coated in sugar and roasted and stirred continuously over a fire.
They come in different flavors with the chili roasted almonds being my ultimate favorites.
Those almond stands also sell other regional sweet treats such as the Magenbrot (which is a honey cake Lebkuchen)
---
🥘 Leberknödelsuppe (liver dumpling soup)
Leberknödelsuppe is sometimes considered poor mans food.
It's a soup with round-shaped large liver dumplings and it's one of the less expensive foods at the Oktoberfest.
Yet, locals love it and it's still a hit at smaller Bavarian village autumn feasts.
---
🧅 Gulaschsuppe (Goulash soup)
Goulash soup might have been Hungarian originally but nowadays it's also Austrian and German.
That's because we ended up making our own versions such as the Potato Goulash soup.
When it's raining at the Oktoberfest, enjoy a goulash soup!
Just know that goulash doesn't always mean a soup, but that a goulash can also be a gravy-like meat dish, kind of like a curry.
---
🧡 Lebkuchen hearts
Lebkuchen hearts are giant decorated heart-shaped Lebkuchen cookies.
Lebkuchen is a spiced honey cake and the forefather of the Gingerbread.
It's a special Christmas treat but Lebkuchen hearts are eternal favorites at the Oktoberfest.
Those can be dried as well in a cold climate and make a great decoration.
I still have mine that I got when I was 5 years old. 🙂
---
🧆 Wurstsalat (sausage salad)
Yep the Wurstsalad is indeed a sausage salad.
Cold cuts are a huge thing in Germany, Switzerland, and Austria that we end up buying 100 grams of various sausage varieties every week.
So, before the sausage turns bad, we cut them into strips and season the wurstsalad with tangy vinegar and oil dressing.
The Wurstsalat is great with a Brezn!
---
🐖 Pork Schnitzel
A schnitzel is a flattened meat steak that is breaded and fried in the pan.
The original Schnitzel is made with veal and that's the famous Vienna Schnitzel from Austria.
The Pork Schnitzel, on the other hand, is common in the Austrian and Bavarian German Alps.
FYI the Israelis and Jews have their own Schnitzel, the Sesame Chicken Schnitzel.
---
💜 Blaukraut or Rotkraut (Braised Red Cabbage)
Braised Red Cabbage is an autumn specialty that can't be missed at the Oktoberfest.
The side dish has many names, depending on the region in central Europe.
The red cabbage is made with apples most of the time and goes great with chanterelle cream sauces, wild game meat, fish and Sauerbraten.
---
🍑 Marillenknödel (Apricot Dumplings)
Marillenknödel are an Austrian dessert specialty that is rather popular in Germany.
Apricots are wrapped in a choux pastry before they are cooked in water and lastly rolled in a butter bread crumbs mixture.
---
🍏 Apfelradl (apple fritters)
Fall is indeed the season for apples, but you can definitely make this yummy treat the whole year-round!
German Apple Fritters, called Apfelradl or Apfelküchle, with vanilla sauce is great for snack or dessert!
Kids and adults would be asking for more!
---
🥕 Radi (Radish)
Radi is the local name of the white or pink radish in Bavaria and Austria.
Other German-speaking parts call it Meerrettich or another name.
The radi is dipped in salt and eaten with butter and it's a popular beer snack often while served with the Obatzda cheese dip.
The semi-sharp flavors of the radi compliment the beer and cheese dip and it's healthy!
The radish can be turned into a salad too which is another popular Oktoberfest side dish.
I used daikon in my radish salad recipe.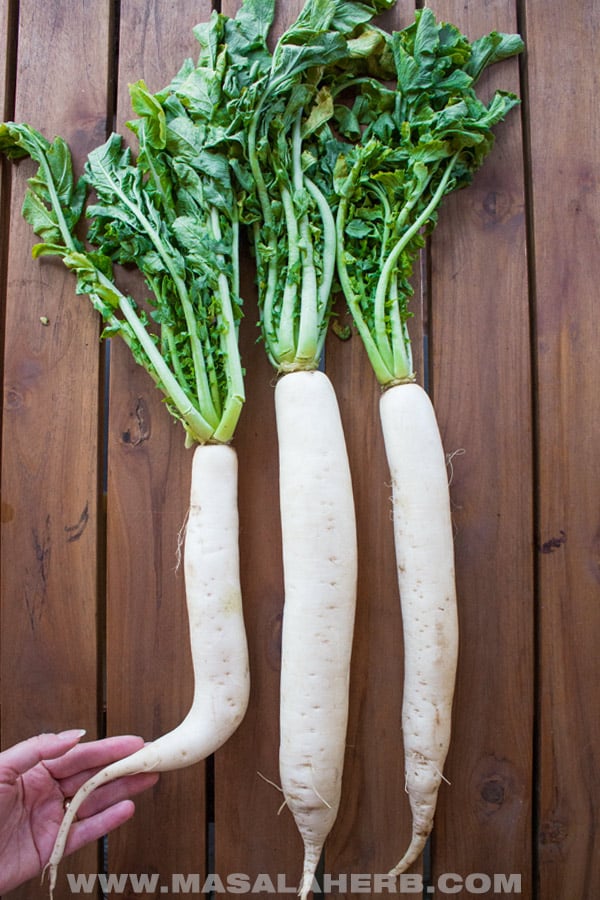 ---
🥞 Kaiserschmarrn
The Kaiserschmarrn is an Austrian classical dessert with regions serving up their own variations and Oktoberfest visitors seem to love this sweet treat!
It's basically scratch pancakes and the original recipe includes raisins.
The one in the picture below is a blueberry Kaiserschmarrn which is popular in Tyrol, an Austrian region neighboring Bavaria.
---
🧈 Kassspatzl (Cheese Spätzle)
Kassspatzl means cheese Spaetzle and is a well-known apré ski meal in Austria and Germany.
We kind of swim in this in the Austrian alps, yet Schwaben in Germany call it their own as well.
Munich Oktoberfest visitors from around the world tend to enjoy this savory addicting meal in the beer tent.
---
🥩 Ochs am Spiess
Ochs am Spiess is a traditional Oktoberfest delicacy.
It's a whole ox slowly turned on a stick, smothering over the heat.
This is a dish you need to try when you are at the Oktoberfest because it's a bit hard to recreate it at home.
---
🥯 Leberkasssemmel (pressed meatloaf sandwich)
I had to mention the Leberkasssemmel because when you are on a budget and you want something delicious you go for this.
It's a pressed pink meatloaf in a Kaisersemmel sandwiched with a topping of your choices such as pickles, mustard, ketchup, vinegar peppers or mayonnaise.
The Leberkasssemmel is not a traditional Oktoberfest food in fact, the opposite, people's everyday lunch.
We call it Fleischkäsesemmel. This name is more common in Southern parts of Bavaria, Tyrol, and Vorarlberg in Austria, and Lichtenstein.
---
🧄 Currywurst
I wasn't going to add Germany's favorite snack, the currywurst, but I had to after having seen it being sold at the Herbsfest in Rosenheim.
Currywurst is made of roasted Bratwurst sausages topped with a ketchup curry sauce.
---
♨️ Dampfnudeln or Buchteln mit Vanillesauce
Dampfnudel or Buchteln are stuffed sweet yeast desserts.
Dampfnudeln are prepared with steam and Buchteln in the oven.
The stuffing can be with poppy seeds or nuts, and they are served with a proper thick vanilla sauce.
---
🍞 Lye bread roll
Lye bread rolls are a common sight at the Oktoberfest and are served with most meals.
You get them wherever you see Brezen or in the large tent hall with your food order.
Bread rolls are left in a base lye solution before they are baked which gives them the characteristic brown color and the special flavor.
---
🍎 Apfelstrudel (Apple Strudel)
The Apfelstrudel is a dessert specialty from Vienna Austria but of course, this delicious treat is a hit at any feast across the country border.
Proper Apfelstrudel is prepared with a stretchable special strudel dough and not with a puff pastry.
Enjoy your apple strudel with whipped cream or a vanilla sauce.
🌎 Other global food favs that you can get at the Oktoberfest
French Fries
Burger
Ribs
Sandwich
Nuggets
Wings
Vegan versions of all the above-mentioned dishes (except the heavy meat dishes) exist as well and are a growing trend at the Oktoberfest.
❔ How much is the food and beer at the Oktoberfest in Munich?
Food and Beverages ain't cheap at the Oktoberfest Wiesn!
Just be prepared to spend a lot of food and beer.
The Food
One of the most budget-friendly foods are the Weisswurst, Brezen, and Bratwurst with Semmel priced somewhere between 5-10 Euros.
Schweinshaxn, Sauerbraten, Schnitzel, Ochsenbraten, Leberkäsesemmel and Hendl cost about 12-20 Euros but the main course dishes come with a side such as sauerkraut and knödel.
The Beer
The main reason why the Oktoberfest in Munich is the largest folks gathering in the world is because of the beer.
All the traditional Beer gardens produce their own beer.
The most well-known Munich beer brands are Paulaner, Löwenbräu, Hofbräu, and Augustiner.
In Munich, the beer is served in 1-liter glasses and there are no smaller glasses, these are known as a "Mass/Maß".
The cost of a beer is currently set around 12€ per liter in the large beer tents.
Other beverages such as a liter water or lemonade cost about 10 Euro too.
⁉️ Oktoberfest words and their meanings
If you intend to discover Munich and the Oktoberfest for yourself in the coming years, you will need to know typical Oktoberfest and Bavarian local words to get the most out of your trip.
Save this for a later date because you are going to need these translations! Here is a much bigger English German and Austrian German food translation, and you might need some English to German translations for travelers.
Wiesn - Means fields. It's the place where Oktoberfest is happening
Weißbier (also spelled Weissbier) - that's the wheat beer
Prost - Cheers
Maß (also spelled Mass) - 1-liter beer glass (because you only get a 1-liter beer at Oktoberfest)
An Guadn - directly translated "a good one". It means "Good appetite" and you say that to folks at lunchtime.
Ozapfn - puncture a beer barrel
Dirndl - A girl or also means the local folks dress (aka Trachten)
Bua - A boy
Lederhosn - local leather pants folk dress
Kracherl - Lemonade
Gaudi - fun
Minga - The local name their city Minga, which means simply Munich, called München in German
Servus - Hello
Global Food Recipes
with Spices and Herbs
Free E-Book available for a limited time. Grab yours now and get instantly inspired!