Homemade authentic Spaetzle recipe, from Austria with love. :) Please read the post for more info and tips about the choice of all-purpose flour (yes we have various all-purpose flour qualities in central Europe) and serving suggestions.
Best Spaetzle recipe, delicious and so easy to make!
Spaetzle are made with a spaetzle maker or spaetzle press.
Learn how I make my homemade Spaetzle recipe further below with the video and step by step instructions.
Global Food Recipes
with Spices and Herbs
Free E-Book available for a limited time. Grab yours now and get instantly inspired!
Jump to:
📕 What are Spaetzle?
I love to make fresh pasta and noodles because it tastes amazing.
What I don't like about fresh pasta is that it can be time-consuming.
You make the dough, you stretch it out, dry and cut it out.
You get the point.
I don't know about you but I am always out of time!
That's why I frequently tend to just buy ready-made pasta and noodles in general...
Yet, I do have an ace up my sleeve! I have a way to make noodles from scratch, which won't take up your time!
We call these noodles Spaetzle/Spätzle (the ae stands for the ä and that is how you pronounce Spätzle in German)
Depending on the region/country in central Europe, Spaetzle can be known under different names.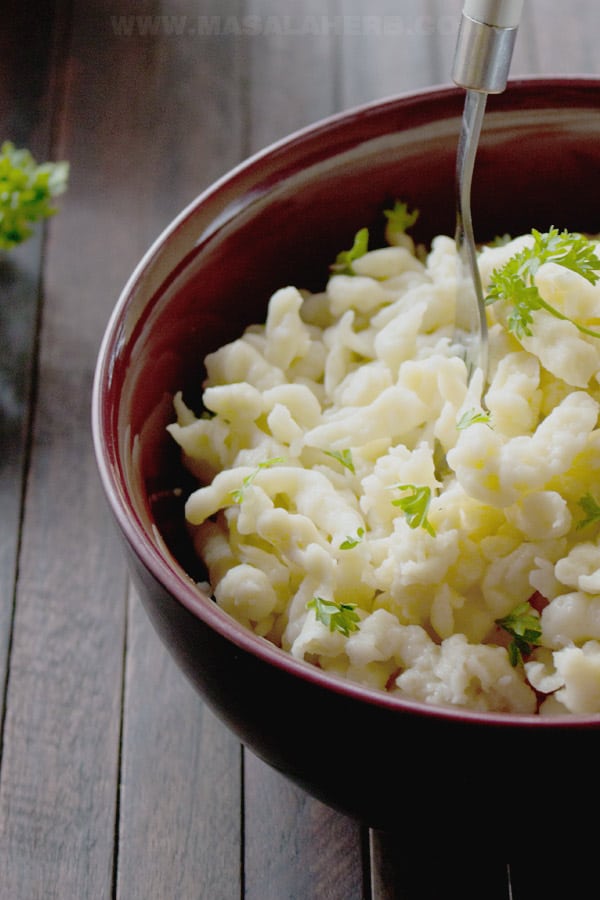 Other names for Spaetzle:
Knöpfli or Chnöpfle in Switzerland
Spaetzle in most parts of Germany, some southern regions use the swiss Knöpfli too, Bavarians say Spatzl
Spatzl in West Austria and Nockerl in East Austria (Nockerl is another dumpling type in east Austria and should not be confused)
In Hungary Nokedli or Galuska
In Slovakia Galuski or Halušky
Fun fact: Spätzle comes from Spatz, which means a sparrow bird.
Spaetzle indicates a small sparrow.
So, big pieces of Spaetzle, formed by accident, stuck together are often while called crows, storks or eagles.
📜 Preparation method
Spaetzle is freshly made small noodles in an elongated irregular button shape.
They get that shape by dropping spaetzle dough, one batch at a time, into a boiling pot of saltwater.
The Spaetzle dough is a noodle dough and is made of flour, salt, egg, and water.
Yet, the flour is a special ingredient in traditional/authentic Spaetzle recipe because local homes will never use regular all-purpose flour to prepares Spätzle.
In Austria, Germany, and Switzerland we get to buy special Spaetzle flour.
This particular flour "grips" well, we refer to it as Griffigesmehl (griffig means to grip).
💡 Choice of flour
There are two different kinds of white flours in the German-speaking world:
All purpose "smooth" white flour (glattes Mehl in German)
This kind of flour has been ground to a smooth, fine and dusty consistency.
It's rather white in color and is suitable for normal baking.
In the German-speaking world, you would use it to make Strudel, Knödel (dumplings) and Crepes.
All purpose "gripping" white flour (griffiges Mehl in German)
This gripping flour is more coarse than the smooth white flour as it hasn't been that smoothly ground but it's also finer than semolina.
It grips well and takes longer to absorb water.
That is why it's a great flour to use to boil dumplings and noodles.
In the German-speaking world, you would use the gripping flour too to dust a Gugelhupf cake mold.
Where to buy flour to make Spätzle?
While you can buy the gripping flour easily in central Europe, it isn't that commonly available anywhere else in the world.
In Germany, Spaetzle flour can be found at type 550, in Austria, it's type 700.
If you are one of the lucky ones to live in a rural area, then your village might still have a local flour mill and you could just ask them to make a batch of gripping flour for you.
If this sounds too complicated, please don't fret!
I know some people who tried to mix some semolina into regular smooth flour to get something that comes close to the dough consistency of a gripping flour.
I encourage you to experiment with semolina and regular smooth all-purpose flour!
If all this sounds too complicated for you and you just want to make some Spätzle without hassles, then just go ahead and use regular flour.
I have done it before, there is nothing wrong with it!
📝 Shaping them
To create Spätzle noodles you will require a tool to shape them.
In modern days, we use spaetzle maker or spaetzle press to shape the noodles.
Traditionally the dough is cut into shape in a moving motion on a wooden chopping board while gradually falling into the below-boiling saltwater.
This is NOT the best way to do it these days. You would take much longer and it can be tiring.
That is why several devices were invented to facilitate your Spätzle production.
Either you go for the Spaetzle maker:
Pros: Low cost, easy to store
Cons: Can turn into a workout when you do it for the first time, time-consuming (although the second one is better!)
or the Spaetzle Press:
Pros: just fill and press - easy handling, no mess afterward
Cons: a little more pricey (but the one in the picture isn't that expensive), bulky just like a spaghetti press
Whichever Spaetzle gadget you pick, it's up to you!
🔪 How to make it?
Before you start preparing a dough make sure to get a Spaetzle maker or Spaetzle press tool.
Using the board cutting version for the first time is just going to get you frustrated, so please get your gadgets!
I have made countless times this Spaetzle recipe and we do not make it without a Spaetzle maker/press in Austria!
Every household in German-speaking countries has such a kitchen tool.
Then to make the Spaetzle dough you will need to grab a big mixing bowl and add flour, salt, whole eggs, and water.
Combine all the Spaetzle ingredients to a smooth mass. Please refer to the recipe below or the video to see what consistency you need to look out for.
Then let your dough rest for at least 30 minutes. If you are in a hurry just proceed ( I am not going to stop you!)
Keep a large pot of saltwater to boil, that means to fill up the pot with water and add about 1 tablespoon of Salt. Mix.
If you are using a Spaetzle Press it will be easier for you. Just fill the kitchen tool and press it into the boiling water.
If you are using a Spaetzle Maker, as I did in the video, you will need to work fast and by batch!
For the Spaetzle maker, place it over the cooking water.
Then add a batch of the dough onto the spaetzle maker and with a cake card/spatula (or the handy hobble) quickly press the dough through the wholes.
The dough will be falling into the boiling water on the other side.
The more you press through the Spaetzle maker, the more the wholes get blocked and that's when you need to be careful to not burn yourself with the steam.
The water in the pot has a tendency to over boil too because the Spaetzle maker is covering the pot and over boiling can be caused by wholes blocked by dough which is getting hard with the steam.
That is why I recommend you use a Spaetzle Press or a Spaetzle maker with the hobble.
The importance of both tools is to add a batch at a time of spaetzle into the boiling water.
The pot shouldn't be overcrowded with Spaetzle noodles.
The Spaetzle will swim on the surface after a few minutes when they are ready to be taken out with a slotted perforated spoon.
Then just keep in a bowl and do not pass through cold water!
You can add some butter to the Spaetzle before serving them hot.
See serving instructions further below after the recipe card.
✔️ Varieties & flavors
The above Spaetzle recipe is the plain version.
There are many different recipes for Spätzle, some include to add spinach, potatoes or cheese into the basic Spaetzle dough.
There are no limits. As you can play the way you would with any other pasta dough.
You can try tomato paste for red spätzle or even squids ink to make them look black.
As an idea, you can top plain Spaetzle with a dollop of butter and some fresh parsley and you may want to serve it as a side dish with meat gravies and dumplings.
🥣 Serving
Or serve as Cheese Spaetzle aka Käsespaetzle on its own! (will share the typical alpine recipe here soon)
Otherwise, you are of course free to use Spaetzle the way you use Italian pasta, by preparing a pasta sauce to serve over the Spaetzle.
❄️ Freezing
What I tend to do at times, is to freeze a batch of Spaetzle for later.
In that sense, you can double the Spaetzle dough recipe.
After having cooked the Spaetzle and letting them drain well and cool a bit, you can just create portions and pack them into vacuum bags so to store in the freezer.
It saves me time during the week!
Hence, you just need to leave the spaetzle to defrost after having taken out the vacuum bag with the frozen Spaetzle and then fry them with some butter in a pan.
Dear Reader, how did you get to know about Spätzle noodles?
Global Food Recipes
with Spices and Herbs
Free E-Book available for a limited time. Grab yours now and get instantly inspired!
📖 Recipe
Easy Spaetzle Recipe
Homemade authentic Spaetzle recipe, from Austria with love. 🙂 Please read the post for more info and tips about the choice of all-purpose flour (yes we have various all-purpose flour qualities in central Europe) and serving suggestions.
Print
Pin
Rate
Instructions
In a mixing bowl combine the flour and the salt. Create a mold in the center and add the eggs and the water.

Mix the whole content and beat to a smooth dough. The end result should be a tough flexible dough.

Preferably let the dough rest for 30 minutes, if you are in a hurry just move on.

Keep a large pot filled with water and salt to boil. Take down the heat once it starts bubbling.

If you use a Spaetzle maker, wet your device first with hot water so that the dough doesn't stick that much. Place it on the pot and keep your spatula ready. Add a small batch of dough to the Spaetzle maker and scrape the dough through the wholes into the pot. Do that first with one half of the whole dough. You need to work quickly. Once you did one batch, check the downside of your spaetzle maker to scrape off any dough that got stuck.

If you use a Spaetzle press, just add some of the dough into the press and press through into the boiling water.

Check that none of the Spaetzle are stuck to the ground of the pot with a wooden spoon. Stir occasionally.

Strain the Spaetzle and place into a fireproof casserole dish, once you see them swimming freely on the surface of the water.

The Spätzle can be frozen and fried again for another day. See in the post for how to.
Nutrition
Nutrition Facts
Easy Spaetzle Recipe
Amount Per Serving (615 g)
Calories 275
Calories from Fat 36
% Daily Value*
Fat 4g6%
Cholesterol 123mg41%
Sodium 1793mg75%
Potassium 112mg3%
Carbohydrates 48g16%
Protein 11g22%
Vitamin A 178IU4%
Calcium 28mg3%
Iron 3mg17%
* Percent Daily Values are based on a 2000 calorie diet.
The post easy Spaetzle recipe was first published on 23rd January 2012 at masalaherb.com and was updated and enhanced ever since.