A classic flavor-packed recipe to make salisbury steak from scratch at home. One-pan hassle-free!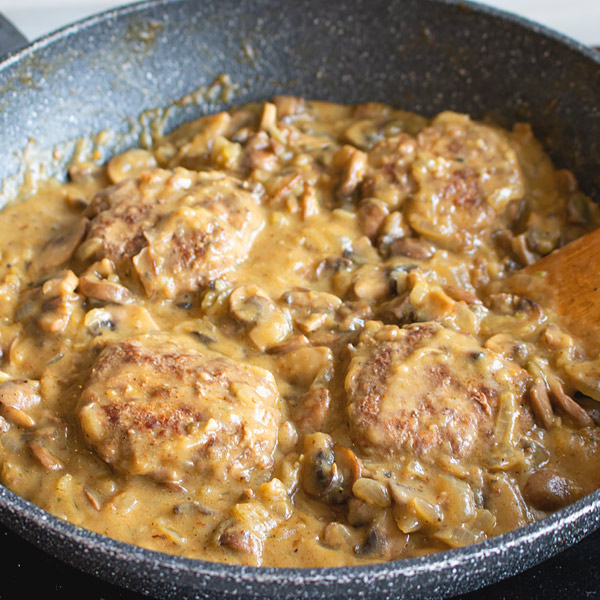 Juicy browned Salisbury steak cooked in a homemade mushroom gravy sauce.
This is a classic from scratch skillet one-pot dinner meal.
Jump to:
📕 What is it?
Salisbury steak is a hamburger steak cooked and served with mushroom gravy or a so-called brown sauce.
It's a typical US-American meal, popularized for the first time 100 years ago by the European immigrant community.
Today, it's still a well-loved dish. In fact, Salisbury steak also makes an appearance in Fallout 4 (a popular PlayStation game).
I enjoy it as a weekday meal but some people like to make it for special occasions or on Sundays.
A similar dish is the hamburger steak with bell pepper sauce.
🧅 Ingredients
Here is a quick ingredient overview. This will help you to get organized.
The full recipe with US and metric measurements is located further below in the recipe card.
You can make the hamburger steaks from scratch or use storebought ones.
ground beef - preferably 20-25% fats. The leaner the less tasty they will turn out. Fat carries all the flavors.
bread crumbs
salt and black pepper
onion and garlic powder
paprika - sweet and/or smoked
ground coriander seeds (optional)
dill seeds (optional)
egg
For the mushroom gravy:
olive oil - extra virgin olive oil
onion - white, yellow, purple or shallots
garlic - fresh
mushroom - fresh, button mushrooms
salt and black pepper
Dijon mustard - adds flavor and acts as an emulsifier. The result is a thicker, smooth velvety sauce.
all purpose flour - to help bind your sauce
nutmeg - classic flavor addition
beef stock - you can use package stock or mix beef cubes (maggie or knorr) with warm water.
🔪 How to make it?
3 steps, in a nutshell, to help you get going! Find the complete instructions in the recipe card further below.
Step 1
Keep cut onion, garlic and mushrooms ready.
Combine all the hamburger ingredients.
Shape them into balls and press them gently down to shape into discs.
Step 2
Cook hamburger steaks on both sides in a skillet.
Take out hamburger steaks to prepare the sauce in the same skillet.
Step 3
Add remaining oil and flour to the pan to create a roux. Mix flour into the oil.
Stir in onion and sauté.
Step 4
Stir in and sauté garlic and mushrooms. Everything should reduce and get soft.
Season with salt, black pepper, and nutmeg.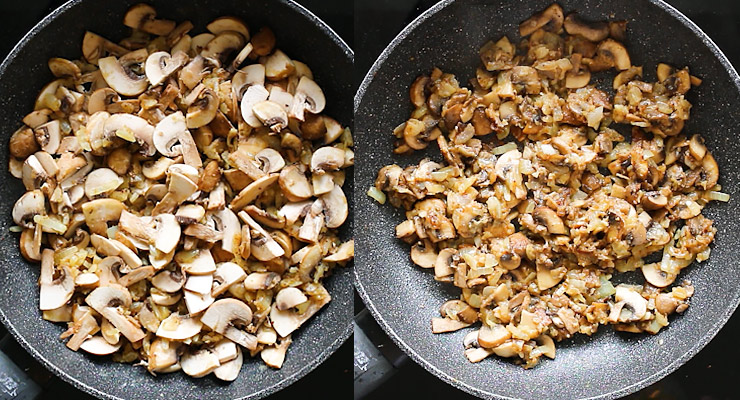 Step 5
Pour in beef stock and mix in dijon mustard.
Mix and reduce to the desired consistency.
Place hamburgers back into the sauce and serve up.
🍴 Serving
I love Salisbury steak with cooked plain rice, buttered peas, classic mashed potatoes, or even sweet potato mash.
Roasted veggies are another great addition or cooked veggies turned into a salad such as green bean salad or beet salad with vinaigrette.
🍱 Storing
The ground beef patties can be frozen. Jut shape them and place them between cut-out baking sheets in a freezer-friendly dish.
Usually, I prepare a meat batch for 8 beef slices (as you can see on my step-by-step pictures and video). I cook 4 to make this dish and the other 4 are frozen.
The frozen burgers can be thawed in the fridge overnight or in a defrost setting in the oven or microwave.
If you have cooked leftovers, place them in a fridge container and refrigerate for up to 2-3 days.
Heat it up again in a skillet, oven, or microwave.
I love to store them in a glass container, which is also heatproof so that way you can just place the dish into your oven to heat up. Saves dishes!
🍱 FAQs
Salisbury steak VS hamburger steak
The Salisbury steak is a type of hamburger steak. What makes this dish more than just a hamburger is the addition of a brown mushroom sauce.
What kind of ground beef should I use?
I recommend using quality ground beef with a ratio of 20% fats and 80% meat. Fats add a lot of flavors and make the burger juicy. The meat gets a nice crisp brown texture on the outside too.
Can I make hamburger steaks with other meats?
Normally a hamburger is always prepared with beef meat. If you want to give it a juicy flavorful edge, make it with 50% ground beef and 50% pork sausage. The two types of meat together create a sweet spot, which is common in West Europe. If you want to move away from red meat, you can try it with ground turkey or chicken too. Just follow the same procedure as per the recipe instructions.
Global Food Recipes
with Spices and Herbs
Free E-Book available for a limited time. Grab yours now and get instantly inspired!
📖 Recipe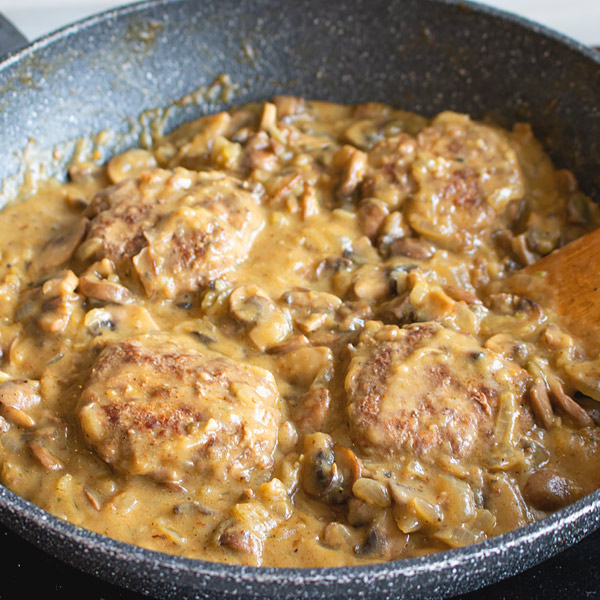 Salisbury Steak Recipe
A classic flavor-packed recipe to make salisbury steak from scratch at home. One-pan hassle-free!
Print
Pin
Rate
Instructions
For the steak
Place the ground beef in a mixing bowl.

Add breadcrumbs, all the spices, and the egg.

⅛ Cup Bread Crumbs,

¼ Teaspoon Salt,

⅛ Teaspoon Black Pepper Ground,

½ Teaspoon Onion Powder,

½ Teaspoon Garlic Powder,

½ Teaspoon Paprika,

¼ Teaspoon Dill Seeds,

¼ Teaspoon Coriander Seeds Ground,

½ Egg

Combine the burger mass so that it is well mixed.

Shape into equal-sized balls. Place them on a clean surface and gently press down to shape circle burger patties.
Prep fresh produce
Dice onion, chop garlic, and slice mushrooms.

1 Onion,

1 Piece Garlic Clove,

8 Ounce Mushroom

Keep all the ingredients separate at the side nearby.
To cook the dish
Heat up a skillet with 1 tablespoon olive oil and wait for it to get hot enough. Keep over a medium to high heat setting.

Place hamburger beef patties into the pan and keep the same heat setting.

Cook meat on both sides until cooked through. Reduce to a medium heat setting if it's too hot.

Take the meat from the pan and keep it aside but keep the pan hot, on a slow flame. Add 2 tablespoon olive oil.

Stir all-purpose-flour into the oil. This is your roux now. It should be smooth without lumps.

2 Tablespoon All-purpose Flour

Stir onion into the skillet and sauté until it has softened a bit. Keep over a medium heat setting.

Stir in chopped garlic and cook and mix for a minute or two. Be careful that the garlic doesn't burn on, keep on a slower heat setting.

Increase the heat again and add the sliced mushrooms. Mix and sauté. The mushrooms will reduce considerably.

Season with black pepper, salt, and grated nutmeg.

¼ Teaspoon Black Pepper Ground,

½ Teaspoon Salt,

pinch Nutmeg

Pour in beef stock and add the dijon mustard. Mix it all and keep it over a medium heat setting.

1 Cup Beef Stock,

1 Tablespoon Dijon Mustard

Stir cook and watch the sauce thicken. Cook until you are satisfied with the consistency.

Place meat slices back into the pan into the sauce. Serve up.
Notes
In the US get a pack of 8-ounce button mushrooms (which makes about 226 grams). In the rest of the world, the packs tend to be 200 or 250 grams, so use a pack of 200 or 250 in that case.
The steak ingredient quantity can be doubled too, prep 4 patties for this dish and freeze the other 4. The process images in the post and the video show the meat quantity for 8 patties.
You can use ready-made steaks in this recipe instead of homemade ones.
The leaner the ground beef the less flavorful the meat. Try getting ground beef with at least 20-25% fats. (Mine is lean in the video and pictures because that's what we get...)
It's optional to add the dill seeds and ground coriander seeds. Skip them if they are hard to get by. Add them if you want some great flavors in your burger meat.
Nutrition
Nutrition Facts
Salisbury Steak Recipe
Amount Per Serving
Calories 280
Calories from Fat 180
% Daily Value*
Fat 20g31%
Cholesterol 61mg20%
Sodium 673mg28%
Potassium 529mg15%
Carbohydrates 12g4%
Protein 15g30%
Vitamin A 157IU3%
Vitamin C 4mg5%
Calcium 42mg4%
Iron 2mg11%
* Percent Daily Values are based on a 2000 calorie diet.