The BEST Wiener Schnitzel. Classic meat texture and flavors, perfect layers and fried crispy golden.
This is a classic traditional Wiener Schnitzel Recipe. It's the real deal!
You will learn everything you need to know about this dish. Which meat to use, and how to serve your Wiener Schnitzel.
This post was long due, because I'm a native Austrian and this couldn't be more Austrian then that. It's our national dish!
Jump to:
What is Wiener Schnitzel?
Wiener Schnitzel is a breaded flattened meat cutlet, fried crispy in a pan.
Wiener means from Vienna, which is the capital of Austria. That indicated the dishes' origin.
A Schnitzel is a meat cutlet, which can be breaded or not.
An authentic Wiener Schnitzel is always prepared with veal meat cuts.
Yet, most restaurants in Austria will give you a pork or turkey option too.
Pork Schnitzel are not really Wiener Schnitzel but they are called that way in Austria and Germany too.
Pork Schnitzel is common in west Austria and Bavaria (Germany) because our regions are farmer countries and pork meat has always been the choice of meat over there.
When in Viennea, you will mostly see Veal Schnitzel as an option on menu cards.
The turkey Schnitzel has been turned into a wellness "healthier" option.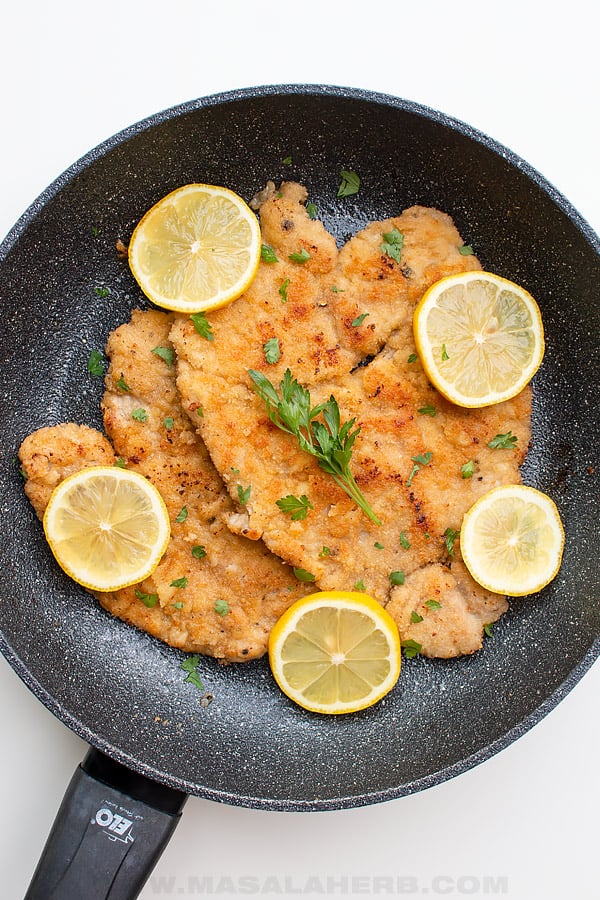 Wiener Schnitzel VS other Schnitzel VS Cordon Bleu
There are countless Schnitzel varieties out there and most are Austrian or from other neighboring countries such as Hungary, Czech Republic, Slovakia, Slovenia, Germany, and Italy.
Another popular Schnitzel from Austria, which isn't breaded, is the Jägerschnitzel, which comes with a creamy mushroom sauce.
Italian Chicken Piccata are similar to Wiener Schnitzel and are also breaded.
The Cordon Bleu is a ham and cheese stuffed meat cutlet. A classic Cordon Bleu is prepared with veal meat too.
A Chicken Schnitzel is also called an Israeli Schnitzel. It's prepared with sesame seeds and served with hummus. It's uncommon in central Europe.
A Wiener Schnitzel can be sandwiched between to Kaiser Semmel too. It's a popular lunch option for the working class in Austria and Germany.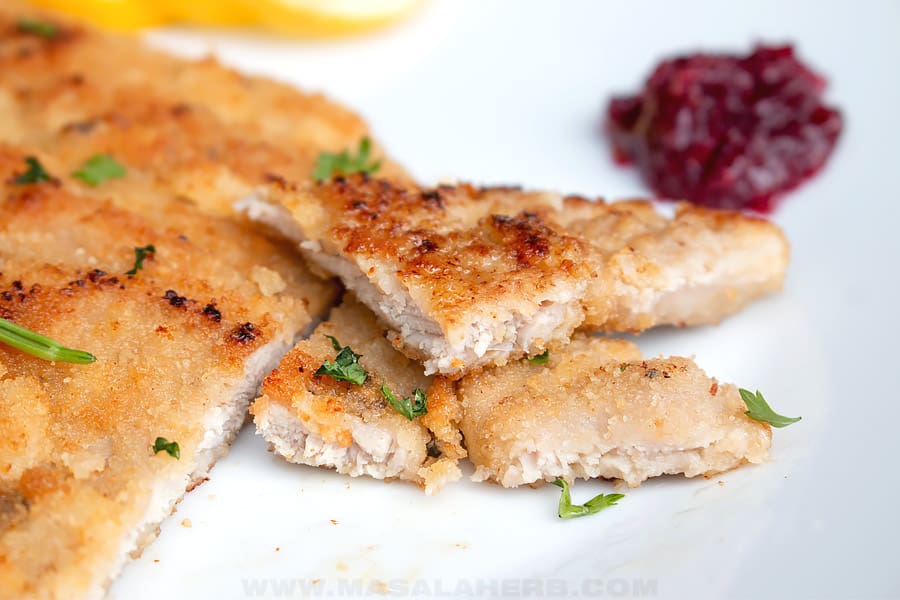 How to make Wiener Schnitzel?
A Wiener Schnitzel is always coated with 3 layers.
Here is a clear outline on what to expect. The complete recipe with details is located at the bottom of this post.
Step 1
Pat dry and flatten your meat cutlets with a meat mallet.
Season meat with salt and black pepper.
Step 2
Prepare 3 shallow plates or containers. One with all purpose flour, one with a scrambled raw egg and the third with bread crumbs.
Coat Schnitzel first with the flour, then drag it through the egg and coat at last with the bread crumbs.
Step 3
Heat up a skillet with lard or butter.
Place Schnitzel into the pan and fry on both sides golden.
Serve hot with a side of your choice.
Serving ideas
A Schnitzel in Austria is traditionally served with parsley butter potatoes or french fries.
Lingonberry jam or Ketchup is served along with a small green salad and a slice of lemon.
A warm potato salad or pan-fried potatoes are other common side dish option with a Wiener Schnitzel (depending on the region).
The Viennese Austria cuisine doesn't serve a Vienna Schnitzel with braised red cabbage, spaetzle or cabbage salad. You will see that in Germany only.
Dear Reader, did you try the Recipe?
Please feel free to share your thoughts and ideas with us in the comment section further below!
PIN to save for later!
So you love SPICES and HERBS?
GET 5 FREE SEASONING LESSONS
Type in your email address below.
Including free access to the
Seasoning Members only Club!
📖 Recipe
Authentic Wiener Schnitzel Recipe
The BEST Wiener Schnitzel. Classic meat texture and flavors, perfect layers and fried crispy golden.
Print
Pin
Rate
Ingredients
To Coat
2

Meat Cutlets

veal, pork or turkey

1

Teaspoon

Salt

½

Teaspoon

Black Pepper

3

Tablespoons

All Purpose Flour

1

Egg

¾

cup

Bread Crumbs
To Cook
4

Tablespoons

Lard

or Butter
Instructions
To Coat
Place the meat cutlet on your working surface and pat dry with kitchen paper to suck in excess liquids.

Place a clean cling film on your meat and pound the meat with a meat mallet. The meat will stretch out but won't tear thanks to the cling film. Pound until stretched out to the max.

Season meat with salt and black pepper on both sides and rub it in with your fingers.

Prepare three trays or shallow plates. 1st with all-purpose flour, 2nd with scrambled raw egg, and 3rd with bread crumbs.

Coat meat first with the flour, 2nd with the egg, and third with the bread crumbs.
To Cook
Heat up a skillet with lard or butter. Wait for it to get hot but don't let it fume. Drop a tiny piece of bread crumbs into the skillet to check if the oil is hot enough and sizzling.

Place Wiener Schnitzel into the skillet and cook on one side almost golden over a medium to high heat setting.

Add some more lard or butter if it's too dry.

Turn Schnitzel and fry on the other side over a medium to high heat setting.

Take out from your pan when done. The Schnitzel should be golden fried on all sides.
Garnish
Garnish with fresh parsley and serve with lemon slices and other sides and sauces.
Notes
 A classic Wiener Schnitzel is always coated with flour first and then with egg and bread crumbs. This creates a layer of bread crumbs when fried which detaches slightly from the meat. 
Nutrition
Nutrition Facts
Authentic Wiener Schnitzel Recipe
Amount Per Serving
Calories 245
Calories from Fat 45
% Daily Value*
Fat 5g8%
Cholesterol 83mg28%
Sodium 1497mg62%
Potassium 173mg5%
Carbohydrates 40g13%
Protein 10g20%
Vitamin A 1603IU32%
Vitamin C 10mg12%
Calcium 155mg16%
Iron 3mg17%
* Percent Daily Values are based on a 2000 calorie diet.
This post may contain affiliate links that point to things or services that I recommend. This may include Amazon, getyourguide and booking.com. As an Amazon Associate I earn from qualifying purchases.