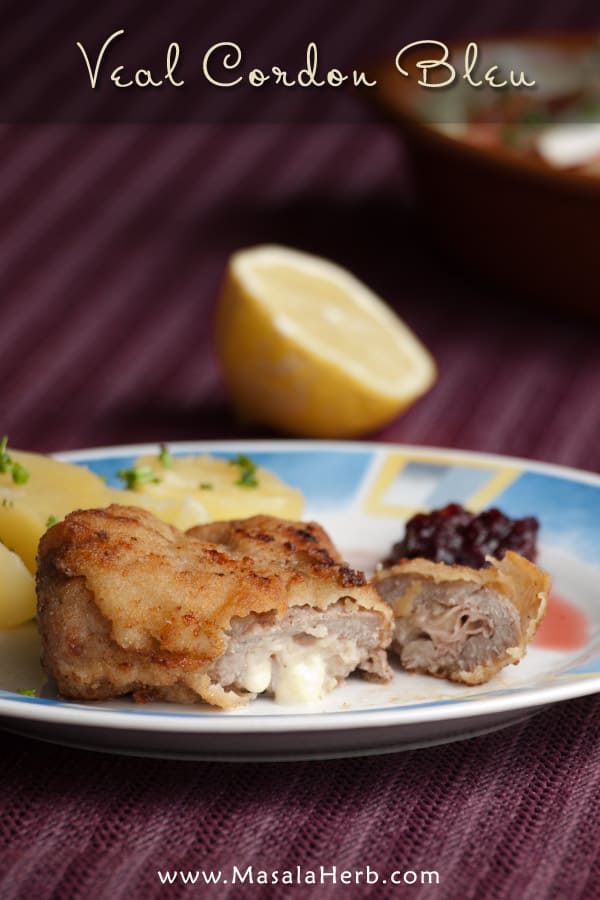 Imagine a moist, soft, breaded veal meat cut, gently folded over into a pocket, which is stuffed with a mouthwatering thin artisan ham slice and melting cheese.
This particular dish, better known as a Veal Cordon Bleu in our midst, is one of those lunch idea, which will please a huge crowd of meat lovers.
Veal anytime meal
In Europe, meat lovers are everywhere and veal meat is rather easy to come by, whereas both possibilities are either rare or impossible in a Vegetarian heaven such as the Indian subcontinent.
Fortunately, I am lucky to enjoy a great quality piece of veal meat right now in Austria, Europe. I don't cook veal that often, maybe once a month, but if I do, then I transform the precious young meat into a smashing dish.
However, because I was based in Goa for the past 8 years, and veal meat has been banned in India, I hadn't posted a veal recipe yet at masalaherb.com.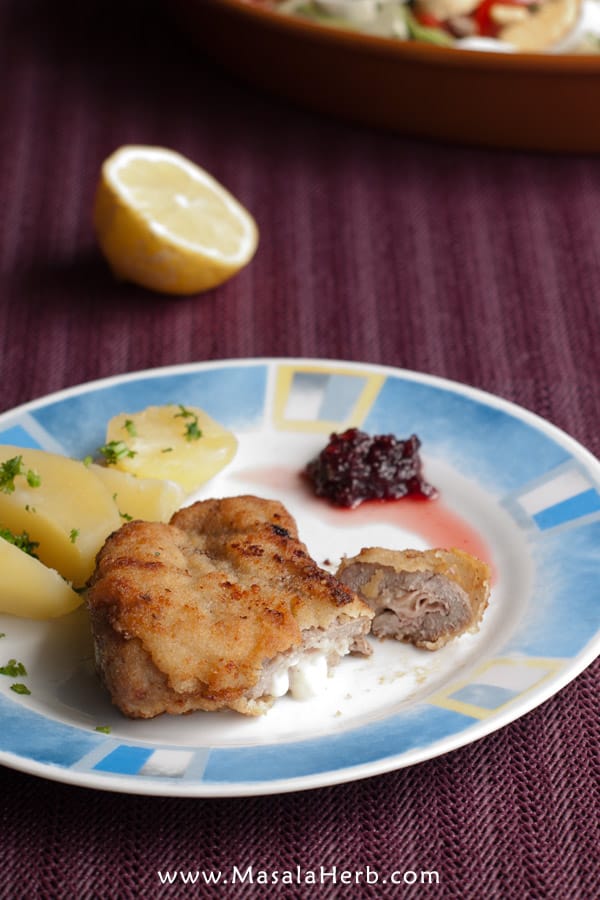 Therefore, I am rather excited to do so today (especially after having taken a break posting recipes and travel guides for a month now!), but before we get to the recipe and further preparation details I would like to ask you…
Do you get to buy veal meat in your corner of the world (wherever that may be)?
Is it expensive compared to other meats?
How do you prepare veal meat at home?
Is veal meat part of your food culture?
Veal Cordon Bleu
melting soft cheese on the inside coated by a thin scrumptious slice of ham and soft and juicy veal cut with a crunchy breading on the outside. I introduce you to the perfect veal cordon bleu.
Ingredients
200 grams Veal Steak fillet thin cut (2x 100 grams) 0 7 oz (2x 3.5 oz)
pinch Pepper
pinch Salt
2 Cheese slices, emmenthal preferably
2 thin Ham slice or prosciutto slice
40 grams all purpose Flour or 1.5 oz
1 small Egg
60 grams Bread Crumbs or 2 oz
Oil to fry
2 Toothpicks
Cordon Bleu is a breaded stuffed Schnitzel, such as the Chicken Schnitzel Recipe here. Hence, it's best served with a sour jam such as the Lingonberry jam. The way of serving Schnitzel with lingonberry jam is commonly preferred in Austria, the traditional Schnitzel country.
You can serve this Veal Cordon Bleu with the easy french bean salad with vinaigrette or a simple radish salad.
The following two tabs change content below.
I am Helene, and created Masala Herb to share my food and travel journey with the whole world. You will find Asian and Western dishes here, as well as unique travel guides to inspire your day. Don't miss a post! Subscribe to the free newsletter!
Latest posts by Helene Dsouza (see all)