Chickpea hummus prepared without tahini. A selection of spices take this dip to a whole new taste level!
Hummus without tahini recipe – with a selection of spices to add wholesome flavors to your chickpea dip!
Jump to:
📕 What is Hummus?
Hummus is a popular and traditional middle eastern dish, prepared with chickpeas (aka garbanzo beans) as the main ingredient.
It's creamy, thick and the chickpea flavors come through with the seasoning. Hummus is known to be nutritious!
It is part of the local food table in Egypt, Palestine, Israel, Syria, Lebanon, Jordan, Cyprus, and Türkiye.
Hummus is Arabic for Chickpeas and several spellings exist, including Hommos, Houmous, Hoummos to just name a few.
Many variations and serving suggestions exist across the Levant and Middle East.
This is a modern Hummus recipe prepared without Tahini Sesame paste, and it includes a set of spices.
A classic traditional Hummus includes tahini, which is a paste made of sesame seeds.
🧄 Ingredients
To blend:
Chickpeas (aka Garbanzo Beans) – boiled or canned
Garlic Cloves
Luke Warm Water
Olive Oil – extra Virgin always preferred for the best result
Lime Juice
Salt
Black Pepper
Paprika – I like smoked Paprika, but you can use sweet or hot Paprika too
Cayenne Pepper – to add heat!
Cumin Powder
Coriander Seed Powder
To top off or garnish before serving:
Cilantro – fresh
Mint – fresh or dried
More Cayenne Pepper to add some heat to your hummus or Paprika
More Olive Oil
Adjust the quantity of Cayenne Pepper for a spicy hot hummus or to decrease the heat.
You can also opt for red pepper flakes instead of cayenne pepper as a topping.
🔪 How to make Hummus without Tahini?
Here is how this easy Hummus recipe is prepared without the addition of tahini sesame paste. A set of spices alleviate your hummus experience further.
Step 1 (optional)
For a creamy smooth Hummus, peel your chickpeas. This is an optional step but worth your 10 minutes for a better grain-free and easier to digest Hummus.
Place cooked or canned chickpeas in a bowl with water. Plus point if the chickpeas are still hot (i.e. after boiling).
Rub chickpeas between your hands so that the skin comes off. It takes about 5–10 minutes to get them all off. You can take them all off or half batch only.
Step 2
Place chickpeas with garlic cloves, oil, some water, lemon juice and spices in a blender jar or food processor.
Blend and keep on adding water until all used up, and you are left with a smooth paste.
Step 3
Place hummus into a serving bowl and top with more olive oil, chopped mint, cilantro, and cayenne pepper and/or paprika.
💫 Blending Tips
You need a powerful blender or food processor to make hummus at home from scratch. Chickpeas turn into a thick and heavy mass when blended, so blades can get stuck. A powerful blender engine is the only way to go!
Keep on adding a small amount of water to help the blades turn.
Don't use a hand blender, it won't blend.
🍴 Uses and Serving Ideas
Depending on whom you ask in the Middle East, hummus can be served and enjoyed differently.
Its prime use is as a dip with freshly baked pita bread. Chickpeas are filling, so on its own with pita chips or pita bread, it can be served as a hot weather lunch.
In a western setting, you will see it served with various dippers such as freshly cut cucumber, celery, and carrot sticks.
If you are open-minded, as I'm, you can add salted crackers, lavash chips, tortilla chips and Italian Grissini as dippers.
Hummus makes for a great party dip, but that's not the only way that is has been enjoyed in the Middle East.
You can serve it as a side dish, just like mashed potatoes, with a lamb or chicken main course meal.
Israelis serve hummus with Chicken Sesame Schnitzel, which just shows that hummus can be enjoyed just the way you like.
Spread some hummus over your bread for a vegan snack or sandwich or spread it over your wheat taco or chapati and roll it in with your filling to make a Burrito.
🍱 Storing
You can store your homemade hummus without tahini in the fridge or in your freezer.
Fridge
Hummus can be beautifully stored in your fridge without any issues. Place the Hummus mass into a container and close it with a lid.
Hummus is good for at least 7 days in your fridge.
Open containers in the fridge will turn the upper Hummus coat hard. Therefore, it's important to store your hummus in a closed container.
Just keeping out the hummus for all too long will form a hard layer on the hummus, and while your hummus is still perfectly edible, it isn't that appetizing to munch on harder hummus pieces.
Your hummus should always remain perfectly smooth and creamy!
A popular trick is to pour olive oil over your hummus before you keep the hummus in the refrigerator. The oil creates a barrier and keeps away air. The oil also mixes in well, and it's delicious!
I like to keep the hummus out for 1–2 hours before serving time so that the hummus has enough time to reach room temperature.
This chickpea dip tastes better if served in room temperature but in a very hot climate it tastes great cold too. Yet, traditionally, it's either served at room temperature or warm.
Freezer
Another option is to store it in your freezer. I recommend creating smaller batches and placing the hummus into freezer-friendly containers.
Store it in the freezer for up to 2 months.
Thaw your hummus overnight in your fridge or keep it out for a few hours until completely thawed before serving time.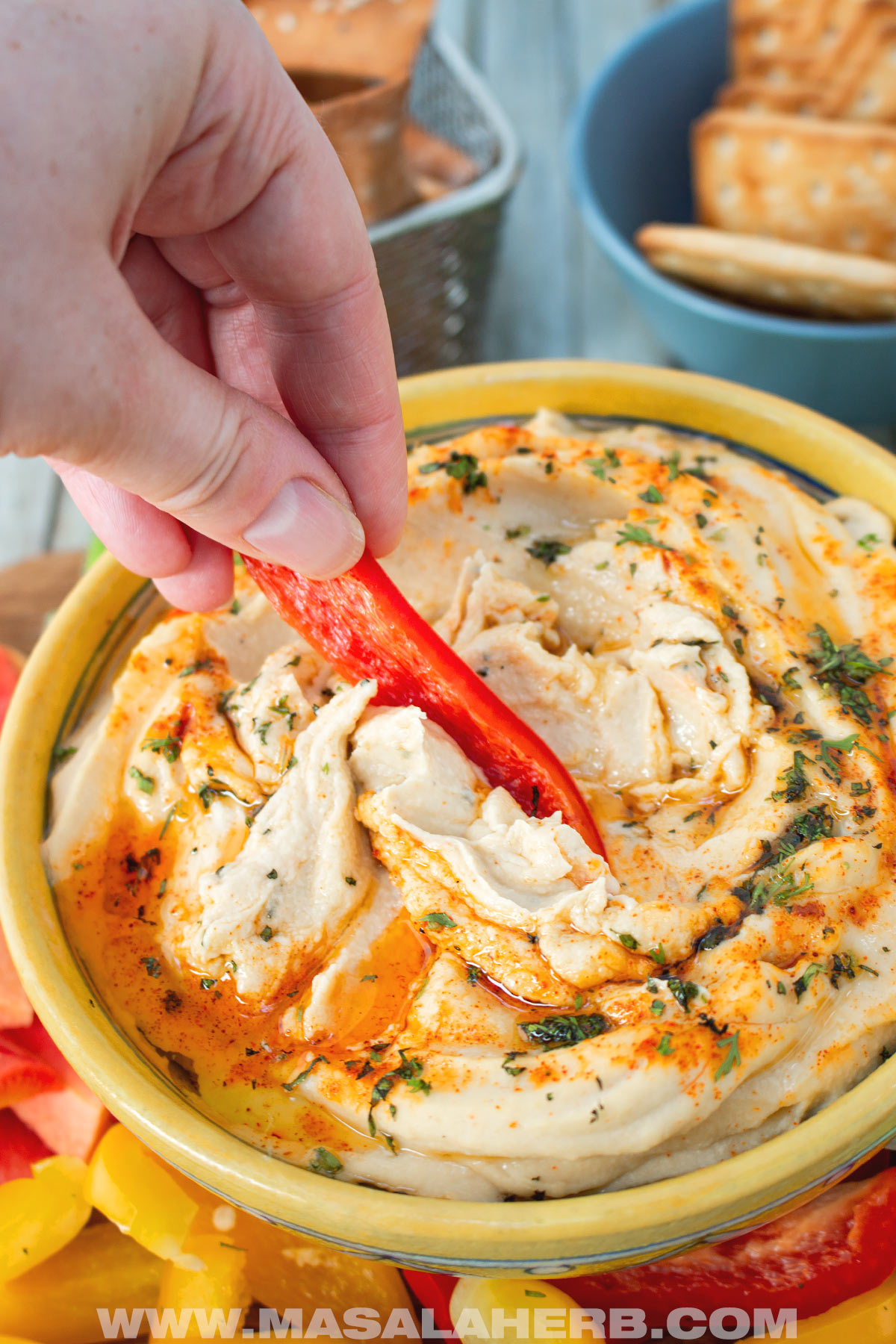 💭 FAQs
How long can hummus sit out?
That depends on your climate. Try to avoid keeping out your hummus in a hot or tropical climate. Take out a batch to serve at a party and keep the rest in your fridge. Hummus can be left out for an afternoon in a colder climate without issues.
How to increase or decrease the heat in this hummus recipe?
To decrease the heat, skip using cayenne powder or reduce the quantity to your liking. More paprika can be used instead of cayenne pepper to mellow it down. To make this hummus spicy hot, sprinkle some more cayenne pepper, especially over the ready-to-serve hummus.
I don't like cilantro, can I skip it?
Yes! You can also use parsley instead of cilantro, or you can just skip it altogether, but it will alter the original taste.
Why do I have to peel my chickpeas?
You don't have to, it's optional, but I recommend it because your hummus will turn out much creamier and better. Besides, removing the peel off your chickpeas will be beneficial for your digestive system.
Is Hummus healthy?
Chickpeas are rich in plant protein and fiber carbohydrates, helping you to stay fuller longer. Fibers are also important for your gut health. Make sure to peel your chickpeas so that the beans are easier digested. My spice selection in this recipe doesn't only make it taste great, but will mostly boost your well-being in one way or the other.
Is hummus fattening?
The quantity that you eat will make or break your weight management. Hummus is smaller quantities can be filling and won't make you fat. Eat a lot of it regularly, and you will gain weight. So for, weight gain, it is great!
Is this hummus recipe cut out for specific dietary needs and is it allergy friendly?
This hummus without sesame seeds is great for all those who can't eat sesame seeds due to allergies. It's also gluten-free and vegan. It's not low-carb or keto!
👁️‍🗨️ More Bean Dips
📖 Recipe
Spicy Hummus without Tahini Recipe
Chickpea hummus prepared without tahini. A selection of spices take this dip to a whole new taste level!
Print
Pin
Rate
Instructions
To peel chickpeas (optional)
Strain your canned or boiled chickpeas and place them into a bowl with fresh water.

Rub and roll the chickpeas between your hands so that the skin goes off. It's easier if the chickpeas were still hot (i.e., after boiling) and if the water is nice and cold.

Peel all chickpeas or just half, it's up to you how smooth you want your hummus. This takes about 10 minutes.

Strain peeled chickpeas and discard peel.
To blend
Keep all fresh ingredients ready. Chop cilantro and mint, peel and roughly chop garlic, juice lime.

1 Large Garlic Clove,

2 Teaspoon Mint,

2 Teaspoon Cilantro Fresh,

1 Piece Lime Juice

Place peeled chickpeas into a large blender jar or food processor.

Add the garlic, lime juice, ground coriander seeds, ground cumin, paprika powder, cayenne pepper powder, salt and black pepper to the chickpeas.

1 Large Garlic Clove,

½ Teaspoon Salt,

⅛ Teaspoon Black Pepper Ground,

½ Teaspoon Paprika,

½ Teaspoon Cayenne Pepper Ground,

1 Teaspoon Cumin Seeds Ground,

½ Teaspoon Coriander Seeds Ground,

1 Piece Lime Juice,

3 Cups Chickpeas

Pour half of the water and olive oil, into the jar or food processor, to the chickpeas. The rest will be added during the blending period, to help the blender/food processor to pulse and blend the heavy mass to a smooth hummus.

1 Cup Olive Oil,

1 Cup Lukewarm Water

Blend your chickpeas and other ingredients to a smooth hummus with the remaining water and olive oil.
To top
Place hummus into a serving bowl. Top with olive oil, chopped mint and cilantro, paprika and/or cayenne pepper.

Drizzle Olive Oil,

2 Teaspoon Mint,

Paprika,

Cayenne Pepper Ground,

2 Teaspoon Cilantro Fresh

Serve up in room temperature.
Notes
You can choose to peel your chickpeas, it's optional because it's an extra chore. I recommend peeling your chickpeas, which takes about 10 minutes. The hummus will turn out better and much smoother. If you don't peel them, your hummus will be grainy. It also helps your digestion if you peel them first.
Don't keep your hummus standing around too long uncovered, or else a hard layer will form around the top layer of your hummus. To avoid that, pour olive oil over the hummus. This will prevent a hard layer to form.
Serve up smaller portions or keep your serving bowl covered with a plastic wrap until serving time.
Equipment
1 Bowl

1 Blender or Food Processor

1 Silicon Spatula
Nutrition
Nutrition Facts
Spicy Hummus without Tahini Recipe
Amount Per Serving
Calories 275
Calories from Fat 207
% Daily Value*
Fat 23g35%
Sodium 122mg5%
Potassium 158mg5%
Carbohydrates 14g5%
Protein 4g8%
Vitamin A 111IU2%
Vitamin C 2mg2%
Calcium 29mg3%
Iron 2mg11%
* Percent Daily Values are based on a 2000 calorie diet.