Homemade Sauerkraut left to ferment the old fashioned way in a stone crock pot.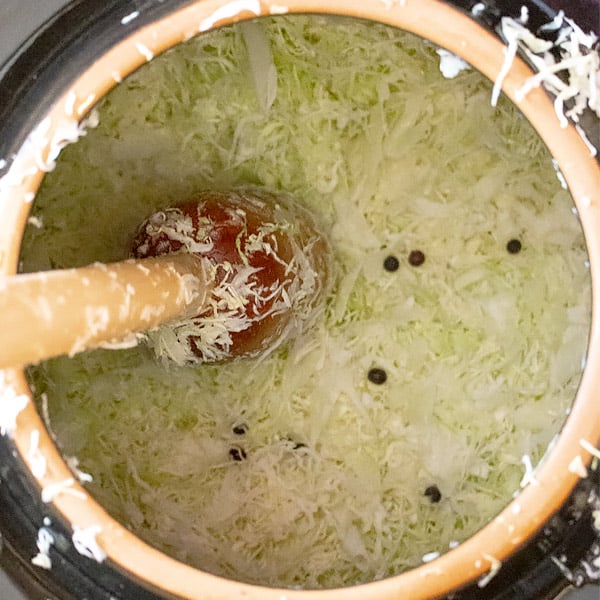 This is a traditional Austrian, German (Bavarian) Sauerkraut recipe prepared and fermented in a crock pot.
I show you how to make it from scratch from whole fresh cabbage.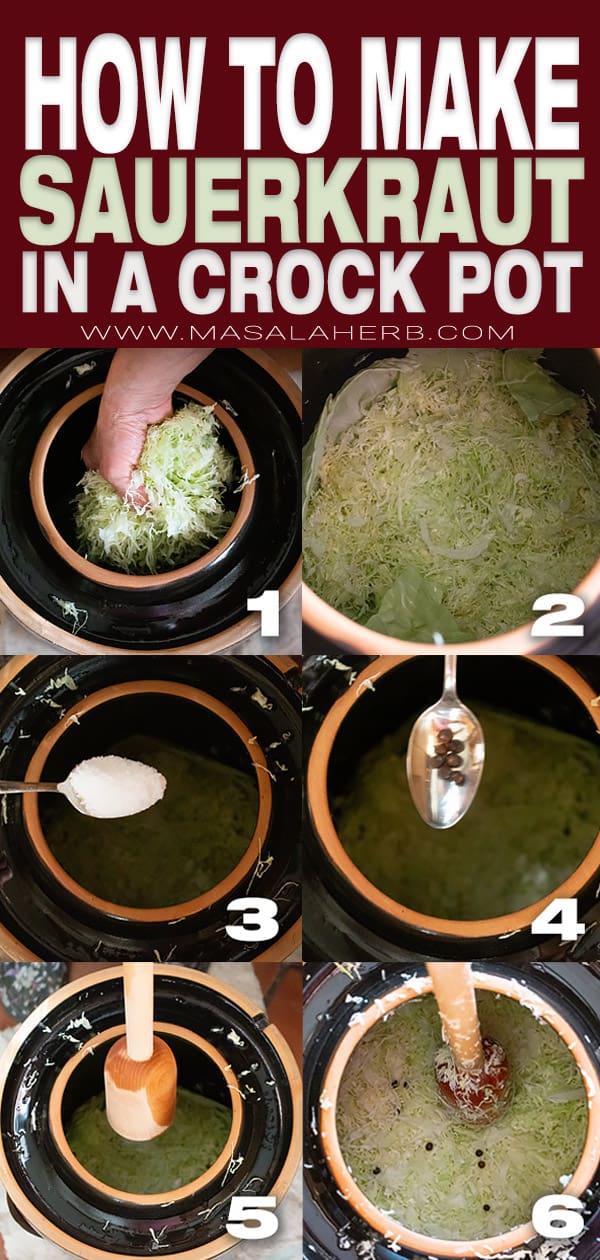 Jump to:
What is Sauerkraut?
Sauerkraut is fermented shredded cabbage. The name is German and means sour cabbage translated.
Cabbage is harvested in September and October and fermented traditionally in a clay crock pot.
It's a way to preserve food for the colder months, and fermented cabbage is also super nutritious.
Due to the fermentation process, Sauerkraut is rich in vitamin C and it's great for our gut health.
During the age of continental discoveries, seafares suffered form a lack of Vitamin C on board. So they brought sauerkraut in barrels on board.
The idea of fermented cabbage was brought back to Europe from China and Korea. Korean Kimchi is related to the European Sauerkraut.
Traditionally Sauerkraut is prepared in Bavaria and other parts of Germany, Austria, South Tyrol (former Austria now Italy), Alsace (France), Switzerland, Poland, Hungary, Slovenia and neighboring countries.
Equipment
You will need these three tools to prepare authentically fermented cabbage.
How to prepare Sauerkraut in a crock pot?
Making Sauerkraut the traditional way in the crock pot is uncomplicated but it can be physically tiring.
The cabbage needs to be shredded, so this is why it can be exhausting to your arms (and mind lol).
Step 1
Rinse, quarter and cut out the white hard cabbage "heart".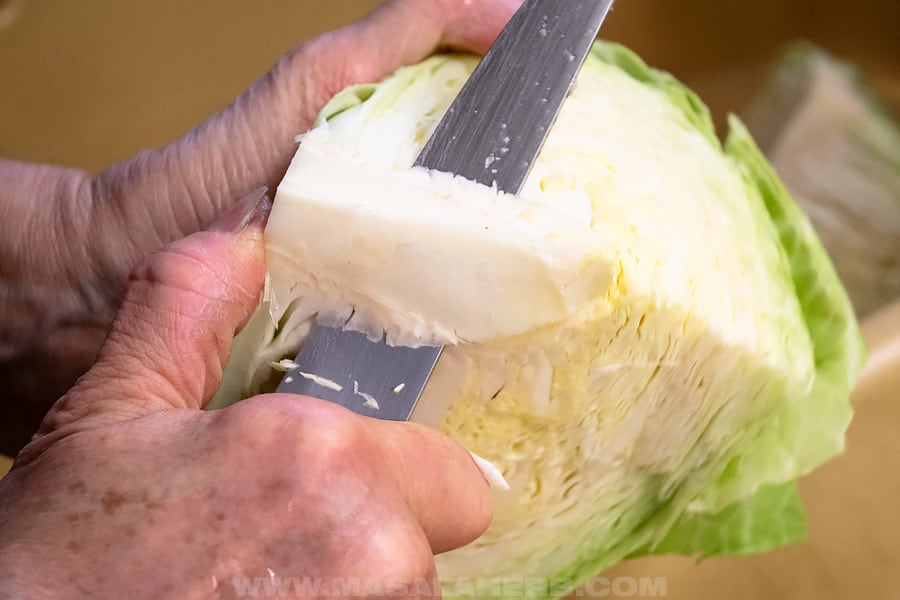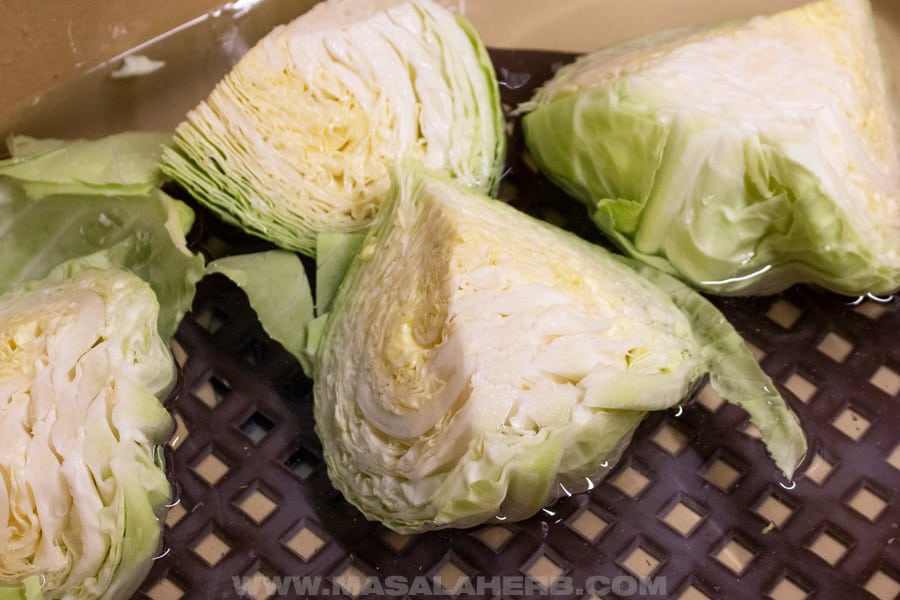 Step 2
Take off some of the largest cabbage leaves and place them into the clean bottom of your crock pot. That way it's laid out at the base.
Step 3
Shred cabbage. The most time consuming part.
Step 4
Place a layer of shredded cabbage into the crock pot. Sprinkle some salt and a few juniper berries over that cabbage layer. Stomp it down with the stomper.
Repeat the process with all the cabbage, salt and juniper berries, until you used it all up. Always stomp down after every layer!
Pour luke warm water over the cabbage in the crock pot.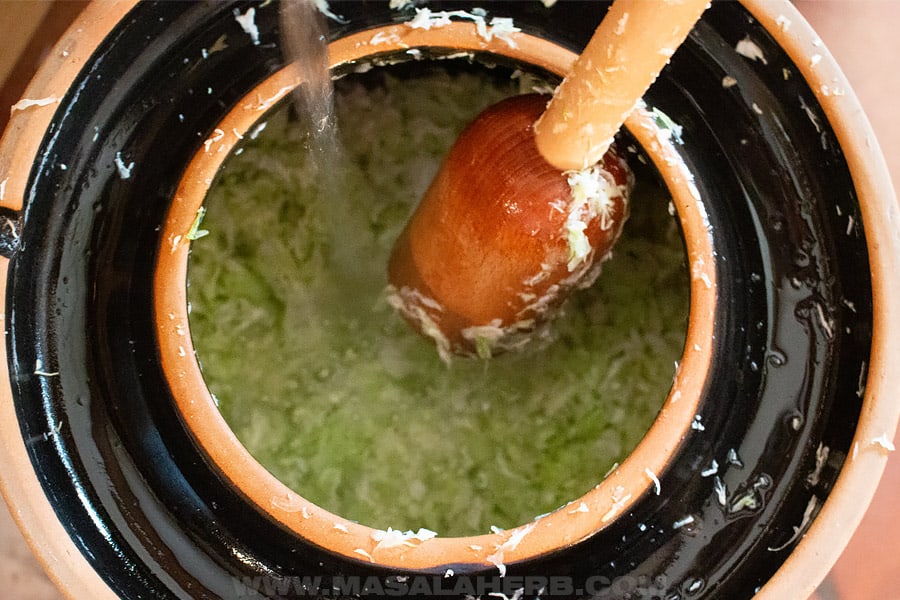 Step 5
Place clean stone weights over the cabbage in the crock pot and close with the lid.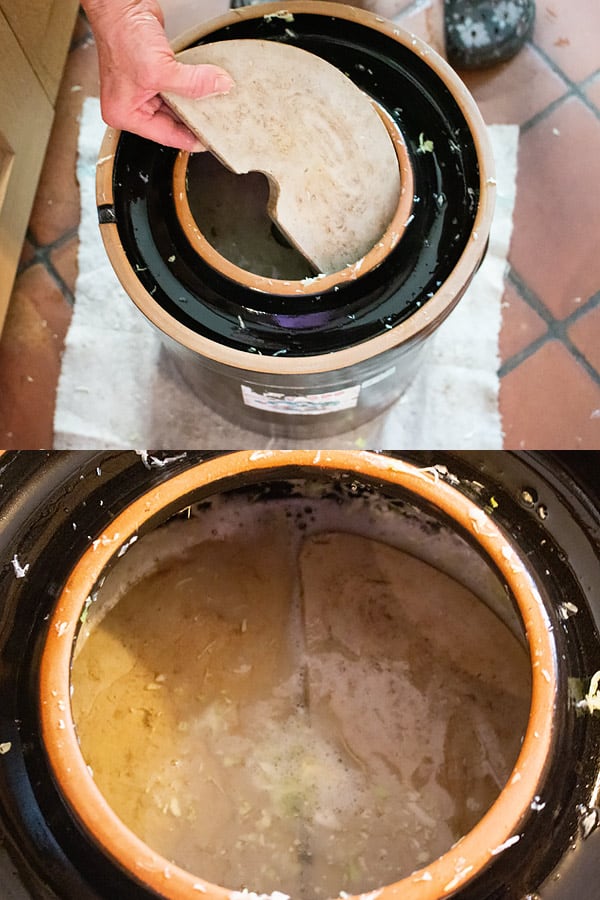 Pour water into the crock pot ring groove. Make sure there is always water in that!
Step 6
Leave your cabbage to ferment (takes 6 weeks!) until it turns into Sauerkraut.
How to use fermented Sauerkraut in your cooking?
Once your Sauerkraut is done fermenting, you can use it to prepare a dish.
The Sauerkraut will need to be cooked in a pot and you can add more seasoning and other ingredients such as sausages and lard.
We love to add caraway seeds, black pepper and bay leave to the cooking sauerkraut.
You might enjoy my recipe for cooked Sauerkraut, Sausage with bread dumplings.
Storing instructions
Place your crock pot in a cool environment. It shouldn't be a humid climate.
We keep it in the cellar touching the cold floor. I recommend you keep it there before you add the cabbage in because the stone pot is super heavy.
The cabbage will take about 6 weeks to ferment completely. During that time you can check every few days the fermentation status
You need to make sure that there is always some water in the outer ring so that no oxygen from outside comes in.
When you open the lid for the first time, be prepared because it will stink like shit. This is normal! The cabbage has fermented and it's a success. (The irony)
Take out the quantity of sauerkraut that you need to cook that day and close the crock pot again with the lid.
The Sauerkraut can be left to store in the crock pot for up to 4-5 months. It won't turn bad because it has fermented and the crock pot it closed tight.
BUT the crock pot needs to stand in a cool place (i.e cellar in the winter).
If you can't guarantee that after the fermentation process, I recommend that you find another way to store your Sauerkraut in a cool place. Perhaps your fridge?
Another option is to preserve the Sauerkraut with the help of the water bath canning technique.
FAQs
What happens when you pour salt to cabbage?
Salt sucks out the liquids from your cabbage and helps it to preserve. So, the shredded cabbage needs to be salted layer by layer and stomped down, that way the salt is spread out and gets "activated" and the fermentation process begins in the anaerobic environment (closed lid, no fresh oxygen). The Oxygen is replaced with CO2 and other gases and the sugars in the cabbage are fermented. Bacteria do all the work here and it leaves you with beautiful Sauerkraut!
How long does it take to ferment cabbage in a crock pot?
Shredded cabbage takes 6 weeks with my recommended salt quantity to ferment completely. The Sauerkraut will look like Sauerkraut and not like raw cabbage. The fermented smell will be overbearing as well, which is a huge indication that it's done.
Can I use red cabbage instead of white/ green cabbage?
Yes you can use red cabbage too. It's just not that common. Also white cabbage makes better Sauerkraut.
📖 Recipe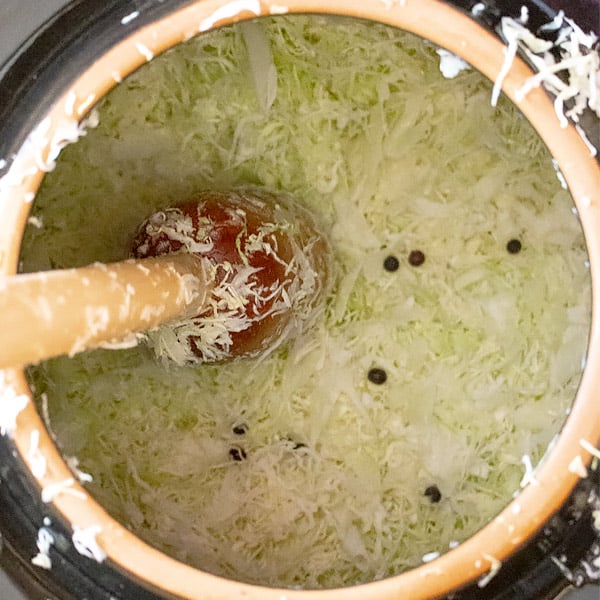 Fermented Crock Pot Sauerkraut Recipe
Homemade Sauerkraut left to ferment the old fashioned way in a stone crock pot.
Print
Pin
Rate
Instructions
Rinse Cabbage to get rid of impurities. Quarter each cabbage head, cut out and discard the hard white center.

Take the largest leaves from one cabbage and lay them out at the bottom of your clean and rinsed out crock pot.

Shred cabbage with your cabbage shredder.

Add a layer of shredded cabbage over the laid out leaves in the crock pot. Sprinkle some salt (about 2-3 Tablespoon each time) over that and a few juniper berries. Compress by stomping down with the stomper.

Repeat the layering process until you used up all the cabbage, salt, and juniper berries. After each layer stomp it down.

Pour all the luke warm water over the cabbage. That will activate the fermentation process.

Place clean crock pot weights over the cabbage and close the crock pot with the lid. Pour water into the ring of your crock pot and make sure there is always water in that.

Wait 6 weeks until cabbage is done fermenting into Sauerkraut.

When done fermenting, keep in the crock pot to store and/or use it up in a dish by cooking it further in a pot with meats and seasonings. (See post info)
Notes
1 Serving ~ 1 portion of a cooked Sauerkraut meal per Person
We use a cabbage shredder because it gets the cabbage the perfect consistency. We haven't found a kitchen machine who did that. Hence why doing it manually is more cumbersome (but well worth the trouble for a perfect Sauerkraut!!). You will build up your arm mussels. 🙂
Nutrition
Nutrition Facts
Fermented Crock Pot Sauerkraut Recipe
Amount Per Serving
Calories 19
Calories from Fat 9
% Daily Value*
Fat 1g2%
Sodium 3238mg135%
Potassium 116mg3%
Carbohydrates 3g1%
Protein 1g2%
Vitamin A 348IU7%
Vitamin C 4mg5%
Calcium 41mg4%
Iron 1mg6%
* Percent Daily Values are based on a 2000 calorie diet.