This guide covers everything you need to know to do water bath canning at home.
Global Food Recipes
with Spices and Herbs
Free E-Book available for a limited time. Grab yours now and get instantly inspired!
Jump to:
📕 What's water bath canning?
Water bath canning is a technique to preserve foods in jars.
That way your food will preserve for a long time without turning bad.
The jars packed with foods are vacuum sealed and heated to a certain degree for a particular period, so to kill all harmful bacteria.
This is an old technique, which was used more than a hundred years ago too.
It's just that nowadays we have so-called canning kits and pots to help us achieve a better result.
Food cans in stores are the commercial evolution of this technique.
Yet, the commercial stuff is anything but natural and they usually contain additives and artificial preservatives.
❔ Why would you want to prepare your own home canned food?
If you have a house with a garden and fruits and vegetables, you will want to preserve your harvest.
We usualy face the problem that all our fruits tend to ripen at the same time.
We are left with canning the surplus so that we can enjoy them during the colder winter months too. Or else the fruits would turn bad and it would be a waste.
Home canning might be for you too if you want to get away from the commercial stuff and if you want to consume natural products.
Also keeping a set of home canned jars in your pantry can come handy at all times.
💡 What can you preserve with this food preservation technique?
Here are some foods that you can preserve with this technique:
whole fruits - stone fruits mainly, pitted, skinned, or not. Also pears, pineapple, and similar.
vegetables - such as carrots, cabbage, leafy greens, green beans, peeled tomatoes.
whole mushrooms - button, chanterelle, oyster, and many more.
sauces - tomato sauce, salsa, apple sauce.
jams, fruit butters, pickles, and chutneys
whole meals - soups, stews, ravioli, corned beef, baked beans
Mini cakes and desserts in a jar (yes this can be done and they make great holiday gifts!)
As I mentioned on top, we tend to can mainly fruits because of our garden's harvest.
If that is you, then you might like a recipe for canned peaches and canned cherries.
🔪 How to can and preserve your food jars?
Essentially the process is always the same for all foods.
Step 1
Wash and sterilize your jars.
Prep your fruits, vegetables, sauce, or whatever you want to can and place into the jar.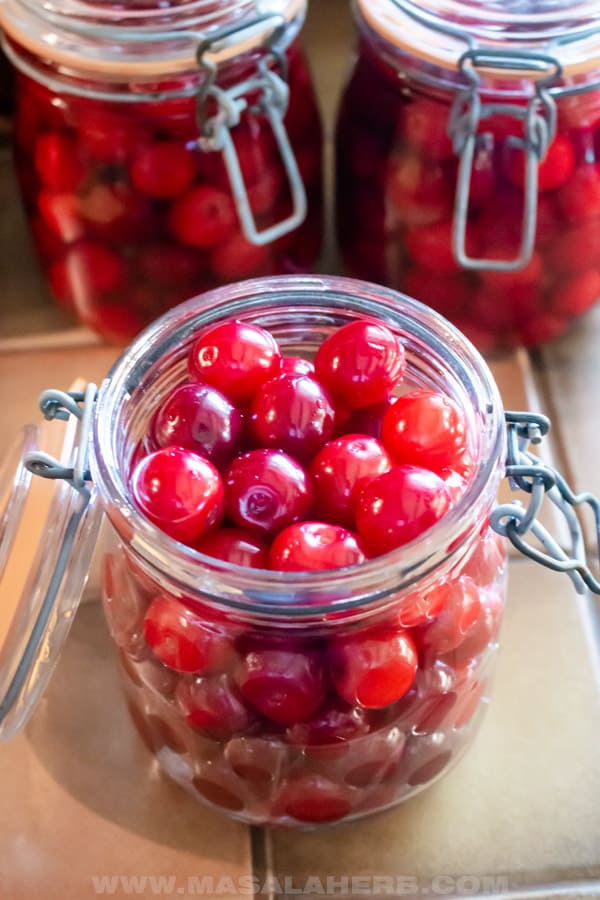 Step 2
If you use whole ingredients (vs sauce or whole meals), prepare a water sugar/salt/vinegar solution, (this depends on what you are canning) and pour over your food ingredients in the jar.
Close and lock your jars with the lid.
Step 3
Place jars with food into a large canning pot and cover with water.
Cook to reach desired temperature. Every food is different and some need to be cooked in a water bath with higher degrees.
Hold the temperature for a while to sterilize (depending on the food you are preserving). I.e stone fruits take about 30 minutes, mushrooms at least 1 hour.
Step 4
Take the jars out of the canner to cool.
Store in a cool and dry place in your pantry. Away from direct sunlight.
🏺 What jars should you use?
Type of Jars
The jar choice depends heavily on where you live in this world.
Masor jars are screw-on jars and are common in the US. The Ball brand is great.
Glass jars and lids with seals and wire latch are used in Europe besides regular screw-on jam jars. Le Parfait, Kilner or Bormioli Rocco are my recommendations.
Weck glass is sometimes used in Germany and these have a clip to hold it all together
Jar's that resemble mason jars are sometimes used in France to can mushrooms. Holes are punched in to decompress before they are opened.
We always use glass jars with rubber seals and a wire latch because it's the safest way to create a vacuum. For jams, we simply use screw-on jars.
You just have to use a quality rubber seal. You can always buy a set of rubber rings for your old jars too.
We throw out rubber seals when they look discolored because they might not seal that well anymore.
Out of experience, I recommend always orange-colored rubber seals. The white ones are no good.
However, don't limit yourself, you can use mason jars too. Weck jars are good for small canned desserts.
Size
The size depends on what you want to can.
Large stone fruits such as peaches are best canned in 32 ounces or 1-liter jars.
Mushrooms or french meat pâté are better stored in smaller 8 ounces or 250-milliliter jars.
I love 1 quart (24 ounces), ¾ liter jars OR 1 pint (16 ounces), 500-milliliter jars.
I personally have never done a gallon or 1900 milliliters. You can try this size too but keep in mind that you will need to cook your jars a bit longer in your water bath canner.
🍱 Storing
It is crucial that you store your jars properly after you are done with your water bath canning, or else they won't keep that long.
Technically speaking, your home canned jars should last for 1-2 years.
Keep the jars away from direct sunlight in a dry and cool place.
We store them on a wooden shelf in our cellar. The cellar however isn't that humid. Anything higher then 60% isn't good for your canned food jars.
If you are canning in a tropical climate, I recommend that you store your jars in a temperate room where you can control the heat and humidity levels.
💭 FAQs
Which canner/ canning pot should I get?
You can get one with racks or without. We use one without and just place the jars over each other. Check the instructions that came with your canning pot. Just make sure that your canner comes with a thermometer or with a way to push in an elongated thermometer. We use a large pot because we can a lot in one go and I recommend you get one that is large enough for all your needs. Don't use pressure cookers, they are not made for this job. There are pressure canners too, but that's a whole different topic.
What other equipments are required?
You will also need a jar lifter (aka grabber) and clean kitchen towels to place your hot canned jars on.
Global Food Recipes
with Spices and Herbs
Free E-Book available for a limited time. Grab yours now and get instantly inspired!