Canning cherries from scratch with adjustable measurments.
Preparing canned cherries at home is easier then ever!
That way you can preserve your beautiful fresh cherries for the months to come.
Jump to:
What are canned cherries?
Canned Cherries are cherries made to last, preserved in a water sugar syrup.
Fresh washed cherries are left unpitted or are pitted and placed into canning jars. A syrup is poured over the cherries before the jars are closed.
They are then "cooked" in a water bath at 185 Fahrenheit/ 85 Celsius, so that the cherries are preserved for over a year.
In your supermarket, you get those branded canned cherries. Those are just the commercial progression of what your ancestors used to do every year at the end of the fruit harvest.
You can preserve various stone fruits with the same method.
Besides you can pick which cherries you want to preserve. You can use regular sweet cherries or sour cherries.
Canned cherries are more flavorful and soft. I prefer the fresh cherries in most dessert recipes.
Equipment that you will need
Kitchen towel
Canner pot with temperature indicator - Or a large pot with a lid to slide a thermometer through.
regular pot to prepare light syrup with a cooking spoon
How to can cherries?
Luckily canning cherries at home is beyond easy.
Here is an overview on how to do that at home from scratch. All the details can be found at the bottom of the post in the recipe card.
Step 1
Pick your fruits from the tree/ buy them and separate the cherries from the stems.
Place into some water to rinse off dirt.
Step 2
Keep clean jars ready and wide open.
Place clean cherries, with the pit left in, into the jars, up until the rim.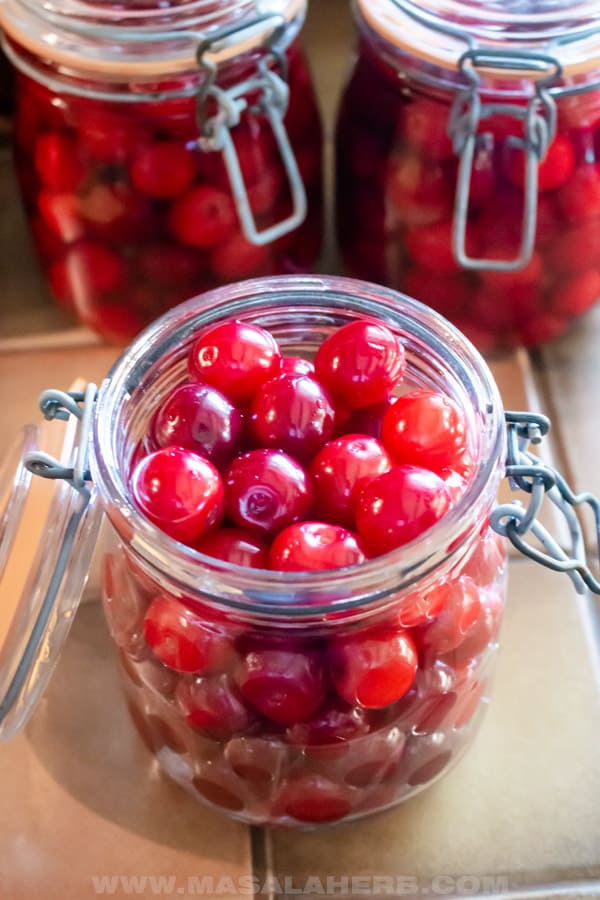 Step 3
Prepare light water syrup by heating up water and sugar (2:1 ratio) in a pot until sugar has dissolved in water.
Step 4
Pour water sugar syrup over cherries in the jars. The cherries need to be covered.
Close the lid well.
Step 5
To sterilize jars and its insides, place filled up closed jars into a canner pot next to each other and/or over each other if there is space.
Cover the jars with water. The jars need to be fully submerged in water.
Close with a lid and make sure you have a way to tell the temperature with a thermometer.
Step 6
Heat up the canner and bring it to about 185 Fahrenheit/ 85 Celsius.
Cook for another 30 minutes at 185 Fahrenheit/ 85 Celsius.
Step 7
Turn off heat when done, open lid and take out jars with the help of a jar lifter.
Place jars on a spread out kitchen towel to cool and keep there until they are done cooling down.
Storing
Keep your unopened sterilized jars of preserved cherries in a cool and dry place away from direct sunlight on a shelf next to each other.
We keep them in the cellar but in a room which hasn't a high humidity level.
A pantry room will do the trick too or a cupboard.
Your canned cherries will last up to 18-24 months if prepared and stored in a clean and perfect cool environment.
A humid tropical environment is not that great and they will last maybe about 12 months max.
Uses
To use your canned cherries, just open up the jar by pulling the rubber seal.
Use them up within a few days once opend and keep leftovers in the fridge.
You can drink the juice too. I love it in cocktails too!
Here is how we use our canned cherries:
with ice cream and chocolate sauce. You can heat up your canned cherries too.
with other canned fruits and juice to serve as a dessert. OR use them in a punch or sangria.
in a cake, as in black forest cake or a cheesecake
in other desserts such as custard-based treats. i.e french clafoutis.
as a pie filling or any other pastry filling. Think danish pastry.
FAQs
Pitted VS Unpitted Cherries
We don't pit cherries when we can our cherries because they taste better with the pit left in. However, you are free to pit them first before canning your cherries.
Can I make the light syrup without sugar or with honey?
To make canned cherries that last, I recommend to not skip the sugar. Sugar helps in preserving your fruits for the long term. Honey isn't 100% sugar, so the canned cherries won't last that long if you use honey instead of sugar.
Please feel free to share your thoughts and ideas with us in the comment section further below!
So you love SPICES and HERBS?
GET 5 FREE SEASONING LESSONS
Type in your email address below.
Including free access to the
Seasoning Members only Club!
📖 Recipe
Home Canned Cherries Recipe
Canning cherries from scratch with adjustable measurments.
Print
Pin
Rate
Ingredients
Cherries

fresh

Water

*see Notes for quanities

Sugar

*see Notes for quanities
Instructions
Remove stems from cherries and rinse them through clean water to get rid of impurities.

Place clean cherries into prepared clean jars. Fill up jars up to the top.

Prepare the light syrup by melting sugar in water, 1:2 ratio (see note section for details), in a pot over the heat.

Pour light syrup sugar water over the cherries in your jars. The cherries need to be completely covered. Close jars well.

Place sealed jars in a canner pot next to each other and over each other if you have more space or more jars to can.

Pour water over all the jars, they need to be completely submerged. Close the canner pot with a lid and make sure that a thermometer is showing the temperature.

Heat up the canner pot and bring the temperature to about 185° Fahrenheit or 85° Celsius. This can take about 30 minutes

Continue to sterilize and cook jars for 30 minutes at about 185° Fahrenheit or 85° Celsius. Control the heat to stay at that temperature.

To take out hot jars, spread a kitchen towel over a kitchen surface. Turn off heat when done, remove lid and take out jars with a set of jar lifter. Place hot and wet jars on the kitchen towels.

Allow jars to cool before you store them in a cool and dry place on a shelf preferably.
Notes
The quantities are variable and depend on the size of your jars, the size and quantities of your cherries, and how many you actually want to make vs how many fit into your canner.
This will give you a baseline to work with: To fill up four standard 25 oz, ¾ liter (0.75) jars you will need about 5.5 - 6.6 pounds, 2.5-3 kg of cherries AND you will need 1.1 pounds, 500 grams sugar dissolved in 1 quart/liter water.
The water sugar ratio is always 2:1.
That way you can prepare more light syrup if needed. And you just need to fill up your jars without having to weigh them.
Equipment
Canning Jars with a latch and rubber seal

Canner pot

Jar lifter