A french tomato coulis recipe infused with culinary herbs. With canning instructions and ideas to use it to the max!
Homemade tomato coulis seasoned with fresh herbs. This is a French recipe for a thin tomato sauce.
The recipe comes with canning instructions.
Jump to:
📕 What's a Tomato Coulis?
A tomato coulis is a thin tomato sauce used in French cooking as a sauce base for other dishes.
It's basically a tomato sauce but it's super runny and it's almost always seasoned with herbs fresh or dried.
Tomato coulises are mainly prepared in the summer after the first big tomato harvest.
Then the sauce is home-canned in small vacuum-sealed jars. The sauce is used in the coming months over the winter in various french meals.
This is still commonplace in the French countryside today.
🍅 Ingredients
tomatoes - fresh and flavoreful. They should smell like tomatoes, if you know what I mean! It doesn't matter which variety, pick your favorite. Even yellow, orange or black tomatoes can be used
mixed fresh culinary herbs - fresh ones are always better but you may use dried herbs if need be. Use herbs like basil, thyme, oregano, marjoram, savory, parsley, chives, lovage, chervil.
onion - white, yellow, purple, whichever you prefer.
garlic - fresh always
olive oil
sugar - plain or brown
salt and black pepper
bay leaf
🔪 How to make the Coulis?
To make the coulis is simple. Here is how in a nutshell (full recipe with measurements in the recipe card below).
Step 1
Blanch tomatoes (quick cook) to peel them. Cut tomatoes into smaller pieces.
Keep fresh herbs and spices ready. Slice onion and chop garlic.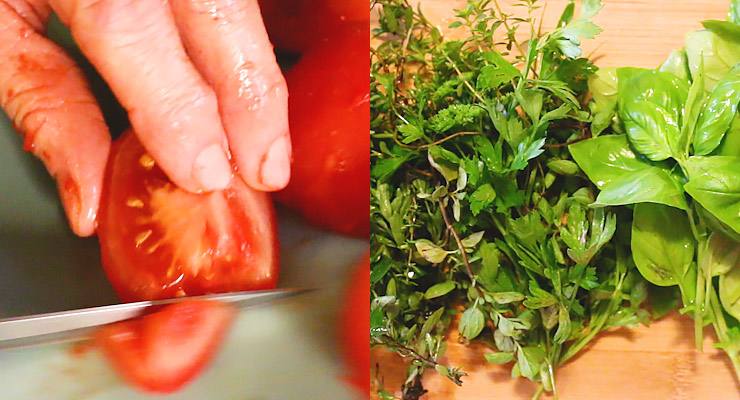 Step 2
Place the onion, tomato, and garlic into a large cooking pot. Cover with olive oil and cook.
Season with herbs and spices, salt and sugar.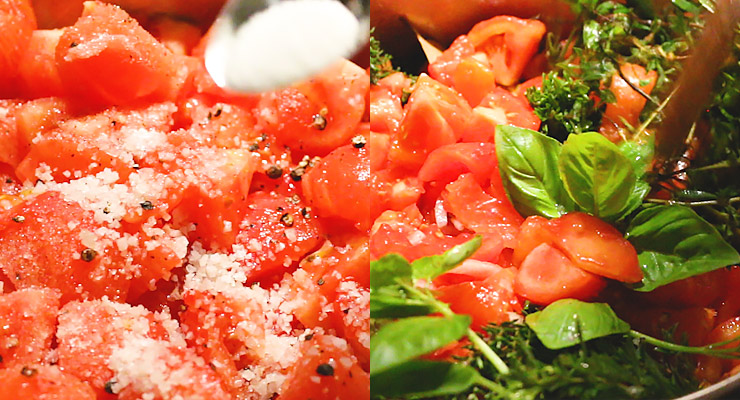 Step 3
Bring to a rolling boil.
Cook for about 20-30 minutes or until tomatoes are fully cooked through.
Step 4
Take out and discard herb sprigs and bay leaf.
Blend coulis smooth.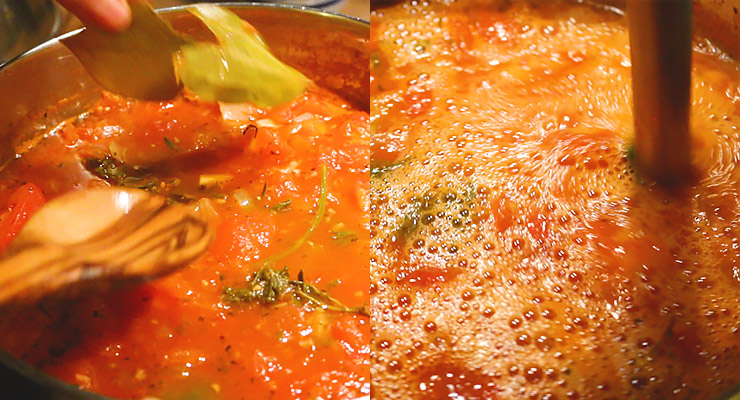 🏺 Canning Instructions
So once you made the coulis you can either use it as is or you do what every other french person does, you can the tomato sauce.
Home canning is not rocket science. Here is how it's done in a summary, the details are in the recipe card below.
1. Cleaning + Sterilizing
Wash your jars well and the rubber gaskets.
Boil rubber gaskets in water to sterilize. The jars can be sterilized in boiling water too.
2. Fill Jars
Place and fix the rubber gasket around the jar lid.
Pour coulis up to the rim into the jars and close tight.
3. Water bath canner
Place jars into a water bath canner next to each other and over each other.
Cover jars with water, close with a lid, set up the thermometer, and bring to a boil.
4. Canning
Can your jars until you reach 210 Fahrenheit/ 100 Celsius on the thermometer.
5. Take out
Take out your jars with the help of a canning jar lifter and place them on a clean cloth to cool and dry.
🧰 Equipment to Can
To can and preserve your homemade tomato coulis you will need the following equipment:
🍴 Uses
The coulis can be used as a base to make a quick tomato soup.
My mother uses it mainly as a sauce base for meats as in her stuffed tomatoes (tomate farcie) recipe.
Serve it as a sauce with meat patties or grilled or baked fish.
I love my herb-infused coulis over polenta with a fried egg.
You can also use it in non-french recipes as a base as for example in a shakshuka or a moussaka.
The coulis can be cooked further down to make a pasta sauce or use it with your stuffed zucchini.
Storing
Store your unopened and canned jars on a shelf, away from direct sunlight, humidity and heat.
Keep in a cool and dry environment. Most cellars might be too humid so a dry pantry will do better.
Use up directly once opened. You can keep an opened jar for up to 3 days in your fridge.
Please feel free to share your thoughts and ideas with us in the comment section further below!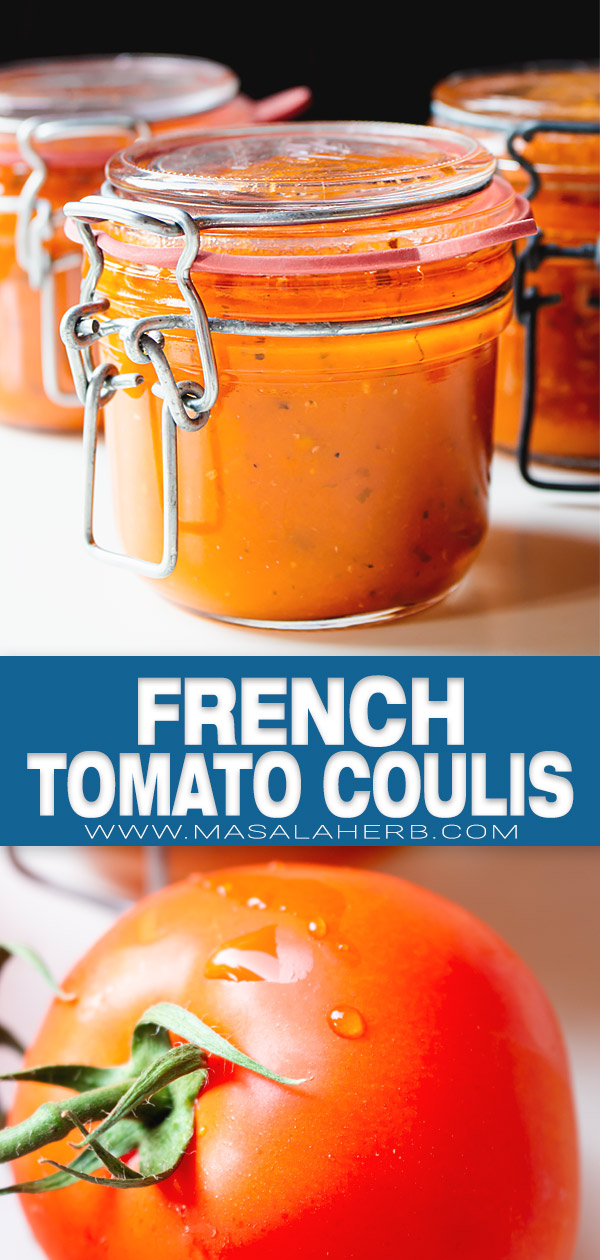 📖 Recipe
French Tomato Coulis + How to can it
A french tomato coulis recipe infused with culinary herbs. With canning instructions and ideas to use it to the max!
Print
Pin
Rate
Ingredients
8.8

pounds

Tomatoes

*see Notes

3

bundles

Mixture of Fresh Herbs

*see Notes

2

Onions

medium

4

cloves

Garlic

4

Tablespoons

Olive Oil

1

Teaspoon

Sugar

1

Teaspoon

Black Pepper

2

Tablespoon

Salt

2

large

Bay leaf
Instructions
To cook coulis
Peel tomatoes, quarter them and cut them into smaller chunks.

Slice your onion, chop your garlic or take it through the garlic press.

Place onion, garlic, and tomatoes into a large cooking pot and pour olive oil over that. Heat up and keep over a medium heat setting at all times.

Season with black pepper, salt, sugar, and bay leaf. Also, add your fresh herbs.

Stir and bring to a boil.

Cook over medium heat until tomatoes are soft.

Take out and discard all hard herb pieces and the bay leaves.

Blend smooth with a hand blender.
To can the coulis
Wash your jars well. You can boil them in water too for an extra layer of protection (optional) to sterilize your jars further.

Boil rubber gaskets in water to kill all germs. (this is a must!)

Place rubber gaskets over jar lids. Work with clean hands. Pour tomato coulis into each jar up to the top.

Keep water bath canner on the stove and place jars next to each other and over each other into the canner. They should all fit in.

Cover all jars well with water and close the canner with the lids. Fix the thermometer too.

Heat up water bath canner to 210 Fahrenheit or 100 Celsius. This takes about 1 hour over a high heat setting.

When done, open lid. Keep a kitchen cloth spread out ready on a nearby kitchen surface.

Take out each jar with a jar lifter and place on the cloth to cool and drain.

When cooled, place and store your jars in a cool and dry place away from sunlight.
Notes
Use your favorite tomatoes. Can be classic red varieties or yellow, orange or even black. I like to use beefsteak tomatoes (it's a variety of large tomatoes) if I can get them.
Pick some fresh mixed herbs. Combine as you like. You can use basil, marjoram, oregano, chervil, parsley, thyme, savory, and lovage. A bundle of fresh herbs is about 1.5 ounces or 45 grams heavy.
Equipment
4 ounce (125 ml) jars with rubber gasket

water bath canner with thermometer

canning jar lifter
Nutrition
Nutrition Facts
French Tomato Coulis + How to can it
Amount Per Serving
Calories 79
Calories from Fat 36
% Daily Value*
Fat 4g6%
Sodium 833mg35%
Potassium 581mg17%
Carbohydrates 11g4%
Protein 2g4%
Vitamin A 1972IU39%
Vitamin C 34mg41%
Calcium 29mg3%
Iron 1mg6%
* Percent Daily Values are based on a 2000 calorie diet.