Quick creamy polenta side dish to serve with a multitude of dishes. See my serving suggestions below the recipe card for some inspiration.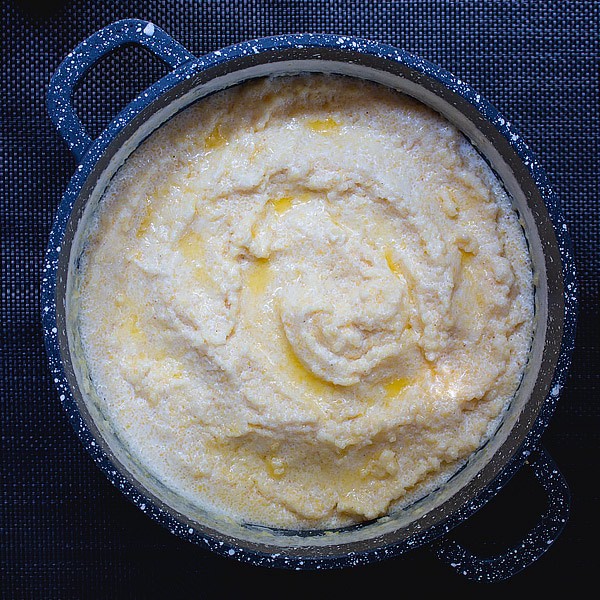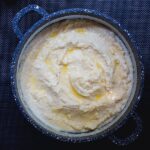 The quick creamy polenta recipe is a lifesaver and delicious budget comfort side dish.
I prepare this all the time because you can serve polenta with most main course meals.
See in my video how I make my creamy polenta without screwing up.
Jump to:
📕 What is Polenta?
Polenta is a yellow shaded Italian cornmeal Porridge.
Before the discovery of the new world and corn, people in North Italy would use buckwheat or in some places even regular wheat, which they would also call polenta.
Nowadays, however, polenta is mostly associated with finely ground cornmeal.
Polenta is like grits but there are some differences.
Polenta is Italian and made of yellow corn and it's at times more coarse.
Grits is a southern (US) specialty and it's finer, made of white corn.
🧈 Ingredients
My creamy Polenta recipe consists of a few handful common budget-friendly ingredients.
The Polenta I use is usually an Italian product and imported.
You can find those imported polenta packets in your nearest supermarket.
The finely ground polenta variety is the one I use.
Usually, you can't go wrong with that kind of Polenta.
Polenta also keeps good over a longer period of time if you store it in an airtight container.
As a liquid, I prefer to use milk than water or broth because I believe milk turns the polenta extra creamy and soft.
At the same time, I always add some butter to my polenta for a super velvety consistency.
The seasoning simply includes black pepper and salt and usually you are better off with less salt because polenta is normally consumed as a side dish with other meals.
How to make it?
Here is an overview of how to make creamy polenta from scratch.
Step 1
Add milk and polenta to a pot and mix in.
Keep over a medium heat setting.
Step 2
Season with salt and black pepper and add butter.
Step 3
Keep on stirring over a medium to low heat setting until the polenta thickens.
This takes a few minutes only. When done take from the heat and serve up.
🧀 Flavor variations
You can add the following ingredient to this creamy polenta to pep it up:
Parmesan or Gruyere Cheese
Herb de Provence seasoning
Cut prosciutto or salami
*See servings suggestions below the recipe card
💡 Tips
To prepare quick and creamy Polenta you need to control the heat and follow the correct ratio between milk and polenta cornmeal.
Polenta cooks up quickly and can burn easily as well if you don't take care.
The whole process takes about 5-7 minutes only.
In North Italy, polenta is cooked over a longer period of time over low heat in a copper pot, while the cornmeal is being stirred continuously.
This is a traditional way of preparing polenta in Italy.
I personally prefer to simply cook a quick and creamy polenta side dish.
The cornmeal gets even more soft the longer you cook it (with more liquids) but I don't really want to spend the extra time standing over a hot flame, stirring along, just so that I get my polenta a bit more soft.
That said, I tend to be satisfied with a 5-7 minute long cooked creamy polenta.
👁️ More polenta recipes
🍴 Serving
I adore tomato-based dishes with polenta, such as Mediterranean stuffed Tomatoes with mince (French Tomate Farcie), Tomato Feta Shakshuka, Shrimp Fra Diavolo or simply stewed tomatoes and fried or poached eggs.
Otherwise gravy based chicken, fish or beef dishes go really well with polenta. I like to serve my mum's Saumon en papillote with this creamy Polenta side dish and sometimes I will prepare some sauteed portobello mushrooms as well with that.
Shrimp (prawns) and squids (calamari) are great anytime with polenta!
Dear Reader, with what are you going to serve your creamy polenta side dish?
Global Food Recipes
with Spices and Herbs
Free E-Book available for a limited time. Grab yours now and get instantly inspired!
📖 Recipe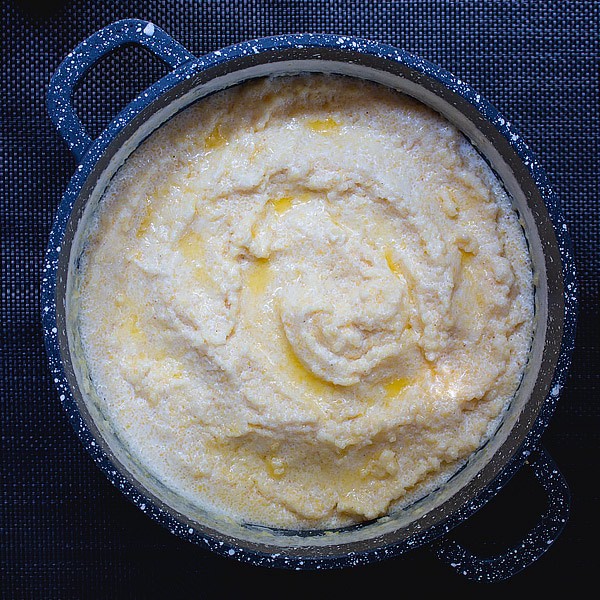 Quick Creamy Polenta Recipe
Quick creamy polenta side dish to serve with a multitude of dishes. See my serving suggestions below the recipe card for some inspiration.
Print
Pin
Rate
Instructions
Pour the milk into the pot and heat up gradually.

While the milk is getting warm, pour the polenta into the milk and stir.

Add the butter, salt, and black pepper as well.

Keep on stirring, in fact never stop stirring.

The heat should be on medium, not slow but not overly hot either or it can burn.

While you are stirring, the polenta will get thicker which is all good.

Once the polenta starts to bubble, take it from the heat. Even if it still looks liquid because it will suck in the remaining milk and will quickly harden if you overcook it.

Serve the creamy polenta hot as a side dish with other meals.
Notes
See in my post for different flavor variations and ideas to pep up your polenta.
Nutrition
Nutrition Facts
Quick Creamy Polenta Recipe
Amount Per Serving (198 g)
Calories 474
Calories from Fat 171
% Daily Value*
Fat 19g29%
Cholesterol 54mg18%
Sodium 603mg25%
Potassium 528mg15%
Carbohydrates 58g19%
Protein 15g30%
Vitamin A 905IU18%
Calcium 391mg39%
Iron 0.6mg3%
* Percent Daily Values are based on a 2000 calorie diet.