Shrimp fra diavolo is a delicious fiery hot one-pot sauce for pasta, rice or served on its own with polenta/grits. This recipe is meant for two and includes wine, garlic, and oregano as flavoring. this recipe should take you about 15 -20 minutes to cook. Make sure to not overcook the shrimp so that they stay nice juicy.
Shrimp Fra Diavolo is a fiery spicy tomato-based sauce, which is most commonly served with pasta.
This delicious, fiery hot, one-pot shrimp fra diavolo (or shrimp diablo) comes together rather quick and easy and is packed with gorgeous flavors to make your weeknight all the more special!
I have created a useful video with the shrimp fra diavolo sauce recipe further below and I also share my take on this popular dish!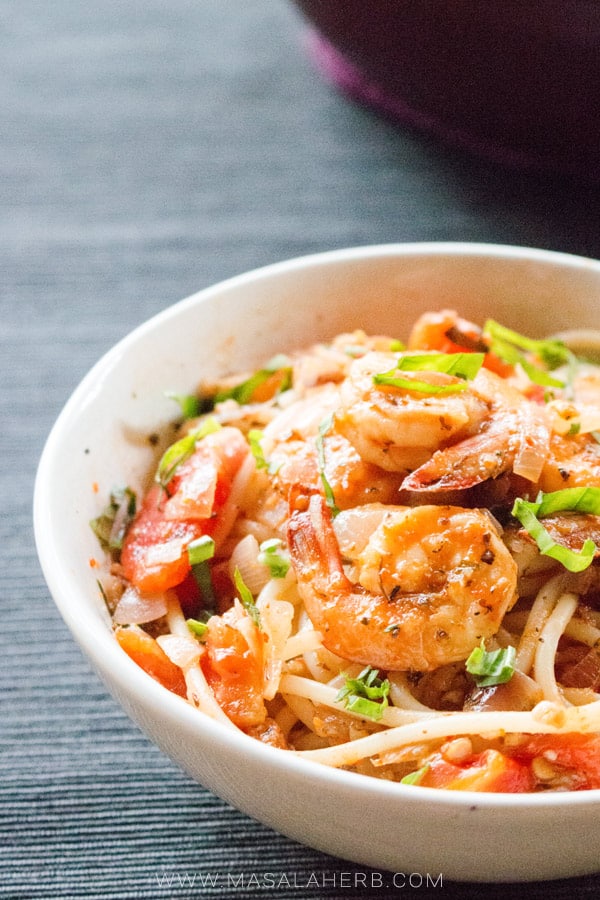 I learned about shrimp fra diavolo through an acquaintance in my travels!
This acquaintance mentioned it when we were sitting in a restaurant during sunset time with some of my friends because he compared it with the Indian Shrimp/Prawn Masala, which was being served in that place.
Two completely different dishes, however, that guy insisted that his shrimp masala was more tomato than anything else and he started to explain that in the US, Shrimp Fra Diavolo is a popular tomato-based sauce which kicked a punch!
Of course, I was curious and started to note down the recipe he was so willing to share.
After all, great recipes are meant to be shared, don't you agree?
So, why is shrimp Fra Diavolo so popular that some random guy mentions it on his travels in Asia and why does it have such a peculiar unforgettable name?
What is Shrimp Fra Diavolo?
Shrimp Fra Diavolo is a tomato-based sauce enhanced with chili spices and cooked with shrimps.
The spicy shrimp sauce, also known as Diavolo sauce, is usually served with pasta such as spaghetti, turning it into a pasta fra Diavolo.
What does Shrimp Fra Diavolo mean?
According to my rusty Italian vocabulary, Fra means brother and Diavolo is, of course, the devil.
The meaning of brother is associated with the brotherhoods in monasteries.
Such as the Franciscans, Dominicans, Jesuits etc.
Where did Shrimp Fra Diavolo come from?
I don't really know the origin of the dish but from what I can imagine is that Italian immigrants introduced this spicy hot dish to the Americas, where it got super popular in the last decades in the US.
Therefore, Shrimp Fra Diavolo is a very Italian-American dish and absolutely not Italian or Europea, as you will never hear of a shrimp Fra Diavolo sauce in Italy.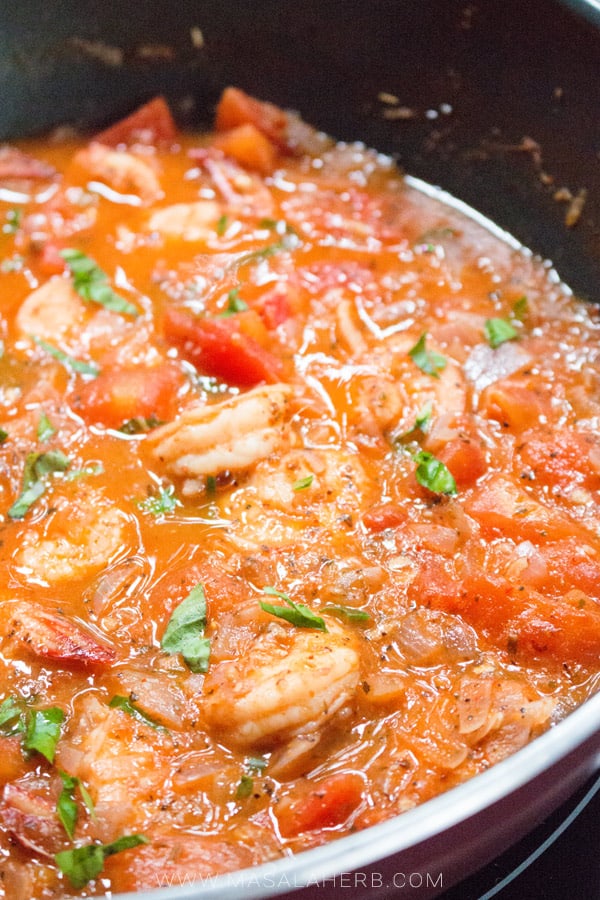 What Chili to use in the Shrimp Fra Diavolo sauce recipe?
In Europe, people prefer to use mild varieties of Chilis, cousins of this spice such as capsicum paprika.
Yet, for example, there is a spicy Chili which is part of the traditional regional cuisines of the Basque region and south french pyrene region, which is known as Espellete Chilli.
In Calabria, the southern boot of Italy, you will find the popular Peperoncino aka the Calabrian chili.
So you see, Chilis do make an appearance in Europe, yet it's still more commonly used in the hot regions closer to the equator.
Chili varieties in North America, on the other hand, are an abundance!
That's why the Spicy Shrimp Fra Diavolo is a North American dish because of the influence of Chilli.
Some might argue that a fra diavolo sauce doesn' t need to have chili in it.
Yet, most sauces do add chili, from what I understand, and those recipes who don't, add black pepper.
You could go crazy trying out different variations of chilis in this shrimp Fra Diavolo sauce recipe. Each chili variety will lend this dish it's own flair.
Usually, Fra Diavolo is enriched with red Chili flakes but I think I would rather leave this up to you if you want to use fresh Chilis from the farmers market, dried flakes or Chili powder.
I personly chose to use the espellete chili variation in flakes to enhance and spice my shrimp fra diavolo.
Espellete chili is not that super hot, more on the mild side but packs a lot of smokey flavors and that's what I like to add to my shrimp fra Diavolo bowl.
How to make Shrimp Fra Diavolo?
To prepare Shrimp Fra Diavolo from scratch is rather quick and easy.
It's another flavorful weeknight favorite!
In fact, I would say it's a perfect Friday night meal for two.
The shrimp, Chili in a white wine tomato-based sauce make this a flavorful experience for the senses but it's still a comfort food!
Shrimp Fra Diavolo is a One-Pot dish, which will save you time in the preparation of the spicy shrimp sauce dish!
To start, keep your ingredients ready.
That means to cut your onion small and keep the tomato chunks on the side.
You will need to work quickly so having all the ingredients at hand can only be an advantage as you will need to make sure not to overcook the shrimp.
You want the shrimp to cook on all sides but remain juicy.
The easiest to achieve this is to stir fry quickly.
Further, poach the shrimp in the sauce for a few more minutes.
This ads seafood flavors to the Fra Diavolo sauce and cooks the shrimp to perfection.
What you don't want is to overcook the shrimp so that they get dry.
Not that the shrimp would be inedible, it's just more fun to bite into a perfectly cooked shrimp, if you know what I mean.
How to serve the Shrimp Fra Diavolo?
I like to prepare some pasta such as Spaghetti or Linguini and serve the shrimp fra diavolo sauce that way.
You could also just serve the shrimp Diabolo with plain risotto or on its own with other dishes such as cooked polenta, a salad, bread and great wine!
Dear Reader, How are you planning to serve the Shrimp Fra Diavolo Sauce?
More related recipes
Please, let us know in a comment further below.
We are looking forward to your thoughts!
So you love SPICES and HERBS?
GET 5 FREE SEASONING LESSONS
Type in your email address below.
Including free access to the
Seasoning Members only Club!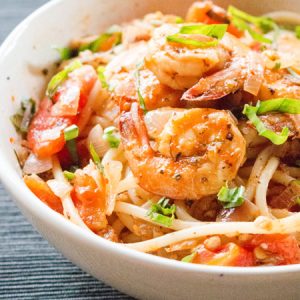 Shrimp Fra Diavolo Recipe
Shrimp fra diavolo is a delicious fiery hot one-pot sauce for pasta, rice or served on its own with polenta/grits. This recipe is meant for two and includes wine, garlic, and oregano as flavoring. this recipe should take you about 15 -20 minutes to cook. Make sure to not overcook the shrimp so that they stay nice juicy.
Print
Pin
Rate
Ingredients
1

medium

Onion

1-2

Tablespoon

Oil

½

Tablespoon

Garlic

chopped

dozen

Shrimps

aka Prawns

½

Teaspoon

Black Pepper

1 ½

Teaspoon

Red Chili Pepper Flakes

2

Teaspoon

Oregano

dried

⅓

cup

White Wine

2

Tablespoon

Tomato Puree

1

cup

peeled Tomato chunks

fresh or canned

Basil

optional, to garnish
Instructions
Chop your onion roughly or cut into small pieces.

Heat up a pan on medium heat and add your oil and your onion. Fry the onion translucent and add your garlic paste as well. Stir-fry.

Then add your clean shrimps and fry shortly on both sides. Season with black pepper, chili flakes, and oregano.

Pour in the white wine and continue to build up the sauce with the tomato paste and tomato chunks.

Stir occasionally and cook for about 5 minutes so that the ingredients get to mix up and the sauce gets thicker. Garnish with fresh basil before serving.

Serve hot over pasta or risotto rice. You can also serve the shrimp fra diavolo as a stand-alone dish with bread, polenta/grits, and a small salad.
Nutrition
Nutrition Facts
Shrimp Fra Diavolo Recipe
Amount Per Serving (182 g)
Calories 121
Calories from Fat 45
% Daily Value*
Fat 5g8%
Sodium 210mg9%
Potassium 453mg13%
Carbohydrates 14g5%
Protein 2g4%
Vitamin A 655IU13%
Vitamin C 12.9mg16%
Calcium 61mg6%
Iron 2.2mg12%
* Percent Daily Values are based on a 2000 calorie diet.
This post may contain affiliate links that point to things or services that I recommend. This may include Amazon, getyourguide and booking.com. As an Amazon Associate I earn from qualifying purchases.