Low Carb stuffed tomatoes with meat. This is a french recipe known as tomate farcie.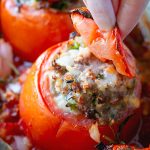 Juicy Meat Stuffed Tomatoes Recipe roasted in a casserole dish in the oven.
Learn how YOU can prepare this french dish from scratch at home with my process shots and video further below.
Do you like meat stuffed vegetable dishes? Then you might enjoy meat stuffed patty pan squash.
Global Food Recipes
with Spices and Herbs
Free E-Book available for a limited time. Grab yours now and get instantly inspired!
This is a french stuffed tomatoes recipe that we have been making at home since ever.
We call these ground meat stuffed tomatoes, tomate farcies in french.
It's the perfect family casserole dish and it's totally low carb and healthy prepared from scratch with whole ingredients.
💡 Tips and tricks
I have a few tricks and tips on how to make the best oven roasted stuffed tomatoes with mince, that I Would like to share with YOU.
You see, to get your low carb stuffed tomatoes juicy on the inside and perfectly cook on the outside requires a few things.
You deserve the best tasting, most flavorful tomatoes with meat!
Secret to the Juiciest Meat Stuffed Tomatoes
To make the juiciest baked stuffed tomatoes with beef or pork you will need to look out for other things besides cooking duration.
The secrete to my super moist and juicy meat stuffing is the inclusion of milk-soaked stale bread, which locks in the moisture in the meat stuffing.
This is the same principle as in homemade meatballs.
Another reason why your meat stuffing might turn out juicier is the choice of meat.
Lean meat might be lean but because it lacks fats it's also crazy dry and lacks flavor.
Choose minced meats that are about 80:20 meat and fats.
I like to combine pork and beef mince to create the juiciest stuffing ever!
Pork mince is notoriously fat and beef mince compliments pork mince really well!
More flavor
Onion and Garlic are a tomato meat stuffing's best friend!
Yet, by adding a selection of herbs to the stuffed tomato dish you can alleviate the aroma of the dish to a whole new level!
This is how I do it:
I season the meat stuffing with dried herbs including, oregano, thyme, and some fresh parsley.
Next, I add herbs into the casserole dish for the stuffed tomato sauce and that's a whole game changer in this southern french recipe.
We also call them stuffed tomatoes provencal.
Dried vs Fresh Herbs
Basically, I leave you to pick if you want to use dried or fresh herbs for the sauce.
You can also pick the herbs that you add.
I add fresh thyme, rosemary and savory whenever possible yet I do understand that these herbs are not always available.
You could try to grow fresh herb in your garden or next to your kitchen window.
If you can't get savory, skip it and take more rosemary and thyme instead.
I think rosemary, thyme and savory together create the best flavor combo in this dish.
In winter, or when I'm in Asia, whenever I prepare this dish, I use dried thyme, rosemary and savory instead and the dish is still delicious and you can do that too, of course.
But nothing beats fresh herbs to create the BEST stuffed tomatoes ground meat.
🔪 How to make it?
To prepare my healthy stuffed tomatoes is fairly easy.
Just follow the 3 simple steps to make this dinner meal from scratch.
Find detailed ingredients and instructions in the recipe card further below.
Step 1
Soak the stale bread pieces with the milk.
Prepare the meat stuffing in a bowl by combining the ground meat, milk-soaked bread, dried seasoning, and garlic.
Step 2
Cut off one end of your tomatoes and hollow them out.
Place the juicy tomato pieces into a casserole dish and place the hollowed-out tomatoes in between in a row.
Stuff your tomatoes with the meat mixture and close with the cut off tomato end.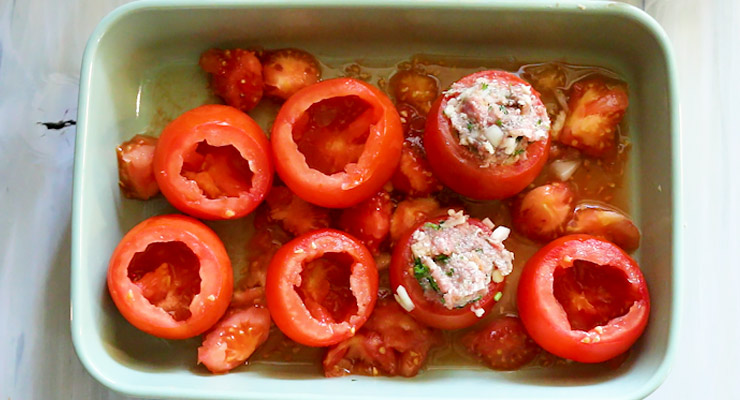 Step 3
Drizzle tomato sauce, olive oil into the casserole dish with fresh or dried herbs, bay leaves and water.
Bake your meat tomatoes until the meat is cooked through.
❄️ Freezing
You can freeze your filled tomatoes and cook them whenever you need them at a later date.
To do that prepare the meat stuffing and hollow out your tomatoes to stuff them with the meat.
Keep the stuffed uncooked tomatoes in a freezer-friendly container and freeze
When you are ready to use them, keep the tomatoes out to defrost a bit, then place into your casserole dish with the sauce ingredients and bake as per direction until the meat is cooked.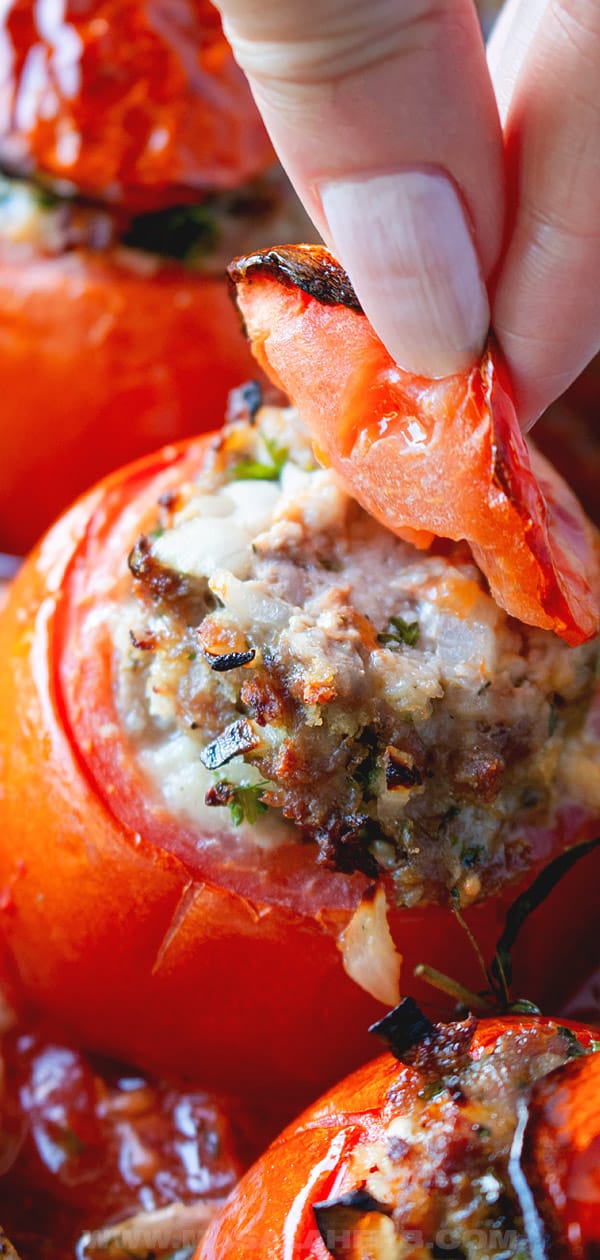 🥣 Serving
👁️ More stuffed recipes
Dear Reader, did you try this dish?
Global Food Recipes
with Spices and Herbs
Free E-Book available for a limited time. Grab yours now and get instantly inspired!
📖 Recipe
Meat Stuffed Tomatoes Recipe
Low Carb stuffed tomatoes with meat. This is a french recipe known as tomate farcie.
Print
Pin
Rate
Servings:
8
stuffed tomatoes
Ingredients
Instructions
Prepare the meat stuffing first. Keep the stale bread to soak in the milk so that it gets soft.

Then combine all the stuffing ingredients in a large mixing bowl including the meat, soaked bread, seasoning, oil, onion, garlic. Leave to rest until further use.

Now to hollow out your tomatoes, cut out the tomato base so that you have a large enough opening. Cut out the tomato fruit flesh and place the fruit flesh into the casserole dish, which you will use to oven roast your filled tomatoes so that it will be part of the sauce (we don't waste).

Place your hollowed-out tomatoes in a row into the casserole dish and stuff with the meat stuffing. Close the stuffing with the cut off tomato end to create a tomato hat.

Preheat your oven to 400° Fahrenheit/ 200° Celsius.

Add the sauce ingredients into the casserole dish around the tomatoes with meat stuffing, including the tomato sauce, water, seasoning, herbs, bay leaf. Mix the sauce ingredients a bit so that they get combined.

Drizzle your meat-stuffed tomatoes with olive oil and bake at 400° Fahrenheit/ 200° Celsius for about 30 minutes or until the meat is cooked.
Notes
You can use lean or 80:20 ratio fatty meat, beef, or pork or both. It's up to you. I recommend using 80:20 fatty meat and a mixture of ground beef and pork meat if you want juicy, flavor balanced meat stuffed tomatoes. See post for detailed info.
For the sauce you can use fresh or dried mixture of herbs. I like to use fresh herbs whenever possible. Use a combination of chopped thyme, savory, and rosemary (as seen in the post picture). If you use dried herbs, reduce the quantity to add a combination of about 1

½

Tablespoons of dried herbs, such as thyme, savory, or rosemary. You may skip one herb if you can't get it. The perfect flavor combo is thyme, savory, and rosemary.
Nutrition
Nutrition Facts
Meat Stuffed Tomatoes Recipe
Amount Per Serving
Calories 204
Calories from Fat 117
% Daily Value*
Fat 13g20%
Cholesterol 36mg12%
Sodium 423mg18%
Potassium 545mg16%
Carbohydrates 12g4%
Protein 11g22%
Vitamin A 1465IU29%
Vitamin C 25.4mg31%
Calcium 61mg6%
Iron 2.1mg12%
* Percent Daily Values are based on a 2000 calorie diet.