This is my take on Vegetarian Stuffed Cabbage Rolls Recipe. The healthier stuffed cabbage rolls recipe is based on the German/Bavarian Krautwickel (aka Kohlrouladen).
Get the step by step recipe (with pictures) for the vegetarian stuffed cabbage rolls further below, and learn how to make the healthier German stuffed cabbage rolls from scratch: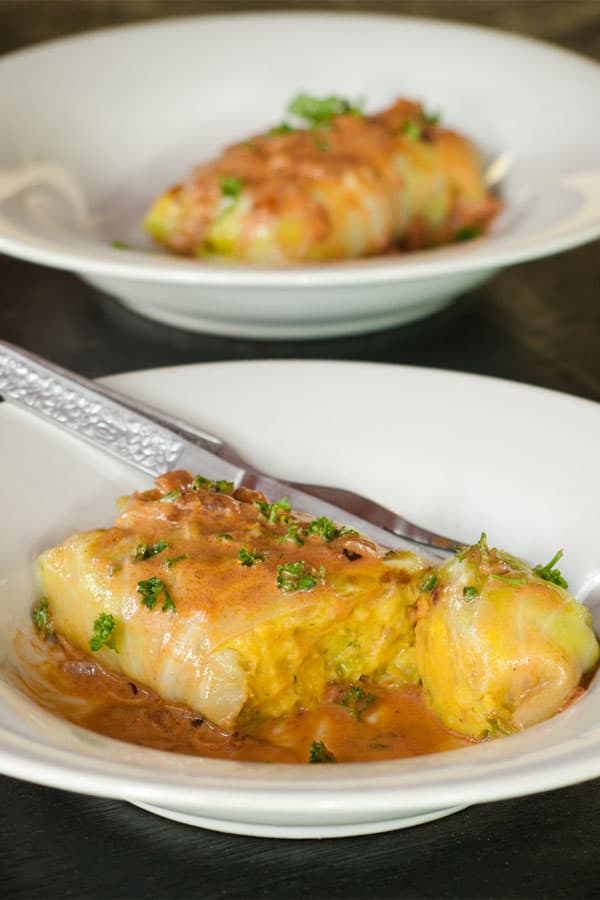 The stuffed meatless cabbage rolls recipe was inspired from a cookbook, in fact a German friend had send me a neat Bavarian Cookbook to Goa a few years ago, which has been published by GU in the German speaking countries.
Unfortunately, that book doesn't exist in English but this Bavarian cookbook here looks promising too.
The book includes dishes which are common in Bavaria (Germany) as well as in the alps in Tyrol and Salzburg (Austria). Dishes such as Semmelknödel (Bread dumplings), Sauerkraut and Trout with Butter Parsley Potatoes are commonly shared traditional dishes across the country borders.
-> Get the free Masala Herb Newsletter
Stuffed cabbage rolls are a delicacy in central Europe.
Apparently this is also a common dish all over east Europe. Here is a list of names and variations, so basically stuffed cabbage rolls are a European thing. 😉
However, a vegetarian stuffed cabbage rolls recipe is less commonly found.
This particular stuffed cabbage roll recipe in the book was full on veg! Imagine my excitement, simply because our daily meals in central Europe are mostly dominated by meat.
Not that I am against meat, I love it and some of the delicious posts on this page proof my "addiction" for the red flesh, but sometimes its nice to just go veg for a meal or two. You know what I mean?
So I followed the recipe and cooked the meal. Then I did it again and now its part of our monthly meal planning, however over time I modified the rolls dramatically into healthier German stuffed Cabbage Rolls.
The vegetarian stuffed cabbage rolls are healthier because they are stuffed with fresh vegetables and I have added Turmeric Powder to make it even more crazy tasty!
The rolls come with a quick & easy to prepare orange colored sauce.
Pour the sauce just before serving over the veg rolls and you will see how it enhances the flavors in such a beautiful way.
You can garnish with parsley or you can use coriander/cilantro too if you want to make it a bit "asian". That's up to you!
Vegetarian Stuffed Cabbage Rolls Recipe – Healthier German Stuffed Cabbage Rolls below:
Vegetarian Stuffed Cabbage Rolls Recipe - Healthier German Stuffed Cabbage Rolls
The German inspired, healthier vegetarian stuffed cabbage rolls are prepared from scratch with fresh ingredients. I recommend to serve them with the sauce in this recipe! Tip: You can substitute the broccoli with cauliflower too.
Ingredients
For the Rolls and Sauce:
4 small Potatoes
1 small Carrot
60 gram Broccoli or 2.1 oz
2 medium sized Onions
4-5 Garlic cloves
120 milliliter Milk or 4 fl oz or ⅝ of a Cup (little more then half a cup)
1 Tablespoon Butter
½ Teaspoon Turmeric Powder
pinch Nutmeg
pinch Salt
pinch Pepper
6 big Cabbage leafs + 6 small Cabbage leafs or 9 big Cabbage leafs (3 will be cut into half)
180 milliliter Veg stock or 6 fl oz or ⅞ Cup (almost 1 Cup)
150 milliliter Heavy Cream or 5 fl oz or ¾ Cup
100 milliliter Tomato Paste or 3.9 fl oz or ½ Cup
garnish with chopped Parsley
You will also need...
Instructions
Peel your potatoes and carrot and cut them into small dice. Cute the Broccoli into smaller pieces. Cook the veggies until al dente/ not too soft.
Peel the Onion and Garlic and chop. Fry with some oil for a short time and keep aside.
Strain veggies (keep veg stock aside for later) and separate potatoes from carrot and broccoli. Place potato to pot and add the milk and butter. Heat up the pan and mash the whole content well.
Place the pot on the stove and cook, add the broccoli & carrots to the mash, season with turmeric powder, nutmeg, salt and pepper and throw in half amount of the previously fried garlic and onion from step 2 (the other half will be required for the sauce). Mix the stuffing well! Remove from the heat and keep aside to cool a bit.
Add some water to a pot, heat it up and place the cabbage leafs into the water. Allow them to cook for 8 minutes. Take them out of the water once they are soft and cool them shortly under cold water.
Place one big cabbage leaf on your working space and place a small cabbage leaf or half of a big leaf on top. Add 1-2 Tablespoons full of stuffing into the center.
Now wrap by pulling the side leaf parts into the center. Then gently fold it in on top and down as well. Keep on holding it together!
Take a kitchen thread to hand (about 60 centimeter long). Hold on your roll parcel and turn it top side down. Take the string underneath the parcel and take it back up, lock the two strings and take the string lengthwise, turn the parcel and lock again the 2 strings with each other. Come back towards the other side and make a knot. It's just like parceling a gift!
Then place the parcels into the pan and fry on one side first, turn and fry the other side so that it gets some color.
Take the rolls out once finished fried and place the previously fried onion and garlic into the pan. Add the left over veg stock from earlier (about 180 milliliters), the heavy cream, the tomato Paste and season a bit with salt and pepper. Cook for a 3 minutes until done.
Serve the Veg Rolls hot, topped with the sauce and some Parsley (or coriander to make it a bit Asian)
Nutrition Information
Serving size: 
331 g
Calories: 
246 kcal
Fat: 
11.51 g
Saturated fat: 
6.923 g
Unsaturated fat: 
3.7 f
Trans fat:
0.017 g
Carbohydrates: 
31.65 g
Sugar: 
6.66 g
Sodium: 
211 mg
Fiber: 
5.9 g
Protein: 
6.72 g
Cholesterol: 
38 mg
More Vegetarian dishes 🌱
Veg Chow Mein – Indo Chinese Noodles
More recipes from German speaking countries 🌟
Dear Reader, Are you a full time vegetarian or part time like me?
Get FREE Recipes via Email:
Don't miss a recipe, Subscribe to the Masala Herb Newsletter!
This post may contain affiliate links, and I receive a small commission when you click through and purchase. It basically buys me my daily coffee and cheese, and yes, my flour so that I can make pizza for dinner!
The following two tabs change content below.
I am Helene, and created Masala Herb to share my food and travel journey with the whole world. You will find Asian and Western dishes here, as well as unique travel guides to inspire your day. Don't miss a post! Subscribe to the free newsletter!
Latest posts by Helene Dsouza (see all)