A meatless, veg easy recipe for zucchini boats with just a handful of ingredients. Stuffed and baked, this summer will be your zucchini season!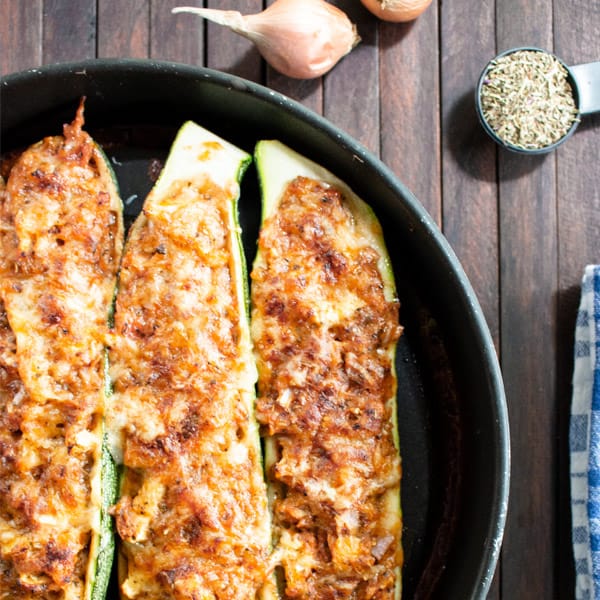 Zucchini Boats are a great family dinner meal and that's how my mum would get us kids to eat our veggies.
The stuffing is completely vegetarian, skinny, healthy, and includes cheese.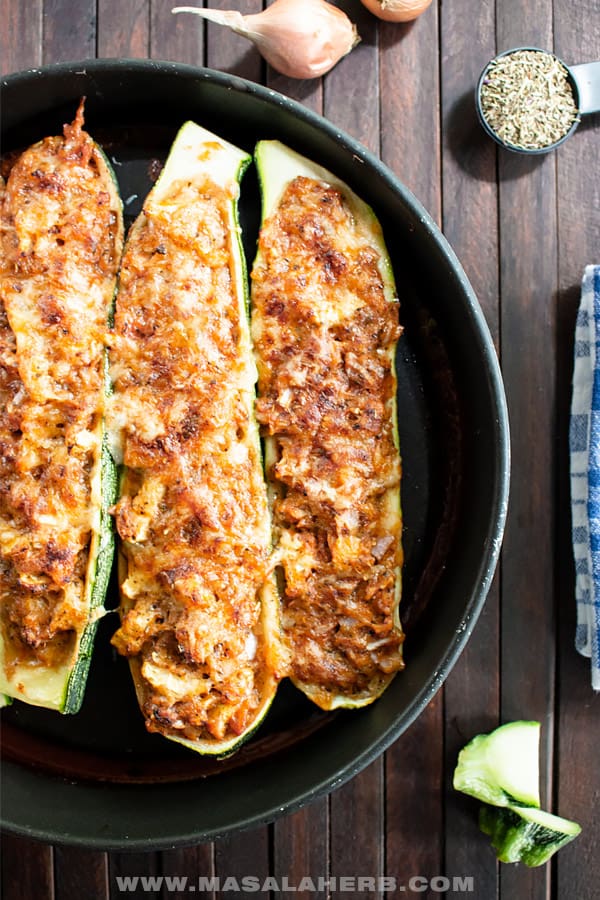 Global Food Recipes
with Spices and Herbs
Free E-Book available for a limited time. Grab yours now and get instantly inspired!
Jump to:
Preparing baked stuffed zucchini boats for dinner is the best way to use up this amazing vegetable!
For that, I share an easy vegetarian meatless Meditteranean zucchini boat version with tomato and cheese.
Zucchini boats were a summer staple in our home, as were meals such as the classic quiche lorraine.
🔪 How to make Zucchini boats?
Zucchini Boats are easily prepared from scratch!
These are quick instructions to help you decide if you want to make this tonight.
The complete recipe with ingredients and detailed instructions can be found at the bottom of this post.
Step 1
Rinse your zucchini, cut it into half lengthwise.
Place Zucchini into a baking dish, scrape out the flesh to create "boats".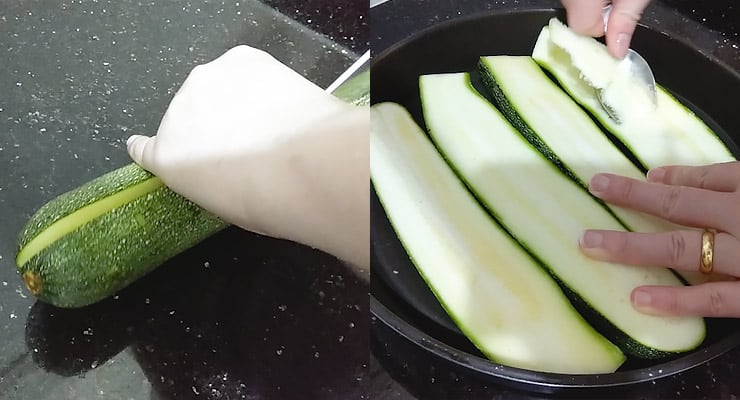 Step 2
Collect zucchini flesh with the other stuffing ingredients in a bowl and combine.
Step 3
Place stuffing into the zucchini. Sprinkle some cheese over that and olive oil
Bake until cooked through and golden.
📜 Flavor variations
You can choose your seasoning in this vegetarian recipe.
I recommend adding Italian seasoning, herb de Provence or something like a Mediterranean seasoning.
You can use oregano too and/ or basil and make it spicy add taco seasoning or cayenne pepper.
You can add the following ingredients to these zucchini boats. These are vegetarian meatless recommendations (sticking to the theme).
jalapenos - for extra heat and a Mexican touch
mushrooms - sliced
parmesan - for Italian flavors
ricotta cheese - for a creamy stuffing
cooked quinoa or rice - if you have leftovers to use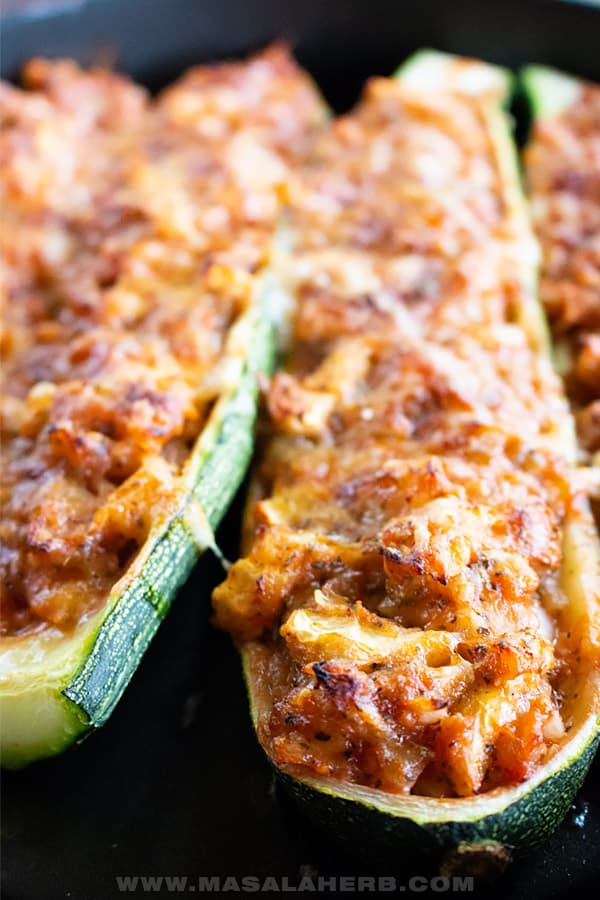 📕 What zucchini to get?
The perfect zucchini length is 10 inches/26 centimeters. This length is easier to turn into boats.
Smaller zucchini have softer skin and the flesh tends to be tender as well. The squash will cook faster and better through.
Remember to pick only organic untreated/unwaxed Zucchini if you buy them from a store because you will be using unpeeled zucchini.
If you have grown big-sized Zucchini, you can use those as well.
But you will need to peel large zucchini because the bigger the zucchini the more bitter and fibrous the skin gets.
My mum would always prepare zucchini boats with large zucchinis, so she would peel them, quarter, or cut even smaller if necessary and hollow out as good as possible.
Then she would stuff the zucchinis just the way I am about to show you.
🥣 Serving suggestions
Serve up with cooked plain rice or aromatic rice.
Other side dishes such as couscous, wheat berries, and polenta (grits) are also great with these stuffed zucchinis.
A simple green lettuce salad with a vinaigrette is another great addition.
🍱 Storage
How to store and warm up leftovers?
Place your leftovers into a fridge-friendly container. Keep the container on a shelf in your fridge. Take out and warm up in an oven-proof dish in your oven, in a skillet over the stovetop, or in a microwave dish in the microwave.
Can you freeze your boats?
You can freeze your uncooked stuffed zucchini by placing them on a tray and keeping the tray in the freezer. When frozen hard, take them out and store them in a freezer-friendly container or similar.
How to prepare frozen zucchini boats?
Place the frozen stuffed zucchini boats on a parchment laid-out sheet pan and keep your oven preheated. Don't thaw your zucchini, just bake it a little more than the recommended time in the recipe until cooked through and golden on top.
👁️ More Zucchini Recipe Ideas
Global Food Recipes
with Spices and Herbs
Free E-Book available for a limited time. Grab yours now and get instantly inspired!
📖 Recipe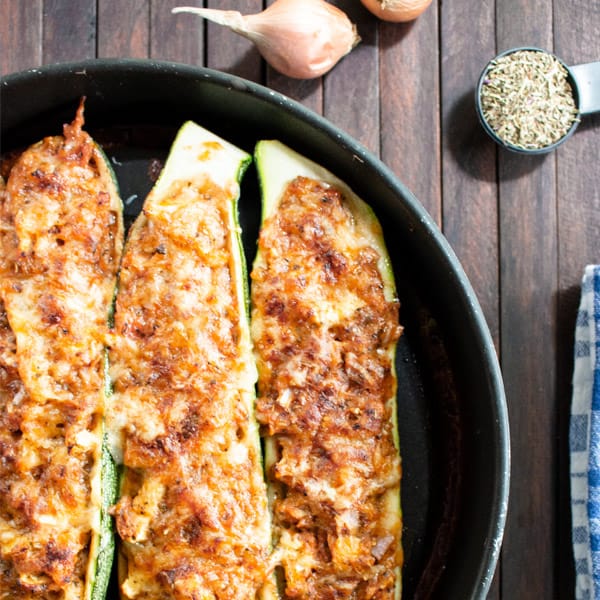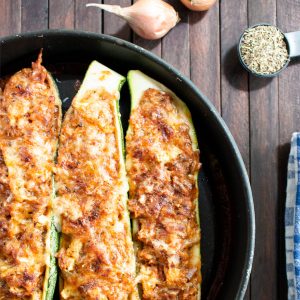 Easy Zucchini Boats Recipe [Vegetarian]
A meatless, veg easy recipe for zucchini boats with just a handful of ingredients. Stuffed and baked, this summer will be your zucchini season!
Print
Pin
Rate
Instructions
Wash your Zucchinis well. Then cut lengthwise into half.

Spoon out the flesh and hollow out the zucchini so that you are left with the "boats".

Preheat your oven to 350 Fahrenheit/180 Celsius.

The soft center of the zucchini can be cut roughly smaller. Collect flesh in a mixing bowl.

Add to the zucchini filling the black pepper, salt, chopped onion, garlic, tomato sauce, cheese (reserve a ⅓ of your cheese) and herb seasoning of your choice. Mix everything well.

Stuff your zucchini boats with the prepared filling and sprinkle the ⅓ of reserved grated cheese, which you didn't mix into the filling, over the stuffed vegetable boats.

Sprinkle some olive oil over the stuffed squash.

Bake the Zucchini for about 20-25 minutes at 350 Fahrenheit/180 Celsius. Golden brown or until done.
Notes
1. Smaller Zucchinis are better (see post for an explanation why). about 10 inches/25 centimeters
2. Use a vegetarian cheese to make this vegan. Not all cheese is vegetarian if it contains rennet. Pick a vegetarian grated Mozzarella or Emmentaler cheese. They mention if it's vegetarian or not on the packaging, except if it's from the farmer's market. In that case ask the person at the farmer's market.
3. Choose your seasoning herb blend. I like to use herb de Provence or Italian seasoning. You can use pizza seasoning too or simply dried oregano.
Nutrition
Nutrition Facts
Easy Zucchini Boats Recipe [Vegetarian]
Amount Per Serving (380 g)
Calories 157
Calories from Fat 108
% Daily Value*
Fat 12g18%
Cholesterol 15mg5%
Sodium 839mg35%
Potassium 411mg12%
Carbohydrates 8g3%
Protein 6g12%
Vitamin A 470IU9%
Vitamin C 22mg27%
Calcium 131mg13%
Iron 1mg6%
* Percent Daily Values are based on a 2000 calorie diet.