Easy Zucchini Casserole Recipe - Garden Fresh Zucchini au gratin bake is a french vegetarian dinner idea. Quick and easy to prepare!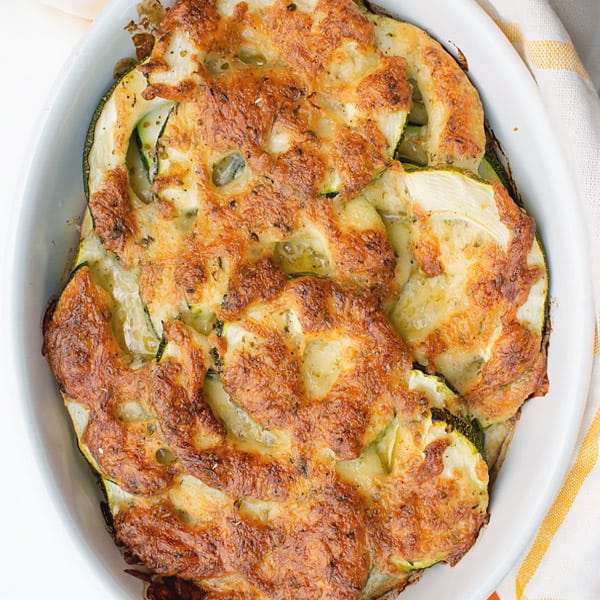 Easy garden-fresh Zucchini Casserole recipe to celebrate the summer zucchini season.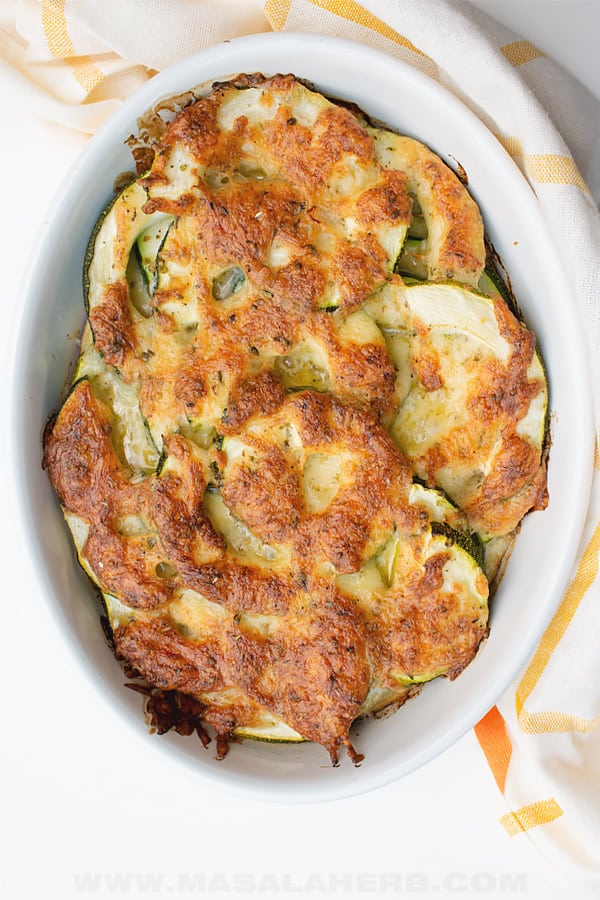 Jump to:
What is this casserole?
I adapted this baked zucchini cheese casserole recipe from my aunt who prepares a similar variation with fresh cream the southern french way.
So this is a very french zucchini dinner recipe!
This delicious lighter summer meal is also known as zucchini au gratin, as it is baked golden brown to perfection.
The Zucchini is baked soft in one dish and doesn't need pre-cooking, turn this recipe into a quick and easy zucchini recipe
You will love this healthy zucchini casserole with cheese if you are looking for a lighter gluten free and low carb vegetarian meal.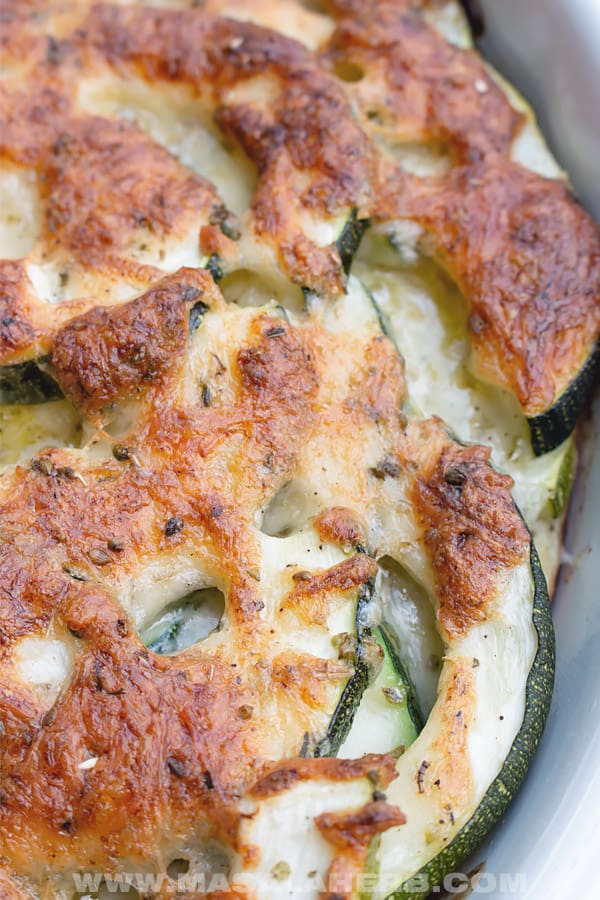 Choice of zucchini
You can pick medium-sized (8 inch/20 centimeters), large and epic monster large Zucchinis.
The size doesn't matter so much.
Store-bought Zucchini come in small and medium sizes, whereas homegrown Zucchini has a reputation to grow into massive vegetables.
The large ones tend to be less flavorful than the smaller ones but homegrown Zucchini are usually anyway tastier (or so I believe).
You only need to cut out the spongy core in the large Zucchinis and you are good to go.
Try this recipe too with other Zucchini varieties such as yellow Zucchini or round Zucchini.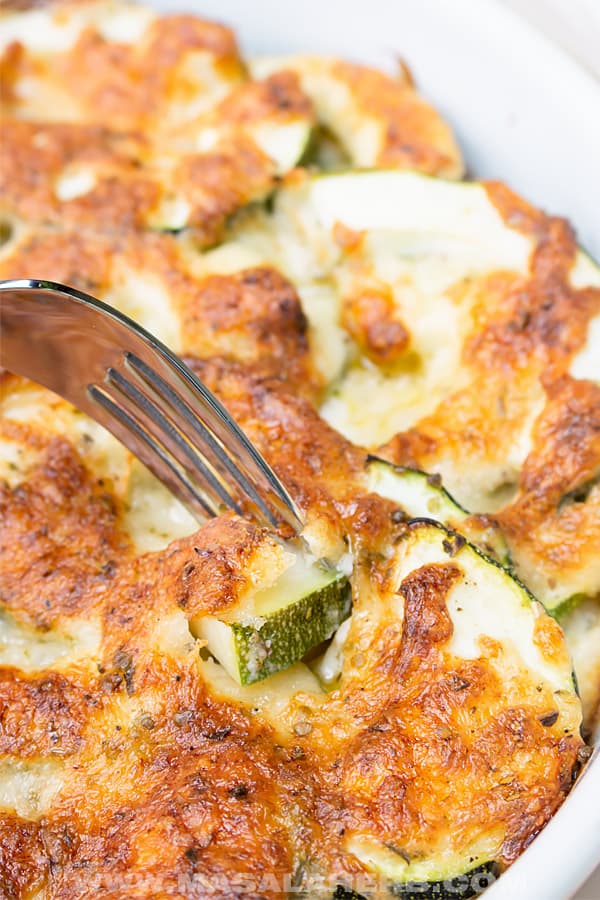 Frozen Zucchini
If you have a whole frozen Zucchini, you can leave the vegetable to defrost in the fridge.
If you are in a hurry, place the zucchini to thaw in a closed bag and submerge into warm water.
Carefully press out any excess water or else the Zucchini gratin will turn out soggy.
To avoid sogginess, you can also add 1 Tablespoon of cornflour to the batter mixed in.
The cornflour will bind excess liquids and the gratin will turn out the best ever!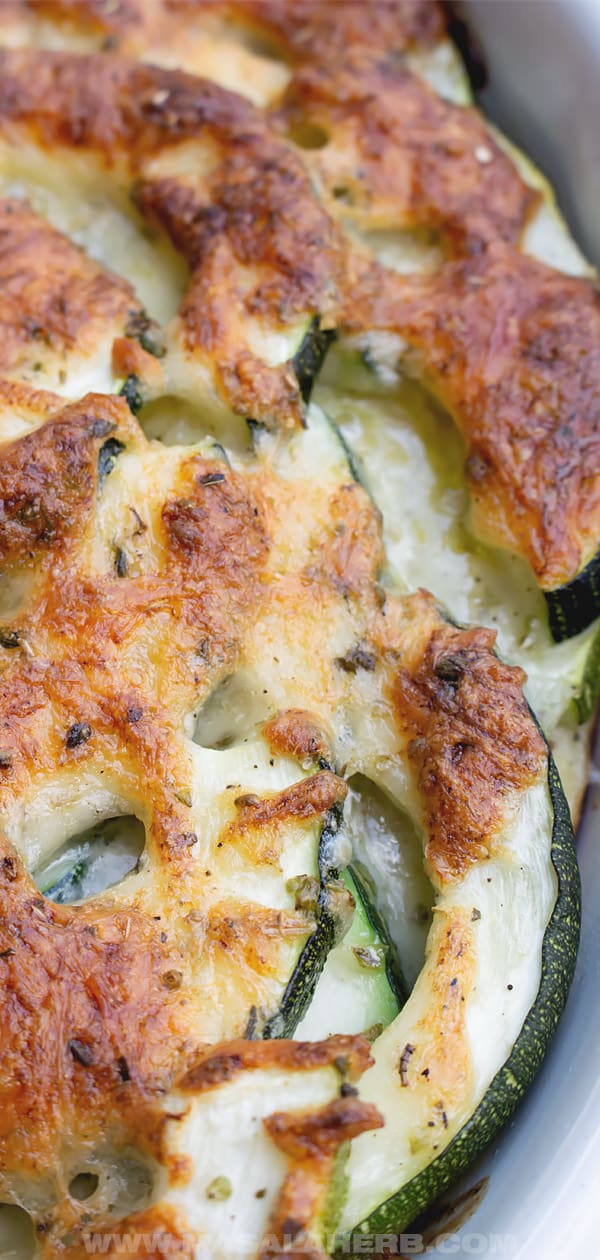 How to make it?
This is an easy zucchini casserole meal that comes together fairly quickly too.
The zucchini slices will cook through in the casserole dish making this a one-pan dish.
Follow the steps to prepare your own zucchini cheese bake from scratch.
Step 1
Cut out the center of your Zucchini if it's consistency is spongy.
Cut your Zucchini into slices and arrange in the casserole dish.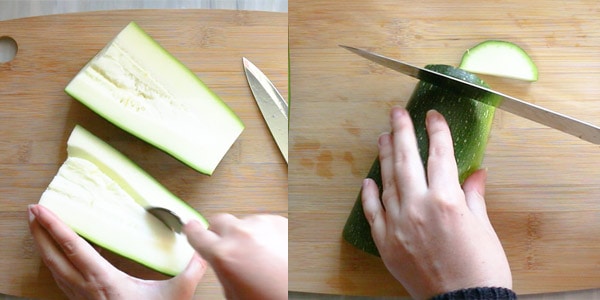 Step 2
In a mixing bowl combine the cream, egg, cheese and the seasoning.
Step 3
Pour the cheesy cream mixture over the zucchini in the casserole and drizzle with olive oil.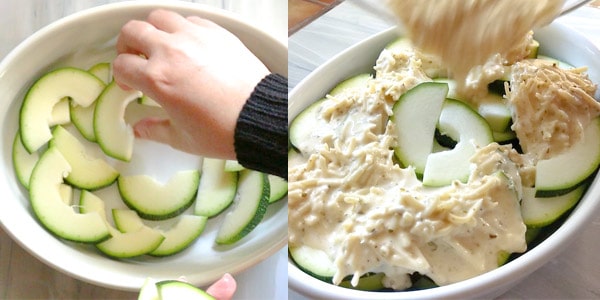 Bake golden brown.
See all detailed instructions and ingredients listed in the recipe card further below.
More zucchini dinners
Dear Reader, do you grow your own zucchini?
Global Food Recipes
with Spices and Herbs
Free E-Book available for a limited time. Grab yours now and get instantly inspired!
📖 Recipe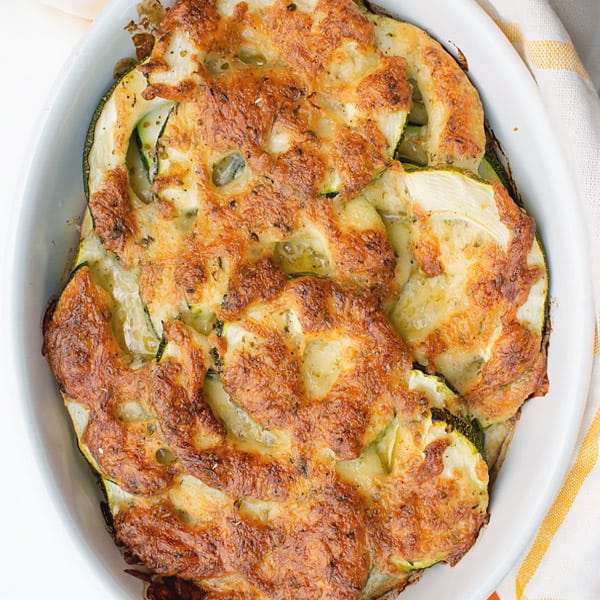 Easy Zucchini Casserole Recipe
Easy Zucchini Casserole Recipe - Garden Fresh Zucchini au gratin bake is a french vegetarian dinner idea. Quick and easy to prepare!
Print
Pin
Rate
Instructions
Rinse your zucchini well to get rid of impurities. Cut your zucchini lengthwise and cut out the spongy seed core.

Slice your zucchini and arrange in your casserole dish.

Preheat your oven to 350° Fahrenheit/ 180° Celsius.

In a mixing bowl combine the egg, cheese, cream, Italian (or pizza) seasoning, salt and black pepper to a combined mixture.

Pour the cream cheese mixture evenly over the arranged zucchini slices in the casserole dish.

Drizzle the olive oil equally all over the uncooked zucchini casserole dish.

Bake your zucchini casserole dish at 350° Fahrenheit/ 180° Celsius for about 25- 30 minutes or until golden brown baked.

Serve hot with a cold salad.
Notes
I like to use Emmethal, Cheddar or Raclette cheese. You can also use mozzarella cheese or pizza cheese.
Nutrition
Nutrition Facts
Easy Zucchini Casserole Recipe
Amount Per Serving
Calories 522
Calories from Fat 414
% Daily Value*
Fat 46g71%
Cholesterol 193mg64%
Sodium 1354mg56%
Potassium 710mg20%
Carbohydrates 12g4%
Protein 19g38%
Vitamin A 1995IU40%
Vitamin C 39.4mg48%
Calcium 491mg49%
Iron 2mg11%
* Percent Daily Values are based on a 2000 calorie diet.