5 mins to make this classic french vinaigrette.
Homemade Dijon Mustard Vinaigrette dressing is the ultimate salad dressing and much more!
I share our authentic easy french recipe so that you can make it from scratch at home within 5 minutes.
Global Food Recipes
with Spices and Herbs
Free E-Book available for a limited time. Grab yours now and get instantly inspired!
This is a healthier salad dressing. It doesn't include sugar, artificial ingredients, or dairy products.
Today's mustard vinaigrette is vegan, low carb, and gluten-free and it's great if you want to lose weight.
Jump to:
📕 What is a vinaigrette?
A vinaigrette is a salad dressing.
Oil, vinegar, salt, and optionally mustard, make up a good vinaigrette emulsion.
Vinaigrette was popularized in France. The word contains the french word vinegar, vinaigre.
The perfect ratio is ⅓ of vinegar and ⅔ oil for a vinaigrette.
Dijon mustard doesn't only enhance the flavors of your mustard dressing but also helps to make it creamy because the mustard paste is an emulsifier.
🔪 How to make it?
Here is an overview how this dressing comes together. The full recipe is located further below in the recipe card.
Step 1
Add salt, pepper and mustard paste to the vinegar.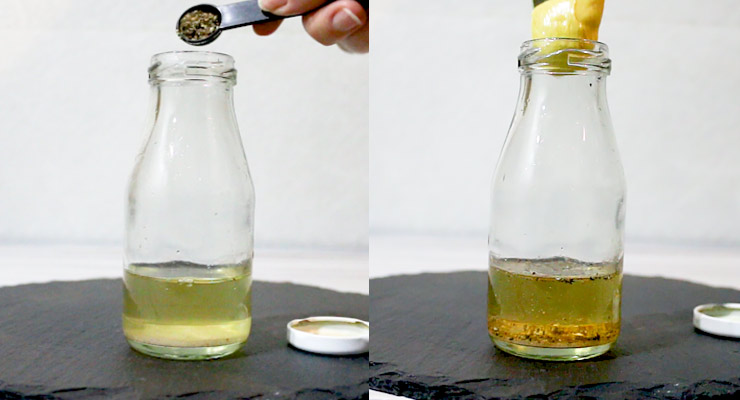 Step 2
Mix/Shake it all up to create a smooth blend.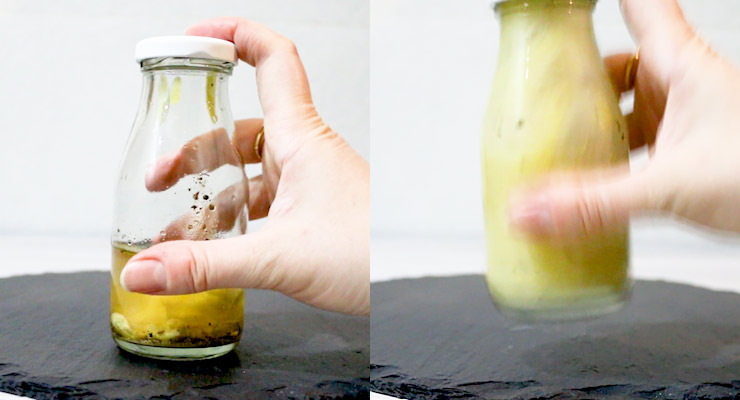 Step 3
Now pour in the oil.
Mix/Shake it all again until you have a smooth vinaigrette.
🍱 Storing
I think the best way to make and store the dressing is in a small glass bottle or in a salad shaker bottle.
That way you just need to fill the bottle, shake it and it's ready.
Keep your bottle with the dressing in the fridge until further use.
The dressing will last 2-3 weeks refrigerated, us it up by that time.
Can you freeze it?
You don't need to freeze your dressing because it remains good in the fridge and because making it from scratch will take you only 5 minutes.
Defrosting and thawing your vinaigrette would take longer and is not recommended.
📜 Types of vinaigrette
Saffola Oil, Sunflower oil or even olive oil are a good choice for a basic vinegar dressing.
I usually use white wine vinegar or apple cider vinegar to make this salad dressing.
In northern France, they like to combine walnut oil with apple cider vinegar.
In southern France, Lemon juice is used instead of vinegar, in combination with olive oil. Making it a Mediterranean vinaigrette dressing.
A mustard vinaigrette in France is traditionally prepared with classic dijon mustard but you can use other french mustards too such as whole grain mustard or flavored mustards (like the ones from Edmont Fallot)
Here are some more types and ideas. Use the following ingredients:
with infused vinegar - Raspberry vinegar or herb-infused DIY vinegar.
with boiled cut egg - to serve with cooked leeks and boiled potatoes
with honey - for a sweeter salad dressing.
🥣 Use and Serving
Use your vinaigrette as a classic salad dressing with a simple everyday green salad or with tomatoes, cabbage, cooked cauliflower or broccoli.
I like in with a green bean salad too and in northern France we make a fresh endive salad tossed with this dressing.
You can also use various green lettuce varieties such as field salad.
Or how about quinoa, wheatberry or couscous salad with your homemade vinaigrette?
Besides salads, a good mustard vinaigrette can be served as a sauce too with cooked asparagus, artichokes, smoked salmon, steamed or boiled fish and even with fresh oysters.
💭 FAQs
How to make your vinaigrette less acidic?
The ratio, as described in this recipe, is perfect as is. However, if you still taste it as acidic, I recommend adding small quantities of water. Keep in mind that certain vinegar varieties tend to be more acidic than others too.
Why does my vinaigrette separate?
Vinaigrette is made of oil and vinegar and when it sits around it will separate. This is normal and you just need to shape it up. Yet, your dressing will not separate if you add dijon mustard to it because it's an emulsifier.
Why is my vinaigrette so thick?
Your vinegar and oil salad sauce will get thick when it has been cooled in your fridge. Just shake it up or leave it out and it will become more liquid again.
👁️ More Dressing Ideas
Global Food Recipes
with Spices and Herbs
Free E-Book available for a limited time. Grab yours now and get instantly inspired!
📖 Recipe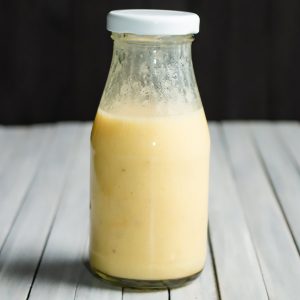 Dijon Mustard Vinaigrette Dressing Recipe
5 mins to make this classic french vinaigrette.
Print
Pin
Rate
Instructions
Pour vinegar into a salad dressing shaker or small bottle.

Add salt and black pepper. Also, add in the dijon mustard paste.

Close with the lid and shake so that the ingredients are well combined.

Open again and pour in all the oil.

Close the bottle with the lid and shake one last time. Shake until well combined. The dressing should look smooth.

Store in the fridge until further use or use dressing straightaway as is over your salad.
Notes
I like to use white wine vinegar or apple cider vinegar. You can use synthetic vinegar too or other flavors vinegars.
I use olive oil but you are free to use safflower oil or sunflower oil instead.
Please use only french style dijon mustard.
Tip: We mix the vinegar, salt, blakc pepper and mustard first without the oil so that the ingredients get mixed up better. The oil is always added at the end, that way the dressing won't seperate when it sits around.
Nutrition
Nutrition Facts
Dijon Mustard Vinaigrette Dressing Recipe
Amount Per Serving
Calories 196
Calories from Fat 198
% Daily Value*
Fat 22g34%
Sodium 267mg11%
Carbohydrates 1g0%
Protein 1g2%
Iron 1mg6%
* Percent Daily Values are based on a 2000 calorie diet.