The green salad is a common side dish which you can serve with most main course meals.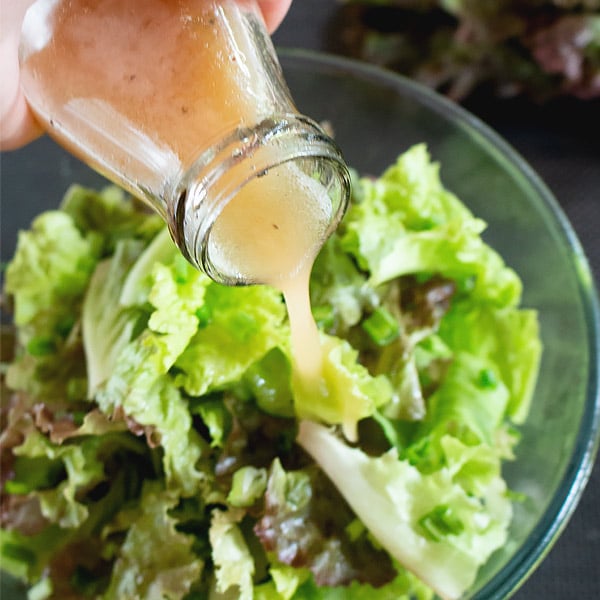 My everyday green Salad is actually not my invention but rather a side salad dish that my family prepares to accompany any lunch or dinner.
This simple salad is truly a daily salad in my world, which comes together really quickly and can be served with most meals.
Global Food Recipes
with Spices and Herbs
Free E-Book available for a limited time. Grab yours now and get instantly inspired!
Jump to:
This green salad cannot be missed for any meal or at any event.
My mum would prepare this salad for lunch and dinner with various green salad leaves and a basic vinegar and oil dressing.
You can prepare this salad within 3 minutes every single day and you won't have to compromise on taste or fresh raw nutrients.
📕 What is this salad?
Basically, the green salad consists of fresh raw green lettuce variations, topped with a simple French vinaigrette.
The vinaigrette is prepared by mixing vinegar, oil, salt, and black pepper together. Another version is the mustard vinaigrette.
You can make up your own green salad.
I usually stick to the most common green lettuce varieties or the lettuce that is growing in the garden during the summer months.
You can prepare your everyday green salad with the following lettuce varieties.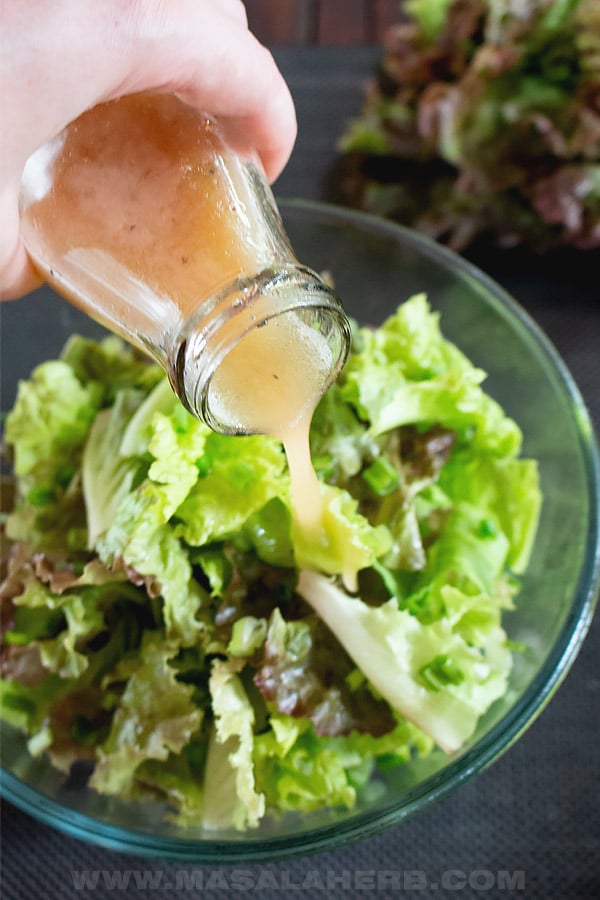 🥬 Lettuce
I usually prepare my green salad with the lettuce varieties that I enjoy the most, which are basically mostly romaine, green/red leaf, and butterhead lettuce.
Sometimes I will add some nappa cabbage, iceberg lettuce, or rocket.
Yet, most of the time I keep it rather simple because I try to focus on the main dish and I don't want to waste time in the kitchen.
Besides the green salad tastes best the more simple you make it.
That means you can adjust and customize the everyday green salad to your liking, by picking the lettuce variety that you enjoy the most.
You don't need 10 lettuce varieties, once is enough too to make this salad a simple but essential delight to serve with most dishes.
Green or Red Leaf Lettuce
Romaine Lettuce
Butterhead Lettuce
Oak Leaf Lettuce
Iceberg Lettuce
Radicchio
Lollo Rosso Lettuce
Escarole
Frisee
Rocket (Rucola)
and some more ideas....
Water Cress
Tatsoi
Little Gem Lettuce
Mizuna
Endives
Spinach
Dandelion Greens (I used Dandelions here in this wildflower salad)
Nappa Cabbage
Kale Leaf varieties
Chard
Baby Beet Greens
Mache (Lambs Lettuce)
Chrysanthemum Greens
🥗 Dressing
For the Salad Vinaigrette Dressing, I mix ⅓ Vinegar with ⅔ Oil to create any quantity of this simple vinegar oil dressing.
I like to use apple vinegar with sunflower oil, but you can also use another vinegar variety.
Vinegar is the ultimate ingredient in this salad dressing.
Using a good quality vinegar is crucial.
Personally, I enjoy homemade vinegar in my salad.
Even home-infused vinegar such as my herbal vinegar.
But of course, I always look out for local vinegar variations whenever I travel to a new place.
To me, the acidity that vinegar lends my dishes is super important, so I will always pay a little more for the better bottle contents.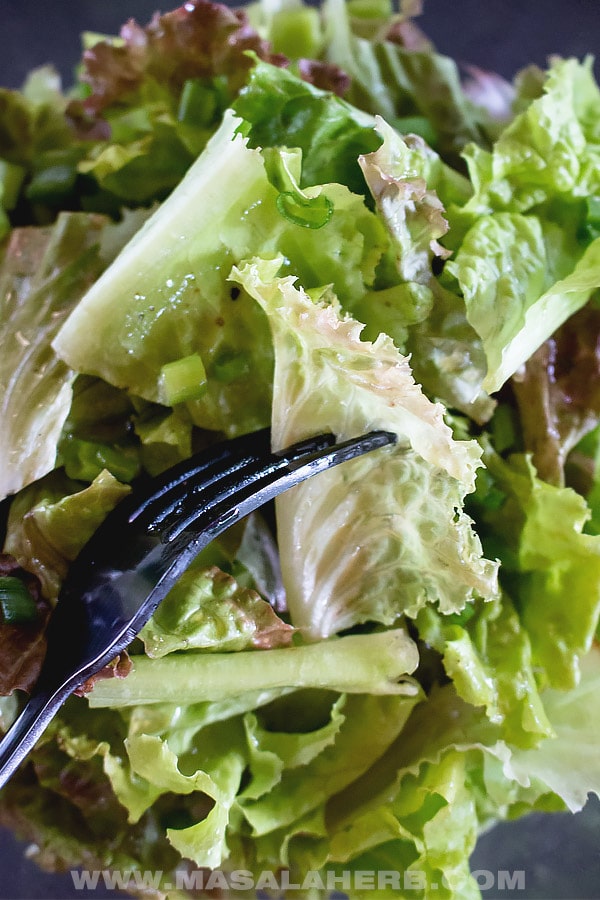 Apple Cider Vinegar - Classic vinegar choice and quite common. I like the strong flavored Apple cider form the Normandie region in France.
Rice Vinegar - Usually lighter in taste, this vinegar tends to mix better and is not overpowering. Rice Vinegar has become a popular Salad Dressing Vinegar.
Coconut Vinegar - This is a secret tip. Coconut Vinegar is not fruity, but it does have excellent flavors and I enjoy it with my salad.
Raspberry Vinegar - I always associate this Vinegar with North France, places like Amiens and Beauvais. My aunty there prepares fruity raspberry vinegar by infusing the berries.
Tomato Espellete Pepper Vinegar - I haven't tried this one yet but I so want to! Espellete Peppers are a specialty in South France bordering Spain. This vinegar should have a spicy Mediterranean touch to it.
Champagne Vinegar - This vinegar is not that well known but it'really brings out the flavors of any dish. The Vinegar with the green salad you will find yourself craving more raw food soon enough.
🍴 Serving
You can serve the everyday green salad as a side dish with most meals and with that, I honestly mean most anything.
I had this salad with pizza, pasta, spicy Asian noodle dishes, lentil curries, beefsteak, and much more.
Yet I think you might enjoy discovering these dishes with the everyday green salad.
Dear Reader, How are you going to customize your everyday green salad?
Global Food Recipes
with Spices and Herbs
Free E-Book available for a limited time. Grab yours now and get instantly inspired!
📖 Recipe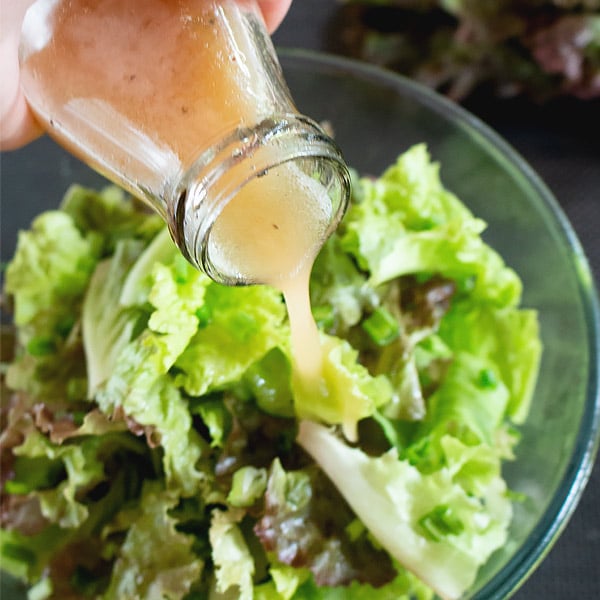 Simple Green Salad Recipe
The green salad is a common side dish which you can serve with most main course meals.
Print
Pin
Rate
Ingredients
For the Salad:
1

Handful

Fresh Salad Leaf Varieties

green or red, see in the post for salad leaf ideas
For the Vinaigrette Dressing:
Instructions
Separate the salad leaves from the stem. Wash your Salad leaves. If it's a salad from the garden or organic, keep the leaves in a bowl with water and a splash of vinegar as this will get rid of any insects. If your salad is store-bought, make sure to wash your salad properly because of the pesticides used.

Once the salad has been washed place the fresh leaves into a salad spinner to get rid of the excess water.

To prepare the dressing, grab a dressing shaker or a small glass container that seals well with the lid of a small milk bottle.

Shake the bottle with the dressing well and pour over the green salad leaves in a bowl.
Notes
The dressing can be adjusted with the simple formula of ⅓ Vinegar and ⅔ Oil.

You can store all the salad leaves in the spinner or in a glass container with a lid and that in the fridge, because the salad leaves stay super fresh for a long in this container. That way you can take out the leaves you need anytime to use as a salad side dish. I usually turn the salad leaves into smaller bite-sized pieces and place them into a bowl.

Store the fresh leaves in a salad spinner and the dressing in a dressing shaker. Don't pour the dressing over the salad and refrigerate for a longer period because the salad will get soggy, lose its crispness and will turn bad faster.
Nutrition
Nutrition Facts
Simple Green Salad Recipe
Amount Per Serving
Calories 82
Calories from Fat 72
% Daily Value*
Fat 8g12%
Sodium 4mg0%
Potassium 182mg5%
Carbohydrates 2g1%
Protein 1g2%
Vitamin A 2484IU50%
Vitamin C 3mg4%
Calcium 27mg3%
Iron 1mg6%
* Percent Daily Values are based on a 2000 calorie diet.