Flammkuchen or Tarte Flambée is a delicious flat pizza-like dish, topped with fresh cream, bacon, and onions.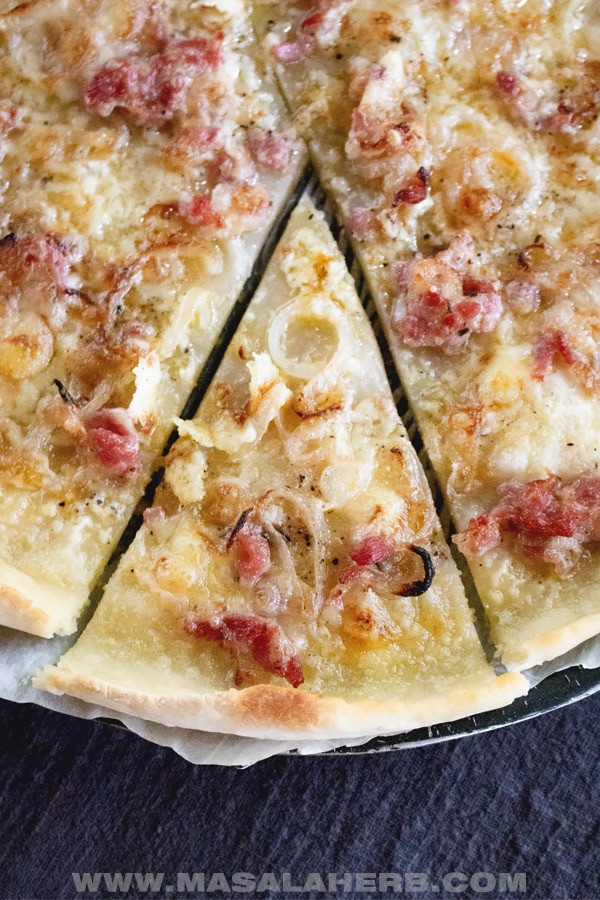 What is Flammkuchen aka Tarte Flambée?
Flammkuchen is a Pizza-like dish with cream bacon and onions as the main original topping ingredients. Flammkuchen is also known as Tarte Flambée/Flammekuechen and is primarily an Alsatian French pizza dish.
The region of Alsace is touching the German Rheinland and Baden Würtemberg regions to the east and the Swiss Basel Aargau and Bernese Oberland regions to the South. Therefore Flammkuchen is a traditional French, German and Swiss dish.
If you ever travel to these regions, you will see that the Flammekuechen can be commonly found in restaurant menus in the French, German and Swiss Corner of Europe.
Quick historical facts about Alsace and the Flammkuchen dish
These regions have been thought over a lot in the history of Europe. Alsace, for example, was switching between French and German rule (or the previous kingdoms back then) countless times.
My great-grandfather, for example, was born in a German-ruled Alsace (way before WW2). The Alsace region counts as one of the richest regions in France with its wine culture and a booming tourism industry today.
Therefore you can understand easily why this region was so sought after between the two countries and how the Flammkuchen can be called a traditional French, German and Swiss dish.
Originally the tarte flambée was a home meal, baked in a bread oven in the village in North Alsace. When the bread oven was started, the heat would be too high for the regular bread. At that point, the Flammkuchen would be quickly baked in high heat for a few minutes only.
The name Flammkuchen comes from the words Flamme (flame) and Kuchen (cake). The French word Tarte Flambée reflects the same meaning.
A Flammkuchen was square and would be eaten rolled up with the finger. Years ago in a restaurant in Mulhouse (South Alsace), I was eating my Flammekuechen with a fork and knife when the lady of the house came over and explained that it was eaten by hand. Yet, this is something I will leave up to you.
Flammkuchen/Tarte Flambée variations
While the Alsatian Tarte Flambée with bacon and onions is known to be the authentic Flammkuchen, it is of course not a rarity to see other versions emerging in Alsace itself and the neighboring German and Swiss regions.
In Basel Switzerland, I came across Flammkuchen with sausages and Gruyere Cheese. Besides the original bacon (French Lardon) and onion Tarte Flambée, I enjoyed the Sausage version a lot with a glass of cold beer.
Traditional Flammkuchen/Tarte Flambée variations:
Strassbourg Tarte Flambée – With Sauerkraut & sliced Strassbourg sausage topped (another favorite of mine)
Salmon Tarte Flambée
Variation with Leek and Onions
Variation with Cheese only such as Emmenthal, Münster, and Gruyere
Sweet Flammkuchen with apple, pears, and eventually Calvados
Würtemberg version topped with potato mash and onions
Forestière Tarte Flambée with Mushrooms
The way you top your Flammkuchen is up to you. I tend to enjoy a topping which is rather light but with small pieces of meat added. You can get super creative with your Tart Flambée topping!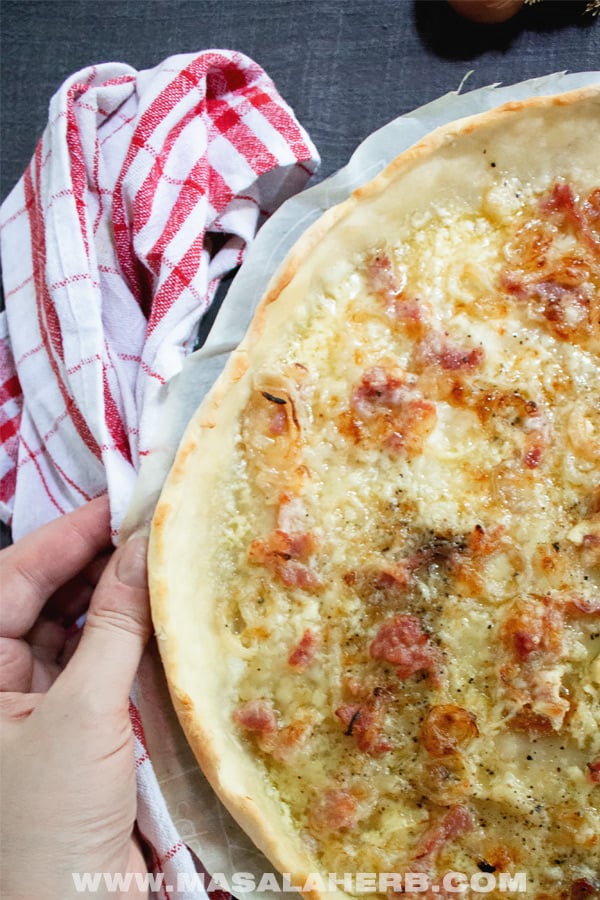 Progressive Flammkuchen/Tarte Flambée topping ideas:
Ruccola and Gorgonzola Cheese
Dates and Fetta Cheese
Pear, Gorgonzola, and Chanterelle Mushrooms
Zucchini and Pumpkin Seeds
Apple, Goat Cheese and Walnuts
Mushroom, Potato slices and Vegan Cream to make a Vegan Flammkuchen
Hokkaido Pumpkin and Pumpkin
Chocolate Banana for a sweet dessert Flammkuchen
Strawberry and Vanilla Ice cream Flammkuchen
How to make Flammkuchen/Tarte Flambée? [VIDEO]
The Flammkuchen is a simple dough that resembles a Tortilla/Chapati/Roti dough. It's made of flour, salt, oil, and water.
Eventually, some people like to use a pizza dough because they can buy a roll and don't need to make a dough from scratch that way. While this is always an option, I suggest you try to make your own plain flammkuchen dough. A Flammekuchen with a pizza dough is just not the same, it tastes yeasty, which is not right.
Use a kitchen machine if you want to simplify the dough making for you. That way it's as if you bought a ready-made dough.
Once you have prepared the dough, you can move on to roll it out and the topping and bake it. That's it!
How to Serve Flammkuchen/Tarte Flambée?
You can serve your Flammkuchen with a simple green salad topped with vinaigrette. I like my salad mixed with common green and red salad lettuce and Romain lettuce or Ice Berg salad.
You can also enjoy a plain clear soup as a starter before serving up the Flammkuchen.
I love a slice of my tarte flambée with a glass of white wine such as a Pinot Blanc or a Riesling in a Riedel wine glass. The Alsace region is known for its white wine but also for the beer they prepare, so you can also serve your flammkuchen with a Wheat beer.
More Recipes from my ancestors in North France:
Quiche Lorraine – The traditional Quiche with lard from the region of Lorraine. Lorraine is the neighboring region to Alsace, this is my other great-grandfather's birthplace.
Tarte a l'onion – Onion Tart from Picardie. My mum's region, north to Paris.
French Apple Cake with Calvados – This apple cake comes from the Normandie, my grandmother's birth region.
Flammkuchen/Tarte Flambée Recipe below:
Flammkuchen Recipe - Alsatian Tarte Flambée Pizza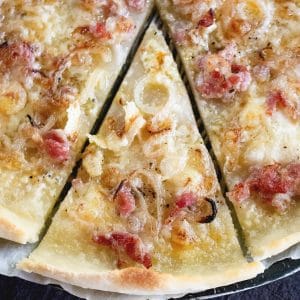 Serves:
1 Flammekuchen pizza can serve 2
Flammkuchen (Tarte flambée) is a quick and easy meal idea and a welcome change from the conventional pizza. You can use a pizza dough instead of preparing the dough here from scratch, yet a yeast pizza dough tends to change the flavors of the flammkuchen. However, I leave this option up to you! See in my post for more topping ideas to switch up things on your flammekuechen!
Ingredients
For the Flammekuchen dough base:
250 grams (2½ cups or 8.8 ounces) All-purpose Flour
½ Teaspoon Salt
about 1 Tablespoon Oil
120 milliliter (1/2 cup or 4 fluid ounces) lukewarm Water
For the topping:
tiny amount oil to fry
1 big Onion cut into rings
40 grams (1.4 ounces) Bacon into small strips
100 milliliter (almost ½ cup or 3.38 fluid ounces) Fresh Cream/ Heavy thick Cream
½ Teaspoon Salt
¼ Teaspoon Black Pepper
30 grams (1/4 cup or 1 ounce) grated Cheese (*see Note)
Instructions
To prepare the dough, add flour and salt to a mixing bowl and mix the content.
Make a well in the center and pour in the oil and some of the water (not all the water).
Start to mix the contents and when you feel it gets dry add some more water. Mix and form the dough until you have used up all the water (poured in step by step) and you have formed a smooth not stick nor dry dough. Keep aside
In a pan add a small amount of oil, just enough to fry on the onion. Once you have added the onion, add the cut bacon and fry all the ingredients a bit soft. take from the heat to cool.
Now back to the dough, roll out into an equal sized circle. The dough can be rolled out thin to 3 mm.
Place on a baking tray with baking paper.
Heat up your oven to 220 Celsius/430 Fahrenheit.
Top your rolled out base with the cream, spread the fresh cream evenly.
Sprinkle salt and black pepper over the cream.
Drip off excess oil from the fried bacon and onion (if any) and arrange over the cream on the tarte flambée.
Sprinkle the grated cheese over everything.
Bake at 220 Celsius/430 Fahrenheit for 6-8 minutes or until you can see the crust turning a bit golden.
Serve hot, if you want with cut chives as garnish.
Notes
1. Don't add too much oil to the pan when frying the onion because the bacon will release more oil.
2. You can use a cheese like cheddar, gruyere, emmenthal and similar.
Nutrition Information
Serving size: 
331 g/ 11.7 oz
Calories: 
614 kcal
Fat: 
20.62 g
Saturated fat: 
5.539 g
Unsaturated fat: 
13 g
Trans fat:
0.213 g
Carbohydrates: 
89.62 g
Sugar: 
8.11 g
Sodium: 
1589 mg
Fiber: 
4.6 g
Protein: 
17.34 g
Cholesterol: 
15 mg
Dear Reader, Which topping are you planning to try first for your Flammkuchen?
Please feel free to share your thoughts and ideas with us in the commetn section further below!
This post may contain affiliate links, and I receive a small commission when you click through and purchase. It basically buys me my daily coffee and cheese, and yes, my flour so that I can make pizza for dinner!
The following two tabs change content below.
I am Helene, and created Masala Herb to share my food and travel journey with the whole world. You will find Asian and Western dishes here, as well as unique travel guides to inspire your day. Don't miss a post! Subscribe to the free newsletter!
Latest posts by Helene Dsouza (see all)