A quick skillet meal with sliced zucchinis and scrambled eggs, cooked together in one pan.
Sautéed zucchini and eggs skillet, prepared within a few minutes with fresh ingredients only.
Learn how to make it and get my recipe with instructions, tips, and flavor ideas further below.
Global Food Recipes
with Spices and Herbs
Free E-Book available for a limited time. Grab yours now and get instantly inspired!
Jump to:
📕 What is this recipe?
I created this zucchini and egg skillet recipe as a quick and easy last-minute dinner meal option.
It's a great recipe for novice cooks and all those who want fresh from scratch food when in a hurry.
I like it as it's meatless, so to say vegetarian, and it's also accidentally gluten-free.
Zucchini is rich in fiber and eggs in protein, making this a lighter carbohydrates-free recipe.
Add this recipe to your weekly meal plan rotation in the summer months when zucchini is in season again from June to August.
🧅 Ingredients
Here is what you need to make your skillet zucchini and eggs. The full recipe card with US and metric measurement details can be found at the bottom of the post.
Zucchini – I used yellow zucchini squash because I like the color, but you can use regular green ones too.
Onion – I like purple or red onions to add a color contrast to my meal.
Olive Oil – Extra virgin olive oil if possible. Yet, you can also use veggie oils and butter if you don't mind dairy.
Oregano – Dried or fresh.
Black Pepper – Ground
Salt
Whole Eggs
Parsley – Fresh flat or curly parsley, to top the meal.
🔪 How to make it?
This is just an overview, the full instructions are located much further below in the recipe card.
Step 1
Prep fresh ingredients. Slice onion and zucchini.
Step 2
Heat oil and sauté onion slices. Stir in the zucchini and sauté as well until the texture is soft.
Step 3
Season with oregano, black pepper and salt.
Step 4
Move the cooked veggies to the side and break in your eggs.
Over a medium-high heat setting cook and scramble the eggs to mix into the zucchini and onion.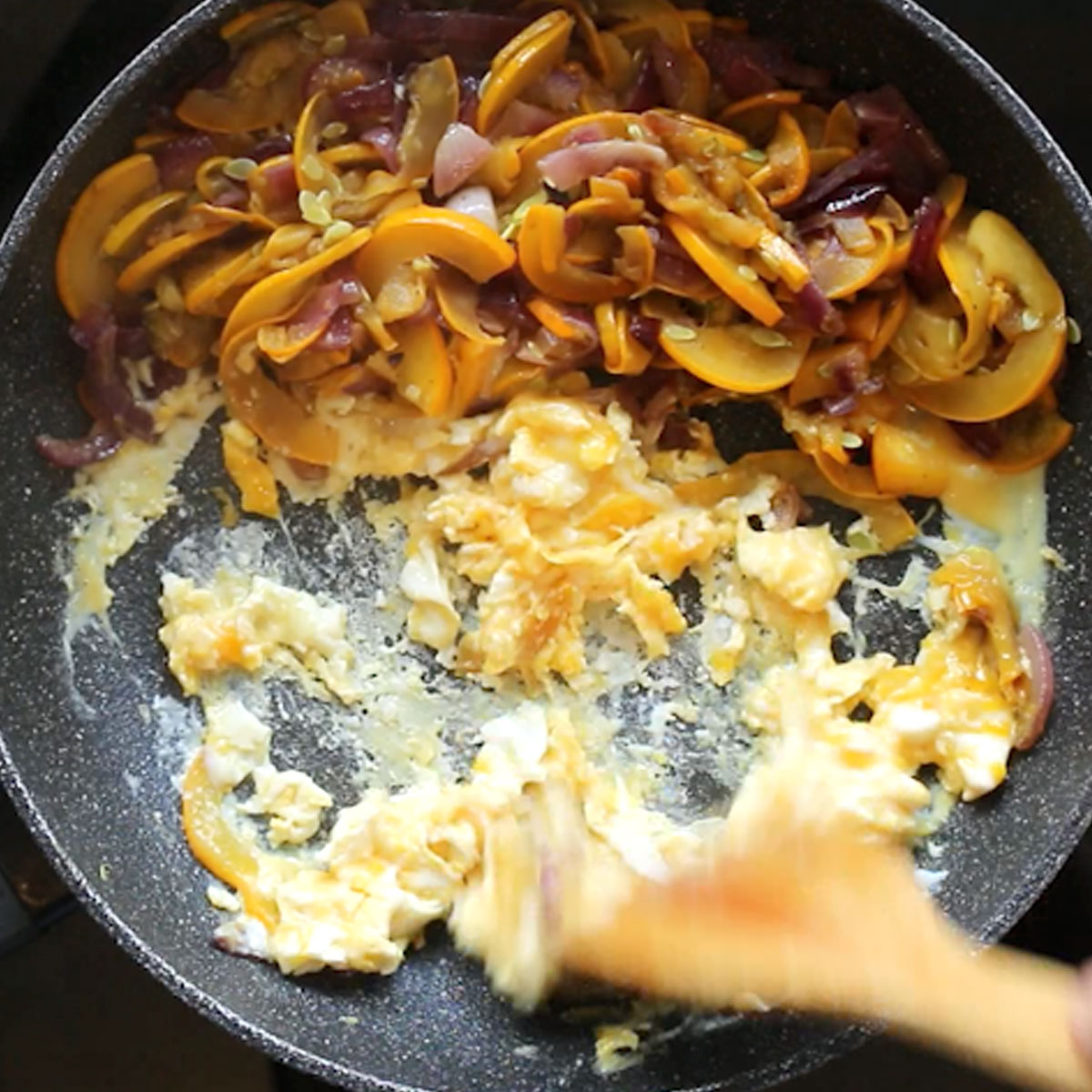 Step 5
Top with fresh parsley and serve up hot.
💡 Variation Ideas
You can choose to add more ingredients or flavors to your egg and zucchini skillet. These are just some ideas, I encourage you to get creative.
This recipe is also great if you are looking to use up ingredients in your fridge.
I know that I like to find good use for other vegetable, meat and dairy leftovers so to avoid wasting foods and to go all zero waste.
Here is what you can add to your sautéed egg and zucchini pan:
Meats
Bacon – a few pieces can add a lot of flavor to your meal. Just keep in mind to reduce the quantity of salt that you add to your dish because bacon is salty. Think of the sodium content and your heart health!
Ham – I love ham and a few tiny pieces are a great addition to zucchini and eggs. You can use leftover holiday ham cut into cubes too.
Sausage – Think Wiener sausages or Kielbasa cut into slices and fried along with the zucchini.
Diary
Cheese – Shredded cheddar or mozzarella make for a great addition as a topping.
Feta, other Goat cheese or Cottage Cheese – I'd add it as a topping too, just as I did in my Shakshuka recipe.
Milk – You can combine the eggs with some milk in a bowl, just like scrambled eggs, before pouring the egg mixture in a pan.
Quail Eggs – You could switch chicken eggs with more wholesome quail eggs.
Vegan Ingredients
Tomatoes or Cherry Tomatoes
Spinach
Mushroom
Asparagus
Peppers – Colorful ones look the best
Zucchini Flowers – fresh
Tofu – Firm or silken tofu
Seasoning
More Dried or Fresh Herbs – As in oregano, marjoram, basil, cilantro.
Spices – Add either, grated nutmeg, cumin ground, coriander seed ground, turmeric, chili or cayenne powder, dill seeds.
Garlic – Fresh or dried
🍴 Serving Ideas
This is a simple vegetarian main course meal, which you can serve up as a lunch or dinner on its own.
I like my zucchini and scrambled eggs with bread, any bread. I can recommend homemade baguette, spelt bread or any other wholewheat bread.
A small salad side dish adds a refreshing tangy touch, especially if you top it with a Dijon vinaigrette dressing. You could make a kohlrabi salad, shredded carrot salad or a unique scarlet bean salad.
🍱 Storing
Store the leftovers of your zucchini egg skillet in an airtight container. I recommend using glass containers, which come with a clip or bamboo lid.
You can freeze this dish in batches for a later date. It remains good for a few months in your freezer.
Those glass containers can be used as a fridge or freezer storing vessel, and you just need to take them out, remove the lid for reheating your meal in the oven or microwave.
💭 FAQs
To peel or not to peel zucchini?
My rule of thumb is, that I don't peel small young zucchinis if they are well rinsed and clean. If you plan to use large homegrown zucchinis, I recommend peeling and cutting off the fibrous hard parts.
To remove or not remove zucchini seeds?
You can keep zucchini seeds in, if your zucchini are young, tender, and small. The older and larger they get, the harder the seed pods turn out and in that case, I recommend taking out and discarding the seeds.
Can I use other zucchini or summer squash varieties to make this recipe?
Yes, you can use regular green and yellow zucchini or other summer squash types, such as eight-ball squash, tatuma squash, cousa squash, crookneck squash, or young patty pan squash.
👁️ More Zucchini Recipes:
Global Food Recipes
with Spices and Herbs
Free E-Book available for a limited time. Grab yours now and get instantly inspired!
📖 Recipe
Zucchini and Eggs Skillet Recipe
A quick skillet meal with sliced zucchinis and scrambled eggs, cooked together in one pan.
Print
Pin
Rate
Ingredients
1

Onion

large

1

Zucchini

medium

1

Tablespoon

Oil

i.e Olive Oil, Sunflower Oil

1

Teaspoon

Oregano Dried

or Marjoram, you can use fresh herbs too

½

Teaspoon

Salt

⅛

Teaspoon

Black Pepper Ground

2

Eggs

1

Tablespoon

Parsley Fresh

chopped
Instructions
Peel the onion, cut off the ends. Cut in half and slice your onion. Keep aside.

Rinse zucchini well and cut off ends. Half and cut the zucchini into slices. Keep aside.

Heat up the oil in a large skillet over a medium-high heat setting and sauté onion slices until they appear a bit soft.

1 Tablespoon Oil,

1 Onion

Stir in the zucchini slices and stir cook to incorporate. Keep over a medium high heat setting and sauté zucchini for a few minutes.

Season with oregano (or marjoram), ground black pepper and salt. Mix it all in.

1 Teaspoon Oregano Dried,

½ Teaspoon Salt,

⅛ Teaspoon Black Pepper Ground

Keep sautéing zucchini and onion until the texture looks almost cooked through.

Reduce the heat setting. Make some space in the pan by pushing the veggies to the side and break in the eggs.

Increase the heat again to a medium setting and watch the egg whites turn white. Start to scramble and mix them at the same time into the zucchini onion mix.

If all looks cooked, turn off the heat and sprinkle freshly chopped parsley over the zucchini and eggs in the skillet.

1 Tablespoon Parsley Fresh
Notes
I have set the serving for two, which is a smaller meal portion because we tend to serve this with a side dish salad and bread. If you are used to larger portions or if you are hungry, then the base recipe will be for one serving.
I chose to make this with yellow zucchini summer squash, but you can use regular green zucchini too, the difference is just the color.
Please, take a look at the post to see how you can turn this recipe into your own creation with additional ingredients.
Nutrition
Nutrition Facts
Zucchini and Eggs Skillet Recipe
Amount Per Serving
Calories 166
Calories from Fat 108
% Daily Value*
Fat 12g18%
Cholesterol 164mg55%
Sodium 654mg27%
Potassium 411mg12%
Carbohydrates 9g3%
Protein 7g14%
Vitamin A 452IU9%
Vitamin C 22mg27%
Calcium 70mg7%
Iron 2mg11%
* Percent Daily Values are based on a 2000 calorie diet.