Stuffed zucchini with meat and cheese, baked in a casserole dish with a flavorfeul tomato sauce.
A well-seasoned ground beef cheese stuffed zucchini boats with a tomato sauce, baked and served up in a casserole dish.
This makes a healthier low-carb dinner meal.
Jump to:
This recipe was inspired by my mum's vegetarian stuffed zucchini boats and our french meat stuffed tomatoes.
I thought it would be nice to have culinary herbs and spices in these zucchini boats. The result is some super delicious zucchini boats.
🥒 Ingredients
For the meat-stuffed zucchini you will need the following ingredients (measurements in the recipe card):
zucchini
ground beef
salt & black pepper
onion and garlic powder
oregano or marjoram or savory - fresh or dried
basil
rosemary
grated cheese
The tomato sauce is optional but makes a great addition to the dish. You will need:
tomato sauce
salt and black pepper
oregano or savory
onion and garlic powder
To top it all:
🔪 How to make it?
The process is super simple. It involves stuffing the zucchini and adding the sauce to the baking dish.
Here is an overview of how it comes together. The details are further below in the recipe card.
Step 1
Cut your zucchini in half and hollow out. Place next to each out in a baking dish.
Split hollowed-out zucchini flesh between two mixing bowls.
Step 2
Prepare the meat filling with one of the two mixing bowls.
Add meat, seasoning, and cheese. Combine meat filling with zucchini in the bowl. Keep aside.
Step 3
Combine sauce ingredients with the zucchini pulp in the second bowl.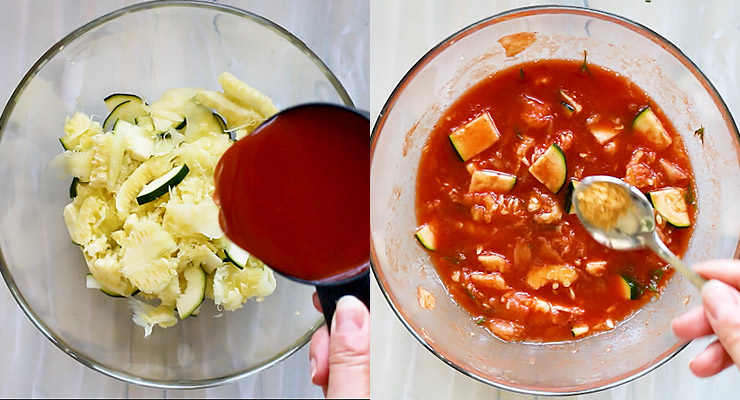 Step 4
Stuff zucchini boats with meat mixture and sprinkle some cheese over them.
Spread sauce around the zucchini boats. Sprinkle with olive oil and bake.
🍴 Serving
I love these zucchini boats with cooked polenta or grits.
Paul prefers meat stuffed zucchini with cooked plain rice.
A small light and healthy side dish salad go really well with this dish.
Sweet corn and bean salad, a green salad, or a red beet salad are all good options.
🍱 Storing
Store leftovers in an airtight container in your fridge for up to 3 days.
Reheat in the oven in your baking dish or in a microwave.
You can also freeze your meat-stuffed zucchini boats!
Just prep them as per the instructions and skip the sauce.
Place the meat stuffed zucchinis in your freezer and freeze them hard.
Take them out whenever you want to bake them.
Just place the stuffed zucchini into a baking dish and bake an extra 20-30 minutes or until cooked through and done.
💭 FAQs
Do you eat the skin on zucchini boats?
Yes, zucchini skin is edible but only when the zucchinis are young. The older and larger the zucchini gets the tougher the skin gets and in that case, you will either have to peel your zucchini boats or eat out of the skin.
What zucchinis can I use for this recipe?
You can use young medium-sized zucchini but you can also choose to use large zucchini in this recipe. When we use garden-free zucchini we will be using mainly over largely grown zucchini (they grow so fast!). Of course, this dish looks better with small medium-sized zucchini, and yes they are more tender but when you grow zucchini in your garden you will try to grow them as large as possible for obvious reasons.
📖 Recipe
Ground Beef Stuffed Zucchini Boats Recipe
Stuffed zucchini with meat and cheese, baked in a casserole dish with a flavorfeul tomato sauce.
Print
Pin
Rate
Servings:
4
zucchini boats
Ingredients
Instructions
Prep Zucchini
Rinse and pat dry zucchini.

Cut ends off zucchini and cut it into half.

Arrange Zucchini halves in your baking dish. Cut the 4th one a bit short so that it fits there. Slice the remaining zucchini piece that didn't fit, it will be added to the sauce afterward.

Hollow out zucchini. Collect fruit pulp.

Spread zucchini pulp between 2 bowls. One is for the stuff, the other for the sauce. Add the sliced zucchini parts to the bowl for the sauce.
Prep Stuffing
Add ground beef, seasoning, and cheese to one of the bowls with the zucchini.

8 ounces Ground Beef,

½ Teaspoon Salt,

¼ Teaspoon Black Pepper,

1 Teaspoon Onion Powder,

1 Teaspoon Garlic Powder,

1 Tablespoon Oregano or Marjoram or Savory Herb,

1 Teaspoon Basil,

½ Teaspoon Rosemary,

½ cup Grated Cheese

Combine ground meat stuffing.
Prep Sauce
In the second bowl, add tomato sauce and seasoning to the zucchini pulp.

1 cup Tomato Sauce,

½ Teaspoon Salt,

¼ Teaspoon Black Pepper,

1 Tablespoon Oregano or Marjoram or Savory Herb,

½ Teaspoon Onion Powder,

½ Teaspoon Garlic Powder
Put it all together
Preheat oven to 400 Fahrenheit/ 200 Celsius.

Stuff zucchini with the meat filling.

Spread the sauce around/between the zucchini.

Top boats with cheese and sprinkle some olive oil over all that.

½ cup Grated Cheese,

2 Tablespoon Olive Oil

Bake your zucchini boat at 400 Fahrenheit/ 200 Celsius for about 20 minutes or until golden on the top.
Notes
Use ground beef with 15-20% fat. You can use a blend of beef and pork meat too (that's how it's done in France). That way the dish will be more flavorful and the meat won't dry out.
I love to use fresh herbs in this dish but you are free to use dried ones too. My choice is savory herb (yep that's a herb variety) but oregano or marjoram are great in this recipe too! You can mix and match between these three herbs
The sauce is optional but serving the zucchini boats with the sauce is better. The dish feels more complete that way.
This recipe is meant to cut down on the prepping time. Hence, why I don't use fresh onions and garlic and instead chose to add dried onion and garlic powder. Cutting onion and garlic small saves you at least 5-10 minutes. et you are free to use fresh garlic instead of dried garlic in the dish if you like.
Pick your favorite grated cheese for this recipe. I like to use something like cheddar, mozzarella cheese, or emmental.
Equipment
13" Rectangular Baking Dish
Nutrition
Nutrition Facts
Ground Beef Stuffed Zucchini Boats Recipe
Amount Per Serving
Calories 359
Calories from Fat 234
% Daily Value*
Fat 26g40%
Cholesterol 62mg21%
Sodium 1332mg56%
Potassium 699mg20%
Carbohydrates 11g4%
Protein 22g44%
Vitamin A 723IU14%
Vitamin C 22mg27%
Calcium 357mg36%
Iron 3mg17%
* Percent Daily Values are based on a 2000 calorie diet.