Mexican seasoning is easily prepared by mixing all the ground spices together. This Mexican seasoning is low in sodium and you can make it gluten-free if you use gluten-free onion and garlic powder (best is to make your own from scratch).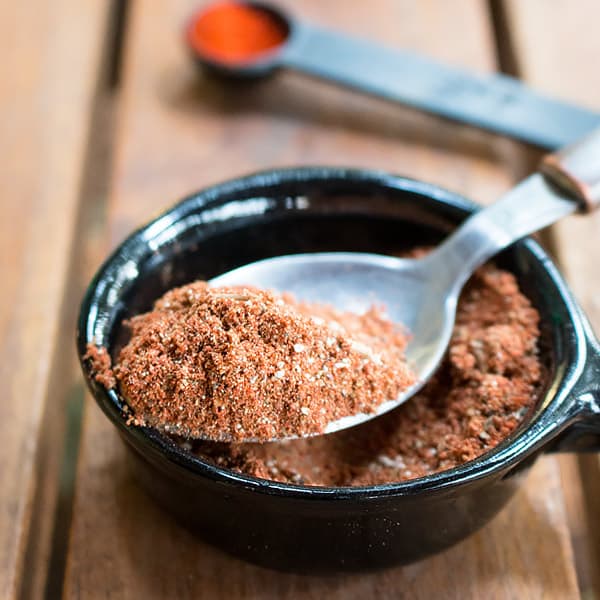 Mexican Seasoning (Taco seasoning blend) is prepared with a few smooth ground spices, which most probably you will have in your kitchen.
It takes less than 5 minutes to just mix together the ground spices for this Mexican spice mix recipe and you can store it easily for another hot spiced day.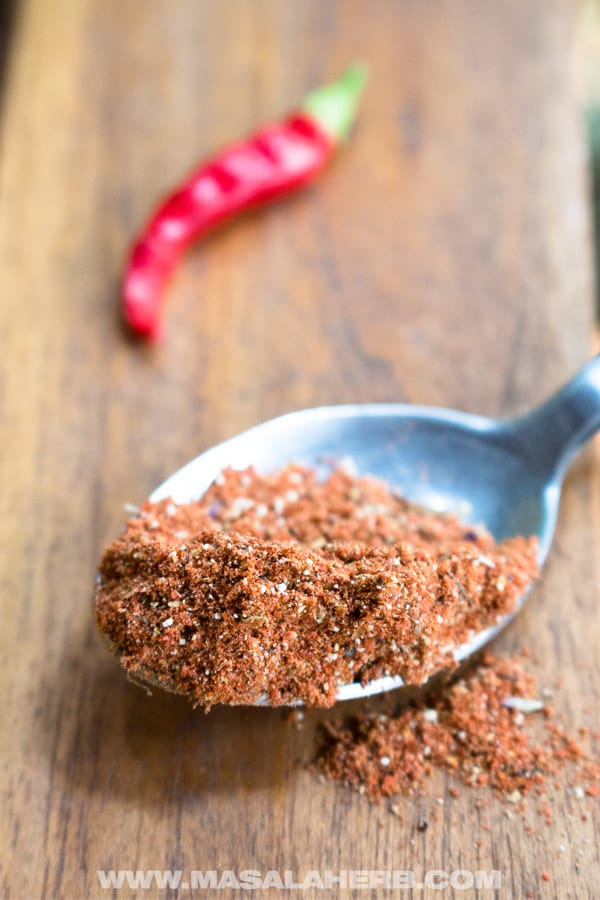 Jump to:
📕 What is this Mexican Seasoning?
Mexican food seasoning is a spice blend that is usually used for popular Mexican dishes.
Basically, it's a hot, easy homemade Taco seasoning spice blend.
The homemade spice mix can be used for other global Mexican food favorites with meat such as chicken and ground meat to stuff tacos.
Often, Mexican-style spice blends are simply promoted and sold as seasonings, which include spices associated with Mexican food.
This homemade spice mix recipe is more like a global "modern" spice blend than a traditional Mexican spice blend because even in Mexico they differentiate between various spice mixtures.
In Mexico, they use different spice blends in their regional cuisine.
Besides that, local Mexican chili pepper powder varieties are used in various seasoning mixes.
🌶 Ingredients
This universal multipurpose 5 min Mexican seasoning recipe consists of a few aromatic ground spices and more:
This spice combination makes food taste Mexican.
Also, the Mexican spice blend recipe is low in sodium because there is no salt in it.
You can reduce the spicy heat and create a mild Mexican seasoning with the same ingredients by picking a different chili variety.
I like a semi-hot chili variety like the chipotle chili, or you can use something like a common cayenne or, Ancho, the mildest Mexican chili pepper,
You can experiment with the chili pepper heat by using different chili pepper powder, or by adding a little more of the red chili powder to the Mexican spice blend.
Tip: The Mexican spice blend turns out even better if you use your own homegrown chilies, which you dry and turn into a powder. You can use a mortar and pestle to do that in minutes.
Also, try to use Central American chili peppers such as habanero, de arbol or serrano chili peppers.
Or the hottest of all chilies, the ghost pepper!
🥣 Uses
You can use this universal multipurpose Mexican style spice blend in various dishes and recipes, such as a
chicken seasoning for tacos, enchiladas, quesadillas, fajitas
rice spice blend → Spanish rice
seasoning for guacamole
seasoning for salsas I.e. Peach Salsa, Mango Salsa.
in salads I.e. Mexican Black Bean and Corn Salad
fruit seasoning
seasoning mixed sheet-pan vegetables to roast
steak or dry rub to flavor your ground beef
or use as a general taco meat flavor enhancer
I personally like to just sprinkle some on potatoes wedges or slices before I bake them crispy in olive oil.
Another idea is to season mayo-based creamy dips and sauces with Mexican spices.
The other day I prepared a mixture of ground meat. I seasoned it with the spice blend before shaping the ground meat mixture into burger patties and cooking them.
Dear Reader, how are you planning to use the spice blend in your cooking?
Please share with us your experience in a comment further below.
💭 FAQs
How to store my Mexican spice blend?
Store them in small glass jars and close them with a lid. Place the jar in a spice rack where you can see it. That way, you won't forget that you have it. Store always in a dry and cool environment, away from direct sunlight.
For how long can I keep this spice blend?
Spices can spoil if they're left in humidity, that means when they have been left out in the open in a hot tropical climate. Spice blends usually don't get spoiled, but they lose their oomph after a while. Hence, why it is recommended to prepare a small jar's worth of spice blend. You can always prepare more in the future.
Why should I make my own Mexican spice blend instead of buying it?
Commercial spice blends lack the flavor and pep, and a small jar can be expensive compared to a homemade spice blend. By making your own, you get to decide what's in it. Commercial spice blends tend to add salt and oils for flavor, which is a strategy to mask poor quality spices. Make your own spice blend if you want to control the taste and if you need to follow a low-sodium diet plan.
How much homemade taco seasoning equals one packet?
One Taco seasoning packet equals 1 ounce or about 30 grams. That's about 2 Tablespoons.
How much seasoning do I need for 1 pound of ground meat?
Use 1-2 Tablespoons of this seasoning to a pound (450 grams) of meat. It depends on how flavorful you want your meat to turn out, and it also depends on the chili pepper heat that you used in the seasoning blend.
Where can I get quality spices?
Try buying spices in a Southern American, Caribbean, or Asian store. They usually have better quality spices than Walmart and Target. You can find some excellent quality spices on Etsy too or order them from a specialized spice store such as The Spice House.
👁️ More Homemade Spice Seasonings
📖 Recipe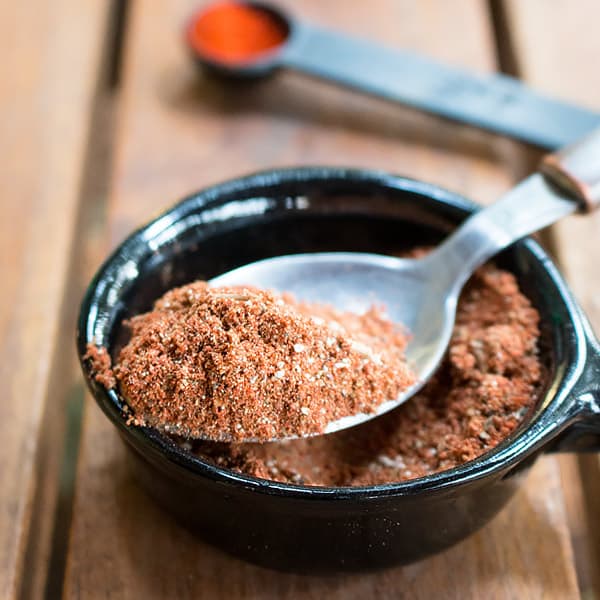 Mexican Seasoning Recipe
Mexican seasoning is easily prepared by mixing all the ground spices together. This Mexican seasoning is low in sodium and you can make it gluten-free if you use gluten-free onion and garlic powder (best is to make your own from scratch).
Print
Pin
Rate
Instructions
Mix all the spices together and store in an air right jar for further future use.
Notes
You have the option to use whole spices as well, which would definitely increase the flavors in the spice blend! If you want to use whole spices, dry toast them in a frying pan so that the aroma is emitted. Then let cool and turn into a powder with morsel or blender.
Store in a jar in a dry and cool place away from sunlight. Use whenever needed.
Adjust the heat by reducing the red chili powder amount or by using different chili varieties such as ancho, habanero, de arbol or serrano.
I used a roasted garlic powder version
I like to use a smoked Paprika
Nutrition
Nutrition Facts
Mexican Seasoning Recipe
Amount Per Serving (13 g)
Calories 15
% Daily Value*
Sodium 34mg1%
Potassium 61mg2%
Carbohydrates 2g1%
Vitamin A 1085IU22%
Calcium 7mg1%
Iron 0.7mg4%
* Percent Daily Values are based on a 2000 calorie diet.