A simple sweet spice blend to turn your breakfast oatmeal from bland to amazing!
A homemade oatmeal spice mix to take your breakfast to the next level.
Easy to prepare and a game changer, this sweet spice blend should be on your bucket list if you want to eat better food!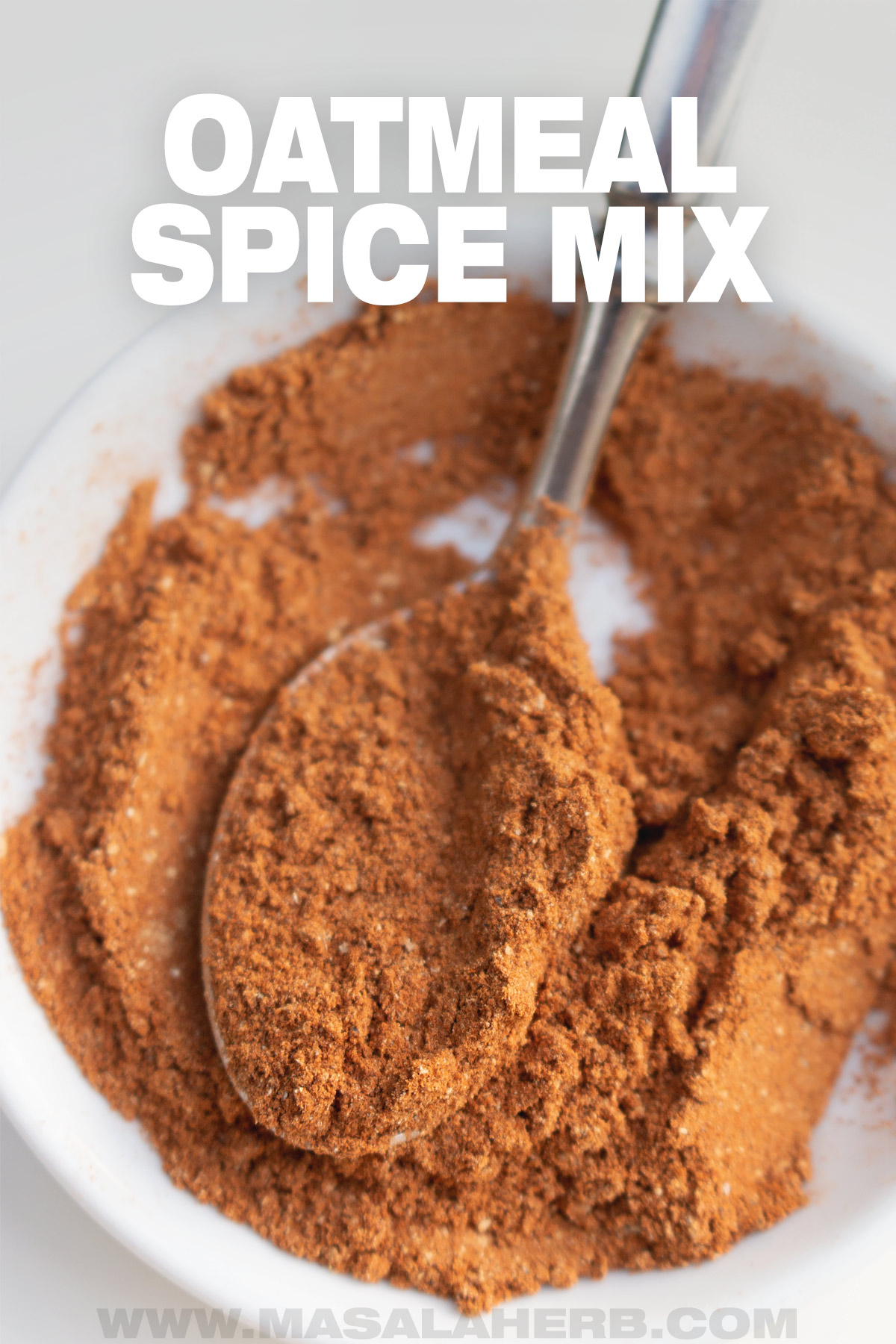 Global Food Recipes
with Spices and Herbs
Free E-Book available for a limited time. Grab yours now and get instantly inspired!
Your favorite breakfast is oatmeal, but you'd like to add more flavors to it? Then this oatmeal spice blend is right up your alley!
Enrich your workday or surprise your kids on school mornings with this easy to use sweet spice mix.
It includes only spices and no hidden ingredients, making this a healthy breakfast addition to your diet.
The spices are typical fall and winter spices.
Jump to:
🍯 Ingredients
For this homemade oatmeal spice mix blend you will need only 3 ingredients:
Try to get cinnamon and not cassia. Both are very similar but differ in flavor profile. Many brands also mislabel the two because cinnamon is more valuable than cassia.
However, you can also use cassia if you can only get that. It's a budget-friendly spice.
Green cardamom is also known as the queen of spices. It's sweet and intense in its ways. Not to be confused with black cardamom, which grows on the same plant, but it's a different spice.
Green cardamom pods can be slightly cracked open and ground as a whole or the better, but wasteful option, is to take out the small round green seeds and to crush that. The powder is then used in the spice blend.
Allspice is a confusing but spice, thanks to its English name. The spice is most commonly used in Caribbean cooking and tastes like a mixture of spices.
Allspice is warm and adds nuances to your oatmeal. The round spice can be easily crushed in a mortar and pestle or coffee grinder.
🥣 How to make it?
Follow the steps to prepare this sweet oats seasoning blend. This is just a quick overview, the full recipe to print with details can be found by scrolling further below.
Step 1
If you use whole spices, blend each separately in a coffee or spice blender to a fine powder.
You can also use already ground spices, but they will be less flavorful (but adding on convenience!).
Step 2
Place the ground spices into a mixing bowl and combine well with a spoon.
Use as required or store in a jar for the future.
🥄 Uses
Use your oatmeal spice mix, as its name suggests, as a seasoning in your homemade oatmeal.
You can add a pinch or more during the oatmeal cooking process or use it as a topping just before serving it up.
Use a pinch for the first time and adjust to your liking. I like to stir about ⅛th of a teaspoon into my brown sugar flavored oatmeal.
This seasoning blend can be used in other oatmeal, porridge and sweets dishes too. Here are some ideas:
🍱 Storing Instructions
Place the finely ground spice blend into a spice glass jar and lock it with a lid. A small funnel can be helpful.
Your spice blend will preserve better and the spices won't lose their oomph.
Small spice glass jars are great because the spice mix is visible, and you will be more likely to use it when you frequently see it.
We can't count up the times that we forgot a spice blend in a tin at the bottom of our kitchen cupboards!
I like to keep my spice jars in a place where I can see them when I'm cooking. Get an expandable spice rack or a spice rack drawer organizer.
You can get a set of glass jars with labels and a spice funnel to help you organize your spices.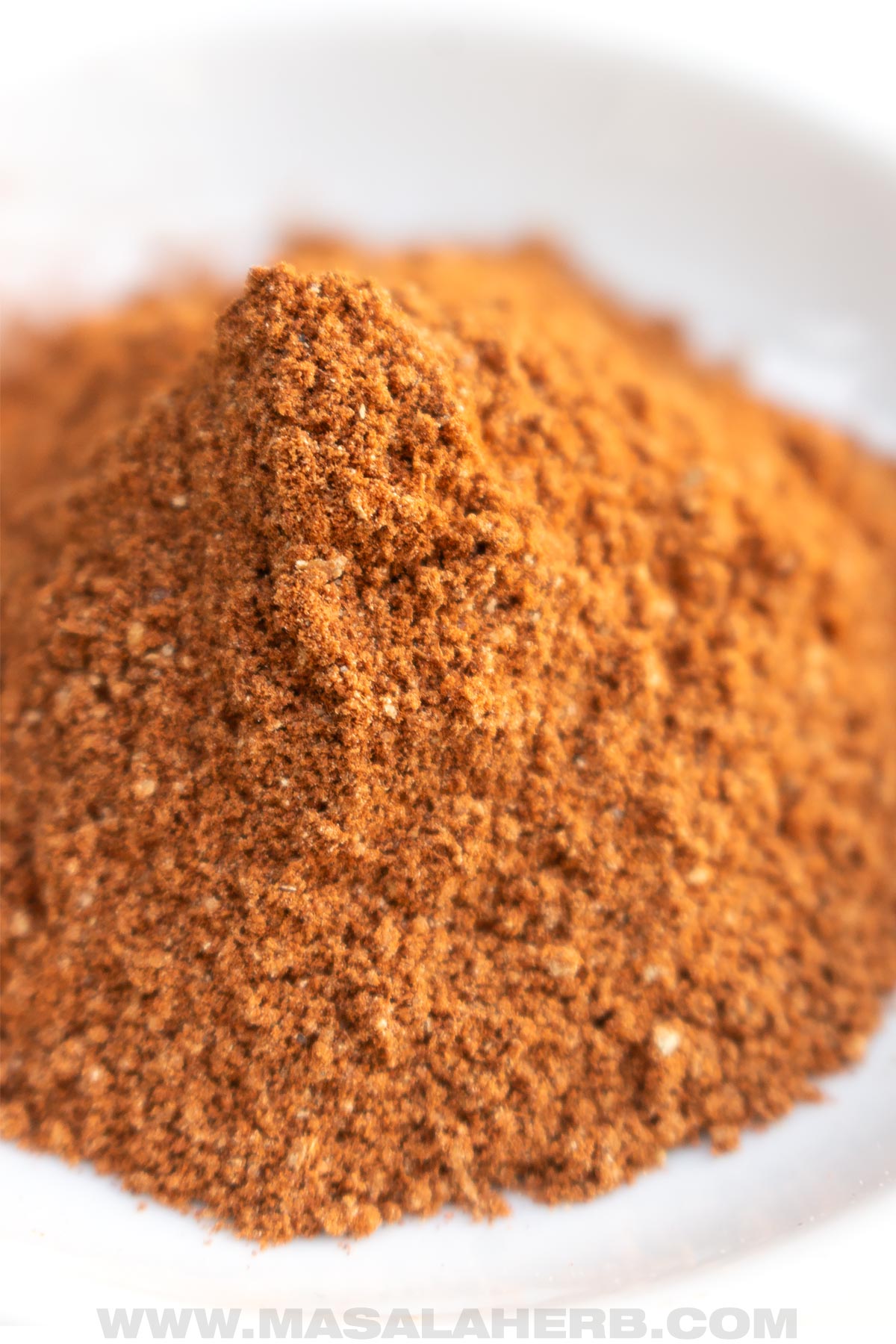 💡 Tips
💭 FAQs
What other spices can I add to this oatmeal spice blend?
Add vanilla bean paste and a pinch of ginger to the spice blend for an advanced, more complex, flavor profile. Add a pinch of salt to add a flavor balance to the mix.
What other ingredients can I add to my plain oatmeal together with this spice blend?
You can add raisins, dried blueberries or cranberries, candied citrus fruit peels such as candied orange peel, your favorite nuts such as walnuts almonds pecans, vanilla extract, fresh fruits such as apples, pumpkin or sunflower seeds, jams, pure maple syrup or palm sugar. I generally prefer to use plain whole grain oats without artificial flavor and instant oatmeal packets come handy too.
👁️More Sweet Spice Blend Recipes
Global Food Recipes
with Spices and Herbs
Free E-Book available for a limited time. Grab yours now and get instantly inspired!
📖 Recipe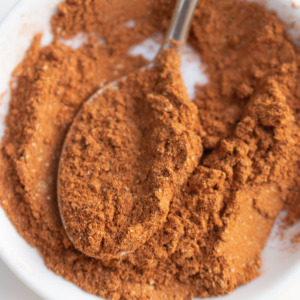 Oatmeal Spice Mix Recipe
A simple sweet spice blend to turn your breakfast oatmeal from bland to amazing!
Print
Pin
Rate
Instructions
Measure and place all three ground spices into a small mixing bowl.

1 Tablespoon Cinnamon Ground,

1 Teaspoon Green Cardamom Ground,

1 Teaspoon Allspice Ground

With a spoon, combine all the ingredients to a well mixed oatmeal spice blend.

Place oatmeal spice into a glass jar and store in your spice pantry.
Notes
This is a small batch recipe which you can easily scale to prepare more. This oatmeal spice recipe makes about 5 teaspoons, which should be enough for a few weeks if you use a pinch every day in the morning.
To make a larger batch, double or triple all the ingredient quantities.
For a better result grind whole spices fresh and use that to make this spice blend. Freshly ground spices are more aromatic and usually of a better quality. See post for more info.
Equipment
1 Small Mixing Bowl

1 Teapsoon

1 Spice Jar with Label
Nutrition
Nutrition Facts
Oatmeal Spice Mix Recipe
Amount Per Serving
Calories 6
Calories from Fat 1
% Daily Value*
Fat 0.1g0%
Polyunsaturated Fat 0.01g
Monounsaturated Fat 0.01g
Sodium 1mg0%
Potassium 16mg0%
Carbohydrates 2g1%
Protein 0.1g0%
Vitamin A 7IU0%
Vitamin C 0.3mg0%
Calcium 20mg2%
Iron 0.2mg1%
* Percent Daily Values are based on a 2000 calorie diet.