Preparing dehydrated blueberries at home is a breeze with a dehydrator and unsweetened dried blueberries are so healthy!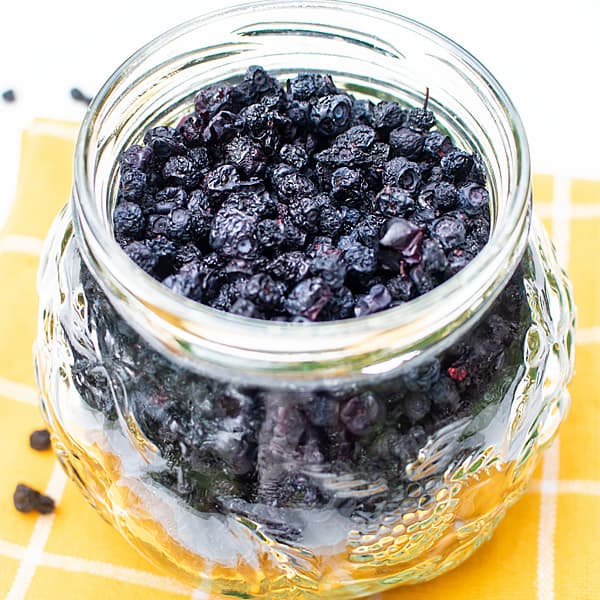 Dehydrated Blueberries are easily prepared, it's just that they need time to slowly dry out.
I show you how to dehydrate blueberries with a dehydrator or follow my alternative drying options.
So, you like dried apple chips and dehydrated pineapple slices?
Then these dried blueberries should be on your bucket list too!
Jump to:
What are dehydrated blueberries?
Dehydrated blueberries are fresh blueberries left to dry to conserve them over a longer period of time.
By leaving the fruits to dry, they lose the fruit juice. Fresh blueberries are perishable.
That way the blueberries are dry and can be used at a later time without getting spoiled.
This is a great way to preserve and prepare organic dried blueberries when you collect blueberries in the wild.
Also when you have too many blueberries and you don't want to prepare a blueberry jam or you don't want to freeze them.
Your dehydrating options
You can dehydrate fruits as a whole or cut into smaller pieces.
The smaller the fruit pieces and the less juicy, the less time the fruits take to dry.
The larger and juicier the fruit, the longer it takes to dry the fruit.
Drying fruits can take about 10 to 20 hours, depending on the fruit, size, climate and drying technique.
You can dry in your fruits in the sun, in your oven or in a dehydrator.
Drying fruits in the sun
Drying fruit in the sun is very weather dependant, yet effective if done right.
Keep your fruits under direct strong sunlight where they won't get disturbed.
Take your fruit out if the weather is turning bad and in the night and back into the sun until the fruits are completely dried.
The only reason why I don't always sundry my fruits is that impurities can fall on your drying fruits.
You can't cover your fruits, except if you place a fine mesh over your drying fruits, with some space between the fruits and the mesh.
Drying fruits in the oven
You can easily dry fruits in the oven too but for that, you need a quality oven because the oven needs to work for hours at a time.
Drying in the oven technique is done by lining a baking tray with parchment and placing the fruits on it.
The fruits are then dried at the lowest oven temperature for hours at a time.
The lowest setting is somewhere between 120 and 210 Fahrenheit or 50 to 100 Celsius.
Every oven is different, but the lower the temperature the better your fruits will fry.
Keep in mind that ovens are meant to bake at higher temperatures so your oven might not be build to dry fruits for hours.
Drying fruits in a dehydrator
My favorite way to dry fruits is in a dehydrator because this kitchen gadget was built for that!
A dehydrator consists of mesh trays where the fruit sits on.
Light heat comes up from the device so that the fruits stacked above are slowly and evenly dried without burning.
Using a dehydrator to dry blueberries is effortless and you can just leave the device with the fruits to work, while you are busy with other work.
Keep in mind to follow the device instructions and safety measurements!
Some dehydrators allow you to stack up to 10 trays with fruits.
A small home dehydrator does the trick if you plan on dehydrating food for home consumption.
How to dehydrate with a dehydrator?
I show you how to go about drying blueberries in a dehydrator.
You can see in my pictures how the berries look like after every few hours.
Step 1
Rinse your fresh blueberries to get rid of any impurities.
Tap dry the blueberries so that they are not wet at all anymore.
Step 2
Place your blueberries on the food dehydrator trays and spread them out.
Don't overcrowd the trays, you can stack up to 10 trays on top of each other.
Keep in mind that the more blueberries and the larger, the longer it can take for the blueberries to dry
Step 3
Leave your blueberries to dry for about 16 to 20 hours or until your blueberries are completely dried.
Check on your blueberries every few hours.
The blueberries will get small and take up less space on the drying trays.
Drying blueberries is a slow process that can take time, there is no need for hurry.
Dried blueberries are more intense in flavor and crisp when done drying.
When dried, store your blueberries to use another day.
Storing
It's important to store your dehydrated blueberries properly after they have been dried and dehydrated completely.
To do that, just store the dry blueberries in a glass jar with a lockable lid.
Humidity should not be able to enter so that the berries can last for a couple of weeks.
I store my dehydrated blueberries that way and they can last for up to 6 months if done right.
Just make sure your berries are dried properly.
The longer you dry your blueberries, the longer they will last.
Uses
Dear reader, how are you going to use your dehydrated blueberries?
📖 Recipe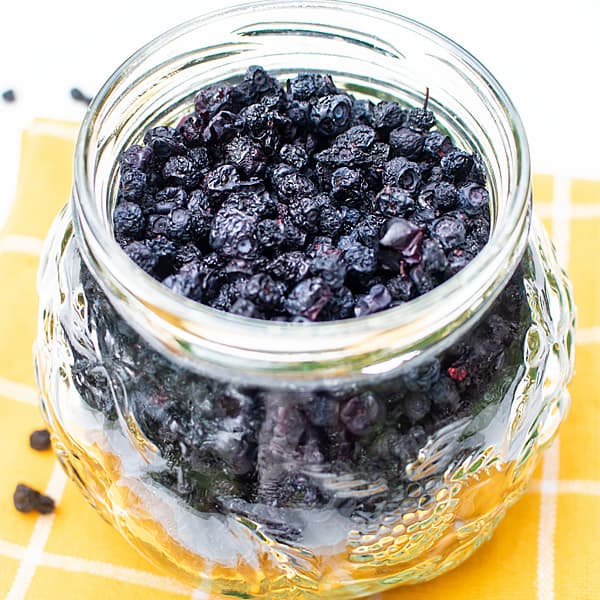 Dehydrated Blueberries Recipe
Preparing dehydrated blueberries at home is a breeze with a dehydrator and unsweetened dried blueberries are so healthy!
Print
Pin
Rate
Instructions
Wash your blueberries well to get rid of all impurities.

Dry them carefully with a clean kitchen towel. Keep in mind that blueberries stain. We don't want extra water on the berries as this can prolong the drying process.

Keep your dehydrator ready as per buying instructions. Turn the device on.

Place and spread the blueberries on the dehydrator baskets. Don't overcrowd as this can prolong the drying time too but also keep enough berries to dry to use the space properly.

Keep one basket over the other on the dehydrator. As per device, you may be able to stack up to 10 baskets. The more baskets with fruits the longer it can take for the berries to dry in the top baskets.

Keep the berries to dry at a medium to high temperature or as per device instructions. The drying time is about 16 hours, so you might want to turn on the dehydrator early mornings to leave it turned on over the course of a day.

Check on the drying process of your blueberries. I like to switch the position of the baskets every few hours so that the fruits get equally dried and I make sure that the berries don't stick on the grid.

The blueberries are finished dehydrated when they are a bit crunchy. Leaving the dehydrated blueberries out will turn them chewy due to the humidity in the room.

Store your cooled and dried berries in an airtight container until further use.
Notes
Follow the instructions on the dehydrator manual. Follow safety instructions.