Dehydrated apples are easily prepared. Healthy and packed with fibers, dried apple chips will be your new favorite snack!
Dehydrating apples is super easy and something I totally recommend if you love dried apples or if you want a nifty way to preserve your apples.
The best guilty-free healthy apple snack.
Global Food Recipes
with Spices and Herbs
Free E-Book available for a limited time. Grab yours now and get instantly inspired!
Apple harvest is on! Do you like to preserve apples?
If yes, I recommend my homemade apple jelly recipe.
Jump to:
📕 What are dehydrated Apples?
Dehydrated apples are apple slices that are dried over low heat for a longer period of about 12-14 in a so-called dehydrator.
The apple slices are placed on racks over the dehydrator and the prolonged heat takes out all the juices and dries the apples slowly
Dehydrated apples are also called dried apples or apple chips.
They can turn out crispy dry or slightly chewy, depending on how long you dry them.
🆚 Dehydrator VS oven VS sun-dried
Apples can also be dried in the oven on a low heat setting or the slices can be sun-dried.
Yet, the best way to dry fruits is in a dehydrator and that for a good reason
Ovens have a higher heat setting and are not suitable for drying fruits for hours over a low heat setting.
The lowest heat setting in an oven is 212 Fahrenheit/100 Celius and a dehydrator is drying fruits half the heat.
Drying apple slices in the sun might be a great option too but the weather is not that flexible and it can be cumbersome, not to mention maybe unhygienic.
A food dehydrator dries your fruit slices evenly and properly and it's the easiest way to dry apples.
🧰 Dehydrator recommendation
Get a dehydrator with a timer option and adjustable temperature control.
Some dehydrators can stack more trays over each other than others.
The more you can dehydrate in one go the better but if you don't plan on drying larger quantities, then a smaller one will do too.
The Excalibur 3926TW is square, comes with 9 trays, a built-in on/off switch and a 5 years warranty.
The NESCO FD-75A, on the other hand, is round, gives you a 1-year warranty and comes with 5 trays but you can buy extra racks and expand it to a 12 tray tower.
I'm using something like the Nesco model. (I got mine from a Swiss brand called Sigg).
🔪 How to dehydrate apples?
Dehydrating apples is super easy!
You will need a food dehydrator with a few racks and a few fresh apples.
The detailed recipe with how-to DIY video can be found at the bottom of this post.
Step 1
First, decide what apple chip shapes you like.
You can cut your apples into rings, large slice halves or smaller chips and you can peel or leave the skin on. (see further below in the post for shape options)
Core and slice your apples and collect them in a bowl.
Step 2
In a large mixing bowl combine the lemon juice and water.
Submerge your apple slices in the lemon acid water to prevent the slices from browning.
Pat your apple slices dry to get rid of excess water.
Step 3
Turn on your food dehydrator so that it starts to get hot.
Keep your clean dehydrator racks ready. Place your apple slices into the racks so that each slice is on its own.
Stack the racks over each other on the food dehydrator.
Dry your apple slices for about 12-14 hours until crisp and store in an airtight container.
💭 FAQs
Here are some faqs about dehydrating your own apples.
How to slice the apples?
You can slice your apples with a knife, with the help of a great mandoline (faster) or you can use a food processor too if you own one.
How long does it take to dry apple slices in a dehydrator?
The time to dry apples from start to finish depends on a few factors.
The drying time can take 12 to 14 hours to get crispy dried apples.
Make sure to pat dry your apple slices after the acid water bath
Slice your apples equally thick
Use the correct heat setting, which brings us to...
What temperature to dehydrate apples?
Dehydrate your apples at a medium to high setting.
The temperature on your food dehydrator can be somewhere between 135 - 145 Fahrenheit/ 57- 62 Celsius.
How to store dried apples?
I keep my dehydrated apple chips in a Tupperware or any other airtight container because I don't want them to loose on crispiness or to turn bad.
Right after the drying process, they tend to be still warm so I wait for my apples to cool down completely before I pack them into a container.
Leaving your apple chips out and exposed isn't that hygienic either.
If the air of your room is tropical humid, your apple chips will turn moldy if you don't store them in an airtight container.
You can keep your dried apple slices in a container in the fridge too.
How long can you keep apple chips?
You can keep your dehydrated apple slices for up to 6 to 12 months if you dried your apple chips crispy and you didn't leave them out exposed to room air.
🍎 Choice of apples
The choice of apples for dried chips depends on your taste preferences.
I don't like all too sweet apples, I like tart and mellow sweet apples so that's what I will use to make crispy apple chips.
Tart apples are considered healthier because they contain less sugar and they are my favorite appels!
If you grow and harvest your own apples, turn those into homemade apple chips.
Most people end up dehydrating apple slices because they are looking for a way to preserve their harvest, so you don't tend to be selective in this case.
I used Belle de Booskop Apples in the pictures, a dutch variety because we have a tree at home.
For store-bought apples, pick the following varieties:
For sweet dehydrated apples - Gala, fuji apples.
For mildly sweet dried apples - red and golden delicious, cripps pink,
For tart healthy apples - Granny Smith, Idared
📔 Shapes
I have come up with 4 dried apple shapes for you.
Slice your apples the way you like.
Dried Apple Rings with Skin
Dehydrated apple rings look the best but they are a bit cumbersome to cut because you need to take out the seed core without cutting the apple first.
Yet, the dried apple slices are a great pretty Christmas gift and you can even tie them up to decorate your Christmas tree. (yep we still do this in Europe)
Appel skin is healthy too because the skin contains vitamins and pectin.
The latter is great for your digestion too.
Just keep in mind to use untreated apples without a layer of pesticide if you want to keep the skin on your apple chips.
---
Dried Apple Rings peeled
Dried apple rings peeled are your choice if you don't like to chew on the skin or if your apples are not pesticide-free.
---
Large Dried Apple Slices
Large dried apple slices are apples cut into two, cored and sliced.
These are basically large apple chips and you always have the option to keep the skin on as well.
It's easier to cut those when you are in a hurry because you won't take that long cutting them.
---
Small Dried Apple Slices
Small dried apple slices are apples quartered with the core cut out and sliced.
You can keep the skin on, it's optional and those are quickly cut as well with the help of a sharp knife.
You can even make bulk dehydrated apples this way!
💡 Flavor ideas
You can pep up your dehydrated apple recipe with the following flavors
Make cinnamon apple chips. Sprinkle some of the spice over your apple slices before you turn your apple pieces into chips.
Make chocolate-covered apple chips. Follow the dehydrated apple chips recipe until crisp and dip them into melted chocolate. Allow to cool and get hard, enjoy!
Sprinkle some apple pie spice, pumpkin pie spice or chai spice blend over your apples before dehydration.
👁️ Dried fruit recipes
Global Food Recipes
with Spices and Herbs
Free E-Book available for a limited time. Grab yours now and get instantly inspired!
📖 Recipe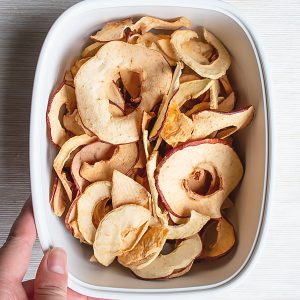 Dehydrated Apples Recipe
Dehydrated apples are easily prepared. Healthy and packed with fibers, dried apple chips will be your new favorite snack!
Print
Pin
Rate
Instructions
Choose how you want to cut your apples. Cut into rings with apple skin, rings without apple skin, cut into half to make large apple chips or quartered to make small dried apples.

Cut apples into thin slices.

Prepare a bowl with lemon juice and water. Mix together.

Submerge your apple slices into the water lemon juice to prevent browning.

Pat dry your apple slices with a clean fresh towel. Your apples will take so much longer to dehydrate if they are soaked.

Turn on your food dehydrator.

Place apple slices into racks and spread out so that each slice sits on its own.

Stack racks over your food dehydrator.

Leave the apples to dehydrate and check on your apples after a few hours.

Your apple slices will take about 12-14 hours to dehydrate, depending on the apple variety, the dehydrator heat setting, and the thickness of your apple slices.

Your apples are done drying when they are crispy. Allow the slices to cool for 5 minutes and then store in an airtight container until further use.
Nutrition
Nutrition Facts
Dehydrated Apples Recipe
Amount Per Serving
Calories 118
Calories from Fat 9
% Daily Value*
Fat 1g2%
Sodium 5mg0%
Potassium 243mg7%
Carbohydrates 31g10%
Protein 1g2%
Vitamin A 123IU2%
Vitamin C 10mg12%
Calcium 14mg1%
Iron 1mg6%
* Percent Daily Values are based on a 2000 calorie diet.