Your guide to prepare home canned mushrooms. Pick a mushroom variety and let's get going!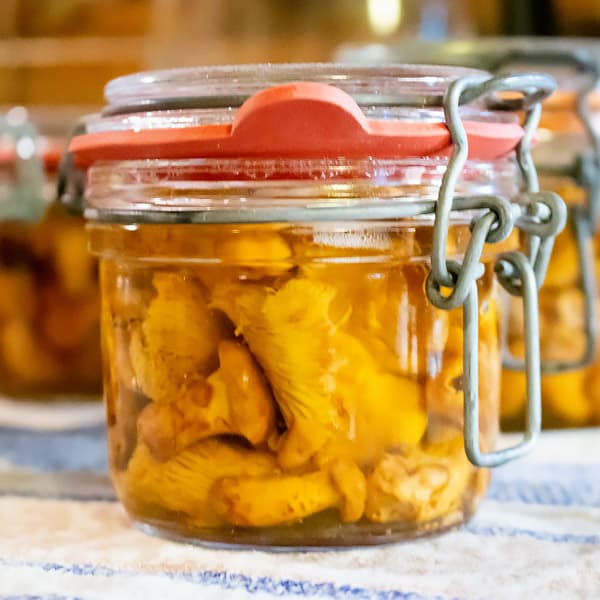 Your guide on how to can mushrooms of all kinds at home from scratch.
Learn how to stock up your modern homestead with home canned mushrooms.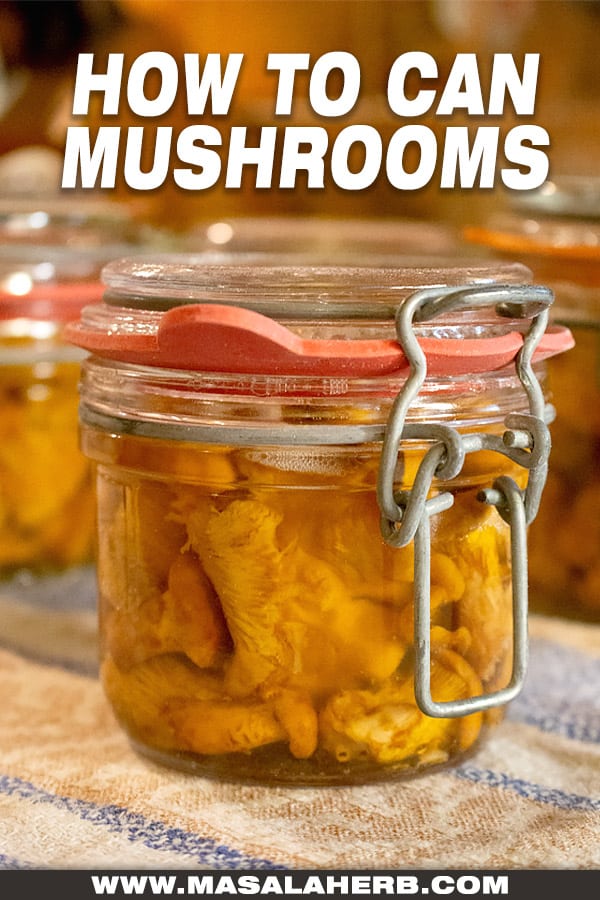 Jump to:
What are canned mushrooms?
Mushrooms that are preserved in a can or jar are called canned mushrooms.
It's the stuff that you can buy in cans in your local grocery store.
But before commercially canned mushrooms were a thing, people used to prepare jarred mushrooms at home.
In fact, this is till common practice in France.
By preserving your mushrooms in a saltwater solution, you kill all the germs and therefore prolong the life of your fresh mushrooms.
Canning means essentially that your mushrooms are "cooked" in a water bath canning technique.
How to can mushrooms at home?
You can easily prepare home canned mushrooms at home if you have all the equipment ready (see equipment further below).
This is an overview on how it's done.
The complete recipe with metric and US measurements is located in the recipe card at the bottom of this post.
The how to video is the video pop up.
Step 1
Clean your mushroom by either brushing or washing them.
Cut your mushrooms into two or smaller if they are large.
Step 2
Keep a pot with water to boil and blanch your mushrooms.
Blanching means to cook for a short time. This is to kill all germs on your mushrooms.
Step 3
Boil water with salt to create solution.
Place blanched mushrooms into clean sterilized jars. Place the ring on the jar.
Cover mushrooms in jar with salt water solution.
Step 4
Close jars and place in water canner (the pot) and cover with water.
Close the canner and keep thermometer in place.
Step 5
Cook until thermometer gets to 210 Fahrenheit/ 100 Celsius. To reach the temperature can take 30 minutes.
Cook another 30 minutes at 210 Fahrenheit/ 100 Celsius.
Take out jars to cool and store.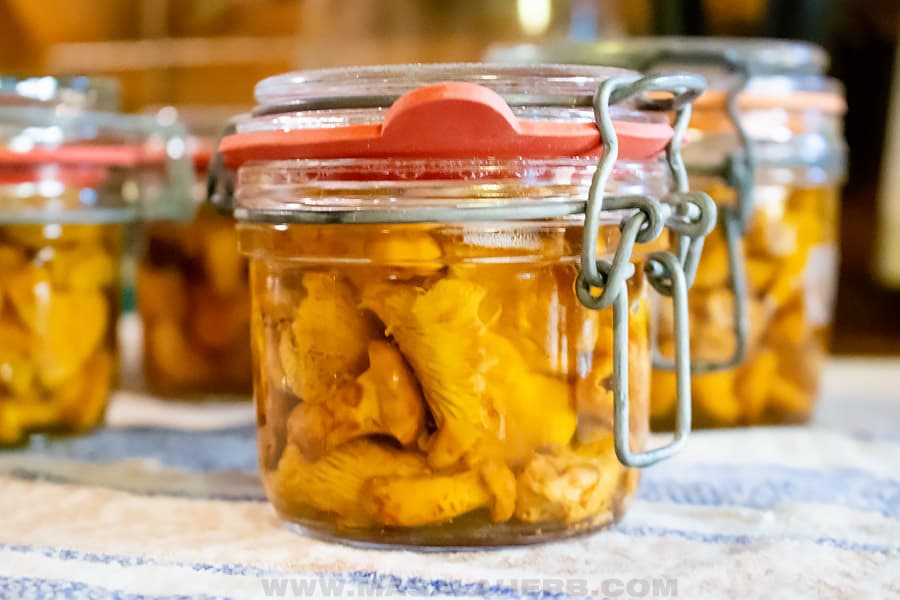 Storing
When your jars are cooled, you can store them in the right place so that they will be good for up to 24 months.
Keep them on a shelf away from direct sunlight in a cool and dry place.
This works best in a cool temperate climate.
It can be done in a tropical climate too but the mushrooms will need to be consumed within 12 months.
Once you open the jars, you need to consume within a day or two.
Mushroom varieties to preserve
I used chanterelle mushroom to can in this picture and video example but you can use any of the following mushrooms too:
porcini
button mushroom
shiitake
large portobello and smaller crimini
Recipe uses
You can use canned mushrooms in most mushroom dishes.
If it calls for fresh mushrooms, it can be usualy used for that, except if it's a salad.
I love to use my canned mushrooms in mushroom sauces, soups, with meat stews, in layered casserole dishes, in pasta, as a pizza topping and in most skillet meal dishes.
📖 Recipe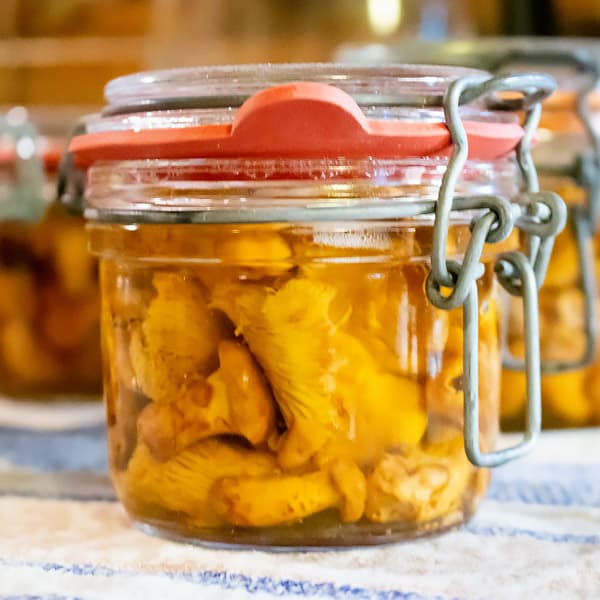 Home Canned Mushrooms Recipe
Your guide to prepare home canned mushrooms. Pick a mushroom variety and let's get going!
Print
Pin
Rate
Ingredients
For the Brine
1

quart

Water

1

Tablespoon

Salt
Instructions
Wash your mushrooms to get rid of impurities.

Wash your jars well and sterilize them by either boiling them in hot water or by placing them into the oven to bake. That kills all the germs. Also boil your rubber rings.

Keep a pot with water to boil, add vinegar to it.

Place mushrooms into the boiling water and blanch them (cook a short time) for about 5 minutes covered. That kills off all the germs too.

Drain your mushrooms with a colander.

Prep your jars by placing the rubber gasket rings around the lid.

Place mushrooms into the jars.

Keep a pot with the water and salt to boil. This is your brine.

Pour hot salt water brine over the mushrooms in the jars. Cover the mushrooms with the brine. Close jars with the latches.

Keep the canning pot over a stove and place jars next to each other into the pot.

Cover jars in your canning pot with water and close the pot with the lid. Place thermometr in as per canner instructions.

Bring the temperature to 210° Fahrenheit/ 100° Celsius. This can take 30 minutes.

Keep the heat at 210° Fahrenheit/ 100° Celsius for another 30 minutes.

Take out jars when done and place on a clena kitchen towel to cool.

Once cooled store on a shelf in a cool and dry place.
Notes
I used 2x 12 oz/350 ml and 2x 6,75 oz/200 ml jars with rubber gasket rings.
If your jars came with white rubber rings, buy and use some red ones instead. The white ones tend to be not that great.
Nutrition
Nutrition Facts
Home Canned Mushrooms Recipe
Amount Per Serving
Calories 68
Calories from Fat 9
% Daily Value*
Fat 1g2%
Sodium 1420mg59%
Potassium 952mg27%
Carbohydrates 10g3%
Protein 9g18%
Vitamin C 6mg7%
Calcium 15mg2%
Iron 1mg6%
* Percent Daily Values are based on a 2000 calorie diet.