A simple, Spanish inspired, recipe to prepare saffron milk caps. That way you can taste out all the beautiful flavors of this special mushroom.
A simple recipe to prepare and cook saffron milk cap mushrooms.
Jump to:
What are Saffron Milk Caps?
Saffron milk caps are orange white marbled mushrooms with gills and a large-cap.
When you cut the stem you will see a bright orange ring and an orange milk oozing out.
They are a delicacy in Spain, South France, the UK and in North East India.
They appear during the main season in September and October in local markets.
The mushroom has a doppelgänger!
That means there is another mushroom that looks pretty much the same, except that it doesn't have that clear ring marbling on the cap and circle dots on the stem.
That lookalike is called false saffron milk cap or Lactarius deterrismus and it's edible.
I think it just tastes like the regular saffron milk cap. So you can savely consume and even mix it to your saffron milk caps.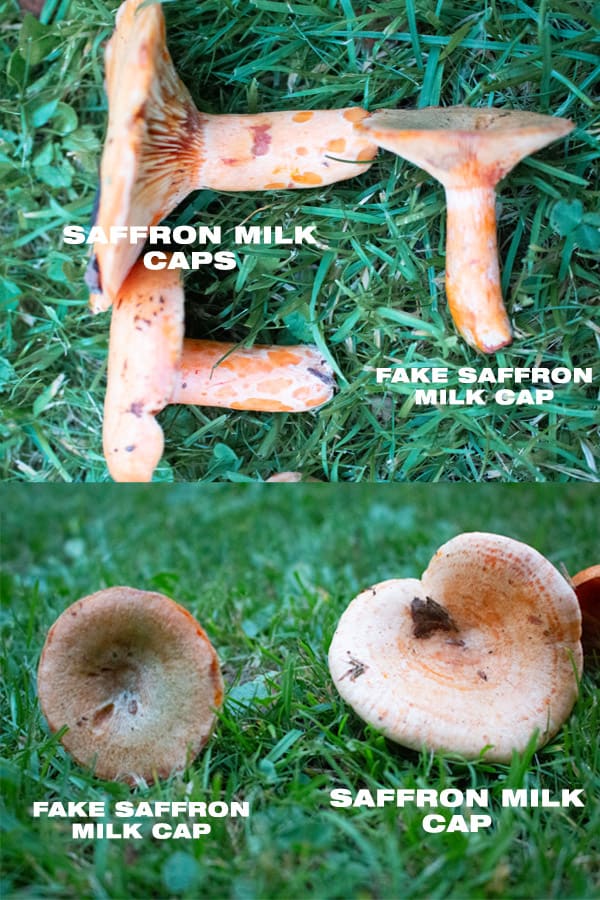 How does it smell and taste?
Saffron milk caps have an exceptional flavor. I can hardly describe it. Some say they taste nutty.
Raw they smell beautifully too, some may say like a pineapple. Paul says it smells like a jackfruit.
Cut small and cooked in a pan with simple seasoning brings out all the natural flavors.
How to cook Saffron Milk Caps?
Here is how we prepare this mushroom at home.
It's an overview so that you get an idea what to expect. The complete recipe is located at the bottom of this post.
Step 1
Clean your mushrooms. If they are super dirty, just wash them and pat them dry.
Step 2
Cut mushroom into desired size. We usually prefer them cut smaller then shown but they look better cut in half.
Step 3
Heat up a pan with olive oil.
Place your mushrooms into the hot pan and sautee with the seasoning until reduced and cooked through.
Serving
We love these mushrooms with light Mediterranean meals as a side dish.
Dishes like Paella and pan-fried trouts work well with sauteed saffron milk caps
At home, we tend to serve it with steaks too or with other meats such as pork medallions.
You can serve your mushrooms with mash potato too and roasted vegetables too.
Please feel free to share your thoughts and ideas with us in the comment section further below!
So you love SPICES and HERBS?
GET 5 FREE SEASONING LESSONS
Type in your email address below.
Including free access to the
Seasoning Members only Club!
📖 Recipe
Sauteed Saffron Milk Caps Recipe
A simple, Spanish inspired, recipe to prepare saffron milk caps. That way you can taste out all the beautiful flavors of this special mushroom.
Print
Pin
Rate
Ingredients
12

medium sized

Saffron Milk Caps

fresh mushrooms

1

Tablespoon

Olive Oil

Salt

to taste

Black Pepper

to taste
Instructions
Clean your mushrooms. Some people say not to rinse them but to brush them. But to be honest if they are very dirty, I will want to rinse them properly. Just pat them dry afterwards.

Cut mushrooms into desired size. You can leave them whole if they are very small.

Heat up a skillet with the olive oil and add in your mushrooms.

Keep over high to medium heat and season your mushrooms with salt and black pepper.

Sautee and stir occasionally. Reduce mushrooms or cook until cooked through.

Serve up hot as a side dish with other main courses and side dishes.
Nutrition
Nutrition Facts
Sauteed Saffron Milk Caps Recipe
Amount Per Serving
Calories 177
Calories from Fat 135
% Daily Value*
Fat 15g23%
Sodium 12mg1%
Potassium 763mg22%
Carbohydrates 8g3%
Protein 7g14%
Vitamin C 5mg6%
Iron 1mg6%
* Percent Daily Values are based on a 2000 calorie diet.