Fruity Cherry Clafoutis can be prepared with fresh cherries, canned or frozen cherries.
Cherry Clafoutis is a classic French cherry dessert made with a flan-like batter.
I share our authentic easy cherry clafoutis recipe further below with how to process shots.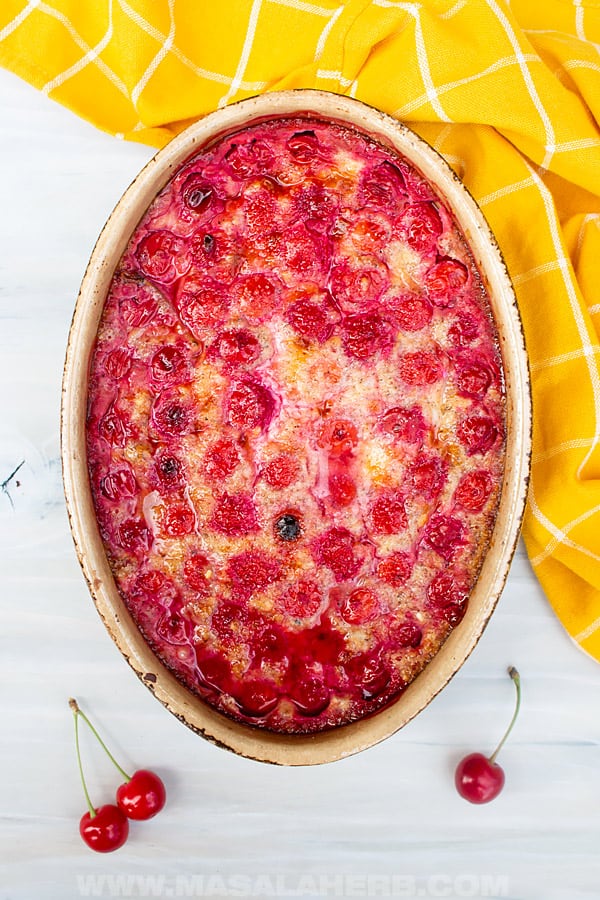 Jump to:
What is clafoutis?
Clafoutis is a French baked dessert that consists of a layer of fruits and a layer of flan-like batter.
A clafoutis is rich in eggs and is not overly sweet.
The classic clafoutis is prepared with whole unpitted cherries because it is said that the seeds add flavor to the dessert.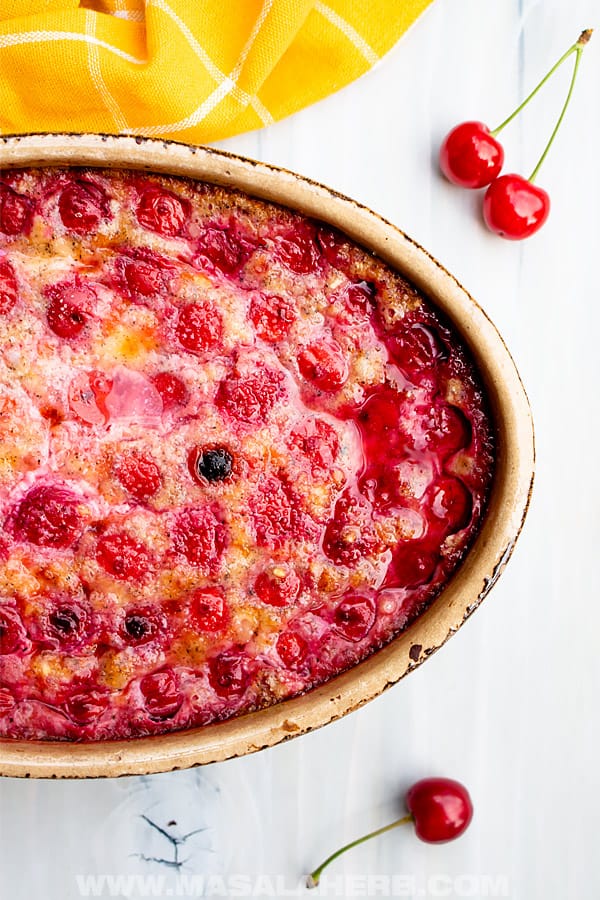 In french the cherry clafoutis is known as clafoutis aux cerises.
Other variations of clafoutis with other fruits may exist and conservative thinkers may call those flan desserts and not clafoutis.
Clafoutis is sometimes spelled as clafouti in English speaking countries and is pronounced kläfütē.
Choice of cherries
Black sweet cherries or even sour cherries, so-called "pie cherries", are often while used to balance the sweetness and flavors in a classic cherry clafoutis.
I used our sour cherries form the tree behind the house in the pictures.
You can use fresh cherries, canned cherries or frozen cherries.
I like to use canned cherries because they are more flavor intense, however, they are juicy so excess juice needs to be pressed out a bit.
When using frozen cherries, make sure to defrost your cherries completely before using the fruits in your clafoutis because the dessert might get soggy otherwise.
It is said that whole unpitted cherries need to be used for a tastier clafoutis result.
This is a personal choice but I do prefer to keep the pit in the cherries because the clafoutis tastes better that way.
You can use a cherry pitter to take out the seed core before using your cherries in your clafoutis.
How to make it?
To make a clafoutis with cherries from scratch is fairly easy.
I use whole unpitted cherries and infused the dessert with whole vanilla beans instead of vanilla extract.
Step 1
Combine flour, sugar, salt and egg.
Infuse the milk with the vanilla bean and mix into the pastry.
Step 2
Grease your baking dish and pour ¼ of the pastry into the dish.
Bake for 5 minutes to create a semi baked bottom, which will hold the cherries better.
Step 3
Spread cherries eavenly over the semi baked pastry and sprinkle with sugar.
Pour remaining pastry batter over the cherries and place your clafoutis into the oven to bake.
More french desserts
Please feel free to share your thoughts and ideas with us in the comment section further below!
So you love SPICES and HERBS?
GET 5 FREE SEASONING LESSONS
Type in your email address below.
Including free access to the
Seasoning Members only Club!
📖 Recipe
French Cherry Clafoutis Recipe
Fruity Cherry Clafoutis can be prepared with fresh cherries, canned or frozen cherries.
Print
Pin
Rate
Ingredients
2½

cup

Milk

1¼

cup

White Flour

½

cup

Sugar

make two halves

pinch

Salt

2

Eggs

14.1

ounces

Cherries

Butter
Instructions
Slit open a Vanilla Bean and scratch out the seeds.

Place the vanilla bean with the scratched out seeds into a pot with the milk and heat up but do not bring to a boil. Allow the milk to get infused with the vanilla bean and leave the milk to cool down. Pick out the vanilla bean and discard.

Combine in a bowl the flour, half of the sugar (¼ cup/50 grams) and a pinch of salt.

Make a well and add in the eggs. Combine everything to a smooth pastry.

Pour the vanilla-flavored milk into the egg flour pastry mixture.

Grease your baking shape with butter.

Heat up your oven to 350° Fahrenheit/ 180° Celsius.

Pour a ¼of the pastry into the baking shape. Take it into the oven and bake it first for 5 minutes. That's important because we need the bottom to be a bit hard before we add in the rest.

Spread the cherries over the semi baked pastry.

Sprinkle the remaining half of the sugar over the cherries and semi baked pastry.

Pour the rest of the pastry blend over the cherries and spread evenly.

Bake at 350° Fahrenheit/ 180° Celsius for about 30 minutes.
Notes
I prefer to use home canned cherries, they tend to have a more intense flavor. Of course you may use fresh or frozen ones too, and you can use pitted or unpitted cherries. The seeds give flavor to the whole dish and the traditional recipe is made this way.
Nutrition
Nutrition Facts
French Cherry Clafoutis Recipe
Amount Per Serving
Calories 286
Calories from Fat 45
% Daily Value*
Fat 5g8%
Cholesterol 65mg22%
Sodium 65mg3%
Potassium 330mg9%
Carbohydrates 52g17%
Protein 8g16%
Vitamin A 287IU6%
Vitamin C 5mg6%
Calcium 136mg14%
Iron 2mg11%
* Percent Daily Values are based on a 2000 calorie diet.