Nutritious and delicious Hungarian Goulash Soup Recipe to warm up your soul and your belly.
A Hungarian goulash soup recipe with beef, vegetables and spices.
This is a traditional soup served in an authentic Hungarian soup bowl.
Global Food Recipes
with Spices and Herbs
Free E-Book available for a limited time. Grab yours now and get instantly inspired!
Jump to:
📕 What is Hungarian Goulash?
Hungarian Goulash is a soup or stew prepared with beef, vegetables and spices.
Hungarian Goulash, which has conquered the world with its deliciously rustic taste, has its origins in the cooking methods of Hungarian cowboys roaming the Great Hungarian Plain with herds of long-horn cattle.
The cowherds drove their cattle from grazing grounds to markets all over Eastern Europe and cooked a hearty beef stew over an open fire, using wild onions growing along the plains.
Gulyás is the Hungarian word for cowherd and where this dish gets its name from.
Historical events play an important part in influencing the ingredient list of this traditional beef stew.
Before tomatoes and chilli peppers were brought to Europe from Central America by Spanish conquistadors, the soup was made with black pepper.
Black pepper was the spice of choice in Europe and was the preferred spice even after chilli peppers arrived from the New World.
There is a legend that hot red pepper seeds were brought to Hungary by a woman who had escaped from a Turkish harem.
The spicy red pepper was called the Turkish pepper to distinguish it from the black pepper.
Only when the Napoleonic Wars cut off Europe's pepper supply did chillies gain prominence in Hungarian cuisine.
Farmers started growing red chilli peppers and grinding them into a fine powder - paprika, which in time became Hungary's national spice.
❔ What is Paprika?
Paprika, the key ingredient in Hungarian Goulash, comes in eight different grades, ranging from mild édes to the very hot erős.
A sweet and mild paprika is achieved by removing the seeds before grinding the pepper pods.
Over time, paprika production has evolved into an art.
In addition to grades according to spiciness, there are additional grades according to the quality of the fragrant powder, such as kulonleges (special), edesnemes (sweet), and rozsa (rose).
Kalosca, the Paprika Capital of the World is an old Hungarian town famous for its paprika production.
Every year in September, a paprika festival is held in honor of the fiery fruit.
🆚 Hungarian Goulash VS American Goulash
Many different versions of goulash exist throughout Eastern and Central Europe as that area was part of the Habsburg Empire, and the dish spread throughout its domain, gaining a bit of local flavor and variation along the way.
American goulash is an entirely different preparation of ground meat and macaroni, which has become a Mid-Western and Southern comfort food.
🥩 Ingredients
Authentic Hungarian Goulash derives its signature taste from the caraway seeds, paprika, and beef.
The stew is hearty, filling and the meat extremely tender from cooking for a long time.
The carrots give the stew some earthy sweetness and the paprika some smokiness and spiciness.
The keys to a good goulash are good-quality beef and fresh, vibrant Hungarian paprika that will lend the dish some smokiness and complexity.
Traditionally, beef shank has been used to make this hearty stew, but any other tender cut of beef that has less fat works well for this recipe.
I prefer using beef shoulder.
Filet is not the best choice because it is expensive, and it cooks really fast, but the flavors of a goulash only develop through a slow cooking process.
Beef
Lard or butter
Carrot, potato, tomato
OPTIONAL ingredients: bell pepper, leek, and celery root is optional (I didn't add those but you can!)
Onion & garlic
Bay leaf
Caraway seeds
Paprika (sweet, smokey)
Beef stock or any other stock + water
Salt & black pepper
🔪 How to make it?
Here is an overview on how to make this hungarian goulash from scratch at home.
The complete recipe with US and Metric measurements is located at the bottom of this post.
Step 1 - prep ingredients
Cut the onion into slices and chop the garlic.
Peel the carrot and potatoes and cut into small quarters. Cut tomato small.
Cut the beef into bite-sized cubes as well.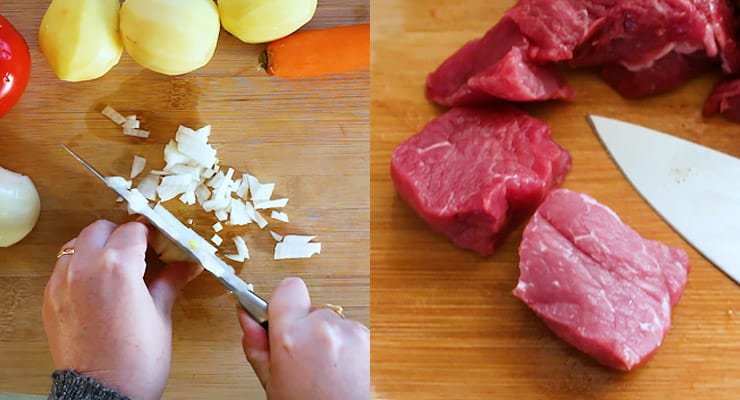 Step 2 - cook ingredients
In a pot, add the lard or butter and sauté the onions and garlic until tender.
Add the beef cubes and sauté until the meat has some color.
Then add the garlic, carrot, tomato and potato and sauté for a few minutes.
Season with bay leaf, salt, black pepper, caraway seeds and paprika. Pour broth and water over the ingredients and mix up.
Step 3 - boil soup
Cook soup covered for about 50 mins.
Uncover and simmer to reduce soup, so that the soup gains on flavor.
Serve up hot when done.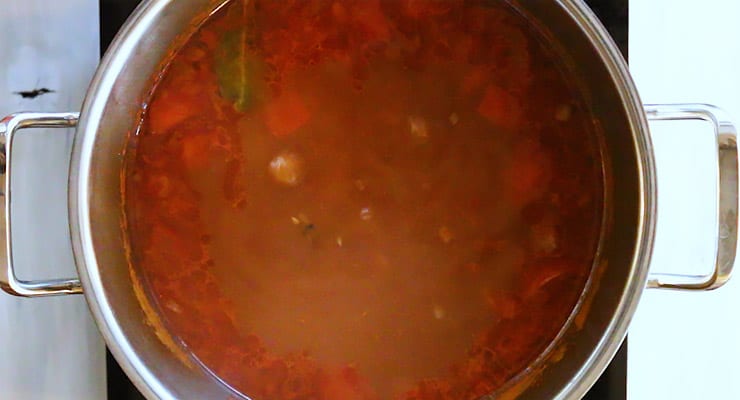 🥣 Serving
You can eat this delicious and cozy stew by itself with some crusty bread and a dollop of sour cream or serve it on a bed of rice, egg noodles, or mashed potatoes to create a more filling meal.
It can be served the same way as a Chicken Paprikash.
I think the goulash would be great with this GF artisan Teff flour bread too!
Sprinkle some fresh herbs such as parsley, dill, basil, or chives for added flavor and freshness.
🍱 Storing
The goulash can be frozen in batches.
It can be stored in airtight containers in the freezer for up to 3 months.
The cooked goulash will keep for up to 5 days in the fridge and can be reheated in a microwave or on the stove in an appropriate container.
💭 FAQs
Can one make a vegetarian Hungarian goulash?
If you are vegetarian, but still would like to savor the unique flavors of a Hungarian Goulash, you can make this potato goulash. The same recipe can even be made vegan by skipping the sour cream.
How can I make this goulash soup fast for dinner?
Goulash lends itself beautifully to slow-cooking and can be made in a crockpot. If you prefer to speed up the process, you can make it in a pressure cooker or in an instant pot, where it will cook quickly in 30-50 mins.
Global Food Recipes
with Spices and Herbs
Free E-Book available for a limited time. Grab yours now and get instantly inspired!
📖 Recipe
Hungarian Goulash Soup Recipe
Nutritious and delicious Hungarian Goulash Soup Recipe to warm up your soul and your belly.
Print
Pin
Rate
Instructions
Prep Vegetables Peel and cut the onion into slices, chop the garlic. Then peel the carrot and slice, peel the potato and cut into smaller pieces. Cut tomato into quarters and cut out the harder center with the stem part. Keep aside

Saute onion and garlic with lard or butter over a medium heat setting in a large pot.

Add beef cubes and cook over high heat stirring frequently until they are getting some color.

Stir in vegetables and combine, take down to a medium heat setting.

Season with bay leaf, salt, black pepper, caraway seeds (or cumin if you can't get caraway seeds), and paprika

Pour broth and water over the inrgedients in the pot and increase heat.

Mix contents, keep over high heat and cover the pot. Bring to a boil and reduce heat to medium thereafter.

Cook for about 50 minutes covered, stirring occasionally over a medium to low heat setting. It should bubble a bit.

Uncover and continue to simmer your Hungarian goulash over a slow flame. The goulash should reduce a bit and gain flavor. This can take another 50-60 mins or until you are satisfied with the taste.

Serve up as is hot in a bowl or with fresh parsley and/or a dollop of sour cream.
Notes
Goulash turns out tastier when it is left to cook slowly over a longer period of time. This dish is really great when warmed up again the next day. So, I totally recommend that you refrigerate it overnight and warm it up again the next day. It will turn out more flavorful.
Nutrition
Nutrition Facts
Hungarian Goulash Soup Recipe
Amount Per Serving
Calories 349
Calories from Fat 216
% Daily Value*
Fat 24g37%
Cholesterol 81mg27%
Sodium 1627mg68%
Potassium 609mg17%
Carbohydrates 13g4%
Protein 22g44%
Vitamin A 5403IU108%
Vitamin C 11mg13%
Calcium 84mg8%
Iron 4mg22%
* Percent Daily Values are based on a 2000 calorie diet.