Get creative with the decoration of your Lebkuchen cookies, Use icing sugar and little colorful sugar decorations to get into Christmas mood.
This Lebkuchen Recipe is an essential if you love spiced cookies!
Lebkuchen are some of the most popular and well known Christmas cookies in Europe.
The spiced cookies are similar to gingerbread cookies from the English speaking countries.
Find the Lebkuchen recipe with step by step recipe instructions and pictures further below.
A Lebkuchen recipe to make Lebkuchen cookies includes spices, honey, nuts, and candied fruits.
Lebkuchen are popular and commonly made for Christmas in the German-speaking countries such as Germany, Austria, and Switzerland.
In Austria and Germany you will find them being decorated and sold in the all famous charming Christmas markets such as Salzburg, Vienna and the all famous Nürnberg Christmas market.
Most of the households, preparing for the merry season, usually bake Lebkuchen in all different shapes and sizes.
There are endless different Lebkuchen types and variations.
Some are harder some are softer, some include a different Lebkuchen spice mixture and some include secret ingredients.
Today, I am sharing a classic Lebkuchen recipe, which is common in and around the alps.
Another very popular Lebkuchen is the Lebkuchen recipe from the city of Nürnberg, the Elisenlebkuchen.
Honey is always included, no matter which lebkuchen recipe!
History tells us that the first Lebkuchen appeared in the medieval period around the city of Ulm, in the region of Bavaria, South Germany. The old city of Nürnberg made the Lebkuchens recipe "honey cake" in the 1500s popular.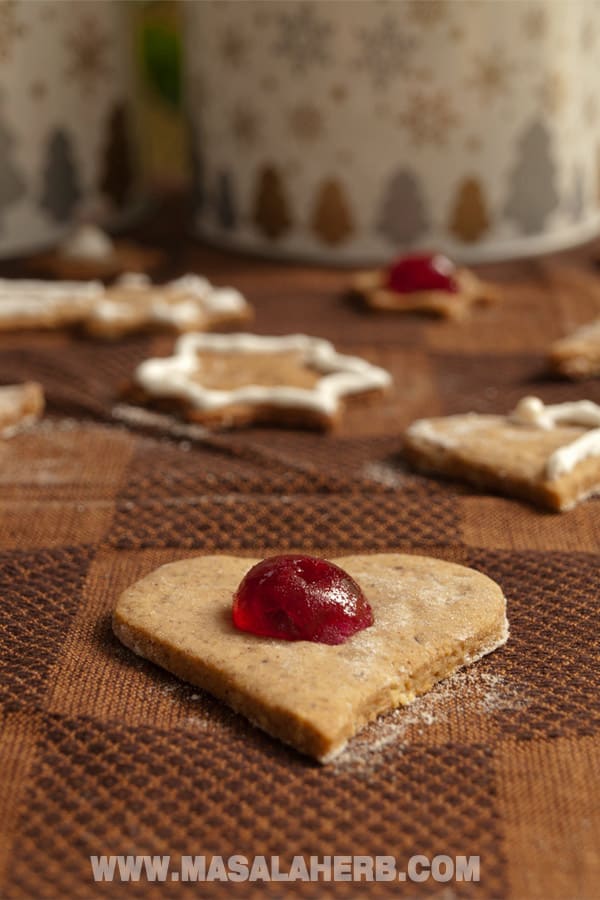 Nürnberg is also popular for making some of the best-candied fruits in central Europe, as in candied orange peel, which explains how the fruits ended up to be part of the traditional decoration on the Lebkuchen, together with nuts such as almonds.
This Lebkuchen recipe is better used for smaller shapes.
That is why this Lebkuchen recipe is not suited for a gingerbread house or for bigger Lebkuchen hearts.
Making this flavorful cookie is a great thing to do with the family.
The dough is very well suited for children's hands and in fact, most children learn to bake with the easy to handle Lebkuchen dough.
For my Gluten-free readers, I can recommend the Elisenlebkuchen recipe.
In my opinion, this is one of the easiest cookies to prepare.
I leave the cookie shape choice and decoration up to you.
As you can see I made a couple of different ones so that you get some ideas.
The Lebkuchen cookies are not fully loaded, but if you like them busier, then feel free to add more decoration with nuts, dried fruits, and sugar pearls.
You can color the icing as well with a few drops of food coloring, which you add while making the icing.
You might recall the Grimm brother's tale of Hänsel and Gretel and the house of the witch.
If you are able to envision the Lebkuchen house of the witch, then you might come up with some gorgeous colorful extensive decoration ideas for your own homemade Lebkuchens!
More Christmas Cookie Recipes: 🍪
Cinnamon Stars cookies
Stamped Albertle cookies
Dear Reader, how are you planning to decorate your Lebkuchen cookies?
Please feel free to share your thoughts and ideas with us in the comment section further below!
Classic Lebkuchen Recipe was first published on the 23rd of December 2012 at masalaherb.com!
Subscribe & Get your freE
Recipes from around the World E-Book 📱
Weekly Newsletter 📰
Spice, Herb, Seasoning Cheat Sheet 🌿
Printable Jam Labels 🍯
No-Nonsense Travel Checklist 🏞️
Exclusive Access - Seasoning Club (Facebook Group) 💬
Classic Lebkuchen Recipe
Get creative with the decoration of your Lebkuchen cookies, Use icing sugar and little colorful sugar decorations to get into Christmas mood.
Print
Pin
Rate
Ingredients
For the Icing:
1

Egg-white

2

cups

Powdered Sugar
Instructions
Place the Honey, brown sugar and butter together into a bowl and melt and mix the ingredients to a smooth sticky paste.

Once the sticky mixture has cooled a bit add the white flour and baking powder and make a mold to add in your egg yolk. Keep on adding the Lemon zest, the ground walnuts, the Lebkuchen spice mix and the cinnamon powder.

Preheat your oven to a 180 Celsius!

Flour your working space and roll your dough to a 0.5 millimeter thickness out (don't roll out too thin!) and cut out your shapes with your cookie cutters. Make sure the dough is covered with flour, it's easier that way to cut out the shapes. Once done, dust the shapes a bit so that the extra flour falls off.

Place the lebkuchen on a baking tray. At this point you can decorate them with nuts and candied fruits by pressing the sweets lightly into the dough.

Bake smaller sized Lebkuchen cookies for about 15 minutes at 180 Celsius and then let them cool and bigger ones for 20 minutes at 180 Celsius..

In the mean while, beat your egg white to a stiff snow. Once stiff continue to mix in the powdered sugar into the egg whites, batch by batch. The Icing should be very tough and shiny sticky. (For colored batches just add 2-3 drops of food coloring drops)

Once the cookies have cooled, you can decorate them with the icing and top them with colorful and pretty looking sugar decorations. Either you pipe a thin line with the icing onto the cookies or you add a thin layer of icing onto the whole cookies surface. Just be creative and have fun!
Notes
Store the lebkuchen cookies in a tin box in a dry climate with butter paper and some apple peels to keep the moisture in the cookies. In a humid environment store the cookies in an airtight container and keep away from heat and more humidity.
Use your favorite sugar decoration
Use Candied fruits such as cherries, ginger candy, orange candy or lemon candy.
Choose between walnuts, almonds, pistachios, hazelnuts, pecans etc.
Nutrition
Nutrition Facts
Classic Lebkuchen Recipe
Amount Per Serving (24 g)
Calories 114
Calories from Fat 27
% Daily Value*
Fat 3g5%
Cholesterol 7mg2%
Sodium 13mg1%
Potassium 53mg2%
Carbohydrates 20g7%
Protein 1g2%
Vitamin A 50IU1%
Calcium 26mg3%
Iron 0.8mg4%
* Percent Daily Values are based on a 2000 calorie diet.
This post may contain affiliate links that point to things or services that I recommend. This may include Amazon, getyourguide and booking.com. As an Amazon Associate I earn from qualifying purchases.