Today it's time to make this Kaiserschmarrn Recipe! Kaiserschmarrn is an Austrian dessert made of scratch pancake pieces and coated with powdered sugar. My variation is with freshly picked wild blueberries, but you can make the foolproof easy Kaiserschmarrn dessert plain too.
Learn how to make this Kaiserschmarrn recipe with the step by step instructions and tips further below: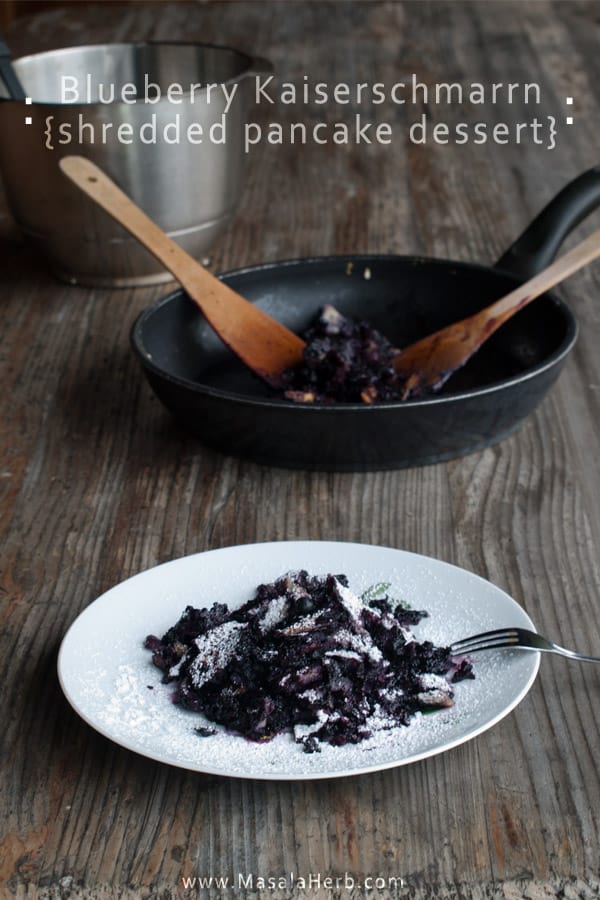 I wasn't sure how to call this scrumptious dessert in English, so I just decided to call it the way we do in Austria, a Kaiserschmarrn. Check out the Pronunciation of Kaiserschmarrn, I just couldn't figure how to write it down to an English speaking person. In Devnagiri Indian script it would be written as follows कैसेरसचमार्र्ण  (if that can assist anybody out there!)
So, What is a Kaiserschmarrn?
A Kaiserschmarrn  (Kaiser means Emperor | Schmarrn translates as shredded Pancake/nonsense) or simply Schmarrn is a shredded pancake in Austria and in the former countries that belonged to the empire a 100 years ago.
The late emperor Franz Joseph, of the house of Habsburg, was quite fond of this shredded pancake. The dish was specially created and invented for the emperor by one of his chefs, and therefore the ruler was the name giver to the scrumptious sweet fluffy pancake dessert.
The Kaiserschmarrn is a name from Vienna for the dish, in the alpine Tyrolean mountains it is better known as Miasl. Why do I mention the different German names you wonder? Well, actually a Schmarrn is prepared by separating the eggs and beating the egg whites fluffy.
-> Get the free Masala Herb Newsletter
The Alpine Miasl on the other hand seems to be an easier version where the eggs are just simply mixed whole into the batter, or so I was told by my father who enjoyed my grandmother's sweet blueberry Miasl (locally known as Moosbeermiasl) as a kid.
You simply shred the pancake while frying it golden and before you serve it still warm, cover with a layer of powdered sugar.
When in Austria, we tend to wander into the forest in July to collect a bounty of fresh blueberries. By August  & September we switch and start to look after Lingongberries in the high alpine fields.
So, the Kaiserschmarrn recipe with blueberries is a seasonal dish. However, if you want, you can just use raisins or add nothing at all into your pancake dough. The fresh wild blueberries get smashed and turn the Kaiserschmarrn dark purple.
How to make Kaiserschmarrn?
When preparing the dough make sure that there are no lumps left. The dough should be smooth, towards a semi liquid consistency, so that you can easily pour it into a pan and turn the pancake before breaking it into smaller pieces.
Make sure to use only butter for the frying! The flavor is the trick to a tasty Kaiserschmarrn.
Breaking the pancakes is my favorite part!
Because after all you don't need to make a perfect looking flat pancake. That means the Kaiserschmarrn recipe is a foolproof pancake recipe, perfect for beginners and for those with a huge sweet tooth.
Just break it apart into bite size pieces. Let's get crazy, let your inner animal out!
I love to make Kaiserschmarrn after a busy day, when I crave something sweet and I want it pronto. It's a no-brainer one-pan dessert!
Serve hot and don't forget the powdered sugar over the Kaiserschmarrn, it's like a blanket of snow covering the alpine glaciers.
Kaiserschmarrn Recipe with Blueberries – Foolproof Easy Scratch Pancake Dessert from Austria below:
Kaiserschmarrn Recipe with Blueberries - Foolproof Easy Scratch Pancake Dessert
This is a quick Kaiserschmarrn recipe, the alpine way, also known locally as miasal (that's why it's foolproof and easier!) You can make this recipe without blueberries too and use a few raisins instead or just nothing. You can make the Kaiserschmarrn recipe dough ahead and keep in the fridge, however make sure to use it up within 24 hours. Mix the dough before placing it into the buttered hot pan. Fry on both sides and then just go ahead and break the pancake into a royal Kaiserschmarrn. most importantly, dust the hot Schmarrn with powdered sugar before serving.
Print
Rate
Ingredients
For the Batter:
150

grams

sifted All Purpose Flour or 1 1/2 cup

5.3 oz

50

grams

Sugar or 1/4 cup

1.8 oz

2

Tablespoon

Butter

130

milliliter

Milk or 1/2 cups

4.4 oz

2

Eggs

170

grams

fresh Blueberries or 1 3/4 cup

6 oz
For the frying and garnish:
2

Tablespoon

Butter

Powdered Sugar
Instructions
First combine the dry ingredients together, flour and sugar. Then continue to add in the butter, milk and eggs.

Mix the whole content well until you have a smooth batter without lumps. Then add the fresh and clean blueberries.

Heat up a pan and add the butter. For a big frying pan pour about 3 ladles full of berry batter mixture into the pan for a small pan about 1 1/2-2 ladles full. Spread the batter quickly evenly by tilting the pan to all sides.

After a few minutes or until you can see that one side is cooked and golden, turn the pancake carefully to cook the other side as well.

Once cooked, start breaking the pancake into smaller pieces. While breaking the pancake into a

schmarrn

you will notice that the blueberries will break. That's fine and it will turn the color of the pancake pieces into a dark purple shade.

Once you are done, place the hot Kaiserschmarrn into a plate and dust with powdered sugar
More decadent desserts to try 🍰
Creamy Shirkhand with Saffron and Pistachio
Pocket Madeleine Cakes with Orange Blossom Water
Mini Apple Strudel
More Austrian specialties 🇦🇹
Spätzle noodles made from scratch
Veg Consomme Clear Soup with Grießnockerl aka Semolina Dumplings
Vanillekipferl – Vanilla Crescent Shaped cookies
Dear Reader, have you ever had Kaiserschmarrn, scratch pancakes?
Get FREE Recipes via Email:
Don't miss a recipe, Subscribe to the Masala Herb Newsletter!
The following two tabs change content below.
I am Helene, and created Masala Herb to share my food and travel journey with the whole world. You will find Asian and Western dishes here, as well as unique travel guides to inspire your day. Don't miss a post! Subscribe to the free newsletter!
Latest posts by Helene Dsouza (see all)