Easy shredded and crispy fried German Potato Pancakes aka Kartoffelpuffer. Make these pancakes and serve as a side dish or snack with a delicious dip. See serving suggestions in the post.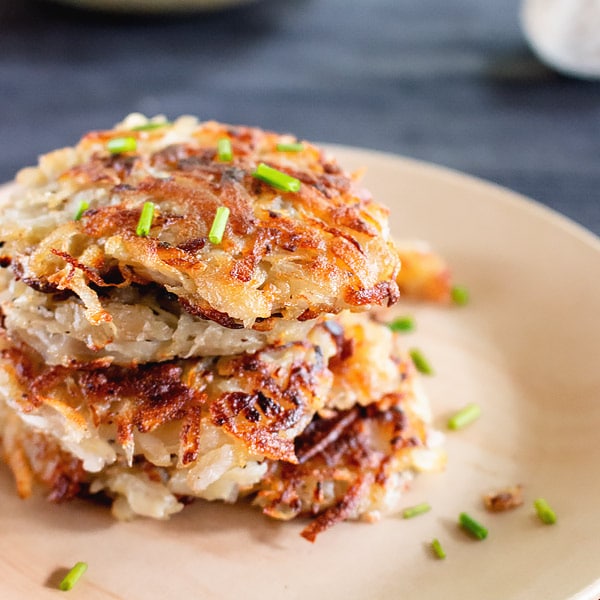 German Potato Pancakes (Kartoffelpuffer) are savory shredded potatoes shaped into a flattened small dumpling-like pancake.
Those are then simply fried and usually served as a side dish with a meat main course.
My easy Kartoffelpuffer are vegan, prepared without eggs.
To make the German potato pancakes is rather easy, so I invite you to try them out and give you some ideas about how we use them in Austria and Germany.
Jump to:
📕 What are Potato Pancakes?
German Potato Pancakes are prepared with shredded potatoes, seasoning and flour is mixed in, and sometimes an egg as well so that they don't fall apart during the cooking process.
The potato cakes are common in many central and east European countries and honestly can't be limited to Germany only.
In fact, Potato pancakes are a traditional side dish/snack in Poland, Austria, Czech Republic, Slovakia, Slovenia, Romania, Ukraine, Russia Norway, Sweden, Finland, just to name a few.
That is why it's difficult to tell the place of origin for the potato pancakes.
Only the seasoning, the cooking process, and servings suggestions will be different but that's not limited to country borders.
The Potato pancakes differ between regions and valleys.
That is why the humble German potato pancakes are known in different names across the German-speaking countries.
Some of the German potato pancake names include Reiberdatschi, Kartoffelpuffer, Härdöpfelchüechli, Erdäpfelpuffer, Kartoffellaibchen, Reibekuchen, Kardofflkiachla, Baggerla, Rievkooche, Datsch, Erbelkrebbel, etc.
In Tyrol (Austria) and neighboring Bavaria (Germany), we call them Reiberdatschi or Erdäpfelpuffer.
In these areas potatoes are known as Erdäpfel, in high German, they call potatoes Kartoffeln.
Other countries will have many more names, such as latkes.
Potato pancakes are super common!
🧅 Ingredients
This overview shall help you get organized. The full recipe with measurements and instructions is located further below in the recipe card.
potato
onion
salt and black pepper
nutmeg
flour
oil
chives - to garnish
Pick firm to semi-firm potatoes because you don't want the potato pancakes to get mushy (if you want to work with mash potatoes to prepare the cakes, see below for variations).
If they get too mushy, and the consistency is off, you will have a harder time frying them into shape.
Don't leave out the nutmeg, it's essential.
To bind the pancakes, flour is added.
I didn't use egg in this recipe to make it vegan. Egg can be added to help bind.
🔪 How to make it?
Here are 3 easy to understand steps. The print version is in the recipe card.
Step 1
Shred potatoes and onion.
Add salt, black pepper, flour and nutmeg to your shredded potato and onion.
Step 2
Combine ingredients.
Shape mass into a ball and then press down to flatten.
Step 3
Fry in a skillet golden on both sides.
Pat with a kitchen towel to take away excess oil. Serve up with chives.
🆚 Latkes VS Potato Pancakes
Latkes are potato pancakes, but the Jewish version.
The only difference between latkes and potato pancakes might be the kosher salt and most probably the seasoning.
I have not seen or tasted latkes in the Austrian/German Alps, but I did try the Israeli version with Hummus.
They kind of taste and look the same.
Latkes are often while associated with potatoes, however, latkes can be prepared with other vegetables too such as carrots.
🥣 Variation
Besides shredded German Potato Pancakes, you can also simply use mash potato.
As long as the mashed potato can stay in shape, you can form and fry them the same way you would with the shredded german potato pancakes.
You can add grated cheese too or some shredded carrots as a twist to your potato pancakes.
🥄 Kitchen Tools
The quickest way to prepare these german shredded potato pancakes is to use an easy to clean food processor with a shredding option.
If you use that, you will barely take 10 mins prepping time to prepare the potato pancake mass.
I'm doing it the old laborious way with a hand shredder (kind of used to it by now), you can, of course, go that way too with a boxed grater.
That way you can work out your arms too! 😀
I like to use a non-stick PFOA-free Pan because I'm not the biggest fryer out there.
You can use a stainless steel pan too if you prefer that.
🍴 Serving
You can serve these german potato pancakes as a side dish with main course meals, as a stand-alone vegetarian meal with other veg side dishes or as a crispy filling snack with a hearty dip.
Serve the potato pancakes with...
Pork roast
Obatzda cheese dip as a snack
Applesauce
Sauteed Mushrooms or mushroom cream sauce
Dear Reader, how are you planning to serve the German Potato Pancakes?
Global Food Recipes
with Spices and Herbs
Free E-Book available for a limited time. Grab yours now and get instantly inspired!
📖 Recipe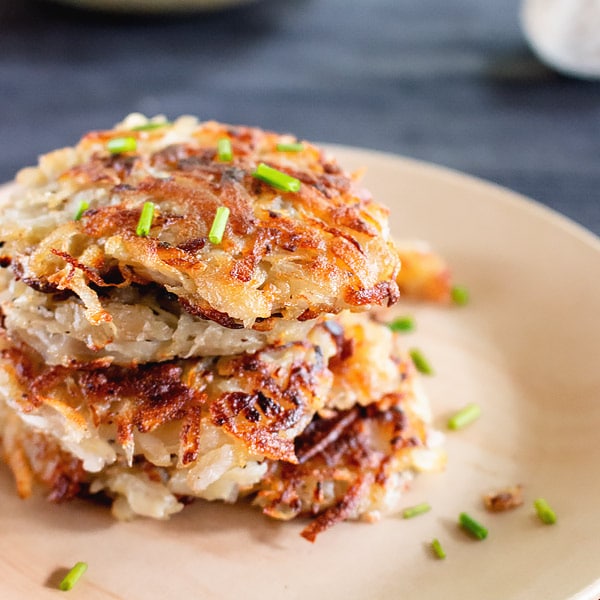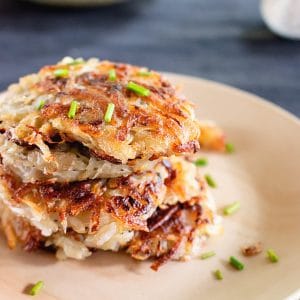 German Potato Pancakes - Kartoffelpuffer Recipe
Easy shredded and crispy fried German Potato Pancakes aka Kartoffelpuffer. Make these pancakes and serve as a side dish or snack with a delicious dip. See serving suggestions in the post.
Print
Pin
Rate
Ingredients
2 ½

cups

Potato

medium-sized, shredded

1

Onion

medium-sized, shredded

½

Teaspoon

Salt

¼

Teaspoon

Black Pepper

⅛

Teaspoon

Nutmeg

grated

2

Tablespoons

All-purpose Flour

Oil to fry

about ⅛ for each batch

Chives

chopped, garnish
Instructions
Wash and peel your potatoes. Shred them and collect in a bowl.

Peel Onion and shred as well.

Add salt, black pepper, flour and nutmeg to your shredded potato and onion.

Mix in all the ingredients.

Heat up a pan with the oil. Keep on medium to high heat.

With clean hands, take some of the potato pancake mass and form to a firm ball. Then press on a surface to flatten a bit.

When the oil is hot, place the pancakes into the pan.

Fry the German potato pancakes on both sides golden.

Take out from the pan into a serving dish. With a kitchen towel, tap excess oil away.

Serve warm with cut fresh chives as a side dish or as a snack with a dip.
Notes
Use a hard to semi-hard potato variety. Those give the best results.
Make sure there is sufficient oil so that the potato pancakes are fried crispy and evenly. Less oil will result in pancakes getting burned on one side and not being properly cooked in other places.
Nutrition
Nutrition Facts
German Potato Pancakes - Kartoffelpuffer Recipe
Amount Per Serving (68 g)
Calories 50
% Daily Value*
Sodium 152mg6%
Potassium 291mg8%
Carbohydrates 10g3%
Protein 2g4%
Vitamin C 8.5mg10%
Calcium 23mg2%
Iron 2.3mg13%
* Percent Daily Values are based on a 2000 calorie diet.