A quick, vibrant yellow Mayonnaise enhanced with curry powder and lemon juice. This dipping sauce is for all those looking for more flavors in this life!
Curry Mayonnaise is for all those Mayo and curry powder loving folks out there.
It's a simple way to spruce up your mayonnaise game and to add diversity to your dipping options for fries, roasted chicken and hot dogs.
Jump to:
Are you looking for dipping sauces? I can recommend my spicy mayonnaise or the velvety yum yum sauce.
📕 What is it?
Curry Mayonnaise, also simply called Curry Mayo, is a curry powder enhanced Mayonnaise dipping sauce.
Curry powder is a yellow blend of spices created by the British during the Indian colonial rule. This spice blend is widely available in Europe and parts of Asia.
Moreover, curry mayo dipping sauce mainly emerged in the 2000 in France, as it was served with fish and crab sticks as a dip.
The Currywurst and Curry Ketchup creators, the Germans, caught up on that and since that you will be able to find curry mayonnaise sold in bottles and tubes throughout Europe.
Yet, it's still not that well known all over the world, so I found myself mixing a homemade condiment version more than once.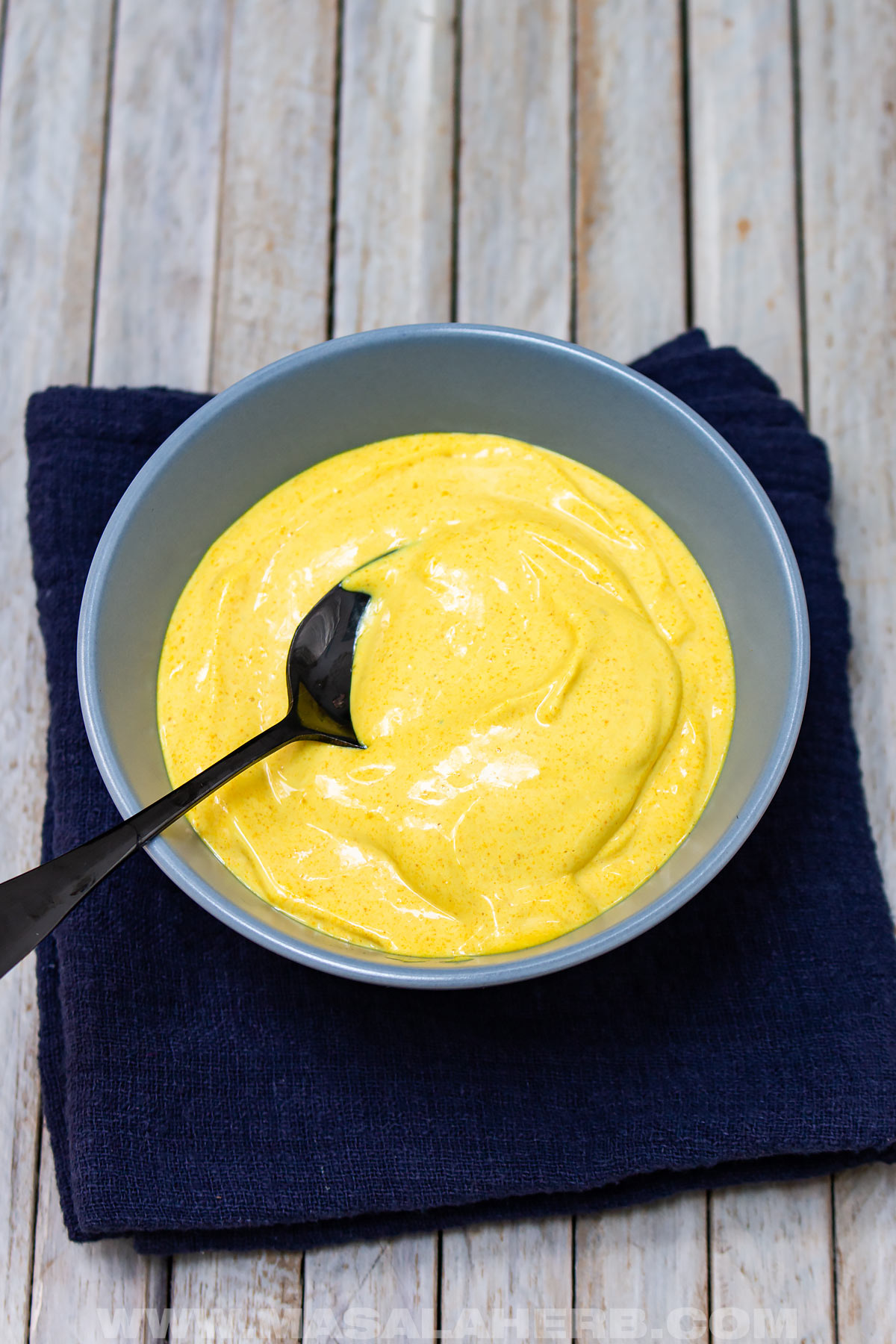 🥣 Ingredients
Thankfully, preparing a homemade Curry Mayonnaise is simple enough. Here is a quick summary of the ingredients.
You will find all the US and metric measurement details further below in the recipe card for this curry dip.
Mayonnaise – You can use either a store-bought Mayonnaise, a homemade classic mayonnaise, a Japanese Kewpie style Mayo or a French hand-whipped Mayonnaise. The choice is yours.
Curry Powder – Many curry powder variations exist. I used my Madras-style curry powder, but you can also use German curry powder, Thai curry powder or Indonesian curry powder.
Turmeric – To make the dipping sauce bright yellow. Adds to the aesthetics, and Turmeric powder is healthy.
Lemon Juice or Lime Juice – freshly squeezed.
🔪 How to make it?
Here is an overview to help you quickly understand how this mayonnaise dip comes together.
Step 1
Place Mayonnaise into a mixing bowl.
Add curry powder, turmeric, and a few drops of lemon or lime juice to that.
Step 2
Combine everything well with a spoon or mini whisk until all the seasoning has been incorporated with the lemon/lime juice and mayonnaise.
💡 Tips
The spices should be well ground and there should be no lumps, or else they will be difficult to mix in.
Choose a finely ground aromatic curry powder.
I recommend keeping the mayonnaise at room temperature, before mixing the curry mayo together so that it incorporates better with the other ingredients.
This recipe turns out best with a 5-minute blender mayonnaise.
🍱 Storing
I tend to prepare this sauce in advance, that means a few hours before I intend to use it at a picnic or for lunch/dinner.
For that reason, I mix it together and place it into small containers that can be closed with a lid. That way, the top of your mayonnaise won't turn hard in the fridge.
You can also keep it in a serving bowl and wrap cling film over that. This will also keep it from hardening and cracking at the top (which really doesn't look appetizing).
Store your mayonnaise always in the fridge, and it's usually good for up to 2 days, as long as you don't keep it out for all too long.
Mayonnaise spoils fast if kept out, most have raw eggs as an ingredient. So, keep that in mind.
Thankfully, putting this curry mayonnaise together is easy enough.
You can take a small quantity out of the fridge to serve up and keep the rest in the cold refrigerator. Just take out more whenever needed.
I don't recommend freezing this mayonnaise because thawing it will be difficult and this will reduce the quality. You are better off making this quickly within 5 minutes.
🥄 Serving Ideas
We just love curry mayonnaise, and over the years we found ourselves using it in the most creative manner possible.
A simple way to serve up your spiced yellow mayo is as a dipping sauce, just like regular mayonnaise or ketchup.
Just imagine dipping your french fries, sweet potato fries, nuggets, chicken tenders, hot dogs, pigs in a blanket, surimi crab sticks and fish sticks into a homemade curry mayonnaise.
In fact, in France, they sell surimi imitation crab sticks with a small bag of curry mayonnaise as a snack.
Yet, this is not just a curry dipping sauce!
Another, out of the box, idea is to use this sauce just like a salad dressing. I use it with my imitation crab salad and my surimi green lettuce salad.
You can also switch regular mayonnaise in most salad recipes with this bright yellow mayonnaise, such as in a Japanese Kani salad or add this to a curry chicken salad.
This will take your lunch meal prep salad game to a whole new level! Just think sandwiches, wraps and burgers!
You could also switch regular Japanese mayonnaise with curry mayo to fill uramaki sushi rolls, such as a classic California roll or a spicy salmon inside out sushi roll.
📖 Recipe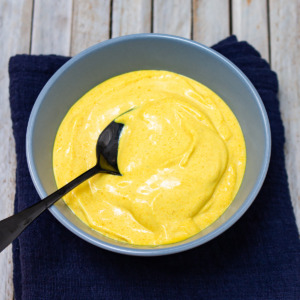 Curry Mayonnaise Recipe
A quick, vibrant yellow Mayonnaise enhanced with curry powder and lemon juice. This dipping sauce is for all those looking for more flavors in this life!
Print
Pin
Rate
Instructions
Stir the mayonnaise into a small mixing/serving bowl.

Add to that the turmeric powder, the curry powder and pour in the freshly squeezed lemon or lime juice.

1 Teaspoon Curry Powder,

¼ Teaspoon Turmeric,

1 Tablespoon Lemon Juice

With a spoon or small whisk, combine all the ingredients well. There should be no lumps left, and the curry mayonnaise should be evenly yellow.

Serve up as a dip or keep covered in the fridge to cool to use at a later time. (Please see post for storing and serving instructions.)
Notes
The choice of plain flavored Mayonnaise to use to make this curried dipping sauce is yours. You can use classic mayonnaise, gluten-free mayonnaise, vegan egg-free mayonnaise or a country specific mayonnaise type such as Dutch mayonnaise or Japanese mayonnaise (to mention just a few).
Some Turmeric root types are more bright yellow than others. I have also come across orange turmeric root powder. Either one is fine and up to you.
Not all curry powders are the same. You will come across madras curry powder, British curry powder, German curry powder, Indonesian curry powder, Thai curry powder and many more. The only thing that doesn't exist is an Indian curry powder (it's an unknown ingredient in India). Some contain more yellow turmeric than others. I used a madras curry powder, and it contains moderate quantities of turmeric. Furthermore, keep in mind, that the older a curry powder, the less bright and flavorful it is.
You can use lemon or lime juice in this recipe, both are fine and will give your dip a different flavor profile.
I encourage trying this recipe with different ingredient variations because the result is always surprisingly delicious and refreshing.
1 cup serves about 4–6 individuals.
Equipment
1 Small Mixing Bowl

1 Spoon

or small whisk to mix
Nutrition
Nutrition Facts
Curry Mayonnaise Recipe
Amount Per Serving
Calories 1535
Calories from Fat 1512
% Daily Value*
Fat 168g258%
Cholesterol 94mg31%
Sodium 1424mg59%
Potassium 104mg3%
Carbohydrates 4g1%
Protein 2g4%
Vitamin A 166IU3%
Vitamin C 6mg7%
Calcium 29mg3%
Iron 1mg6%
* Percent Daily Values are based on a 2000 calorie diet.