The easy crab salad recipe comes together in 5 minutes. Just cut the cabbage, carrot, spring onion/scallion and crab meat small. Try to cut the crab meat into bite-sized pieces. Toss everything together, mix the dressing and pour the dressing over the salad. Ready and delicious seafood salad!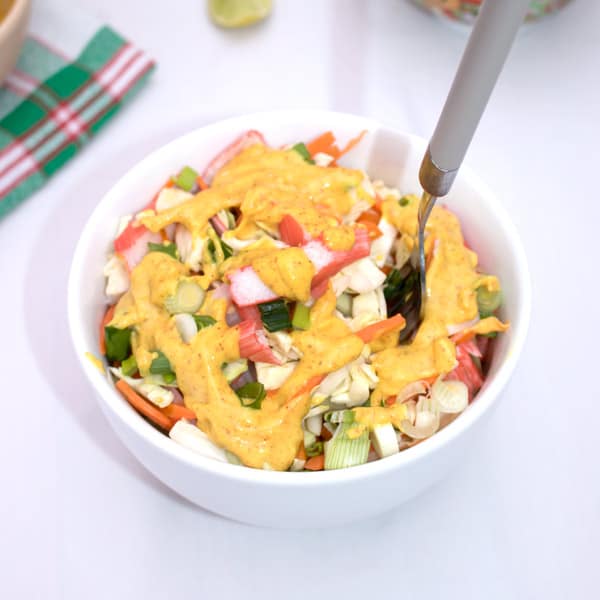 Easy crab salad recipe comes together really quickly with the imitation crab and can be prepared in advance to take for lunch to work or school.
I caught myself adding the crab salad into wraps and bread rolls, so this seafood salad can be used according to your preferences!
The crab salad comes with a special mayo dressing.
We have been addicted to this!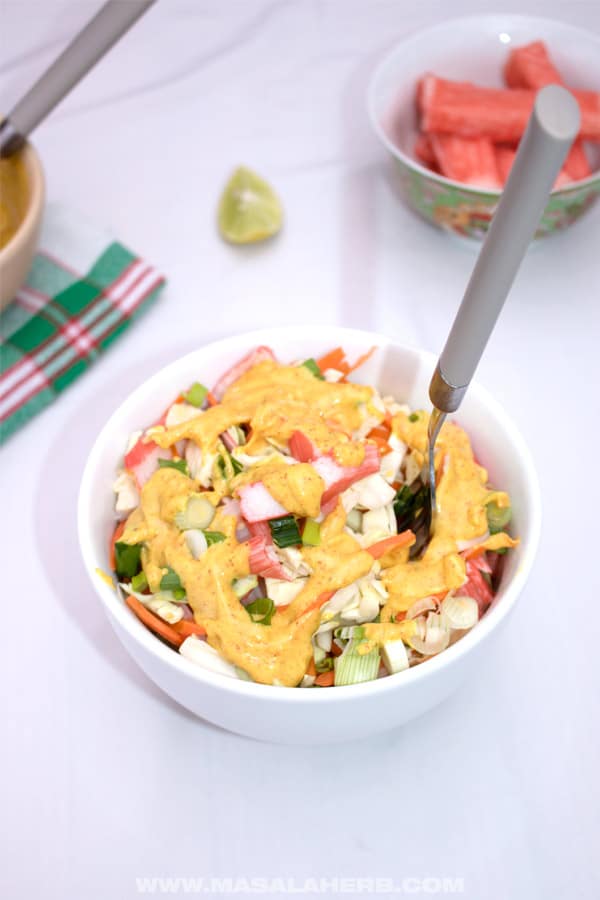 Imitation crab has always been part of our life as it's a very popular snack time treat in France.
So whenever we would go to visit our family in France during the summer vacations, we would have imitation crab sticks aka Surimi or Kani.
In France, you can buy huge packets of imitation crab and some even include a mayo-based, lightly yellow dipping sauce, flavored with curry powder.
So, what is a good dressing for crab salad?
Curry Mayonnaise and Imitation crab are meant to be!
Hands down!
If you have not tried this combination before than you have been missing out big time!
Curry Powder is a big thing in Europe and Mayo, well, is of course very French, so naturally, these two ingredients had to be mixed up into a dipping sauce for seafood.
Besides that curry mayo makes THE best crab salad recipe!
That is what I did here in this crab salad recipe but I have also added some lime juice to it because it makes the crab salad all the more exciting so that it can justify itself completely.
You can either make the curry mayo dressing for the seafood salad with ready-made mayonnaise or prepare this homemade french 5-min Mayo recipe from scratch.
Then, of course, you just need a really flavorful and tasty curry powder such as my curry powder recipe here or buy your curry powder.
What is imitation crab salad made of?
In this imitation crab meat salad, I used imitation crab sticks and I added fresh commonly available ingredients.
You might have these things in your fridge right now.
Imitation Crab sticks (aka Surimi crab, Kani) are low in calories and fat and they taste great!
Those crab sticks are prepared with surimi (ground seafood) paste and are a great budget alternative to expensive fresh crab meat.
Cabbage gives some crunch and freshness to the salad.
It balances the flavors in the seafood salad recipe.
Carrot gives the salad a lovely contrast because we eat with our eyes too.
Besides carrots are healthy as we know and the humble carrot works great with the imitation crab sticks.
Spring Onion or Chives add a green touch and some light tang to the seafood crab salad.
Makes everything all the more interesting.
Mayo Curry Dressing will lend your salad extra flavor!
You can use a low-fat Mayonnaise variation if you want.
I like to make my own mayonnaise too and use my homemade curry powder.
Tools used to make the easy recipe for crab salad:
Related to the crab salad recipes:
Dear Reader, how are you planning to use this crab salad?
As it is or in a wrap or bun?
Please feel free to share your experience with us in a comment further below!
So you love SPICES and HERBS?
GET 5 FREE SEASONING LESSONS
Type in your email address below.
Including free access to the
Seasoning Members only Club!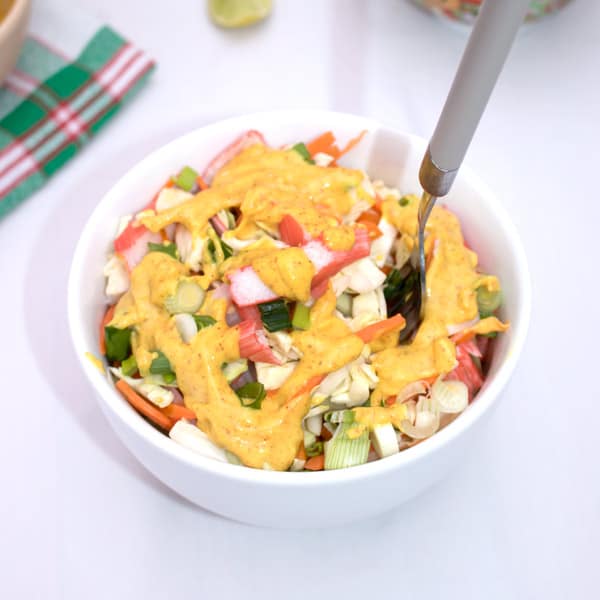 Easy Crab Salad Recipe
The easy crab salad recipe comes together in 5 minutes. Just cut the cabbage, carrot, spring onion/scallion and crab meat small. Try to cut the crab meat into bite-sized pieces. Toss everything together, mix the dressing and pour the dressing over the salad. Ready and delicious seafood salad!
Print
Pin
Rate
Ingredients
For the Crab Salad:
For the Crab Salad Dressing:
Instructions
Keep a Salad bowl ready on the side. Cut your imitation crab sticks into bite size pieces and place into the salad bowl.

Chop your cabbage small, cut your peeled carrot into matchsticks and add the cut vegetables to the cut crab into the salad bowl.

If you use spring onion/scallion cut into slices, if you use chives chop or slice small and add to the salad bowl. Toss all the ingredients in the salad bowl together.

To prepare the dressing for the crab salad, mix the mayo with the curry powder in a bowl. Then add the juice of the lime/lemon and mix to a smooth dressing. The dressing should be still creamy thick.

Pour the dressing over the crab salad ingredients and toss everything well.

Serve cold as a salad or use in a sandwich, stuffed in a bun or in a wrap.
Notes
If you get fresh crab meat, then, by all means, use that cooked in this salad. Just boil the meat in the crab shell and pick out the meat once cooked and prepare the seafood salad as you would do with the imitation crab.
You can use scallions/spring onions or chives, whichever is in season and available in your local market. Pick the one you prefer.
For the dressing, if you don't like a spicy dressing with the curry, then just skip adding the curry powder to the mayo dressing. Add instead the curry powder, salt, and pepper to season.
To make the dressing you can use also homemade Mayo instead of store-bought mayonnaise.
In the dressing, we include lime or lemon for flavor. Don't add too much lemon/lime juice as the dressing might get very liquid. The dressing needs to be creamy, so either ad the juice of one small lime or juice or ½ a bigger lemon. It depends also on the variety of lime/lemon.
Double the ingredients to prepare to stand alone servings
Nutrition
Nutrition Facts
Easy Crab Salad Recipe
Amount Per Serving (313 g)
Calories 261
Calories from Fat 189
% Daily Value*
Fat 21g32%
Cholesterol 14mg5%
Sodium 286mg12%
Potassium 408mg12%
Carbohydrates 15g5%
Protein 3g6%
Vitamin A 8530IU171%
Vitamin C 52.1mg63%
Calcium 78mg8%
Iron 1.4mg8%
* Percent Daily Values are based on a 2000 calorie diet.
This post may contain affiliate links that point to things or services that I recommend. This may include Amazon, getyourguide and booking.com. As an Amazon Associate I earn from qualifying purchases.