A quick and easy tasty recipe for baked parmesan coated chicken tenders. It's also keto/ low-carb!
Easy no-fail parmesan chicken tenders oven-baked and ready within minutes.
I share a basic recipe and options to season them further in the recipe card further below!
Jump to:
What are chicken tenders?
Chicken tenders are also called chicken fingers or strips.
Boneless chicken breast tenderloins are cut into finger length pieces.
The meat is either fried, baked or grilled in a crust and served with a dipping sauce.
Variations of chicken tenders exist and today it's my favorite, a crispy parmesan version.
How to make Chicken tenders with parmesan?
To make these chicken fingers from scratch is straightforward! I explain it in 3 easy steps so that you can get an overview.
The full recipe with adjustable quantities, US and metric quantities is located at the bottom of this post.
Step 1
Cut chicken breasts into tenders.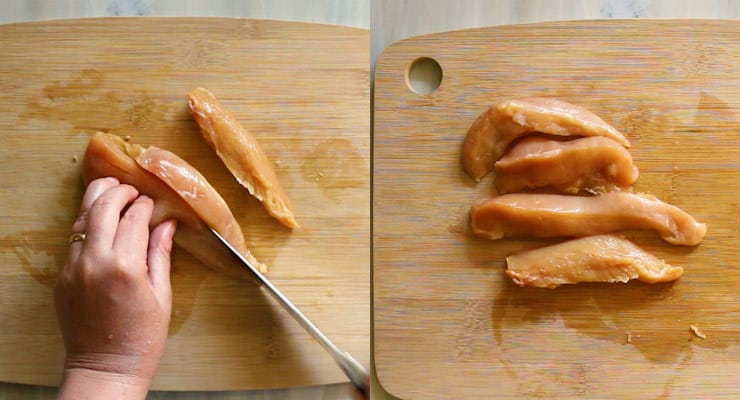 Step 2
Prepare two trays, one with a scrambled raw egg and the other with mixed parmesan and seasoning.
To coat the chicken, dredge each tender through the egg first and then through the seasoned Parmesan.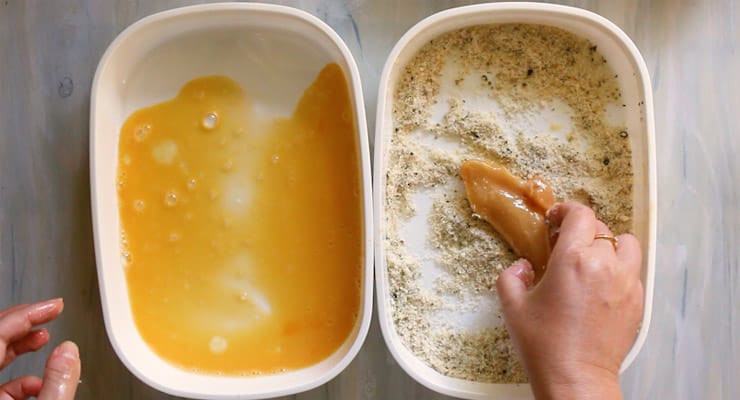 Step 3
Place Parmesan coated chicken on a grid over a pan and spray with cooking oil.
Bake in preheated oven until cooked through and golden.
Flavor ideas
You can adjust the seasoning of the parmesan coating and make this recipe all yours!
The chicken tenders are already seasoned with either Italian seaosning or herbes de provence.
Depending on which ever of the two you added, you can add ½ or 1 teaspoon of the following herbs and spices:
chili flakes
paprika
basil
savory (don't add if you used herbes de provence seasoning)
lemon zest
thyme (don't add if you used herbes de provence seasoning)
rosemary (don't add if you used herbes de provence seasoning)
parsley
sage
tarragon
onion powder (don't add if you used Italian seasoning)
garlic powder (don't add if you used Italian seasoning)
Serving suggestions
We love our oven-baked parmesan chicken tenders with fries and a dipping sauce.
I usually serve them with a sour cream dip, mayonnaise (even Japanese mayo), ketchup, or a honey mustard sauce.
A spicy sriracha mayo sauce or a yum yum sauce would work well to!
I have also added a jam as a dipping option. Just the way you would serve a Schnitzel.
Freezing, Storing and Reheating
You can freeze your homemade chicken tenders too!
To do this, prepare as instructed but don't bake the meat. Just palce them on a tray into the freezer and wait for them to freeze hard.
Then, you just need to pick up the frozen chicken tenders and place them in a freezer friendly container.
To cook the frozen meat, place on a grid with a pan as per the instructions and bake the frozen pieces without thawing first. But you will need to bake them longer!
You can keep leftovers in the fridge in an airtight container for up to 3-4 days.
To reheat leftovers from your fridge, place in the oven and warm up for 3 minutes or so.
Don't reheat your chicken for too long or else the tenders will lose their juiciness.
FAQs
Can you make ahead these chicken tenders?
Yes, you can. Prepare, but don't bake them. Instead, freeze them OR keep in the fridge and cook within 24 hours.
How long to bake the chicken tenders at 350 F/ 180 C?
Bake them for about 12 minutes (a minute or two more or less depending on your oven). If you bake them for too long they will lose their juiciness.
How many chicken tenders per person?
Serve per person about 3-5 chicken tenders.
Please feel free to share your thoughts and ideas with us in the comment section further below!
So you love SPICES and HERBS?
GET 5 FREE SEASONING LESSONS
Type in your email address below.
Including free access to the
Seasoning Members only Club!
📖 Recipe
Baked Parmesan Chicken Tenders Recipe
A quick and easy tasty recipe for baked parmesan coated chicken tenders. It's also keto/ low-carb!
Print
Pin
Rate
Instructions
Pat dry chicken breast if they are moist. Slice chicken breasts into 3 or 4 almost same-sized chicken tenders.

Prepare 2 trays. Break an egg in the first one and scramble it.

Add to the second tray the parmesan, salt, black pepper and italian seasoning and combine.

Dredge each chicken tender piece through the egg first and then through the seasoned parmesan. The chicken tenders should be well coated.

Place your oven grid over your oven pan and place and spread each chicken tender piece over the grid.

Bake chicken for about 12 minutes at 350° Fahrenheit/ 180° Celsius or until cooked through.

Take out, cool a bit, enjoy with a dipping sauce of your choice.
Notes
Add ½ or 1 teaspoon salt. I leave it up to you.
You can use Italian seasoning or Herbes de Provence. If you don't have these, use oregano.
Use Cooking Spray or oil if you don't have cooking spray
Nutrition
Nutrition Facts
Baked Parmesan Chicken Tenders Recipe
Amount Per Serving
Calories 93
Calories from Fat 27
% Daily Value*
Fat 3g5%
Cholesterol 54mg18%
Sodium 451mg19%
Potassium 224mg6%
Carbohydrates 1g0%
Protein 14g28%
Vitamin A 87IU2%
Vitamin C 1mg1%
Calcium 77mg8%
Iron 1mg6%
* Percent Daily Values are based on a 2000 calorie diet.