Authentic japanese mayo to use in your sushi as a dip or in other japanese recipes.
Homemade Japanese mayonnaise is easily prepared with a few ingredients.
Gather useful tips below to get it right, including our 5-minute sushi takeaway mayonnaise recipe.
Global Food Recipes
with Spices and Herbs
Free E-Book available for a limited time. Grab yours now and get instantly inspired!
This mayo recipe is part of our Japanese food series.
I brought in an expert from Japan, to share the best and most useful Japanese food recipes with you guys!
She runs a popular Japanese food takeaway in Goa, India, and we filmed all this back in February.
This mayo is prepared from scratch with a handful of whole ingredients.
It's without MSG and an authentic recipe, just the way it's prepared in people's homes in Japan.
Jump to:
📕 What is Japanese Mayo?
Japanese Mayonnaise looks and tastes like conventional mayonnaise but it's a bit different from the western variation.
Kewpie is the most well known Japanese mayo brand, selling squeezable bottles with a red grid logo and a little cupid on it.
The mayo is super popular in japan and the rest of the world as it find many uses. (more about uses further below)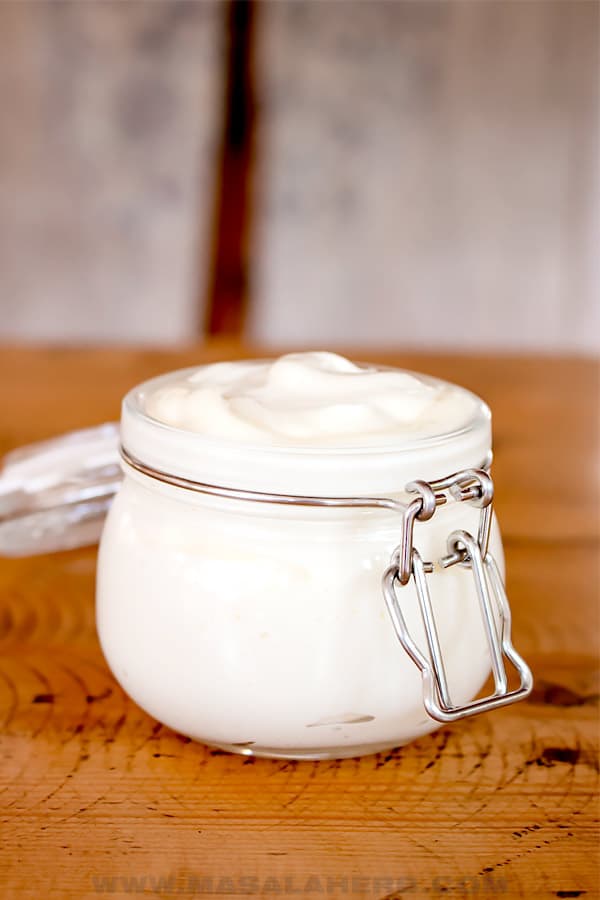 Japanese mayo vs American mayo vs the rest of the world
Often while, people say that the difference between a Japanese, American and European mayonnaise is the inclusion of just the egg yolk or the whole egg.
Kewpie mentions on their packaging that they use egg yolks only.
I asked our expert in the team and she said that it was very well common to use the whole egg when making mayonnaise from scratch in Japanese homes.
Mayonnaise in the US is prepared with whole eggs, but a french mayonnaise is made of egg yolks only.
That said, the main difference between a western and Japanese mayonnaise is the taste.
Japanese Mayonnaise includes rice vinegar and sugar to balance the flavors.
French and American mayonnaise is prepared with lemon juice or regular vinegar. They also include mustard paste or dried mustard powder for flavor and to help form the emulsion.
🔪 How to make Japanese Mayo?
Prepaing this special mayonnaise sauce form scratch is super easy!
I show you in a quick preview below how to make it from scratch.
For detailed instructions and ingredients listed, see recipe card at the bottom of this post.
Step 1
Place all the ingredients in a measuring cup: the egg, sugar, salt, vinegar and oil.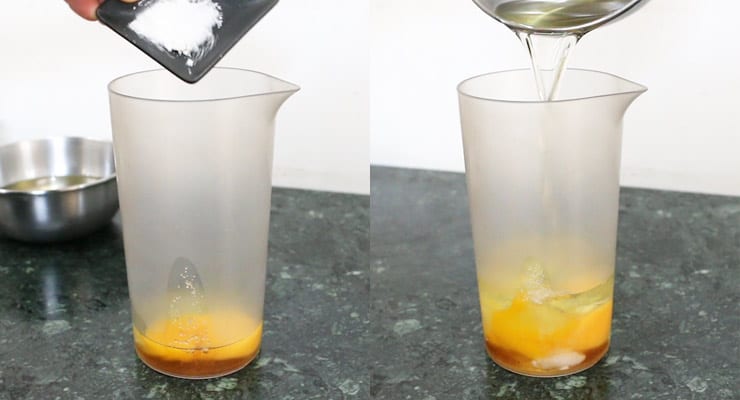 Step 2
Blend with a hand blender to a smooth emulsion and consistency.
Use in other recipes or flavor to your liking. You can make it spicy too!
📜 Variations
To make a spicy sriracha mayonnaise add 1 Teaspoon sriracha sauce to the mayonnaise at the end, when the mayo is silky smooth and white.
For a mustard mayonnaise, add ½ Teaspoon of Dijon mustard or your favorite mustard paste or powder, to the other ingredients before you make the mayo sauce.
I also love to make curry flavored mayonnaise.
🥣 Uses
Japanese are crazy about their mayo! They add it to all kinds of foods.
The most popular use for this mayonnaise is in sushi. Yes, there is mayo in your sushi!
Fill a soft squeeze bottle with your homemade mayonnaise and add about 1 tablespoons worth into your sushi before you roll it up.
Kani salad is also prepared with Japanese mayonnaise. It's a surimi based salad.
The condiment is also great as a dip with Japanese fried chicken (karaage) and conventional french fries.
Mayonnaise is also used in hibachi sauces such as in a yum yum sauce.
You can use it as a dressing too, the same way you would use any other mayonnaise.
🍱 Storing
Store the sauce in a squeezable airtight bottle or any other airtight container with a lid.
Keep it away from exposed oxygen (hence why in a container with lid) or else it loses it's beautiful silky white texture and turns almost translucent (and that doesn't look that great).
You can keep your mayo in the fridge for up to 1-2 days before it goes bad.
It's better to make fresh may whenever you need it.
💭 FAQs
Is Japanese Mayo gluten free?
Yes, homemade Japanese mayonnaise can be gluten-free if you use the right ingredients. Your vinegar shouldn't contain malt. Check ingredient labels, they shouldn't contain wheat.
How to make Japanese mayo from regular mayo?
Add about 1 Teaspoon rice vinegar and ½ Teaspoon sugar to ¾ cup (200 grams) to store bought American mayonnaise and combine.
What to use instead of rice vinegar?
You can use plain distilled vinegar instead of rice vinegar. Although, it tastes way better with rice vinegar.
Global Food Recipes
with Spices and Herbs
Free E-Book available for a limited time. Grab yours now and get instantly inspired!
📖 Recipe
Japanese Mayonnaise Recipe
Authentic japanese mayo to use in your sushi as a dip or in other japanese recipes.
Print
Pin
Rate
Ingredients
1

Medium

Egg

*see Notes

1

Teaspoon

Sugar

*see Notes

2

Teaspoon

Rice Vinegar

*see Notes

1

Teaspoon

Salt

¾

Cup

Sunflower Oil

or other vegetable oil
Instructions
Get a measuring cup to make the mayo and keep a hand blender ready.

Add whole egg, sugar, salt, vinegar and oil to the measuring cup.

Immerse the hand blender into the cup and turn it on but don't make any sudden moves. Just keep it in one place, do not move up blender stick or else the mayo won't turn out great. Literally keep it in one place!

Keep it immersed and you will notice that the mayonnaise will turn whiter and silkier over time. Blend until you are satisfied with the consistency and color. This can take about 3 minutes.

You can choose to flavor your japanese mayonnaise at the end with mustard or sriracha. Mix in well.

Store your mayonnaise in an airtight container until further use or use right away. See serving recommendations in post.
Notes
Use only warm room temperature egg, never a cold egg. A cold egg turns the mayonnaise more liquid. This is important!
We used brown sugar but you can use regular sugar too.
Substitute rice vinegar with distilled vinegar if you can't get rice vinegar.
Recipe quantity comes to 7 ounces/ 200 grams. That's about 5 servings if used in sushi and as a dip.
You can flavor your mayo. See in post for flavor ideas.
Nutrition
Nutrition Facts
Japanese Mayonnaise Recipe
Amount Per Serving
Calories 282
Calories from Fat 279
% Daily Value*
Fat 31g48%
Cholesterol 33mg11%
Sodium 478mg20%
Potassium 12mg0%
Carbohydrates 1g0%
Protein 1g2%
Vitamin A 48IU1%
Calcium 5mg1%
Iron 1mg6%
* Percent Daily Values are based on a 2000 calorie diet.