Homemade california roll sushi is a an inside-out maki sushi made with imitation crab.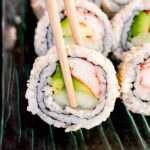 Homemade California roll prepared with imitation crab (surimi) is an inside-out sushi.
This is yours to make if you LOVE sushi just as much as I do and Japanese food.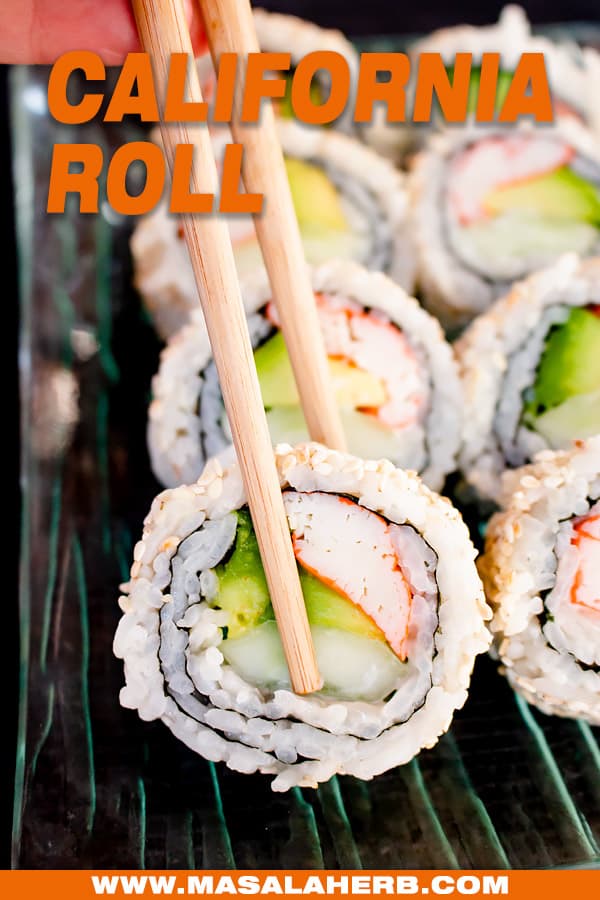 The California roll is part of my Japanese food series, which I prepared with my Japanese food expert.
This post is part of a series of Japanese recipes.
This includes traditional Japanese dishes such as miso soup as well as modern meals and recipes.
Jump to:
📕 What's a California Roll?
California roll is a variation of sushi, created and popularized on the American continent.
There are creation claims from sushi makers in Vancouver Canada and Los Angeles US.
This sushi has become a trend in Japan too over the last 20 or so years.
The sushi is a modern inside-out maki sushi variation, filled primarily with surimi, so-called imitation crab meat.
A maki is a sushi wrapped in nori seaweed. That means the seaweed is on the outside.
The inside-out sushi has a layer of rice on the outside and the nori seaweed between 2 layers of rice.
An inside-out sushi is known as uramaki sushi. The regular seaweed out maki sushi is known as a futomaki on the other hand.
🍙 Ingredients
You will need the following ingredients ready to make this recipe:
To see if you can substitute sushi rice and Japanese mayo, click on the recipes for more info.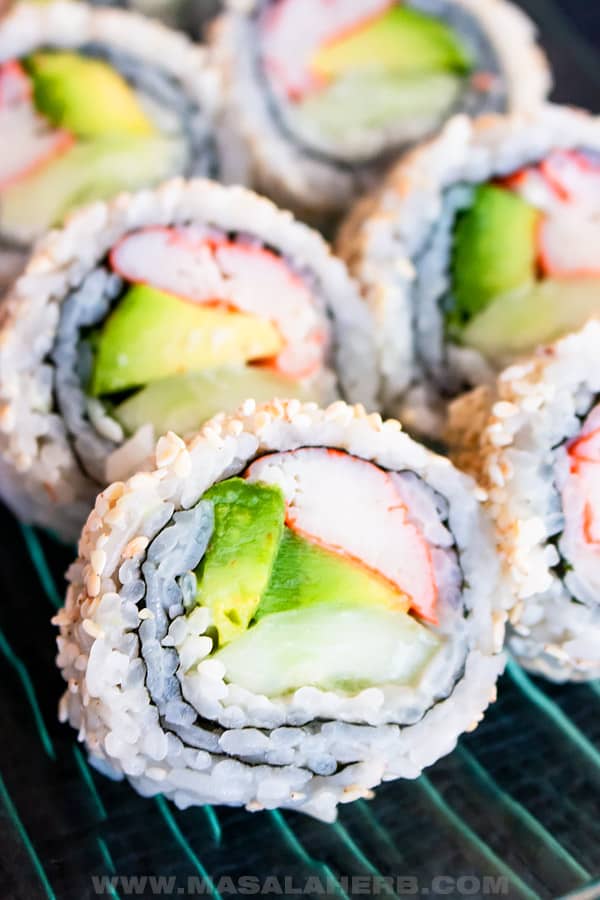 🔪 How to make it?
Making sushi is easy but you need to follow the recipe to the tee!
The instructions below will give you an idea of what to expect before you start out.
You will find the complete printable recipe further below with measurements and step details.
Step 1
Spread a layer of cooked rice over nori sheet.
Turn the sheet and spread remaining rice over ⅓ of the sheet.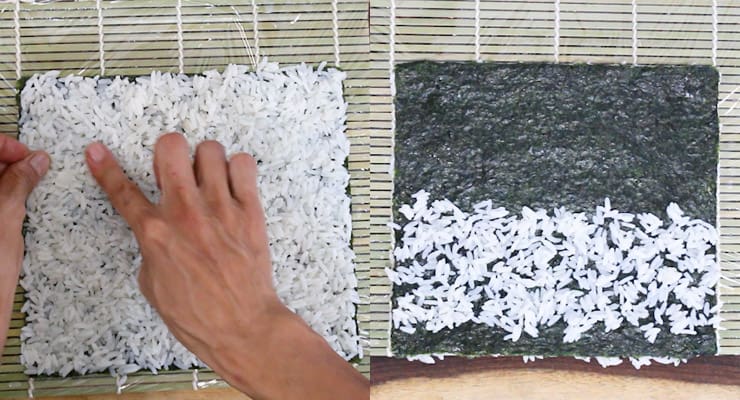 Step 2
Pour mayonnaise in one line over the center.
Arrange cucumber, avocado and surimi over the mayonnaise and rice part.
Step 3
Start to roll in sushi slowly and press down with both hands carefully while rolling steadily to create a tight sushi roll.
Spread some sesame seeds over the bamboo mat and roll in so that the outside is covered with sesame seeds.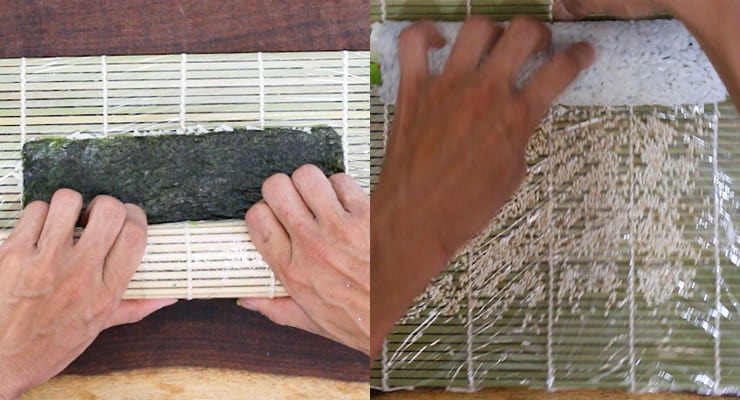 Step 4
Cut sushi into 8 thick slices, serve up!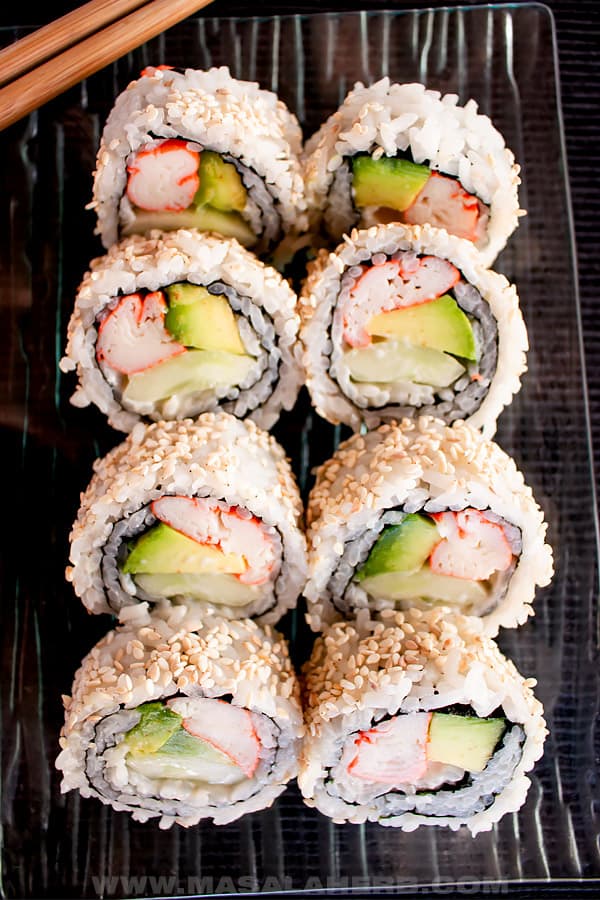 📜 Flavor variations
You can switch out the surimi with tuna, real crab meat, smoked salmon, cooked shrimp, tobiko, or masago (fish roe).
However, in that case, it can't be called a California roll anymore but the maki sushi tastes great too!
To make it vegetarian skip the seafood together or add other ingredients such as mango, shiitake mushrooms, fresh spinach, carrot sticks, bell pepper, and teriyaki cooked tofu.
For spicy California rolls, use spicy Japanese mayonnaise. Just add some sriracha or other hot sauce to your mayo mix and use that in your sushi.
🥣 Serving ideas
Garnish with fish roe for taste and aesthetics. Japanese like to garnish with a square folded Japanese omelet too.
Serve up with soy sauce, wasabi paste. Those two are mixed together and used as a dipping sauce.
With or instead of soy sauce, you can opt for a citrus ponzu sauce.
I also LOVE pickled Japanese sliced ginger with my maki. So good!
💭 FAQs
How much sushi rice do you need per roll?
You will need about ½ cup of cooked sushi rice per roll.
Can you roll without a mat?
I don't recommend rolling without a mat, it gets messy! You can try rolling with a fine cloth or a plastic sheet.
Why do you wrap your bamboo mat in a plastic sheet?
A bamboo mat needs to be wrapped into plastic if you prepare sticky inside-out sushi. That way the mat will be easier to clean and nothing gets stuck.
How to make a tight roll?
Roll slowly in with both hands while pressing down gently and equally. The pressure will make it all stick together, with the sticky rice and mayo keeping it all glued. Continue to roll in while pressing down until you have a tight roll sitting in front of you. Practicing and time will make you a sushi rolling master!
Can you store it in the fridge?
You can keep your sushi for about 1-2 days in your fridge. I store it in an air-tight container.
👁️ More Sushi Roll Ideas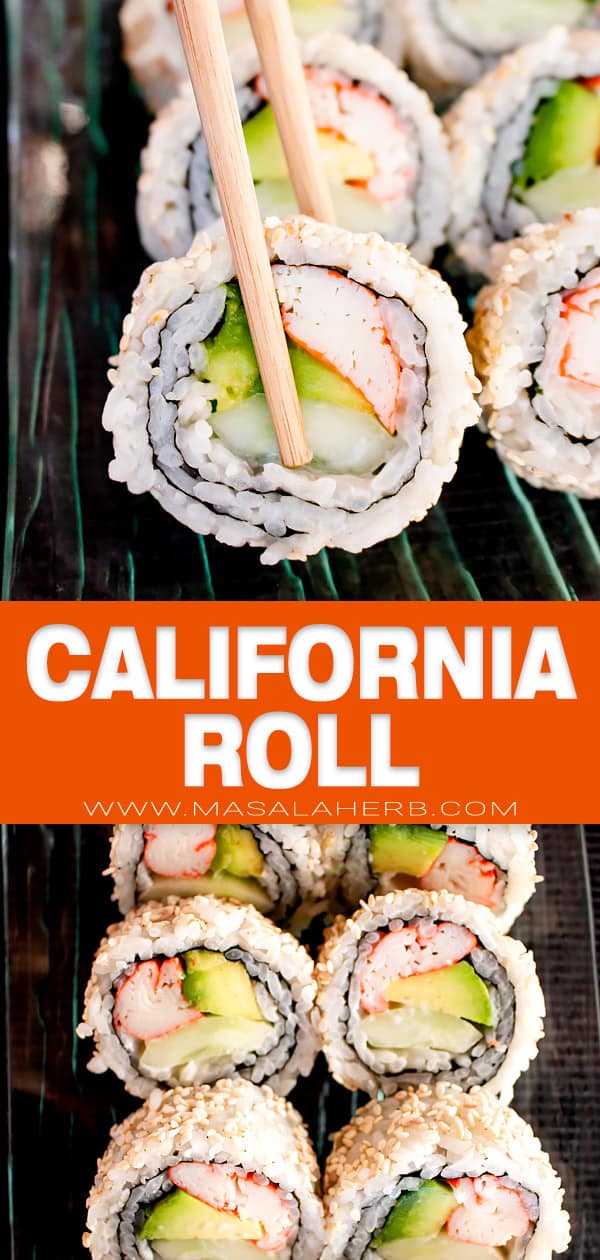 Global Food Recipes
with Spices and Herbs
Free E-Book available for a limited time. Grab yours now and get instantly inspired!
📖 Recipe
California Roll Sushi Recipe
Homemade california roll sushi is a an inside-out maki sushi made with imitation crab.
Print
Pin
Rate
Instructions
Cut avocado into thinner slices. Peel the cucumber and cut into half lengthwise.

Place your nori seaweed on your Sushi mat. Use a sushi mat wrapped in plastic so that the sushi won't stick.

Spread almost half of your cooked (keep about 2-3 Tablespoons aside) rice all over your nori seaweed. The rice has to cover the seaweed completely and it needs to be an even layer.

Turn the rice covered seaweed and spread the 2-3 Tablespoons of rice over one half of your seaweed, but keep about 1 inch or 2-centimeter distance from the bottom end of your seaweed. Spread it out to an even layer.

Pour mayonnaise in one line in the center of the rice.

Place a cucumber half over the mayonnaise and arrange 3 avocado slices on that in one line.

Place 3 surimi in the center in one line.

Take the seaweed with the toppings to the border of your plastic-wrapped mat, hold with both hands and start to roll in your sushi.

Continue to roll in your sushi and press down with both hands to create a tight wrap. Roll until you have a tight sushi roll

Place sushi roll on one side of your mat and sprinkle sesame seeds all over the rest of the mat.

Roll so that the inside out sushi is picking up the sesame seeds and the roll is completely covered with sesame seeds.

Take the sushi from the bamboo mat and cut into 1 inch or 2 centimeter thick slices or so that you are left with 8 thick slices.

Arrange the california roll on a serving plate and serve with soya wasabi dipping options and some pickled sliced ginger.
Notes
Use cooked sushi rice only and please follow my recipe to make sushi rice.
Surimi is also called imitation crab meat. You can use crab meat too or cooked shrimp.
Nori are seaweed sheets. Use unflavored plain maki sushi nori seaweed sheets to make this recipe.
Japanese sushi is made with Japanese mayonnaise. It tastes a bit different from American mayonnaise but you can use that too as a substitution. See my Japanese mayo recipe on how to turn American mayo into a Japanese flavored mayo.
Use black or white sesame seeds or both together.
It's important to roll in the sushi slowly and as tight as possible. Take your time and press carefully down with both hands while rolling in.
Nutrition
Nutrition Facts
California Roll Sushi Recipe
Amount Per Serving
Calories 681
Calories from Fat 297
% Daily Value*
Fat 33g51%
Cholesterol 12mg4%
Sodium 214mg9%
Potassium 556mg16%
Carbohydrates 86g29%
Protein 10g20%
Vitamin A 181IU4%
Vitamin C 10mg12%
Calcium 115mg12%
Iron 3mg17%
* Percent Daily Values are based on a 2000 calorie diet.