Philadelphia roll with a sushi rice cucumber avocado cream cheese filling and an outer sushi rice salmon layer.
Philadelphia roll is currently a popular creamy inside-out sushi in the west.
This recipe is all yours if you love Japanese sushi!
Global Food Recipes
with Spices and Herbs
Free E-Book available for a limited time. Grab yours now and get instantly inspired!
Jump to:
📕 What's a Philadelphia roll?
The Philadelphia roll is a sushi roll inspired by traditional Japanese maki sushi.
It's a Western-style sushi variation derived from the first-ever created inside-out sushi, the California roll.
Rice is on the inside and outside, with the nori sheet (edible algae) in between.
The filling of the Philadelphia roll comes close to the salmon roll but what makes this sushi so special and popular is the addition of cream cheese. Also, the salmon is not on the inside but rather on the outside
The name Philadephia roll was inspired by the most famous cream cheese brand in the world.
I and my Japanese food expert Momoko shared some more sushi recipes, including the Rainbow roll, Boston Roll, Avocado Cucumber Beet Mango Roll and the Dragon Roll.
🍣 Ingredients
You will need 7 ingredients to make this sushi from scratch at home.
This is an overview, the complete recipe with detailed ingredients is located in the recipe card below.
Nori Seaweed
Cream Cheese
Salmon - raw sashimi grade quality salmon filet OR you can use smoked salmon too if you prefer.
Avocado - not too soft, nor too hard, just right.
Cucumber
Sesame Seeds - I like to use a combination of black and white
You can turn your Philadelphia roll spicy by adding some sriracha or another hot sauce such as tabasco mixed into the cream cheese.
🔪 How to make it?
Here is a quick overview of how to make your own Philadelphia roll. That should give you an idea!
The full recipe instructions are located in the recipe card below with US and metric measurements.
Step 1
Prep and slice avocado, cucumber, and salmon. Keep cooked rice ready.
Step 2
Spread most of your sushi rice over your nori sheet. It should stick.
Turn around and use the remaining rice on the other side. Keeping about ½-1 inch or 1-2 cm empty from the top and down border.
Step 3
Pour a line of cream cheese over the rice.
Place and arrange cut avocado and cucumber over the cream cheese.
Step 4
Roll and press down sushi roll gently with both hands to form a tight maki roll.
Step 5
Arrange salmon slices over sushi roll and shape it with a 2nd sushi mat.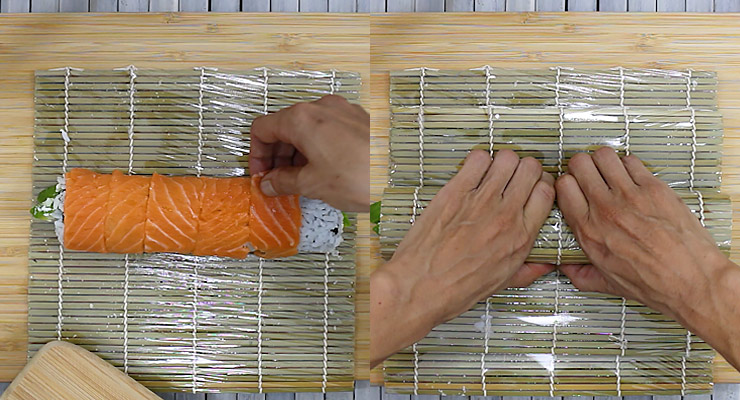 Step 6
Cut your sushi with a clean knife into slices. Rinse with water in between to cut slices easily.
🍴 Serving
I love my Philadelphia roll slices dipped in a blend of soy sauce and wasabi or with a ponzu sauce.
Pickled Japanese ginger is a must-have, as it cleanses your palate after each bite and it also enhances the whole sushi experience.
You can always serve the sushi with other sushi varieties or with a simple Asian-inspired salad.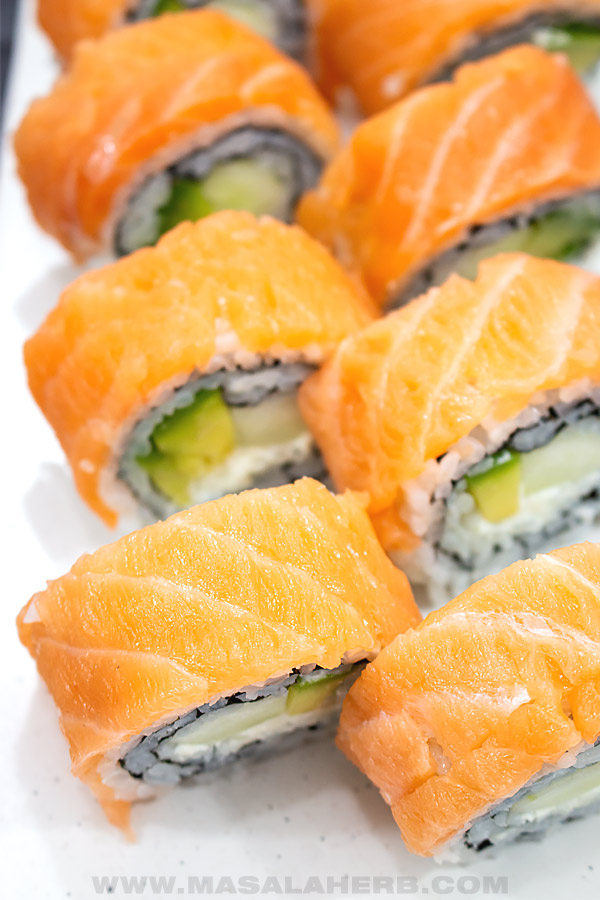 💭 FAQs
How much sushi rice do you need per Philadelphia roll?
You will need about 1 cup cooked and prepared sushi rice to make this sushi roll. Please follow our instructions to make sushi rice from scratch to get rice that sticks.
Can you roll without a mat?
No, you can't roll an inside-out sushi without a mat. The roll is sticky with the salmon on the outer side, and a sushi mat is required to roll a proper tight roll. Or else your roll won't be a roll.
Why do you wrap your bamboo mat in a plastic sheet?
Inside-out sushis have sticky rice on the outside and inside. The plastic on the map helps in rolling such sushi variations with ease. Or else the outer ingredients will get stuck in the mat and you will struggle to roll a tight even roll.
How to make a tight roll?
Roll slowly in with both hands while pressing down gently and equally. The pressure will make it all stick together, with the sticky rice and cream cheese keeping it all glued. Continue to roll in while pressing down until you have a tight roll sitting in front of you. A little practice and time and you will be a sushi master!
How to cut clean Philadelphia roll slices?
Use a sharp large knife. A sushi roll is usually cut into 8 even sizes, so either start at the center to get it right or envision when to cut each slice in advance. With a clean stroke cut each slice without moving the slices too much (or else the cream cheese will get smudged). We recommend cleaning your knife with some water after each slice has been cut, or else it will start to stick and it will get harder to cut slices.
Global Food Recipes
with Spices and Herbs
Free E-Book available for a limited time. Grab yours now and get instantly inspired!
📖 Recipe
Philadelphia Roll Sushi Recipe
Philadelphia roll with a sushi rice cucumber avocado cream cheese filling and an outer sushi rice salmon layer.
Print
Pin
Rate
Instructions
Prep Ingredients
Cut avocado into thinner slices. Peel the cucumber and cut it into quarter lengthwise.

Slice salmon fillet into thin slices. The thickness should be that of a banana skin. You need 6 pieces, each about 1-1.5 inches broad/ ~2 cm.
Prepare sushi
Place your nori seaweed on your Sushi mat. Use a sushi mat wrapped in plastic so that the sushi won't stick.

Spread almost all of your cooked (keep about 2-3 Tablespoons aside) rice all over your nori seaweed. The rice has to cover the seaweed completely and it needs to be an even layer. Stick it n the nori with your fingers.

Turn the rice covered seaweed and spread the 2-3 Tablespoons of rice over one half of your seaweed, but keep about 1 inch or 2-centimeter distance from the bottom end of your seaweed. Spread it out to an even layer.

Spread cream cheese in one line in the center of the rice.

Place cucumber over the cream cheese and arrange 3 avocado slices on that in one line.

Take the seaweed with the toppings to the border of your plastic-wrapped mat, hold with both hands and start to roll in your sushi.

Continue to roll in your sushi and press down with both hands to create a tight wrap. Roll until you have a tight sushi roll

Arrange salmon slices over the sushi roll to create a topping.

Press down with another sushi mat to mold the roll and so that the salmon sticks on the sushi.

Take the sushi from the bamboo mat and cut into 1 inch or 2 centimeter thick slices or so that you are left with 8 thick slices.

Arrange the philadelphia roll on a serving plate and serve with soya wasabi dipping options and some pickled sliced ginger.
Notes
Wrap your sushi mat into a clean wrap.
Use cooked sushi rice only and please follow my recipe to make sushi rice.
Use fresh raw sashimi-grade salmon filet. If you don't want raw fish, use a smoked cured salmon instead.
Nori is seaweed. Use unflavored plain maki sushi nori seaweed sheets to make this recipe.
It's important to roll in the sushi slowly and as tight as possible. Take your time and press carefully down with both hands while rolling in.
Nutrition
Nutrition Facts
Philadelphia Roll Sushi Recipe
Amount Per Serving
Calories 1149
Calories from Fat 288
% Daily Value*
Fat 32g49%
Cholesterol 109mg36%
Sodium 149mg6%
Potassium 1621mg46%
Carbohydrates 163g54%
Protein 50g100%
Vitamin A 484IU10%
Vitamin C 13mg16%
Calcium 85mg9%
Iron 5mg28%
* Percent Daily Values are based on a 2000 calorie diet.