A basic japanese sushi rice recipe. Use the rice for your sushi or to serve with japanese curry.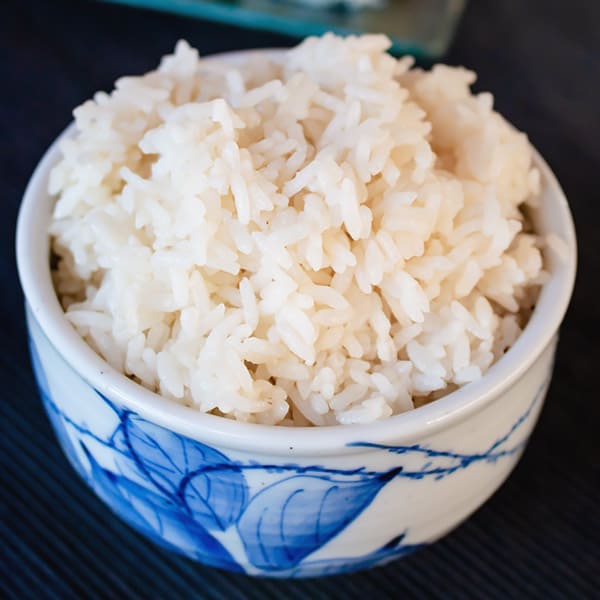 A practical tutorial on how to make sushi rice from scratch with basic ingredients.
Japanese sushi takeaway recipe for at home. Everything you need to know to succeed easily!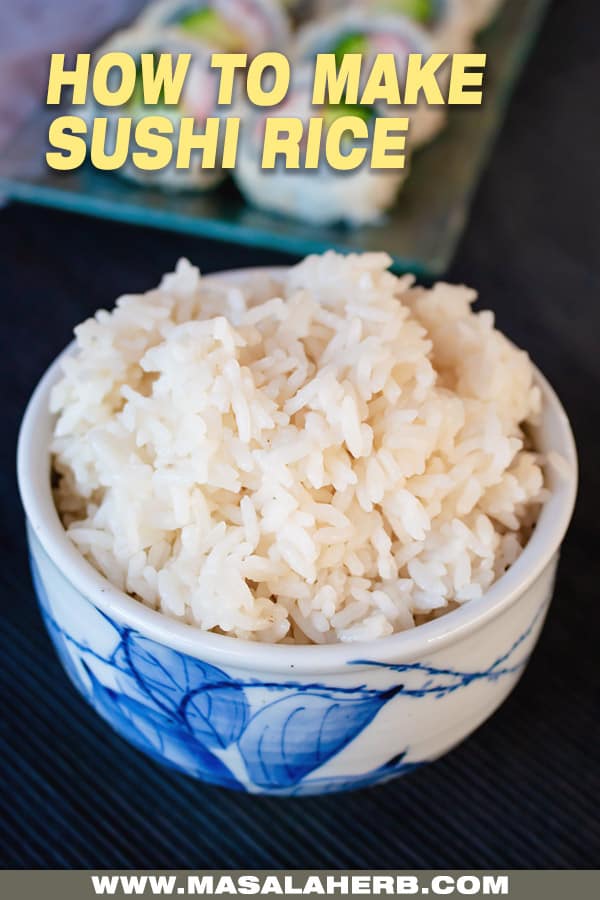 Global Food Recipes
with Spices and Herbs
Free E-Book available for a limited time. Grab yours now and get instantly inspired!
This sushi rice recipe is part of our Japanese food series, which includes a selection of inside out sushi rolls.
I brought in a Japanese food expert. She runs a sushi takeaway and this is her authentic family recipe.
Below you will find a detailed tutorial with video on how to make sushi rice for your next homemade sushi.
Jump to:
📕 What is Sushi Rice?
Rice used in Japanese Sushi rolls, is called sushi rice.
Sushi rice is a translucent medium grain or short grain round rice variety from Japan.
Its traditional use goes beyond sushi, as it is for example also served with Japanese curries or used to make sake (alcoholic beverage).
🛍️ What are some great rice brands to buy?
Sushi rice is known as Sumeshi in Japanese and if you want to make sushi at home, you will need to buy this rice.
We recommend you get either Nishiki Rice, Lundberg or Kokuho Rose.
Also, brown sushi rice is an option. It's healthier but harder to get and it will take longer to cook through.
If you can't get sushi rice for whatever reason, you can try to use other medium or short grain rice varieties but the result won't be the same (don't say I didn't warn you).
In that rare case, you can try to substitute with arborio (risotto) rice (but I don't recommend it).
🔪 How to make it?
Sushi Rice preparation follows a set of steps and each has it's purpose, so don't skip any.
Below you will see an overview of the preparation to help you decide if you want to make it.
You won't need a rice cooker and kombu for this sushi rice recipe.
Watch the video and get the complete recipe with ingredients and instructions at the bottom of this post.
Step 1
Rinse the rice a few times until the water is clear. That way you get rid of excess starches.
Strain rice and place into a cooking pot. Cover with water and let the rice soak. That way the rice will cook through better.
Step 2
Cook rice and leave to cool after the grains have cooked.
Prepare vinegar seasoning by combining ingredients.
Step 3
Keep a handai or flat large container ready and place rice into it.
Pour vinegar seasoning over the rice.
Mix rice with a large spoon (or sushi rice spatula) and spread it out while mixing so that the rice cools down.
Cover with a wet cotton kitchen cloth.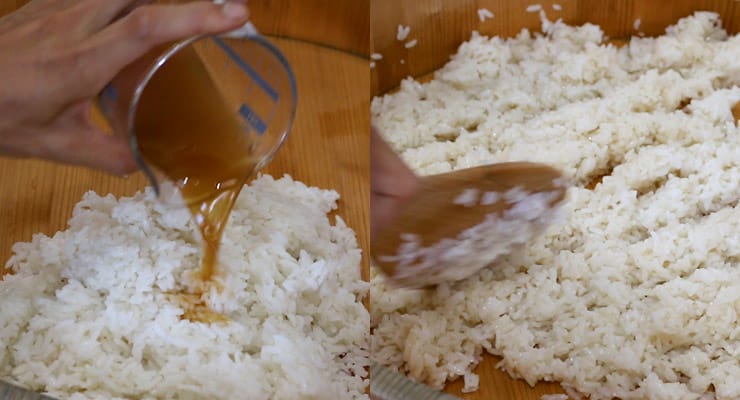 💡 Cooking tips
If you overcook your rice, it will get too sticky and even mushy. You can't fix that.
Undercooked rice is slightly hard. In that case, cook the rice a little longer until it's right.
🍱 Storing options
Prepare your rice as per the recipe.
When the rice has cooled, you can either choose to use it in your sushi or you can keep it for later.
Cooked Sushi rice can be prepared in advance.
There is a trick to storing your rice in the fridge for up to one day!
You can keep your cooked rice wrapped in a clean wet muslin/cheesecloth and in a container.
The wet cloth prevents the rice from getting hard in the fridge.
So you just have to make sure that the cloth remains damp all the time. It shouldn't be soaked.
Keeping the rice in a wood container helps in keeping the rice the right consistency. The rice won't turn hard and it won't get mushy or soggy.
Cooked Sushi rice can't be frozen. It doesn't thaw well.
📜 Flavor idea
You can flavor your sushi rice with umami with the help of kombu kelp.
To do that you need to....
Keep a piece of kombu to soak in the vinegar
Heat up vinegar and kombu to release flavors.
Simmer, don't boil, for a few minutes.
Take from heat, pick out kombu and discard. Allow the vinegar to cool.
Use flavored vinegar as per the recipe.
🥣 Uses
Sushi rice can be used to make sushi of course but it has other uses too.
The same rice is served with Japanese curry, such as katsu curry.
I love cooked sushi rice with furikake topped. My favorite furikake seasoning is the salmon furikake and the wakame furikake (a seaweed).
You can shape rice balls too and onigiris.
To make onigiris, skip adding the salt to the vinegar when you prepare the rice and add the salt to your hands when you are about to shape the onigiris.
💭 FAQs
Can I use regular vinegar?
Try to use rice vinegar because it's not that strong in flavor and the flavors work well with the rice. You can also use regular vinegar and thin it down with water to make it less intense.
What's the sushi rice water ratio?
If your rice is dry use 3 cups rice with 4 cups water. The normal ratio in Japan is 3 x 3 cups. If you are not sure follow the rice package instructions for the water quantity. Every brand is a bit different.
How much sushi rice per person?
3 cups uncooked rice = 6 sushi rolls. One sushi roll serves one person.
🧰 Kitchen Tools
The wooden tub like flat container is called a handai or hangiri.
It's your best option to make sushi rice because the wood takes in excess rice waters. It keeps the rice the right consistency.
So, if you are going to make more sushi at home in the future. I recommend you get a medium-sized handai.
If you are only going to make it once in a while, use a flat large bowl like container instead.
Such as a pan to mix your rice with the seasoning and so that it cools off properly.
The sushi rice peddal is another great handy tool. It's large, made of wood and helps to spread out the cooling freshly seasoned rice.
👁️ More Japanese Food Ideas
Global Food Recipes
with Spices and Herbs
Free E-Book available for a limited time. Grab yours now and get instantly inspired!
📖 Recipe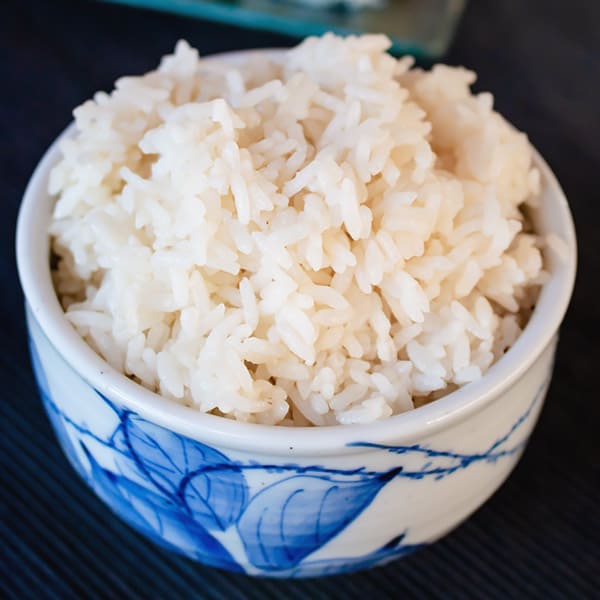 Sushi Rice Recipe
A basic japanese sushi rice recipe. Use the rice for your sushi or to serve with japanese curry.
Print
Pin
Rate
Instructions
Rinse your rice with clear water to get rid of excess starch. It will prevent the rice from sticking too much and you will get rid of the rice smell. Rinse rice 3-4 times until water is clear and then strain.

Place rice into cooking pot and cover with water quantity mentioned in the ingredients. Leave rice to soak for about 15 minutes.

Cook rice in the same pot with the same water. Cook first on high heat for 10 minutes, then turn down a slow flame and cook for anotehr 12-15 minutes.

Leave the rice to cool for about 15 minutes after cooking. There shouldn't be any water left in the pot because the rice absorbed it.

Prepare the vinegar seasoning by combining vinegar with the brown sugar and salt.

Keep a handai or large flat container ready and place still hot rice into that container.

Pour vinegar seaosning over the rice and mix with a large peddal or spoon. Spread out the rice so that it cools too. You can use the help of a fan too while mixing it all in the container.

Cover and/or wrap cooled rice with a clean wet kitchen cotton cloth (muslin or cheese cloth).

Use it to make sushi or store as per instructions in the post.
Notes
Adjust the water quantity to your needs. Dry rice requires 4 cups of water with 3 cups of rice. In Japan, the ratio tends to be 3 x 3. Check out the rice package instructions to get the water quantity right. Not all rice brands are the same.
Sugar Salt and vinegar balance each other in the recipe. It adds flavor and gives the rice a nice shine.
For flavored kombu version see post for instructions.
½ cup dry rice = 1 sushi portion.
Nutrition
Nutrition Facts
Sushi Rice Recipe
Amount Per Serving
Calories 381
Calories from Fat 9
% Daily Value*
Fat 1g2%
Sodium 1180mg49%
Potassium 83mg2%
Carbohydrates 85g28%
Protein 6g12%
Calcium 23mg2%
Iron 2mg11%
* Percent Daily Values are based on a 2000 calorie diet.