Yakisoba Sauce prepared from scratch at home. This sauce comes handy if you are out of store-bought yakisoba sauce or if you want to make your own and control what goes into it.
Homemade yakisoba sauce recipe to make this stir-fry sauce at home from scratch.
It's an inexpensive solution to make your own yakisoba stir-fry sauce. In the style of the popular Otafuku yakisoba sauce brand.
Global Food Recipes
with Spices and Herbs
Free E-Book available for a limited time. Grab yours now and get instantly inspired!
Jump to:
📕 What is it?
Yakisoba sauce is used as a stir-fry sauce in a popular Japanese noodle dish called Yakisoba.
The sauce is the flavoring and makes it a true yakisoba noodle dish.
Yakisoba noodles are stir-fried in a wok or large pan with other ingredients such as vegetables and a protein or two.
We used this sauce to make a chicken yakisoba meal, for example, but truthfully, you can make your own yakisoba if you have this super useful sauce at hand.
You could add tofu, eggs, various veggies, pork, and seafoods such as shrimp and squids.
Yakisoba noodle dishes appeared increasingly in Japan in the 60s. The inspiration came from Chinese Chow Mein meals and other stir-fried noodle recipes.
Yaki means to fry or grill and soba are specific buckwheat noodles. BUT yakisoba noodles are not buckwheat noodles but rather Chinese style egg noodles. The name soba was meant to mean noodles in general in Japanese when this dish took off and soba noodles are not used to make yakisoba.
In Japan, the sauce tends to be thicker, milder, sweeter with a touch more umami. The Western version of a yakisoba sauce is more liquid and perhaps a bit more sour.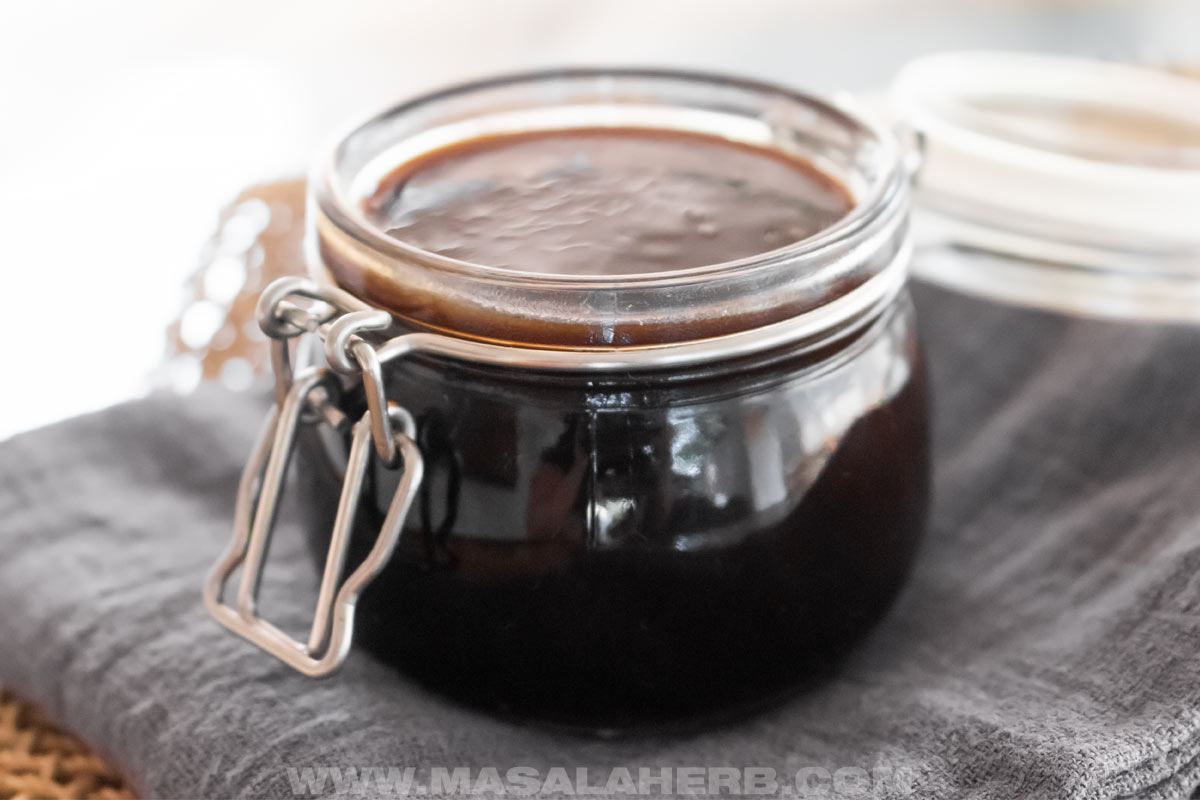 🍶 Ingredients
Momoko shared her homemade yakisoba sauce recipe, which is the one that her family uses in Japan. The sauce is packed with flavor and, as it's a Japanese recipe and not a Western recipe, it doesn't include vinegar.
The recipe is for a small jar so that you can keep and store it in the fridge to use it in the coming weeks and months.
US and metric measurements are located further below in the recipe card with the how-to video. This is just a quick overview to help you get organized.
You will need the following ingredients to make this:
Sugar – can be regular sugar or brown sugar.
Soy Sauce – Liquid basic Kikkoman style soy sauce if you want this to be gluten-free, use gluten-free soy sauce.
Oyster Sauce – good quality thick variation.
Worcestershire Sauce – for that extra delicious touch.
Ketchup – to make the sauce thicker and add acidity.
A similar and simplified version of this is my 3 ingredient stir-fry sauce.
🔪 How to make it?
Take a look at how this sauce recipe comes together. You will find all the detailed instructions in the recipe card further below.
Step 1
Place all the sauce ingredients into a bowl or tall mixing container.
Step 2
Mix all the ingredients well together to a well combined sauce.
🍱 Storing
You can use the sauce as it right after mixing it together to prepare a yakisoba noodle dish, or you can store it.
To store, keep in a small clean jar and place it in a cool place such as your fridge. It will be good for at least 4-6 weeks in your fridge.
You can also choose to freeze it in small batches. You will need about 6 tablespoon of yakisoba sauce for a noodle dish that serves 2 to 3.
If you want to freeze it, pour the sauce into clean ice cube trays and freeze hard. Once that is done, place the yakisoba sauce ice cubes into a zip lock bag and store in your freezer.
You can take out the sauce ice cubes that you require and thaw them overnight in the fridge. Alternatively, they can be thrown into the stir-frying process in their frozen state, but that's going to sizzle a lot and might mess up the sauce flavors. The slow thawing option is better!
💡 More Uses
Think outside the box, this sauce can be used in a modern setting by adding it to various meals to add flavour.
Just add a few Tablespoons of the sauce during the stir-frying process.
Fried rice – as in chicken fried rice, shrimp fried rice and even fried rice with pineapple. Just switch the regular stir-frying sauce used in the recipe with the yakisoba sauce.
Vegetable stir fries – Stir fry vegetables such as green cabbage, broccoli, bok choy, carrots, mini corn, snap peas in a wok or large skillet and add a few tablespoons of your yakisoba sauce.
Other egg noodle or rice noodle dishes – Prepare your usual stir-fry noodles such as chow mein and add the sauce during the stir-frying process.
Okonomiyaki (wheat flour pancake) – Add some of the sauce during the cooking process or as a topping.
Takoyaki (Octopus balls) – Normally served with takoyaki sauce but you can go wild by adding some yakisoba sauce.
Beef Steak - Think hibachi style steak toppings.
💭 FAQs
What are some other Japanese noodle dishes?
Another similar noodle dish in Japan is Yaki Udon (Stir-fried Udon noodles) and Ramen Noodles as in Ramen soups.
Is Yakisoba Sauce the same as Teriyaki Sauce?
No, Teriyaki sauce is used to coat and make teriyaki chicken, and it doesn't contain oyster sauce and Worcestershire sauce or ketchup. Japanese teriyaki sauce contains sweet mirin or sake.
Are there other similar Japanese Sauces?
The yakisoba sauce resembles tonkatsu or okonomiyaki sauce, which have similar ingredients.
What can I use instead of oyster sauce in yakisoba?
Oyster sauce can only be substituted with a vegan homemade shiitake oyster sauce version. No other ingredient is the same as oyster sauce. If you really can't get oyster sauce, skip it, but the sauce will turn out thinner and not that rich. Furthermore, Worcestershire is a main ingredient, and it adds plenty of flavors to your sauce.
What does yakisoba sauce taste like?
It tastes, umami rich, tangy, and sweet at the same time. Every ingredient added creates a well-balanced flavor profile, making it a must-have for all Asian noodle dish lovers!
👁️ Condiments Japanese Recipes:
Global Food Recipes
with Spices and Herbs
Free E-Book available for a limited time. Grab yours now and get instantly inspired!
📖 Recipe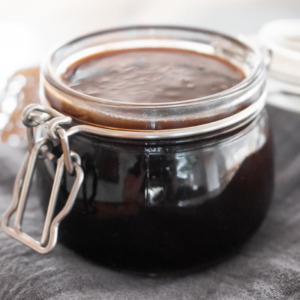 Homemade Yakisoba Sauce Recipe
Yakisoba Sauce prepared from scratch at home. This sauce comes handy if you are out of store-bought yakisoba sauce or if you want to make your own and control what goes into it.
Print
Pin
Rate
Instructions
In a tall mixing jar or measurement cup, add the sugar.

Stir to the sugar the soy sauce, ketchup, oyster sauce and Worcestershire sauce.

2 Tablespoon Soy Sauce,

2 Tablespoon Ketchup,

6 Tablespoon Oyster Sauce,

9 Tablespoon Worcestershire Sauce

Mix it all together with a whisk. The sugar will take time to dissolve, so mix it vigorously until well combined.

Use as a stir-fry sauce with Japanese Yakisoba noodles or other Japanese or Asian meals. See post for ideas to use. OR store in a jar in your fridge and use within 4–6 weeks.
Notes
You can use white or brown sugar or even cane sugar such as jaggery or panela.
To make this gluten-free use gluten-free soy sauce.
To make this vegan use a vegan oyster sauce substitution.
If you can't get oyster sauce, skip it or make the previously mentioned substitution.
To make this low sodium use low sodium soy sauce and Worcestershire sauce.
Base Recipe quantity: 7 ounces/ 200 grams, which is a small jar (as seen in the pictures).
The sauce keeps well for 4–6 weeks in your fridge.
You can make a double batch and store in the freezer in ice cube trays and then in zip lock bags. These can be left to thaw overnight, and then you can just use them as needed in your cooking.
Equipment
1 Tall jar or container

to mix
Nutrition
Nutrition Facts
Homemade Yakisoba Sauce Recipe
Amount Per Serving (1 Tbsp)
Calories 16
% Daily Value*
Fat 0.03g0%
Polyunsaturated Fat 0.01g
Monounsaturated Fat 0.01g
Sodium 374mg16%
Potassium 87mg2%
Carbohydrates 4g1%
Protein 0.3g1%
Vitamin A 16IU0%
Vitamin C 1mg1%
Calcium 12mg1%
Iron 1mg6%
* Percent Daily Values are based on a 2000 calorie diet.