Just 3 ingredients to make this brilliant stir-fry sauce at home from scratch. It's budget-friendly, calls for common ingredients, the flavors are well-balanced, it's fool-proof and can be used in your favorite Asian stir fries.
A quick 3 Ingredient Stir Fry Sauce to make for your favorite Asian homemade stir fries.
This simple stir-fry sauce can be used just like any other stir-fry sauce and can replace those as well.
Jump to:
📕 What is this Stir Fry Sauce?
Over the years, I came up with an easy stir-fry sauce recipe which only required 3 ingredients.
This stir-fry sauce was inspired by Asian noodle recipes in India, where they like to use 3 main ingredients for their stir-fry sauces.
I thought this to be ingenious, especially because the ingredients are super simple and all over available.
Therefore, this stir-fry sauce is prepared with 3 budget-friendly ingredients. The sauce is on the thinner side and mixes into your cooking ingredients really well.
It's not spicy hot, but rather sweet!
Just mix it all together within 5 minutes, and you are good to add it to your meal. I show you in this recipe how.
🥣 Ingredients
Yes, this stir-fry recipe truly calls for 3 ingredients! Here is the overview, adjustable US and metric measurement details can be found further below in the recipe card.
I have been using Ketchup for years in my stir fries instead of Sriracha hot sauce because we like less heat. Ketchup has a similar consistency and color like Sriracha.
Reduce sodium content by getting a low sodium soy sauce.
🔪 How to make it?
Luckily, this 3 ingredients stir-fry sauce comes together effortlessly!
But just in case, here is an overview. Don't forget to get and print the recipe card (located below)!
Step 1
Place ketchup, soy sauce and vinegar in a bowl or small bottle or mason jar.
Step 2
If you use a bowl: Whisk it all together to a smooth stir-fry sauce.
If you use a bottle: Close the bottle or mason jar with a lid and shake the sauce well.
Step 3
Pour sauce over your stir-fry to use.
💡 Ideas to use this Stir Fry Sauce
This sauce is so versatile, that you can use it in most Asian themed easy meals.
In my Asian recipes, skip the stir-fry sauce ingredients and use THIS stir-fry sauce instead.
This includes everyone's favorite stir fry recipes, sides and also fried noodles and fried rice dishes. Here are some examples where you can use this stir-fry sauces effectively.
Simply skip making the stir-fry sauce in these recipes and substitute with this 3-ingredient stir-fry sauce instead.
Mixed Vegetable Stir Fry
Cooked Rice – Add some for a simple, lady day, budget fried rice.
You can try adding any quantity of this homemade stir fry sauce to your wok or pan veggies or meats.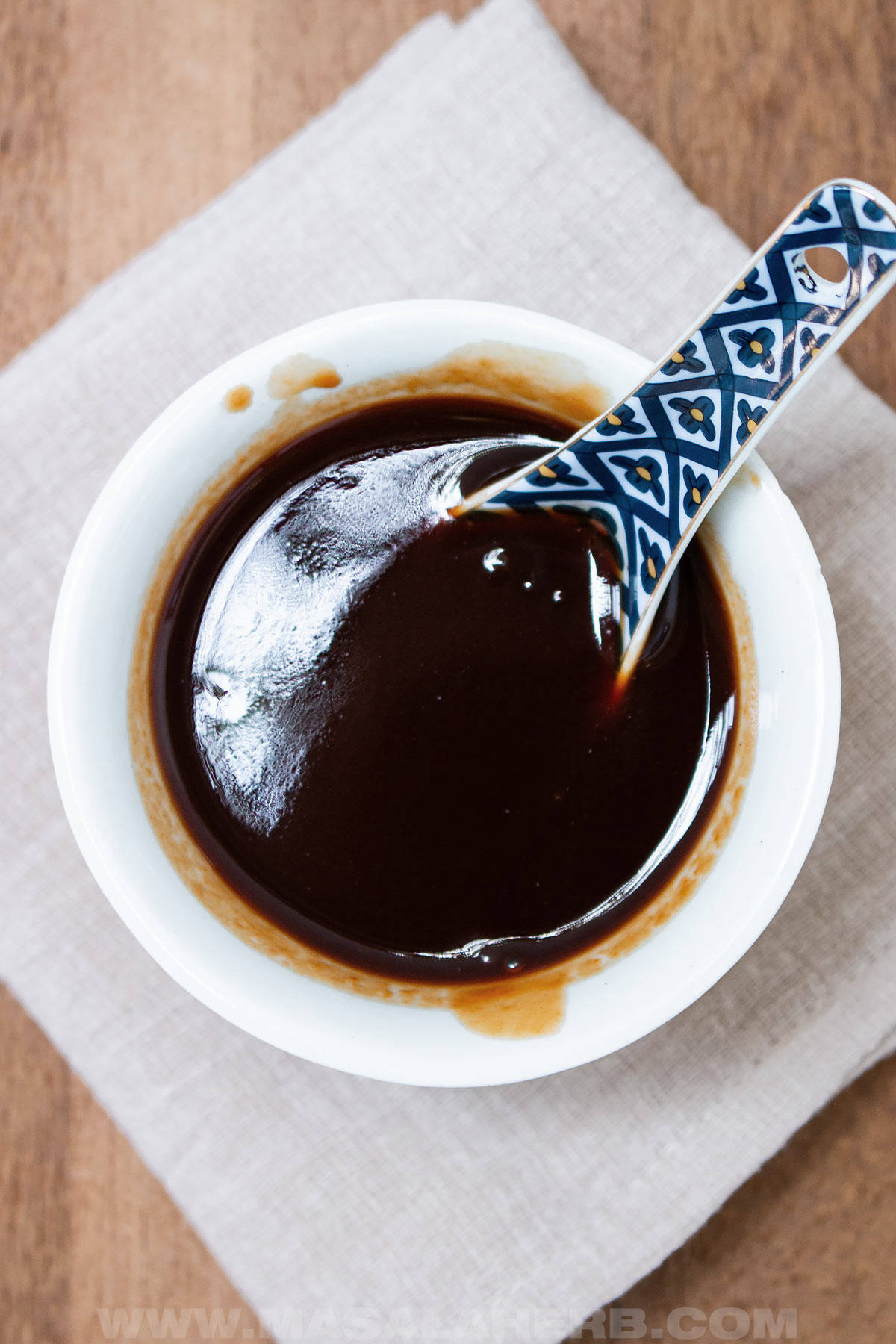 This will enhance the taste and flavor considerably! Here are some simple stir fry recipes.
Broccoli stir fry
Pork stir fry
Beef stir fry
Mixed seafood stir fry
Or cook some of these ingredients with a few Tablespoons of this 3 ingredient stir-fry sauce in a wok over a medium-high heat setting. That makes for a quick low-carb and vegan stir fry!
Sesame Oil (or peanut oil, or avocado oil or olive oil will do too)
Green onions
Ginger and garlic
Snow peas or snap peas
Water chestnuts
Tofu
Mushrooms
Bell Peppers
Carrots
Mini corn
Red pepper flakes (optional for heat and as a garnish)
Crushed peanuts (as a crunchy topping)
Sesame seeds (as a topping)
Fell free to experiment on your own with ingredients and recipes! We will be excited about your food discoveries.
🍱 Storing
This recipe can be easily doubled.
Store extras or leftovers in a small container, mason jar or bottle in your fridge.
Even if you leave it out, this condiment will keep well because it contains food preserving ingredients such as soy sauce and vinegar.
I'd be just careful in a hot, humid climate and for food safety store your sauce simply in the fridge.
👁️ More Homemade Asian Stir Fry Sauces
💭 FAQs
What can I use instead of soy sauce in a stir-fry?
You can switch Chinese soy sauce with liquid aminos or mushroom soy sauce or Japanese tamari sauce. If you must, you may use Worcestershire sauce instead of soy sauce too, but the stir-fry consistency will turn out much thicker and the end flavor will turn out differently.
What can I add to this simple stir-fry sauce to add more flavor?
You can also add a Teaspoon of sugar such as brown sugar, or sriracha sauce or any other hot sauce such as Tabasco to this sauce to pimp it up. Furthermore, fish sauce and oyster sauce add a lot of flavor to your stir-fry sauce. If you need it a bit tart, add some tamarin paste (Thai tamarind paste is preferred, but Indian tamarind paste in small quantities works too).
📖 Recipe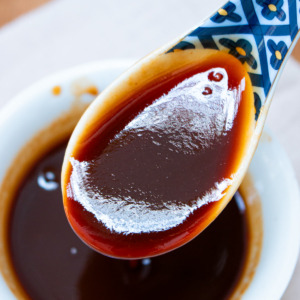 3 Ingredient Stir Fry Sauce Recipe
Just 3 ingredients to make this brilliant stir-fry sauce at home from scratch. It's budget-friendly, calls for common ingredients, the flavors are well-balanced, it's fool-proof and can be used in your favorite Asian stir fries.
Print
Pin
Rate
Ingredients
Instructions
In a small bowl, add the Ketchup, Soy Sauce and Vinegar.

3 Tablespoon Ketchup,

3 Tablespoon Soy Sauce,

2 Teapoon Vinegar

Mix it all together to a smooth, well blended stir-fry sauce.

Use in your stir fries as per recipe instructions. For example, pour in the sauce when the recipe calls for the stir-fry sauce. This is usually done during the stir-fry process when you are stir cooking veggies or meats. The sauce is poured over the ingredients in the hot wok or pan and is then mixed in.
Nutrition
Nutrition Facts
3 Ingredient Stir Fry Sauce Recipe
Amount Per Serving
Calories 37
Calories from Fat 1
% Daily Value*
Fat 0.1g0%
Polyunsaturated Fat 0.05g
Monounsaturated Fat 0.01g
Sodium 1068mg45%
Potassium 148mg4%
Carbohydrates 8g3%
Protein 2g4%
Vitamin A 115IU2%
Vitamin C 1mg1%
Calcium 11mg1%
Iron 0.4mg2%
* Percent Daily Values are based on a 2000 calorie diet.