DIY homemade Tamarind Paste from Tamarind fruit pulp. This paste can be stored easily and used for various dishes and drinks. You can prepare the following from scratch with tamarind pulp: Pad Thai Sauce, Worcestershire Sauce, HP Sauce, Meat Marination, Ketchup, Dipping Sauce, Tamarindo cold beverage, Cocktail, various Curries and more! Chef's around the world count tamarind paste to their secret food ingredients.
Tamarind Paste is a universal ingredient used in Asian, African, Caribbean, and South/Central American cooking.
You use it to build up curries, or stir-fry sauces, as part of a meat marination or in cold beverages.
I will teach you how to make Tamarind Paste which you can keep in your fridge for further use.
What is Tamarind?
Tamarind is a sour pulpy fruit.
Elongated and with visible pod sections, it is encased in a shell with the soft pulp around each seed.
The Pods turn out in different lengths, so sometimes you have one Tamarind with 2 pods and another with 5 and the longest in India up to 12 seeds.
The pods are first green and turn brown when mature, the pulp inside is mature when it turns red-brown on the inside.
The Tree grows in tropical and subtropical climate and the wood is known to be some of the toughest.
Fun fact, many wood mills do no accept or charge more for cutting tamarind wood because of the wood damages blades and machines.
Tamarind is actually originally from Africa and found it's way to Asia in time.
The plant was introduced by the Portuguese to South/Central America and Caribbeans.
India is the biggest producer of Tamarind, due to the fact that tamarind paste is a common and popular ingredient in the local cuisine.
What is Tamarind Paste?
Tamarind Paste is a clean paste of Tamarind pulp without impurities.
It's basically compressed tamarind pulp which can be more liquid or thick in consistency.
The Tamarind Paste is used in various cuisines around the world to enhance flavor.
It's a base ingredient for curries but also for popular sauces such as Pad Thai sauce, HP sauce, Worcestershire Sauce.
The fruity Tamarind Paste is considered a secret food ingredient for some people in their cooking.
The paste gives the food a sour and fruity touch.
Is there a substitute for Tamarind Paste?
Actually, the answer here would be no because nothing compares to the taste and consistency of Tamarind.
Yet you can use Lime juice instead of Tamarind Paste in certain food dishes.
It always depends on the recipe.
For example, a Worcestershire Sauce would never taste the same with lime juice instead of Tamarind Paste.
Besides Tamarind is used in beverages as well.
So for example in Mexico you have Tamarindo and if you substitute it with lime juice, it will of course not be the same...
So for some sauces, curries, marinations you may use lime juice or rice vinegar instead of Tamarind paste.
If you plan on cooking more Tamarind based dishes such as Tamarind glazed roasted chicken, then you will greatly benefit from making this tamarind paste at home!
Tamarind Paste Ingredients
Tamarind Paste only requires one main ingredient with some water making it a pure tamarind paste.
Eventually, there are variations where some people add some sugar or salt.
This is because often while Tamarind pulp is stored with salt to make it preserve longer in a shape of a ball.
Yet, if you make Tamarind paste from scratch you won't need to add salt or sugar to preserve the tamarind pulp because we will be heating up the tamarind paste to kill bacteria, so you will be able to store a plainly tasting Tamarind paste.
This paste keeps well in the fridge and is used further in sauces, dishes, and drinks.
Because it' s not salted or sweetened, you will be able to use the paste in all kinds of ways.
Commercially available Tamarind Paste always includes preservatives and is reduced and pressed into a very thick paste.
Those pastes tend to take longer to dissolve too, yet when you make your own you get to decide about the consistency.
In what form should you get the Tamarind?
Whole fruit pod with the tamarind pulp - This is the tedious way of doing things and should be your option only if you have a Tamarind tree in your garden (as I do). Don't buy whole Tamarind pods for that purpose form your grocery store!
The Pulp bits pressed together with seeds and fiber, packed in vacuum bags - You get those in your nearest Asian shop or in the Asian shelf section in the grocery store. These vacuumed tamarind pulp packets are not that expensive either when you consider that you can get a ¼ or ½ kg and make a paste of it. Cheaper then the ready-made sold paste.
Be aware that some sell packets of Tamarind pulp with fiber and seeds under the description of seedless tamarind paste!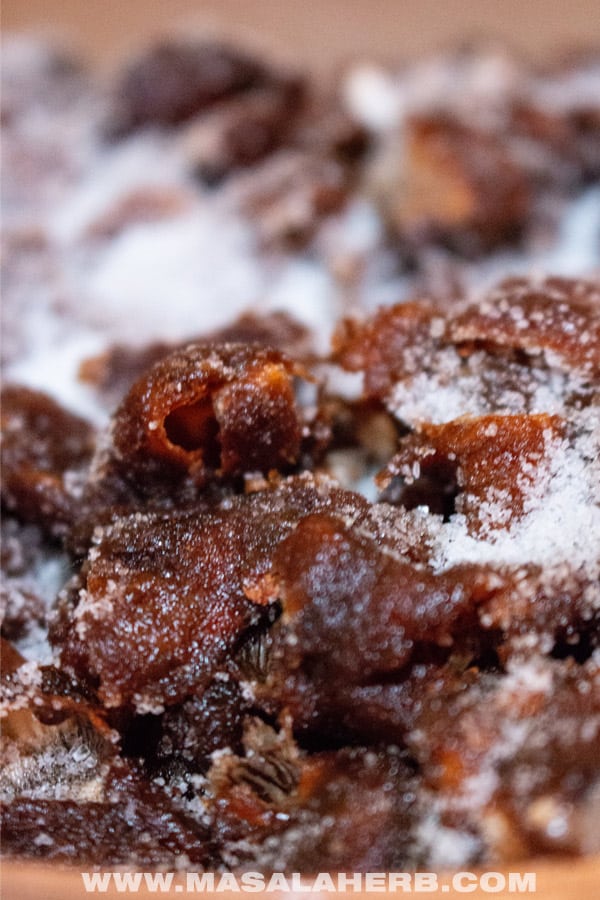 Peeled Tamarind salted and shaped into a ball to store for a longer period of time without processing it directly
Using Whole Tamarind Posts - How to ripen Tamarind?
To ripen Tamarind do the following:
Collect the Tamarind if possible raw and green (before insects, squirrels or monkeys have time to take a bite)
Place the Tamarind pods into the sun with the tamarind case unbroken. This way the pulp gets heated in the case with the natural sun rays hitting the pods. Leave them there for a longer period of time. We did that for 2 weeks at least.
Now comes the not so fun part (except if you are in the pension then this might just be fun). Take out the pulp with the seeds from the case as good and quick as possible. The Tamarind casing makes great manure! We keep the fiber and casing around trees, trees grow better that way.
At this point, people usually press all the tamarind pulp pieces together to save space. Some people mix salt in if they plan on storing it for a longer period of time to use it that way in their cooking or to process it at a later stage. You can press the tamarind together and keep what is need to make pulp.
Ripe Tamarind in the Shell but needs to sit in the sun to get darker in color so that tamarind gains flavor
How to make Tamarind Paste?
What you will need to do it separate all the fibers and seeds from the pulp so that you have a clean batch of pulp.
It's not rocket science, just a bit tedious when you do it for the first time and you are not used doing anything like that otherwise.
It can be long when you stand there in your kitchen pressing the tamarind pulp through a sieve, and yes you will use your fingers, but tamarind doesn't stain and goes off easily.
It's worth it to make your own batch of tamarind paste.
To make your life easier you will need to keep the Tamarind fruits bits in hot water for at least 30 minutes.
The longer you keep it the better.
You could eventually also add the tamarind pulp to an instant cooker or regular pressure cooker and cook it soft.
I like the conventional way better as it just involved leaving the pulp to soak so that it gets off the seeds and fibers easily.
Then you will need to work the tamarind bits with your hand by pressing the pulp.
Eventually, you will feel most of the pulp falling off the seed.
Some will still remain on the seed, so you can do a second run for that.
Take the pulp with fibers and seeds to a sieve and press through the pulp into a container below to collect the pure tamarind pulp.
Use a spatula and your hands to do this.
It will take some time but you will get there.
The fiber and seeds will still be covered with pulp so you can just take those for a second round so that the maximum of pulp comes off.
Then discard the seeds and fibers to your compost, it' s great manure!
The seeds are used in bigger industries to press out tamarind seed oil.
Now the Tamarind pulp will be heated up to kill any bacteria.
This is a must because you just worked through it with your hands and you don't know where the tamarind has been.
I like to use a non-stick PFOA-free Pan such as the Tefal pan to make life easier.
You can use a frying pan or saucepan, whatever works for you.
The heating up reduces also the paste.
It's up to you how pasty or liquid you want your Tamarind paste.
I like it more liquid but if you are short on space then you might want to reduce the Tamarind paste to a thicker consistency.
Next, keep your jar ready.
Keep in mind that we have created a sauce which needs to keep over a longer period of time, to do so we need to use sterilized jars and lids.
To sterilize your jar and lid keep in boiling hot water or in the oven (I do the water technique).
Store the Tamarind Paste in the fridge.
Tools to make Tamarind Paste easily from scratch:
Non-Stick PFOA-free Sauce Pan or frying pan to help you reduce and heat up the Tamarind paste
8 oz Jar with Lid to store the Tamarind Paste
Basic Home Canning Kit to help you sterilize and fill the Jar with the Tamarind Paste
Flexible Spatula to press the Tamarind through a large fine Mesh Sieve to get the job done.
Use The Tamarind Paste to make homemade:
Pad Thai sauce
Tamarindo Drink
Hp Sauce
Worcestershire Sauce
Curry dishes such as the basic coconut Sorak Curry
Related to the Tamarind Paste:
Dear Reader, How are you planning to use the Tamarind Paste?
Please feel free to share your thoughts and ideas with us in the comment section further below!
So you love SPICES and HERBS?
GET 5 FREE SEASONING LESSONS
Type in your email address below.
Including free access to the
Seasoning Members only Club!
Tamarind Paste - How to make Tamarind Paste
DIY homemade Tamarind Paste from Tamarind fruit pulp. This paste can be stored easily and used for various dishes and drinks. You can prepare the following from scratch with tamarind pulp: Pad Thai Sauce, Worcestershire Sauce, HP Sauce, Meat Marination, Ketchup, Dipping Sauce, Tamarindo cold beverage, Cocktail, various Curries and more! Chef's around the world count tamarind paste to their secret food ingredients.
Print
Pin
Rate
Ingredients
7

ounces

Tamarind Pulp

fiber and shell pieces

8.45

fluid ounce

Lukewarm Water

see note
Instructions
Grab a bowl and break your compressed Tamarind into smaller chunks. Add the hot water over it and let the tamarind soak for at least 30 minutes so that the pulp gets soft and detaches from the seed pod and other impurities.

Then mash your tamarind with your hands to help the pulp detach from the seeds and prepare a pot with a large fine sieve. Pour the tamarind into the sieve.

Now with a

spatula

press the tamarind pulp into the pot. The seeds and impurities will remain in the sieve.

Take out the impurities back to the bowl and add some more hot water (just a bit), mix and press through the

sieve

for the second time. As you will see a lot of tamarind pulp is left on the seeds and lot comes off when you press it through the second time.

Discard the seeds and impurities, they make great manure material for plants!

Place your

pot

with the cleared tamarind pulp/paste on the stove and heat up. The aim is to kill all bacteria and if you want you can reduce the paste to thicken it more.

Pour into a clean sterilized

jar

and store in the fridge for further use.
Notes
You can choose to use compressed packed tamarind or use fresh tamarind. See my post for more info.
Use 250 ml for the 1st soaking. The second pressing requires a small amount of hot water extra. (see video)
Use sterilized jars and lids to store tamarind paste to hold longer
Do not skip the cooking part, you need to kill the germs in the tamarind paste, therefore it needs to be heated up.
Nutrition
Nutrition Facts
Tamarind Paste - How to make Tamarind Paste
Amount Per Serving
Calories 474
Calories from Fat 9
% Daily Value*
Fat 1g2%
Sodium 68mg3%
Potassium 1246mg36%
Carbohydrates 124g41%
Protein 5g10%
Vitamin A 60IU1%
Vitamin C 6.9mg8%
Calcium 147mg15%
Iron 5.6mg31%
* Percent Daily Values are based on a 2000 calorie diet.