Rich and flavorful homemade ginger garlic paste for your Asian dishes.
Ginger Garlic paste is an absolute must-have if you love Indian/Asian cuisines.
Having the paste at hand saves time, especially when you're preparing a dish from scratch, and it instantly adds a ton of flavor.
Global Food Recipes
with Spices and Herbs
Free E-Book available for a limited time. Grab yours now and get instantly inspired!
Jump to:
📕 What is it?
Ginger Garlic paste is an essential tastemaker in most Indian recipes, especially curries and stir-fries.
It's an uncooked aromatic condiment that packs quite a flavorful punch when used in moderation.
Most Indian kitchens either have a pre-made batch of ginger garlic paste stored in their refrigerators, or else they make fresh paste every time they cook a new meal.
In today's fast-paced world, making a larger batch and storing it for the next few weeks can work as a blessing and save you a lot of time and effort.
While ginger and garlic as a paste are most commonly used in Indian cooking, they can additionally be used in non-Indian cuisines as well.
You can mix the paste to Asian dishes such as chicken chow mein or bok choy soup because it mixes in really well.
🧄 Ingredients
There are only two basic ingredients that you need to make Ginger Garlic paste.
Fresh Peeled Ginger
Fresh Peeled Garlic
You should make sure that you're using only the most fresh ingredients available.
Freshness of the ginger and garlic used directly impacts the overall flavor quality.
It's important that the ginger and garlic that you use to make the paste should not be more than 2-3 days old.
You can recognize old ginger/garlic from new by checking the skin of the ingredient.
Normally, the skin starts to shrivel up if the produce are more than 3-4 days old.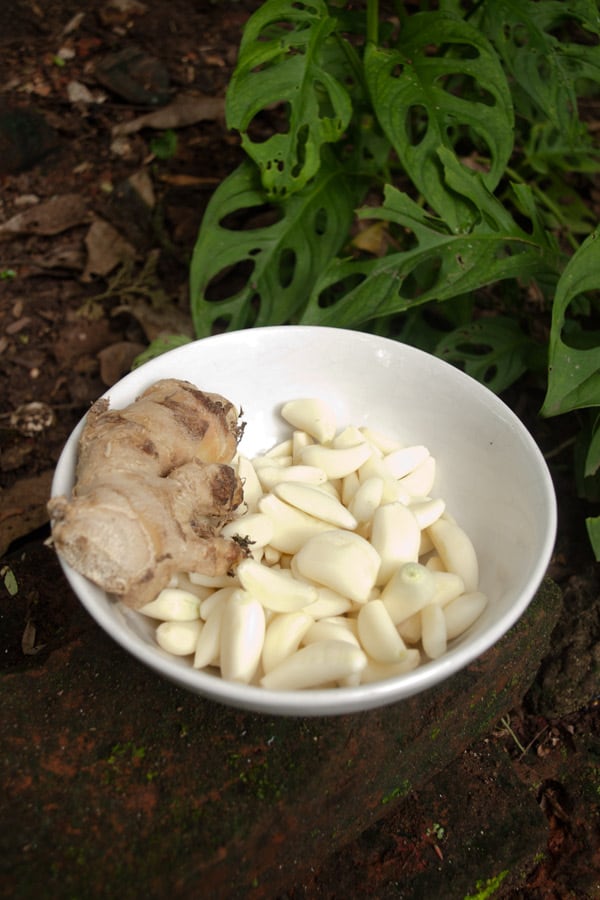 Pro Tip: Just poke with your nail into the ginger and if some root juice comes out, you will know that the ginger is as fresh as it can be.
Additionally, you may add the following optional ingredients to your paste to aid in preserving the paste for longer.
Vinegar - varieties such as common cooking vinegar, white wine vinegar, or rice vinegar can be added to the ginger garlic since it kills bacteria and helps in preserving the condiment for a longer period of time. Coconut vinegar is the traditional choice in Goa, India.
Turmeric powder - Half a teaspoon of turmeric powder can also be added as a way to preserve and also to add some color to the Ginger Garlic paste.
It is very important to note that you should never add any water to the Ginger Garlic paste.
Water accelerates mold and promotes bacterial growth, making the paste go bad at a faster rate.
🔪 How to make it?
Here is an overview on how to prepare ginger garlic paste from scratch at home. The complete recipe is further below.
Step 1 - prep
Peel and cut your fresh ginger and fresh garlic in easily blendable chunks.
Step 2 - blend
Blend together in a food processor until it turns into a fine paste.
What if I don't have a food processor/blender?
Don't worry, you can alternatively use a stone mortar and pestle if you don't have a food processor or blender.
The only slight difference is that the paste made with mortar and pestle will be a bit on the chunkier side and not as fine as the one made in a food processor.
This does not affect the flavor so it's not a big deal.
🍱 Storing
You can store your homemade Ginger Garlic paste in a clean, sterilized glass jar.
Just make sure the jar is completely dry and the lid is rust-free.
If you add vinegar as a preservative, then this paste can last for up to 6 months, as long as it is kept refrigerated.
Without the vinegar, just the two-ingredient Ginger Garlic paste can last for up to 2 months in the refrigerator.
It is also a good idea to freeze the Ginger Garlic paste in ice cube trays and then store in a vacuum bag in the freezer. Frozen paste will last much longer.
🥣 Uses
Ginger Garlic paste is a staple in Indian dishes and can also be used extensively in Asian preparations.
It gives great flavor and rich, aromatic texture to the curry dishes especially.
It also thickens the curries and sauces since ginger has thickening properties.
Ginger and garlic turned into a paste also work as a great meat tenderizer.
So for households that love their Asian meat dishes, this paste can be a godsend.
Both ginger and garlic can be prepared in separate pastes too if need be, with the same quantities in the recipe.
Some recipes only require ginger paste and some only need garlic. So making separate pastes could be a good idea as well.
Ginger, garlic, and vinegar work as natural food preservatives when combined.
You'll find that dishes in which this paste has been added last longer in the fridge than the ones without the garlic and ginger paste.
You can also use the paste to get rid of the fish smell on your seafood. In Goa, they tend to marinate fresh sea fish with the paste before they cook the fish.
This wonderfully versatile paste is used in dishes like Tandoori Chicken (to marinate the meat) and Chicken Tikka Masala (to build a thick and creamy curry).
Ginger and Garlic paste is also an amazing beef steak tenderizer and works as well as green papaya paste (another all-natural meat tenderizer).
💭 FAQs
What's the ginger and garlic ratio for this paste?
⅔ garlic + ⅓ ginger (2 parts garlic and 1 part ginger)
How to substitute ginger and garlic paste if it got over?
Peel and finely chop garlic and grate ginger in the same ratio as above (⅔ garlic + ⅓ ginger).
Can one double the quantity to make a large batch?
Yes, you can absolutely double the quantities of Ginger and Garlic in the same ratio to make a larger batch.
What is ginger garlic paste called in hindi?
It is called "Adrak Lehsun paste" in Hindi.
Why is homemade paste better than store bought?
Homemade Ginger Garlic paste is preferable because you know what's going into it. Plus, there are no artificial preservatives as there are in store-bought. The flavor is also much fresher when it's homemade.
Why does my ginger and garlic paste turn green?
Naturally occurring sulfur in the garlic interacts with garlic enzymes, occasionally turning it slightly green or blue. Sometimes the color change happens, other times it doesn't. Shifts in temperature, pH, and the age of the garlic can also affect the coloring, so heating it or mixing it with something acidic like vinegar might have some effect. It is still totally safe to consume. The color change does not mean that your paste has gone bad.
Can I use ginger or garlic powder to make this paste?
No. You need fresh ingredients to make this condiment. 
How to preserve without refrigeration?
The storage jars need to be sterilized and canned using the "Water Bath Canning" technique so that your food can last longer, even without refrigeration. You can refer to my detailed guide explaining the u0022Water Bath Canning" process. 
Dear reader, how are you planning to use the ginger garlic paste?
Global Food Recipes
with Spices and Herbs
Free E-Book available for a limited time. Grab yours now and get instantly inspired!
📖 Recipe
Homemade Ginger Garlic Paste Recipe
Rich and flavorful homemade ginger garlic paste for your Asian dishes.
Print
Pin
Rate
Ingredients
7

ounces

Garlic Clove

peeled

3.5

ounces

Ginger Fresh

peeled

~⅓

cup

Distilled White Vinegar

I use Coconut Vinegar
Instructions
Peel your garlic and ginger.

Cut your ginger into chunks.

Blend the garlic, ginger and vinegar to a fine paste. When doing so you might want to work in batches or your blender will get overloaded. Do not add any water because that will reduce the shelf life of the paste.

Store the smooth paste in a clean jar and keep in the fridge for further use.
Nutrition
Nutrition Facts
Homemade Ginger Garlic Paste Recipe
Amount Per Serving
Calories 12
% Daily Value*
Sodium 1mg0%
Potassium 40mg1%
Carbohydrates 2g1%
Vitamin C 2.2mg3%
Calcium 13mg1%
Iron 0.1mg1%
* Percent Daily Values are based on a 2000 calorie diet.