Rich and flavorful homemade ginger garlic paste for your Asian dishes.
Ginger Garlic Paste is an essential in any Indian and Asian kitchen.
You add a spoonful of ginger garlic paste to curries, stir-fries or you use it as a natural tendering agent to meat cuts.
What is ginger garlic paste and how do you use it?
Some of you were so kind to direct my attention towards a homemade ginger garlic paste.
I understand that ready made ginger garlic pastes are not always available in Western stores.
The only option is to make your own from scratch ginger garlic paste.
Of course the homemade fresh paste version is stuffed with handpicked aromatic ingredients, so it makes sense to roll up the sleeves and to make your own at home.
Not only does the paste enhance the flavor of any dish but it also has a super useful meat tenderizing ability which makes it indispensable in my kitchen!
Ginger Garlic paste is the most important basic food item in any Indian kitchen.
Everybody has it and everybody mostly makes it from scratch.
At first, I would only use the aromatic fresh paste in Indian dishes but slowly it found it's way in home cooked fusion dishes as well.
Back in our Tandoori days, I was the ginger garlic maker.
We would make big batches by grinding peeled ginger chunks and peeled fresh garlic pods into a fine paste.
A kilogram would maybe last for a week.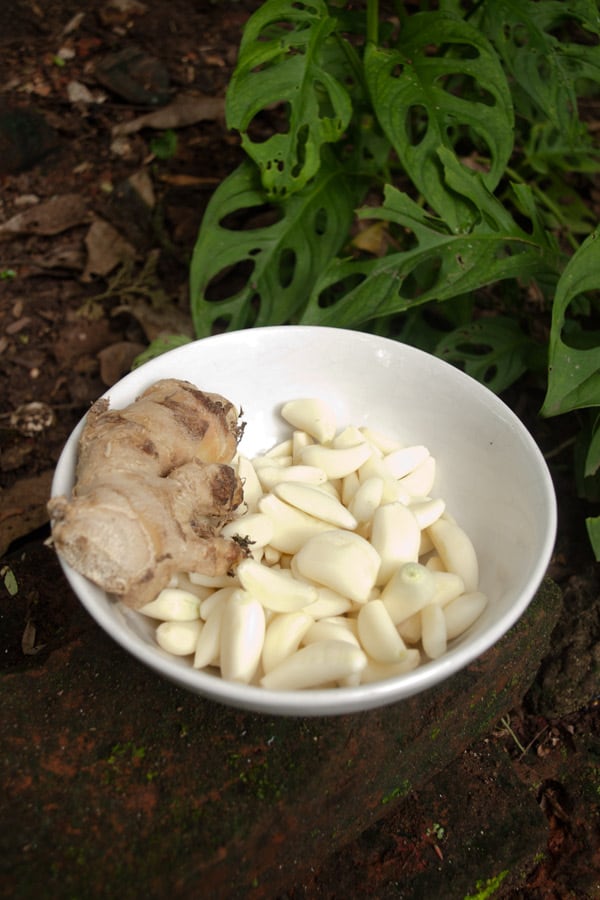 Choosing the freshest of ingredients
At your local grocer, you can buy peeled garlic in bags.
There is a great choice of garlic and fresh ginger in the markets.
I tend to buy local garlic since it's very flavorful.
When you make this ginger garlic paste, get super fresh young ginger.
Just poke with your nail into the ginger and if some root juice comes out, you will know that the ginger is right.
Ginger has a tendency to turn fibrous the older it gets.
So older ginger roots turn dry and woody and those should not be blend into a paste or you ll end up with irritating strings.
The fresher the ginger the better, no doubt!
How to make ginger garlic paste
Since it's not a very common paste in the Western world, I can imagine that homemade ginger garlic paste would make a nice attentive and useful little homemade gift for Asian food-loving family members and friends.
The version I am sharing today can be stored for a few weeks in the fridge without that it turns bad.
Ginger and garlic are anyway known as effective natural food preservatives and I add some organic local coconut vinegar so that it stores even better and longer.
You can always use some regular white vinegar in this recipe instead of the coconut vinegar.
I use coconut vinegar because it's a local product in Goa and I love the intensive flavors.
My husband's family and our former Punjabi cook follow the same ginger garlic ratio.
That means the ginger is a third to the garlic, less then most other Indian ginger garlic paste recipes.
You can always double the amount to make a bigger batch.
I often prefer bigger batches since I use it frequently in my cooking and I just like to have enough paste for a few weeks.
Recipes that use ginger garlic paste
Dear reader, how are you planning to use the ginger garlic paste?
Please feel free to share your thoughts and ideas with us in the comment section further below!
PIN to save for later!
So you love SPICES and HERBS?
GET 5 FREE SEASONING LESSONS
Type in your email address below.
Including free access to the
Seasoning Members only Club!
Homemade Ginger Garlic Paste
Rich and flavorful homemade ginger garlic paste for your Asian dishes.
Print
Pin
Rate
Ingredients
7

ounces

Garlic

peeled

3.5

ounces

Ginger

peeled

2.5

fluid ounces

White Vinegar

I use Coconut Vinegar
Instructions
Peel your garlic and ginger.

Cut your ginger into chunks.

Blend the garlic, ginger and vinegar to a fine paste. When doing so you might want to work in batches or your blender will get overloaded. Do not add any water because that will reduce the shelf life of the paste.

Store the smooth paste in a jar and keep in the fridge for further use.
Nutrition
Nutrition Facts
Homemade Ginger Garlic Paste
Amount Per Serving
Calories 12
% Daily Value*
Sodium 1mg0%
Potassium 40mg1%
Carbohydrates 2g1%
Vitamin C 2.2mg3%
Calcium 13mg1%
Iron 0.1mg1%
* Percent Daily Values are based on a 2000 calorie diet.
This post may contain affiliate links that point to things or services that I recommend. This may include Amazon, getyourguide and booking.com. As an Amazon Associate I earn from qualifying purchases.