Tandoori is a popular take-out dinner all over the world. Make your own oven-baked chicken tandoori at home with this easy recipe.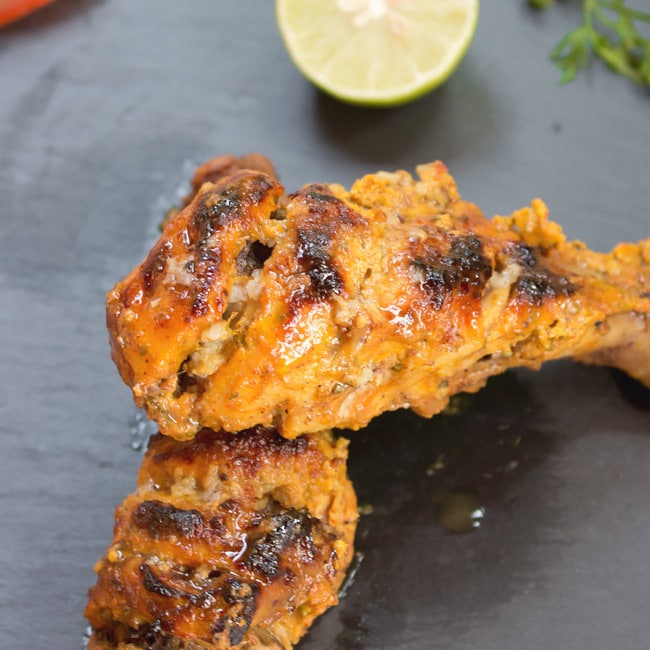 This is the BEST Tandoori Chicken you will ever come across!
My oven baked juicy chicken tandoori recipe is full of flavors and a must make if you love Indian food.
Global Food Recipes
with Spices and Herbs
Free E-Book available for a limited time. Grab yours now and get instantly inspired!
Jump to:
There was a time when we made tandoori chicken every single day, 7 days a week every evening, in masses.
For a few years, we would prepare and sell the best tandoori chicken in a small takeaway at the coast of Goa in India.
📕 What is Tandoori Chicken?
Tandoori Chicken is a baked and grilled chicken specialty from India.
Whole Chicken pieces are marinated in an aromatic yogurt spiced tandoori sauce mixture for a few hours.
The chicken pieces are then skewered and baked/grilled in a special clay oven known as the tandoor.
The Tandoori Chicken is known to be a food specialty from the region of Punjab, bordering Pakistan.
Most larger local homes and villages have a tandoori oven.
🧰 What's a tandoor oven?
The tandoor oven is common in North India, Pakistan, Uzbekistan, Afghanistan and most notably in Iran.
Nan flat breads are also prepared in a tandoor clay oven by slapping the stretched out dough onto the wall of the hot clay oven.
Tandoori cooks in commercial places in India are artists through and through!
To make dishes cooked in a tandoori oven is a skill, which not everybody can master due to the difficult conditions and the high heat in the tandoor oven.
The heat in a tandoor oven can reach 900 Fahrenheit/ 480 Celsius!
🔪 How to make tandoori chicken in your oven at home?
Thankfully, you don't need to get a tandoori clay oven at home to prepare the best tandoori chicken recipe.
The best way to cook your tandoori chicken at home is by roasting the spiced chicken in your oven.
The chicken needs to be crispy but well cooked through, and on top of that, it needs to be juicy on the inside.
The yogurt marination creates a special layer that makes this dish so addictive.
Plus point: This is a low carb healthy tandoori chicken recipe!
Follow the steps in my easy recipe:
Step 1
Create cuts into your skinless chicken on bone pieces. Mix the ingredients for the first marination.
Leave the chicken pieces to marinate in the first marination.
Step 2
Mix together all the ingredients for your second yogurt marination to create the tandoori chicken sauce.
Marinate your chicken now in the second yogurt masala sauce.
Step 3
Roast the chicken in your oven and baste it frequently with melted butter and garlic.
That way the chicken will be juicy but turn out crisp on the outside.
💡 Tips to make an Easy Tandoori Chicken
My oven baked tandoori chicken is easy to prepare.
Follow my tips to make your own Indian tandoori chicken at home
Chicken Size
Use only small-sized cornish chicken because the meat marinates & cooks better and faster if it's closer to the bone.
I usually pick chicken legs or drumsticks, but you can make a traditional tandoori chicken too but using a whole cornish hen cut into major large parts.
The chicken should come without skin.
Chicken Cuts and Marination
Create cuts so that the 1st and 2nd tandoori chicken marinade gets sucked in.
Let the first marination (Lime, salt, turmeric, chili powder) work for a minimum of 1 hour.
The longer the better of course.
Let the second marination (Yogurt with spices) suck in 4 hours!
(don't reduce the marination time, your chicken won't turn out well)
Garlic and Butter
Melt butter with chopped garlic.
This is THE essential tandoori trick. because...
.... the Tandoori chicken needs to be brushed/covered with butter and garlic to keep the meat moist and to maintain the irresistible flavor.
Most tandoori takeaways don't do that.
The more often you do that while the chicken is getting roasted the better it turns out.
I recommend basting the chicken with the melted butter and garlic, every 15 minutes during the roasting process.
Red Color
Tandoori Chicken in Restaurants and takeaways are bright red in color.
This is because they add red food coloring.
You can do that as well if you like. That way your chicken will turn out bright red.
Oven function
Roast the chicken in the baking and grilling function if you can with your oven.
Most ovens have a grilling option that can be turned on with the baking option.
That will guarantee not only a juicy baked chicken but also a grilled tandoori chicken on the outside.
🍴 What to serve with tandoori chicken?
I think the best way to serve up a tandoori chicken is with nan flatbread and a shredded Indian salad, the so-called Kachumber salad.
You can also serve up the baked chicken with a rice side dish such as plain basmati rice, cumin flavored rice, lemon rice or cilantro rice.
👁️ More food ideas:
Dear Reader, with what do you like to eat your tandoori chicken?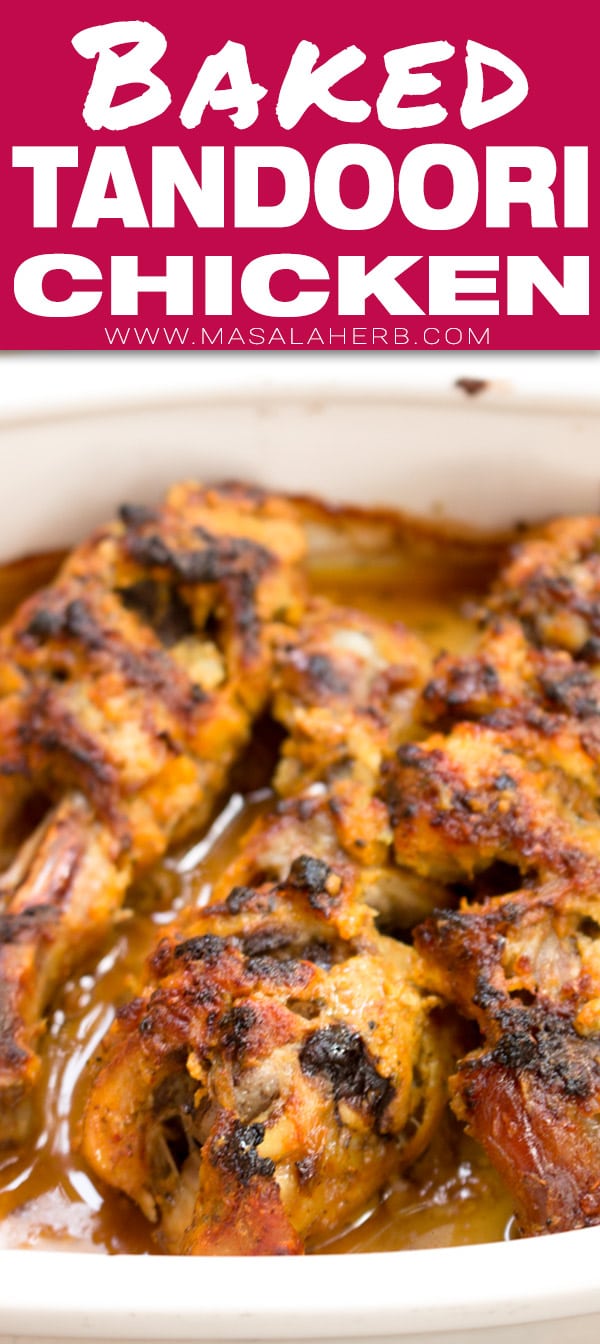 Global Food Recipes
with Spices and Herbs
Free E-Book available for a limited time. Grab yours now and get instantly inspired!
📖 Recipe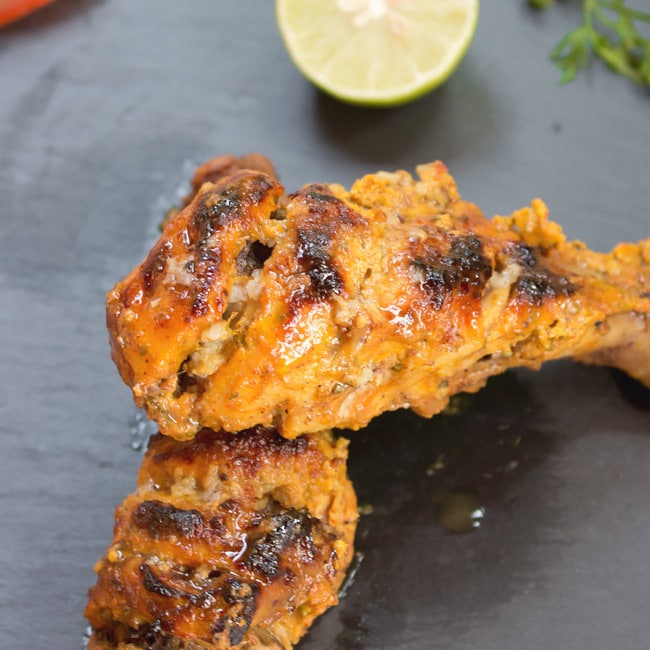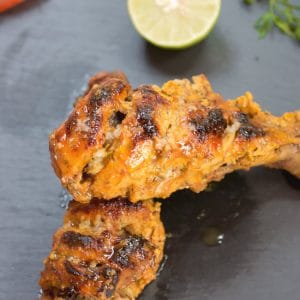 Oven Baked Tandoori Chicken Recipe
Tandoori is a popular take-out dinner all over the world. Make your own oven-baked chicken tandoori at home with this easy recipe.
Print
Pin
Rate
Ingredients
Instructions
First, make some cuts into the skinless chicken drumsticks. The cuts are needed so that the marination flavors penetrate the chicken up to the bone.

In a bowl combine the lime juice, salt, turmeric and chili powder to a smooth paste. Marinate the chicken drumsticks thoroughly with this first marination and let it stand for at least 1 hour (the longer the better!)

In a bowl add the finely chopped Garlic and Butter and melt the content. Keep that aside. The butter will get infused with the flavor of the garlic in time, we will need it to slather the chicken with it before and while baking the meat.

Then keep your 2nd marination ready, the tandoori sauce (quick recipe here because you will need to refrigerate excess sauce). Add about 3 dollops tablespoons to the chicken and massage + cover the chicken drumsticks well with the yogurt marination.

Leave the chicken to marinate for at least 4 hours. The longer the more the meat will take in all the aromatic flavors.

Before baking the chicken preheat the oven to 430 Fahrenheit/ 220 Celsius.


Place your chicken drumsticks covered with the amazing flavorful marination into a baking dish and cover them with the garlic infused melted butter. I like to add some of the garlic pieces on the chicken too.

Place the chicken into the oven and bake at 220 C/ 430 F. The total baking time is about 25-30 mins or until it's getting darker (picture as reference). However, after baking 15 mins. take out the chicken and cover with some more melted garlic butter and finish the baking process. Reserve 1-2 Tablespoon of garlic butter to pour over the chicken once it's finished baked. The garlic butter keeps the chicken moist and juicy.

Serve hot with nan and a small onion capsicum cabbage beetroot salad. garnish with fresh coriander or cilantro.
Notes
The Tandoori paste is mixed together and I have created a separate recipe for the tandoori paste here because it can be used to marinate vegetable, soya, fish and seafood too.
To make it fire red you have the option of adding a drop of food coloring, I didn't add any coloring to this tandoori chicken recipe.
Nutrition
Nutrition Facts
Oven Baked Tandoori Chicken Recipe
Amount Per Serving (89 g)
Calories 189
Calories from Fat 117
% Daily Value*
Fat 13g20%
Cholesterol 88mg29%
Sodium 374mg16%
Potassium 181mg5%
Carbohydrates 1g0%
Protein 14g28%
Vitamin A 245IU5%
Vitamin C 1.2mg1%
Calcium 22mg2%
Iron 0.6mg3%
* Percent Daily Values are based on a 2000 calorie diet.