Easy Chicken Tikka Masala with a handful of spices so that you can recreate this dish at home. This is my quick weeknight dinner meal. The tomato-based curry is low carb and a real comfort meal. Adjust the heat by adding more or less red pepper powder.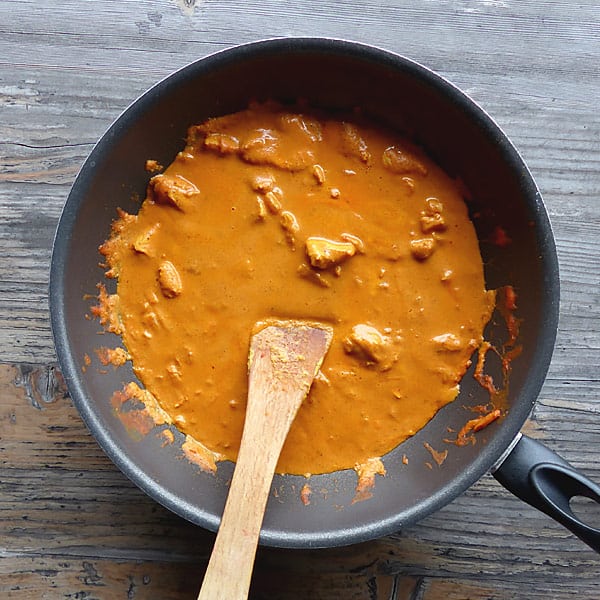 Chicken Tikka Masala is a classic, spiced, tomato based curry.
This curry is for you if you enjoy dipping your warm naan bread in a creamy butter chicken curry!
After a long day at work, you just want to have a wholesome comforting dish to feed your hunger.
You want a dish that makes you happy, food which takes you over and which numbs your mind.
When this happens your smell, and especially your taste senses, go berserk.
The solution? Homemade easy Chicken Tikka Masala!!
Jump to:
What is Chicken Tikka Masala?
Chicken Tikka Masala is a flavorful spicy tomato based creamy curry.
A combination of spices are used to marinate the chicken before the meat is cooked in a gravy-like spiced sauce.
Origins
Chicken Tikka Curry Masala was created by North Indian Punjabis.
There are numerous claims from the British and Indian side.
I think the curry meal was made popular by Punjabi immigrants in the UK because chicken tikka masala is better known in the UK and not in India.
Hence why Chicken tikka curry masala is the national dish of England (I'm not kidding!)
People will claim that chicken tikka masala is Indian, but to be fair, it's not.
The dish rarely appears on Indian menus (and I traveled all over the country).
That is why this chicken tikka curry is a British Curry house dish, just like Chicken Balti and Chicken Pathia.
To add to the confusion, the Chicken Tikka Masala curry is a derivation from the Indian Chicken Masala dish (curry meal), the Chicken Tikka (boneless dry tandoori chicken tikka) and the all famous butter chicken.
The Indian Chicken Masala is usually prepared with a nut (cashew or almond base) or tomato base and it's milder.
Besides they don't taste the same at all.
This is the major difference between the Indian chicken masala and the British chicken tikka masala.
YES, there is a difference!
Butter Chicken vs Chicken Tikka Masala
I'm going to play the food culture police here and explain to you the major difference between these well-known creamy chicken curry dishes.
Chicken Tikka Masala and Butter Chicken are often while confused and that for a good reason.
I blame the Indian restaurant cooks for that!
The anyhow and no rule mentality/so-called progressive Indian cooking milieu is to blame.
Chicken Tikka Masala is...
British. It's not Indian, Chicken Masala is Indian (totally different dishes)
Spicy. Tikka is always an indication for heat (not just spices per se). That means it includes something to tickle your tongue such as red pepper (aka chili) or Cinnamon (called Tikki in Hindi)
with boneless chicken and never with in bone tandoori style chicken.
Butter Chicken is...
Indian. Yep, the dish was created in recent times in Delhi.
Mild but includes a complex set of spices.
Buttery and super creamy, it's not for the faint-hearted!
Originally prepared with leftover tandoori chicken pieces. In even more recent time, people started to use leftover boneless chicken tikka. This is caused the confusion between chicken tikka masala curry and butter chicken. which brings us to the last point...
more recently made with raw chicken cubes to meet the high demand and because there are no rules with new generation dishes. In the true Indian spirit of: "I copy what that guy did in Delhi and make it my way".
Tikka Masala Sauce
The Tikka Masala Sauce is not limited to chicken.
Remember, chicken tikka masala is a newer dish and the rules are rarely set in that case.
That means you can prepare the same basic marination and the easy tikka masala sauce with other meats, such as:
Shrimp (aka Prawns)
Lamb
Turkey
I don't think beef, pork, goat and mutton are suitable meats in a tikka curry masala.
However, you can prepare the tikka masala sauce with paneer too!
Just follow the recipe below the same way as you would with chicken.
How to make it?
To prepare the chicken tikka curry masala you will need to work in 2 stages.
Stage one: marinating the chicken
Stage two: creating the tikka masala curry sauce and cooking the marinated chicken.
For the best chicken tikka curry masala: The longer you marinate the chicken the more flavorful it will turn out.
For the quickest chicken tikka curry masala: Marinate the chicken for 5 minutes and move on to cooking it.
I adjusted the recipe over the years to make it easier for you while retaining all the flavors.
I skip garam masala in my chicken tikka curry because, to be honest, you don't really need it.
The other spices with the yogurt add a lot of amazing complex flavors to your chicken.
Related Recipes
Dear Reader, have you tried to make your own chicken tikka masala?
Global Food Recipes
with Spices and Herbs
Free E-Book available for a limited time. Grab yours now and get instantly inspired!
📖 Recipe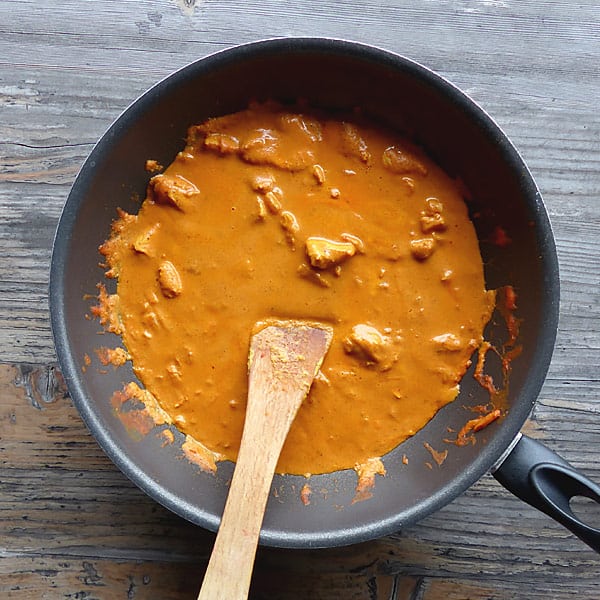 Easy Chicken Tikka Masala
Easy Chicken Tikka Masala with a handful of spices so that you can recreate this dish at home. This is my quick weeknight dinner meal. The tomato-based curry is low carb and a real comfort meal. Adjust the heat by adding more or less red pepper powder.
Print
Pin
Rate
Ingredients
For the curry cooking:
1

Onion

choped

1

piece

Bay Leave

1

Tomato

diced

2

Tablespoons

Butter

or Clarified Butter

5

Tablespoon

Tomato Puree

3 ½

Tablespoons

Cream

½

cup

Water

to taste

Salt

optional
Instructions
Add in the yogurt, coriander seed powder, cumin seed powder, black pepper powder, turmeric, cinnamon, red pepper powder/cayenne powder, and ginger garlic.

Mix everything well so that the chicken is evenly coated with the marination. The longer you keep it marinate the better for the flavor, however, if you are in a hurry just marinate it as long as you can spare time and then continue with the preparation.

Throw in the diced tomato and stir cook until a bit soft. Don't let them burn on.

Add in your tomato paste with the cream and mix the whole pan contents well. Pour in the water, mix again, cover and let it cook until tomato has softened considerably.

Cover and cook on medium heat until chicken is soft.

Pick out and discard bay leaf.

Garnish with fresh cilantro (aka coriander)
Notes
Use homemade Ginger and Garlic paste or finely chop ⅓ Ginger and ⅔ Garlic. You can prepare also ginger and garlic pastes separately. OR simply buy ginger garlic paste. Store-bought ginger garlic paste is convenient but the homemade version tastes better. The homemade paste is my choice because it tastes pure and mixes into the curry.
Nutrition
Nutrition Facts
Easy Chicken Tikka Masala
Amount Per Serving
Calories 455
Calories from Fat 234
% Daily Value*
Fat 26g40%
Cholesterol 164mg55%
Sodium 620mg26%
Potassium 1274mg36%
Carbohydrates 18g6%
Protein 36g72%
Vitamin A 1980IU40%
Vitamin C 26.2mg32%
Calcium 93mg9%
Iron 3.3mg18%
* Percent Daily Values are based on a 2000 calorie diet.