The Matar Paneer Recipe restaurant style is gluten- and nut-free. You will be able to prepare this easy classical Indian dish in less than 25 minutes.
Matar Paneer Recipe Restaurant Style is popular and well known in India and abroad.
The masala curry recipe includes fresh Green Peas and soft Cottage Cheese cubes, cooked in a spiced gravy.
The vegetarian Matar Paneer (Mutter) Recipe is Gluten- and Nut-free and freshly prepared from scratch.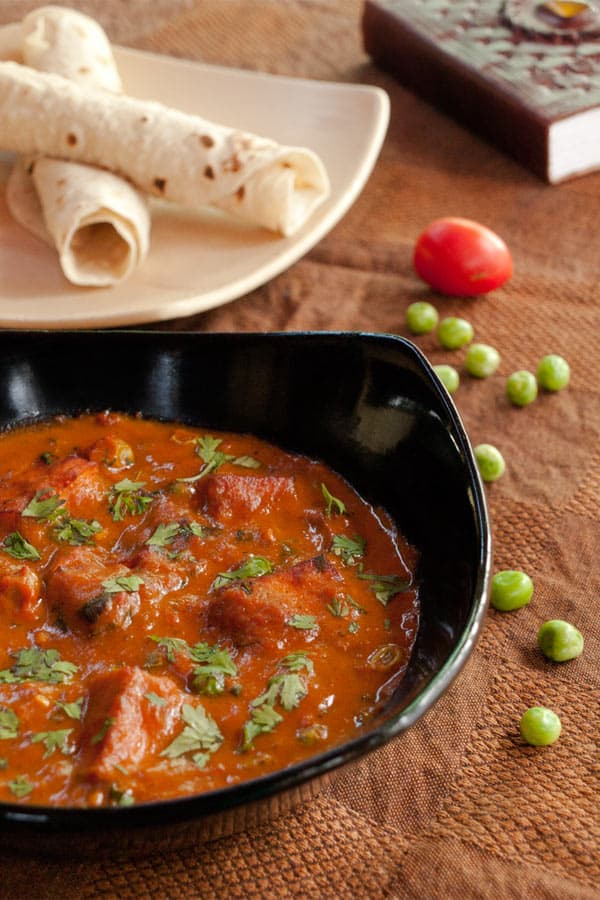 Global Food Recipes
with Spices and Herbs
Free E-Book available for a limited time. Grab yours now and get instantly inspired!
Jump to:
📕 What is Matar Paneer?
Matar Paneer or Mutter Paneer is a North Indian dish made of Green Peas and Indian Cottage Cheese cubes in spicy curry gravy.
Mutter means Green Peas and Paneer is the Cottage Cheese.
This dish is super popular across the Indian subcontinent and has been more common lately in Indian restaurants in the west.
🫕 Ingredients
Matar Paneer Recipe Restaurant style makes a great weeknight dinner for two.
The Recipe is almost a one-pot meal and can be prepared in less than 25 minutes.
Try to use only fresh green peas and if possible fresh Paneer.
Add the cottage cheese at the end of the curry preparation. Overcooked Paneer can crumble in the curry.
The food coloring is optional and a common trait of restaurant-style Matar Paneer.
Use of Alternative Masala Curry Paste Recipe
Another way to prepare Mutter Paneer is to use a cashew tikka masala curry sauce as a base instead.
That's another common way to prepare mutter paneer and one that I make frequently enough.
The curry base turns out creamy too and super flavorful.
🇮🇳 How I discovered Matar Paneer in India
Here I was, sitting in the restaurant garden, looking at the gravy in front of me.
My taste senses were not activated, in fact, the warm dish appeared rater uninspiring.
"Another spice bomb disguised as a harmless dinner," I thought.
I hadn't ordered, my husband was the culprit who left me with the food because somebody again timed well by calling him when he was about to attack his dinner.
A common annoying occurrence in our lives.
What was the gravy called?
Mata Paneer? Mother Paneer? "Matar Panner!" exclaimed a friend.
"Green Pease and Indian Cottage cheese in a sauce," he said while answering the apparently obvious question in my eyes.
He must have noticed the expression on my face because he started to laugh out loud and said "No spicy.
It's very good, try!"
How many times have I heard somebody say that in India?
Each time when I would order something somewhere in this massive country, I would tell them "No spice, no Chillies, please (for god's sake)".
Each and every single time I would be of course disappointed and the imagination of a heavy and happy tummy vanished with the first bite.
Sometimes I wondered why people couldn't see the fire coming out of my nostrils.
How could they just swallow huge plates containing 90 % chili spice flavor? How!?
The memories of previous food adventurous in the Indian subcontinent hadn't subsided, sometimes they would even haunt me.
So, I couldn't be blamed when I was ogling the obscure Matar Paneer, unclear if I should give the dish a chance and most importantly give the chef a chance who had conjured the plate of food.
The gravy looked smooth, the Paneer bouncy, the peas looked like peas.
The chef couldn't be such a catastrophe after all!
The fresh cow patterned chapatis were waiting at the side, still warm and ready to be torn, covered in gravy and to be devoured in one bite.
I did that.
Tore the Chapati into a food spoon, picked up a piece of Paneer with gravy and popped it into my mouth.
Boy, I hadn't expected what was to follow!
A light tickling sensation of tomato goodness, spreading its flavor essence gently over my taste receptors.
A surprisingly mellow spice experience that made me smile.
I couldn't believe what was happening, I loved the Matar Paneer and I didn't mind the usually so rough cilantro aroma, no it was worse (or better?) I needed more of this gravy.
I wanted to chew on a paneer piece again, experiencing the silent squeak of the cheese rubbing against my teeth.
I wanted the flavors of the peas and tomato gravy combined and most importantly I wanted it all with the soft and partially crisp Chapati flatbread.
👁️ More Paneer Recipes
Dear Reader, have you tried the mutter paneer?
Global Food Recipes
with Spices and Herbs
Free E-Book available for a limited time. Grab yours now and get instantly inspired!
📖 Recipe
Matar Paneer Recipe Restaurant Style
The Matar Paneer Recipe restaurant style is gluten- and nut-free. You will be able to prepare this easy classical Indian dish in less than 25 minutes.
Print
Rate
Instructions
Boil your Green Peas and keep aside.

Blend the onion to a paste

Heat up a pan, add the oil and stir fry your onion paste & ginger garlic paste for 2 minutes so that it cooks a bit and the ingredients start to emit the wonderful flavors.

Continue to throw in the spices. turmeric powder, chilli powder, coriander seed powder, cumin seed powder, black pepper powder, garam masala, and dried fenugreek leafs.

Stir cook the spices for a minute and then add the tomato paste, cream and the veg stock. Mix well. Let cook for 10 minutes on medium to slow heat and stir occasionaly.

Add a drop of red food coloring if you want

Then add in the paneer cubes and green peas and let cook for about 5 minutes on medium to low heat.

Serve hot and garnish with coriander. Best enjoyed with rice or chapati.
Notes
You can use a Paneer substitution in this recipe.
Use freshly fine chopped ginger and garlic with a ratio of 1:2 or use Ginger and garlic paste.
The food coloring is optional. Chefs in India love bright colored foods so they usually add lots of food colors into foods to make them appear more alluring. I leave the decision to you.
Nutrition
Nutrition Facts
Matar Paneer Recipe Restaurant Style
Amount Per Serving
Calories 353
Calories from Fat 189
% Daily Value*
Fat 21g32%
Cholesterol 57mg19%
Sodium 875mg36%
Potassium 1036mg30%
Carbohydrates 28g9%
Protein 15g30%
Vitamin A 1865IU37%
Vitamin C 35.1mg43%
Calcium 379mg38%
Iron 3.8mg21%
* Percent Daily Values are based on a 2000 calorie diet.