Homemade Tikka Masala Sauce with cashews that comes together within 5 minutes! Plus point: it's healthier and vegan.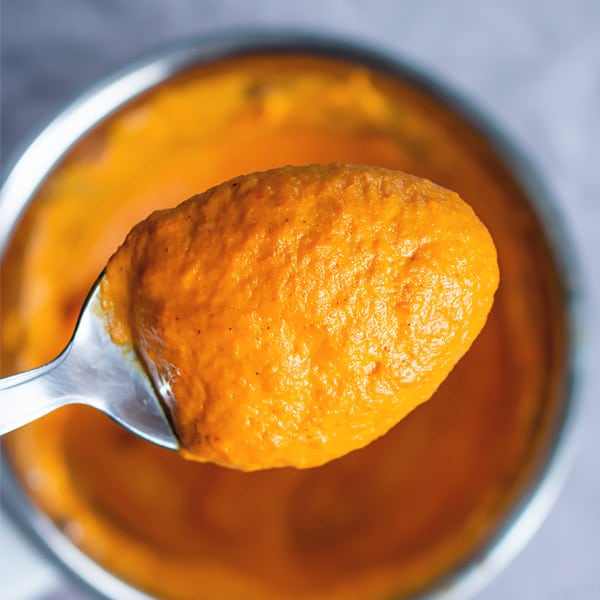 My favorite Tikka Masala Sauce is by accident vegan and so much tastier and healthier than the stuff you get in stores!
The freezer friendly curry paste can be used for various tikka masala meals.
Global Food Recipes
with Spices and Herbs
Free E-Book available for a limited time. Grab yours now and get instantly inspired!
Jump to:
📕 What is Tikka Masala Sauce?
Tikka Masala Sauce is a thin spiced curry paste variety to prepare the famous Chicken Tikka Masala dish.
Popular discounters such as Aldi, Lidl and other supermarket stores such as Walmart sell a jarred variation of Indian tikka masala sauce.
However, I say the homemade version is way better and totally worthwhile the 5-minute kitchen work! (That's from someone who doesn't like to cook but loves to eat!)
🆚 Regular VS Vegan Tikka Masala
The normal Chicken Tikka Curry, served in most restaurants, is prepared with a tomato and cream based masala sauce.
This is a vegan, gluten free, low fat tikka masala sauce.
The cream is kind of replaced by cashews resulting in a velvety, flavorful, texture-rich, healthier and filling tikka masala paste.
📜 Use
I got the idea for this cashew based masala sauce from one of our cooks (working at my husband's family restaurant).
He uses his version of a spiced paste in all kinds of Indian dishes such as to prepare a Matar Paneer or a Butter Chicken.
The result are non traditional Indian dishes.
Which I absolutely LOVE and I think they are way better than the regional variations.
Most Westerners agree because these dishes are rather popular.
You can use this paste the same way in a whole lot of dishes!
The paste is simply added to a shallow pan with oil, water, and a protein or vegetable of your choice.
So, that means you can prepare a Chicken Tikka Masala recipe with this paste or a shrimp, tofu, or vegetable version if you like.
🍅 Ingredients
I only use a handful of ingredients in my easy vegan tikka masala sauce variation.
Cashews
Cashew seeds are the base of this Indian curry masala.
Blend together, cashews turn creamy and that's what makes this sauce accidentally vegan.
Cashews add texture, flavor and compliment all the other ingredients in the sauce.
You can substitute Cashews with Almonds too but I absolutely recommend Cashews above all.
It's just not the same with Almonds.
Fresh Ingredients
That includes Tomatoes, Onion and more or less Ginger and Garlic.
I use whichever flavorful tomatoes I can get and purple/red onions or shallots.
For the Ginger and Garlic, I tend to be lazy and use Ginger and Garlic paste but you can also use fresh ginger and garlic (ratio 1:2).
Spices
I add a set of ground spices to my easy tikka masala recipe.
I have tested a whole load full of variations but always came back to the same conclusion.
I decided for the following tikka masala spices because of the taste result or because of the availability of ingredients.
Turmeric
Red Chili Pepper or Cayenne
Cumin
Coriander Seed
Black Pepper
Cinnamon
🔪 How to make it?
To prepare your own tikka sauce at home is really easy and straightforward.
The fresh ingredients and spices are blend together to a thin sauce like paste.
Step 1
Add all ingredients into your blender jar.
Peel the onion and with the tomato cut into quarters.
Add the cashews and, ginger garlic and all the spices.
Step 2
Blend all the ingredients to a smooth sauce.
Step 3
Use the sauce further in a dish such as to prepare a chicken tikka masala.
just add the sauce in a shallow pan with water and protein and/or veggies and cook till done.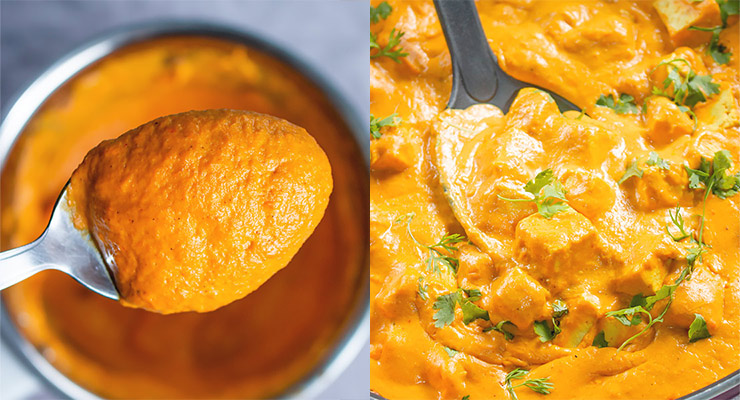 🍱 Storing
I tend to freeze my masala instead of canning it and storing it in the fridge.
The sauce defrosts quickly anyway.
Which is a life saver if you are tight on time as I am.
In fact, you can just place it into your pan with some oil and water and wait for it to defrost completely over the heat so that you can add the other ingredients.
You can double or triple the recipe to prepare a larger batch.
Then simply place the smooth spiced sauce into zip lock bags portion wise and freeze.
👁️ More curry sauces
Dear Reader, have you tried the Tikka Sauce?
Global Food Recipes
with Spices and Herbs
Free E-Book available for a limited time. Grab yours now and get instantly inspired!
📖 Recipe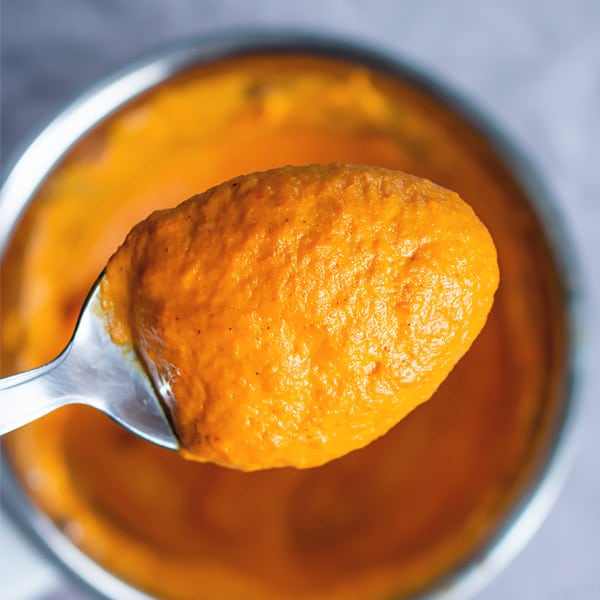 Vegan Tikka Masala Sauce Recipe
Homemade Tikka Masala Sauce with cashews that comes together within 5 minutes! Plus point: it's healthier and vegan.
Print
Pin
Rate
Instructions
Place the cashews into a large blender jar with the peeled and quartered onion, the tomato, ginger + garlic, and the spices. all ingredients into the jar.

Blend everything to a smooth paste. If the blender is struggling, add 2-3 Tablespoons of water to help get going.

Use the tikka masala sauce to prepare a tofu tikka masala or another tikka masala dish. You can also freeze it (please see post for instructions).
Notes
Use fresh Ginger and Garlic (1 Tbs if chopped fine) with a ratio of 1:2 or use ready-made Ginger and garlic paste
The Cashews can be substitutes with peeled almonds. However, that completely changes the taste and velvety consistency.
Use a powerful blender such as a Vitamix for the smoothes result.
The recipe is without artificial red food coloring. If you want your tikka masala red (just like the store bought stuff), add red food coloring.
Nutrition
Nutrition Facts
Vegan Tikka Masala Sauce Recipe
Amount Per Serving
Calories 212
Calories from Fat 126
% Daily Value*
Fat 14g22%
Sodium 10mg0%
Potassium 434mg12%
Carbohydrates 16g5%
Protein 7g14%
Vitamin A 510IU10%
Vitamin C 12.1mg15%
Calcium 35mg4%
Iron 3mg17%
* Percent Daily Values are based on a 2000 calorie diet.