This vibrant lemon rice side dish is best served with seafood and meats. Prepare it with leftover cooked rice to save time!
This Lemon rice recipe is a delicious side dish to serve with any main dish.
The South Indian inspired yellow rice can be served with Indian as well as Western fish, meat and vegetable meals.
This is a quick and easy version prepared with a few ingredients.
Jump to:
When you visit Goa, the first thing that you do is to take around to the beach and chill in one of the beach shacks.
You check out one of the sticky, salty menu cards and discover in the side dishes something called lemon rice.
It doesn't sound fancy but if you are a serious lemon or lime lover like me, then you should not miss on this lemon rice recipe!
📕 What is it?
Lemon rice is a flavorful rice side dish that goes well with any kind of main course meal.
However, lemon rice goes best with seafood meals.
My husband introduced me to this lemon rice recipe by preparing and serving delicious and fresh stir-fried prawns with lemony rice.
My husband's aunt is from Kerala in South India, so she was the one to introduce the lemon rice to the family during festivities.
It quickly gained fame as you can see!
Note: This is not the authentic south Indian lemon rice version but rather a quick and easy recipe to make lemon rice at home.
Global Food Recipes
with Spices and Herbs
Free E-Book available for a limited time. Grab yours now and get instantly inspired!
🍚 Ingredients
The citrus flavors in this lemon rice recipe will add some aroma to your rice.
The dark mustard seeds are an essential addition too, which give a comforting nutty flavor to the dish and some texture as well.
Mustard seeds are healthy too and don't necessarily turn the rice dish spicy.
Another great super healthy addition is turmeric, which might be known to some as Curcuma yellow spice.
I have written about turmeric before.
This spice is a very powerful antiseptic dried and powdered root, which is essential in Indian cuisine.
Turmeric gives this lemon rice recipe, not just a gorgeous hue but also a well-rounded taste experience, and together with the mustard seeds and lemon juice, it is a brilliant flavor experience, which anybody should experience!
Tip: You can also add Cashews or Peanuts to your lemon rice! Proper south Indian lemon rice calls for nuts and curry leaves.
The lemon adds a nice tangy addictive touch to the side dish, and it's going to be your new favorite go-to side dish at home.
🔪 How to make it?
Step 1
Briefly cook mustard seeds in oil.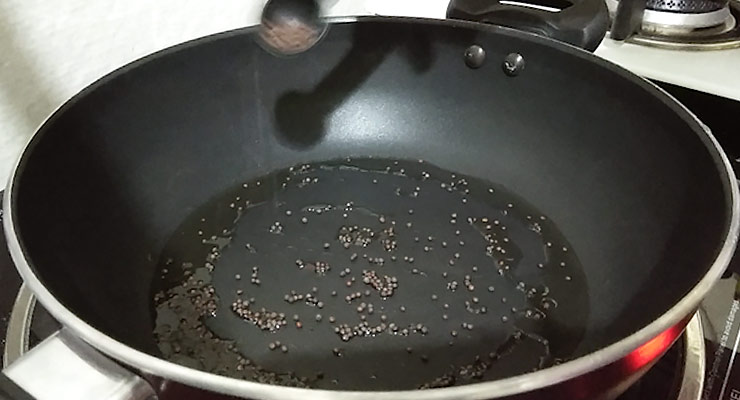 Step 2
Add ginger and garlic to it and stir cook.
Season with turmeric, pepper and salt.
Step 3
Take from the heat and stir in fresh lemon juice.
Mix in cooked plain rice.
Useful tools to make lemon rice:
Spice Glass Jar Set - To store your spices properly. More hygienic and easy to find and ultimately you will use the healthy spices more frequently. That way you won't forget your spices at the back of your cupboard!
Deep Dish Pan - To prepare the lemon rice easily. That way the spices get cooked evenly and you can mix the rice properly without making a mess.
Bamboo Spatula to stir-fry - I love this spatula and use it very frequently in my cooking as you can see. It's sturdy, it's light, it gets clean easily. Even annoying turmeric stains come out of the spatula!
original post picture 2014
👁️ Related to the Lemon rice recipe
Dear Reader, with what are you planning to serve the lemon rice?
The post Lemon rice recipe was first published on the 27 th December 2014 and has been enhanced and updated ever since.
Global Food Recipes
with Spices and Herbs
Free E-Book available for a limited time. Grab yours now and get instantly inspired!
📖 Recipe
Quick Indian Lemon Rice Recipe
This vibrant lemon rice side dish is best served with seafood and meats. Prepare it with leftover cooked rice to save time!
Print
Pin
Rate
Instructions
Wash the rice and cook until done but not mushy. Basmati rice usually takes about 10-12 minutes to cook on a medium heat setting, follow the package instructions. Strain so that no water is left.

1 Cup Basmati Rice,

2 Cups water

In a pan heat up the oil and add the mustard seeds. Temper the mustard seeds – careful mustard seeds jump up – until you get the nutty mustard seed aroma.

1 Tablespoon Oil,

1 Teaspoon Brown Mustard Seeds

Add the ginger garlic paste, the turmeric powder, salt, and pepper and stir fry for another minute or two.

1 Tablespoon Ginger + Garlic,

1 Teaspoon Turmeric Ground,

To Taste Salt,

Pinch Black Pepper Ground

Take from the heat and let cool for a few minutes before adding and mixing in the lemon juice.

Pour the whole mixture over the cooked rice and mix well. Serve hot.
Notes
Use Ginger Garlic paste as it mixes into the dish. You can also buy the paste. OR chop ⅓ ginger and ⅔ garlic fine and use that instead.
Nutrition
Nutrition Facts
Quick Indian Lemon Rice Recipe
Amount Per Serving (484 g)
Calories 415
Calories from Fat 72
% Daily Value*
Fat 8g12%
Sodium 20mg1%
Potassium 131mg4%
Carbohydrates 75g25%
Protein 7g14%
Calcium 33mg3%
Iron 1.3mg7%
* Percent Daily Values are based on a 2000 calorie diet.