Healthier Clear Bok Choy Soup, stuffed with gorgeous Asian flavors. Comes together easy in one-pan and quickly as well! Learn how to enjoy this wonderful Chinese vegetable. Bok Choy is stuffed with fibers and this is good for your health! Low-carb and low-calorie meal.
One-Pan Bok Choy Soup with aromatic spices and Asian flavors in a clear broth.
This cleansing light winter soup is flavorful, easy to make and ready within 20 minutes!
Jump to:
What is Bok Choy?
Bok Choy is one of the few Chinese cabbage varieties, which is also known as Pok Choy or Pak Choy.
The vegetable is a green leave variety popularized in China.
It has been gathering traction across the western world for its unique flavors, texture and nutritional values.
The lower white part looks like a Bulb and grows into green crunchy leave stalks.
It kind of looks like a cross between a regular cabbage and celery.
How to prepare Bok Choy?
Bok Choy is easy to prepare and doesn't take up much time.
First of all, separate the leaves from each other.
Mud tends to get stuck between the leaves.
Wash each leave properly to get rid of the mud.
Slice the crunchy raw leaves and keep them in a bowl before you start cooking your soup.
This Bok Choy soup is low-carb and very low on calories because of the choice of the bok choy and other ingredients.
Read up my detailed bok choy preparation guide.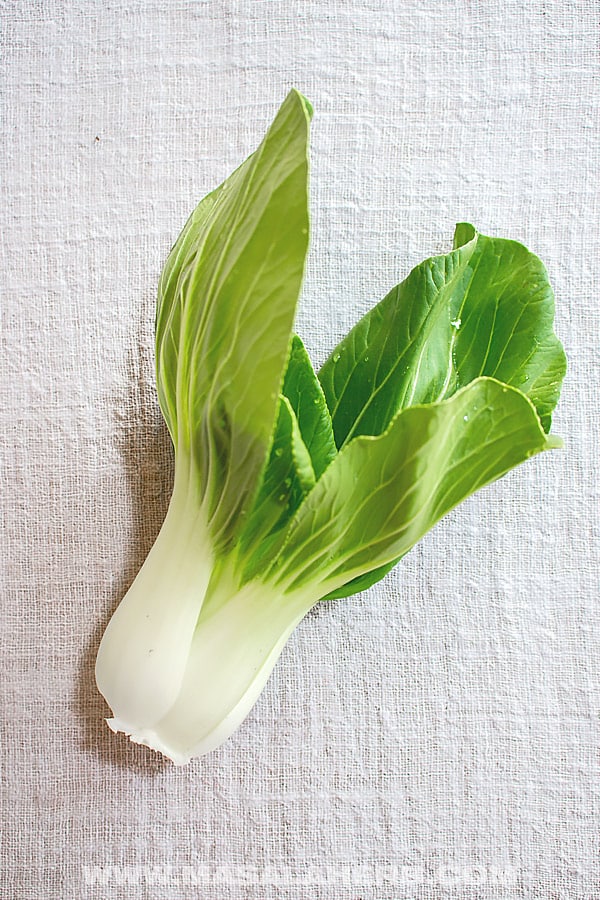 Ingredients
I like to keep this soup simple.
The Bok Choy should be the main star in this soup.
Other ingredients simply compliment the bok choy.
The soup flavors are balanced aromatic and contain light Asian flavors to pep it up.
Garlic and Ginger go hand in hand and enhance the subtle bok choy flavors.
Lime juice adds a certain welcoming freshness to the clear soup.
The young green onions are delicate but a must, especially the green stalks which add the aesthetic to the dish.
The broth is important because it adds flavor to the soup.
You can use chicken or vegetarian broth.
Homemade broth also helps you to overcome a cold.
The soy sauce will add the salty deep flavorful touch that I so long for in my Asian soups.
Rice vinegar is my secret ingredient.
Star anise, cinnamon and bay leaf remind me of Vietnamese pho and will turn your soup all the more interesting guaranteed!
The soup is garnished with sesame seeds (white or black) and chili flakes.
It looks and tastes great. You eat with the eyes after all.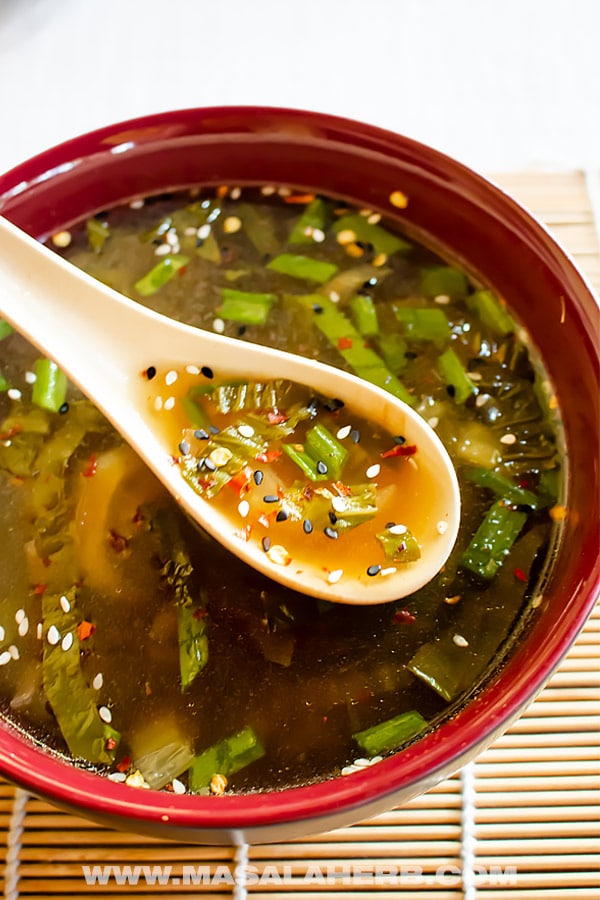 How to make it?
Keep all the ingredients ready for the Bok Choy soup.
The soup comes together fairly easy.
Spices are infused into the broth, while the bok choy is swimming and enriching the soup with its wonderful flavors.
Step 1
Rinse bok choy and cut small.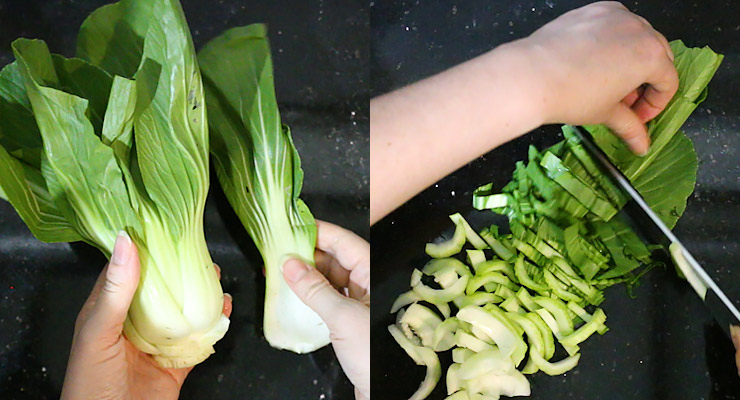 Step 2
Saute green onion bulbs, ginger garlic and bok choy.
Add star anise, bay leaf, stock, vinegar + soy sauce.
Step 3
Cook soup until bok choy is soft and the soup is fragrant.
Season with lemon juice, take out whole spices, and sprinkle cut green onion stalks to serve.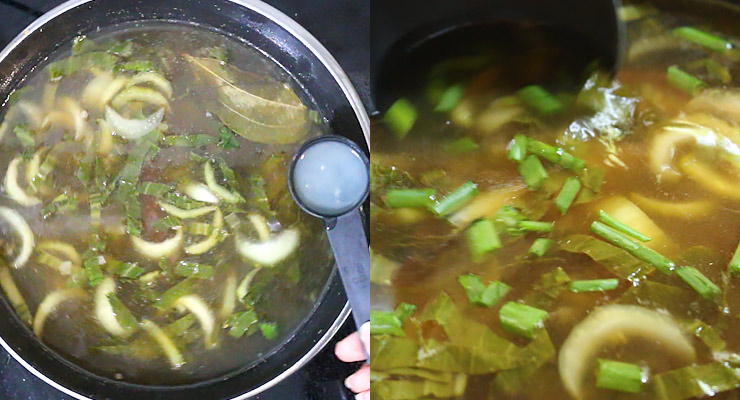 Tips
Prepare and cut the fresh ingredients first.
Keep all other ingredients near you before you heat up your pan.
Your cooking routine will be much more efficient.
Use Ginger and Garlic Paste for the soup.
That way the ingredient flavors will be able to enrich the soup from the core.
Use whole spices so that you can just take them out when you finished cooking the soup.
Powdered spices tend to deposit at the bottom of the pan.
Save on pots and pans by preparing this bok choy soup in one-pan.
If you want to cook more often with Bok Choy, take a look at Jaden's tips on how to stir-fry Bok Choy.
Buying
Bok Choy is usually commonly found in Asian grocery stores all year round.
Regular grocery stores and supermarkets sell bok choy as well but mainly during the peak winter season.
Keep in mind that most stores sell baby bok choy but they might carry other sizes.
The green leaves look different at each growth stage.
Storing bok choy
Bok Choy can hold well in the fridge for some days if stored properly.
Keep the green leaves in a plastic pouch with some minor breathing holes.
I like to also wash away any leftover mud from my bok choy leaves and keep in a Tupper (without tapping the leaves dry) or a salad spinner.
Then I store the container in the fridge.
This usually works really well and the bok choy leaves remain fresh over a period of time.
More Asian clear soups
Dear Reader, Have you cooked with bok choy before?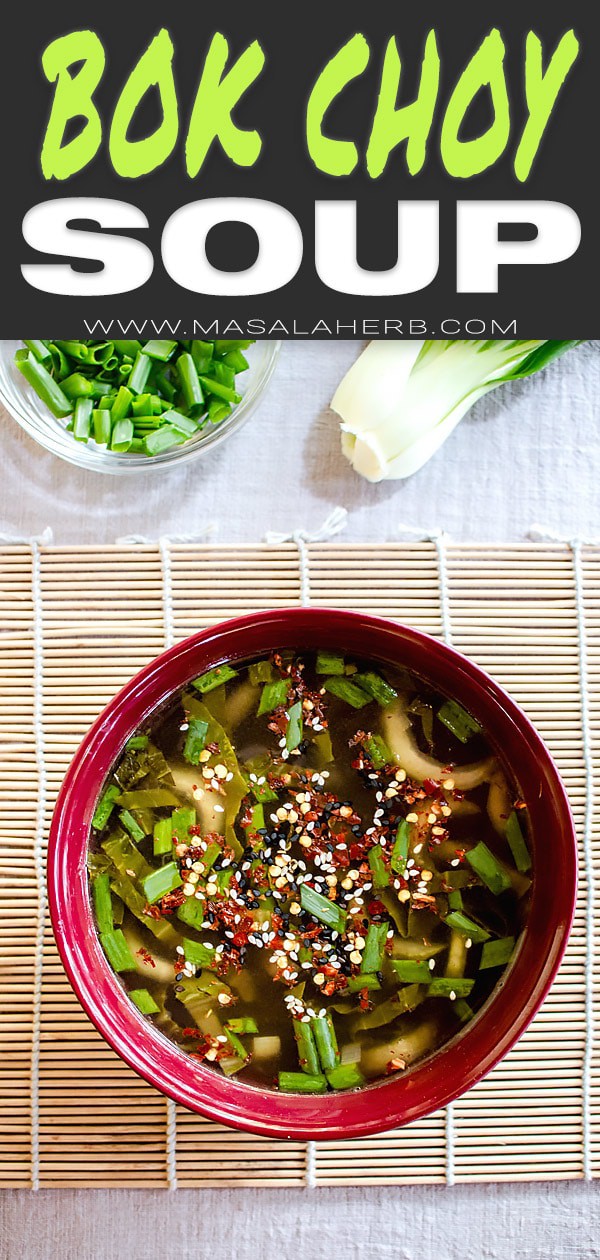 Global Food Recipes
with Spices and Herbs
Free E-Book available for a limited time. Grab yours now and get instantly inspired!
📖 Recipe
Clear Bok Choy Soup Recipe
Healthier Clear Bok Choy Soup, stuffed with gorgeous Asian flavors. Comes together easy in one-pan and quickly as well! Learn how to enjoy this wonderful Chinese vegetable. Bok Choy is stuffed with fibers and this is good for your health! Low-carb and low-calorie meal.
Print
Pin
Rate
Ingredients
2

Green Onions

aka Spring Onion Bulbs and stalks separate

1

Tablespoon

Oil

1

Tablespoon

Ginger + Garlic

combined, *see Notes

1

Bay Leaf

1

Tablespoon

Soy Sauce

1

Tablespoon

Rice Vinegar

*see Notes
To Garnish
Sesame Seeds or Sesame Oil to garnish

optional

Red Pepper Flakes to garnish

optional
Instructions
Separate the bok choy leaves and wash them well. Mud tends to get stick between the stem.

Slice your bok choy leaves and keep aside.

Slice your green onions as well. Keep the white bulb slices and green stalk separate. We will use the green stalk slices as a garnish.

Heat up a pan with the oil and fry your green onion bulbs soft.

Reduce the heat and add the ginger garlic. Careful, if you use the paste, it can splatter. Stir-fry for 1-2 minutes.

Add the bok choy to the pan and cook for a minute.

Then throw in the star anise, bay leaf, and cinnamon stick.

Pour the stock into the pot over the spices and bok choy.

Season with soy sauce and vinegar.

Mix everything, bring to a boil and let the soup cook for 8-10 minutes stirring occasionally.

Take form the heat and pour the lime juice into the soup. Mix it all well.

Pick out your whole spices, the cinnamon bay leaf and star anise. Discard the spices.

Serve the soup hot garnished with the green onion stalks, red pepper flakes and/or sesame seeds/oil.
Notes
Use Ginger Garlic Paste as it blends into the soup or as alternative chopped fine fresh ginger and garlic with a ratio of 1:2
Stock can be liquid or in cubes. Just mix it with the water. I tend to use vegetable broth but you can pick chicken or beef broth if you prefer. Use homemade stock for the best flavor experience or just the commercially available version.
Use Rice Vinegar or other mild vinegar variations such as a mild regular white vinegar.
Nutrition
Nutrition Facts
Clear Bok Choy Soup Recipe
Amount Per Serving (538 g)
Calories 185
Calories from Fat 99
% Daily Value*
Fat 11g17%
Sodium 472mg20%
Potassium 629mg18%
Carbohydrates 12g4%
Protein 13g26%
Vitamin A 1683IU34%
Vitamin C 23mg28%
Calcium 87mg9%
Iron 2mg11%
* Percent Daily Values are based on a 2000 calorie diet.