Authentic Japanese chicken ramen noodle soup with a salty soy sauce broth.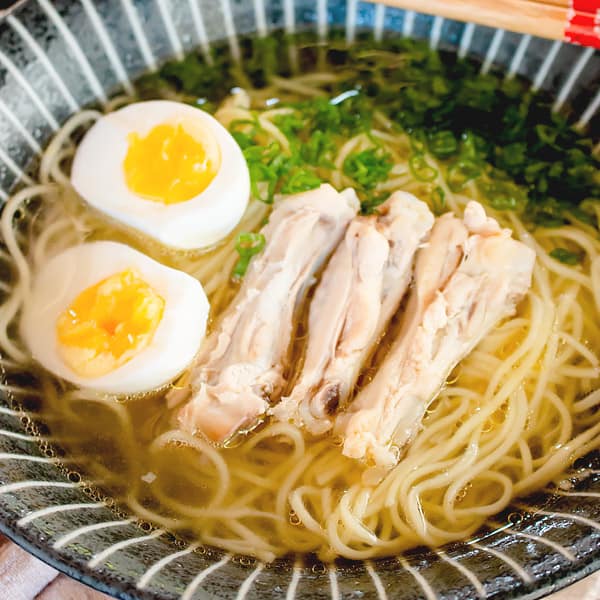 An authentic Japanese chicken Ramen noodle soup.
A basic, classic quick and easy flavored recipe to prepare from scratch at home.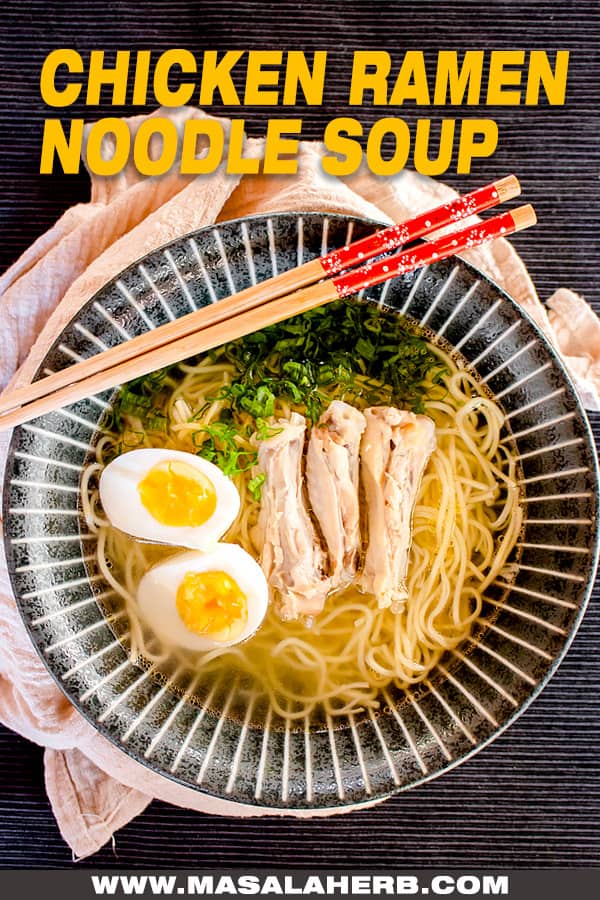 Global Food Recipes
with Spices and Herbs
Free E-Book available for a limited time. Grab yours now and get instantly inspired!
This chicken ramen soup recipe is part of our Japanese food expert series. With the help of Momoko, I demystify Japanese food and share how you can make this soup at home.
This soup is wholesome and great too when you have the flu!
Discover more traditional Japanese recipes such as Miso Soup, Teriyaki Chicken, Matcha Tea and Sushi Rice.
Jump to:
📕 What are ramen?
Ramen are a Japanese noodle variety, cooked, and served in a clear broth soup.
The noodles came originally from China, hence why they are also known as Chinese stretching noodles. The word "men" in Ramen means noodles in Japanese.
Ramen noodles are chewier and are different from other Asian noodles because the dough includes an alkaline.
Countless regional ramen noodle varieties exist across Japan.
Alex the french guy shows us how the noodles can be made from scratch at home.
However, most of us know and love a good ramen bowl because of instant ramen noodles.
Instant ramen noodles are available all over the world in those small square packages and you just need to place them in your bowl with some hot water and a topping.
Yet, instant ramen are not the real deal and are nothing like an authentic Japanese ramen bowl made from scratch. Besides they are full of sodium and MSG, which might not be that healthy.
A bowl of ramen soup is common street food in Japan and it's considered a poor men's food.
Many varieties exist, and this chicken ramen noodle soup is a favorite!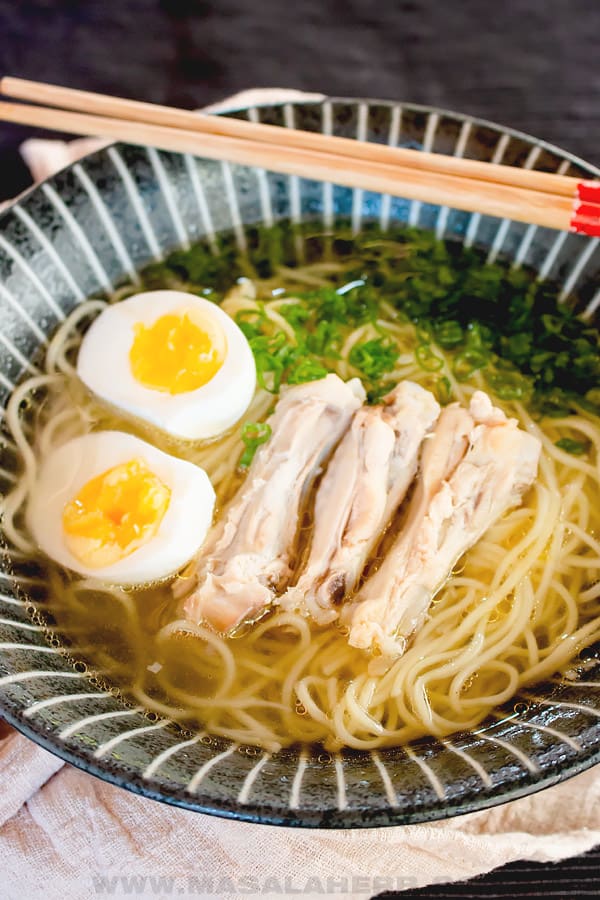 🔪 How to make this Chicken Ramen Noodle Soup?
We show you in our video (the pop up) how it's made from scratch but here is a quick overview of the process in a few pictures.
The complete recipe with US and metric measurement is located at the bottom of this post in the recipe card..
Step 1
Cut chicken into smaller chunks.
Pre cook chicken for 2 minutes to get rid of impurities.
Step 2
Cook chicken with green onion bulbs, ginger, sake, salt and soy sauce.
Cook noodles in another pot.
Step 3
Place noodles in a serving bowl, cover with broth, place chicken pieces over that and top with soft boiled egg halves and chopped fresh green onion stalks.
Enjoy!
📜 Flavors and Toppings
This is a simple chicken ramen noodle soup from our Japanese food expert Momoko.
It's kind of a cross between a shio (salt) and a shoyu (soy) ramen soup bowl because it uses both ingredients. BUT she calls it a shio ramen bowl (so I go with the flow and call it the same way).
You can spice up this recipe by adding Toban Djan (Chili Bean Sauce) or rayu (chili oil) as a topping.
You can also add the following toppings to your ramen bowl:
baby spinach
bok choy
bamboo
carrots cut in matchsticks (aka Julienne)
narutomaki, naruto fish cake surimi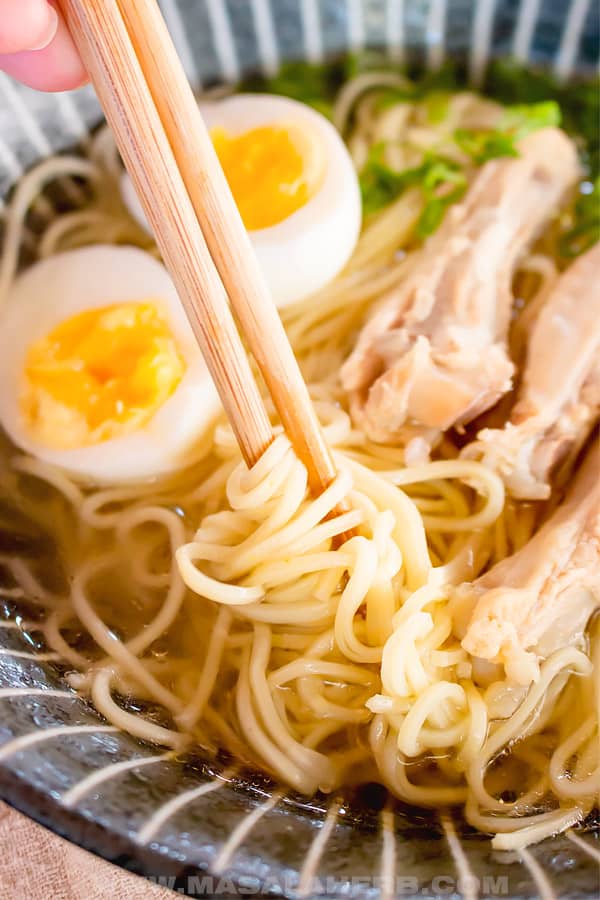 🥣 Serving
I love this Japanese chicken ramen bowl with a salad.
I usually serve it with a Japanese cabbage salad or a green salad with my Asian ginger dressing.
A daikon radish salad or any other radish salad compliments this dish too.
This soup is also on my bucket list when I'm having the flu and feel under the weather.
💭 FAQs
What noodles can you use?
If you can't get proper real ramen noodles, you can use instant ramen noodles and throw out the package of seasoning that comes along. OR my Japanese food expert recommends using egg noodles or yakisoba noodles instead. That way you can at least recreate this recipe.
Where can one find the best ramen bowl in japan?
Tokyo is known for ramen soup bowls and most importantly for shoyu ramen (soy sauce ramen broth). Pork bone broth served with pork is a specialty in Hakata, a ward in Fukuoka, which is located in south Japan. There are many varieties of ramen to explore.
Global Food Recipes
with Spices and Herbs
Free E-Book available for a limited time. Grab yours now and get instantly inspired!
📖 Recipe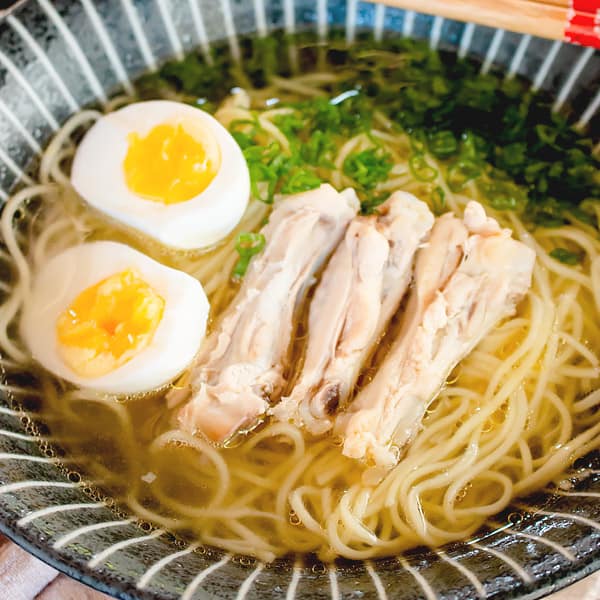 Chicken Ramen Noodle Soup Recipe
Authentic Japanese chicken ramen noodle soup with a salty soy sauce broth.
Print
Pin
Rate
Ingredients
3

Chicken Wings

with skin

2

Green Onions

*see Notes

2

slice

Ginger Fresh

1

Tablespoon

Sake

or Vodka

2

cups

Water

1

Tablespoon

Salt

½

Tablespoon

Soy Sauce

5.6

ounces

Ramen Noodles

*see Notes

2

Soft-Cooked Egg

topping
Instructions
Rinse chicken wings and pat dry with a kitchen cloth. Cut chicken wings with skin on into smaller pieces.

Prepare a pot with some water and bring to a boil. Place chicken into hot boiling water and cook for about 2 minutes. We do that to get rid of impurities and the chicken smell.

Take chicken out of the boiling water and place into a small pot.

Add green onion bulb and sliced ginger to the chicken. Cover with the cups of water.

Place on the stove and add sake (or vodka if you don't get sake). Cook covered for about 7 minutes.

Season with salt and soy sauce.

Cook for another 8-10 minutes covered until broth is done and chicken cooked through.

Skim off fats and impurities from the broth.

In another pot, cook ramen noodles through. Strain when done.

To serve up, place noodles into bowl. Cover with broth, arrange chicken over the noodles with the egg halves and the chopped green onion stalks.
Notes
Separate green onion bulbs from the stalks. Cut the bulbs about 4 inch/10cm from the stalks. Chop green stalks fine, to use as a topping.
Try to use Japanese ramen noodles. Those are not the curled ones, the curled ones are the instant noodles that come with a topping in a small packet. You can use instant noodles too and in that case, you don't need to cook the noodles, but just place your instant noodles in your bowl and cover with hot broth. Another option is to use Chinese egg noodles or Japanese yakisoba noodles. The recommendation comes from our Japanese team member, she runs a Japanese food takeaway.
Use cooking chopsticks to take out the chicken and the noodles. Makes life easier.
Nutrition
Nutrition Facts
Chicken Ramen Noodle Soup Recipe
Amount Per Serving
Calories 601
Calories from Fat 261
% Daily Value*
Fat 29g45%
Cholesterol 242mg81%
Sodium 5366mg224%
Potassium 351mg10%
Carbohydrates 53g18%
Protein 28g56%
Vitamin A 486IU10%
Vitamin C 3mg4%
Calcium 72mg7%
Iron 5mg28%
* Percent Daily Values are based on a 2000 calorie diet.